What A Wonderful Shop
By
Shopper

(Orange, CA) - January 10, 2012
Actually I Like This Site And I Found All My Gifts For All Events Here In personalizationmall You Can Send Any Gift To Any Where And The Gift Here Have A Very High Quality :D:D I Like It

Cute gift
By
Bronte B.

(Canada) - November 15, 2011 (
See all reviews by this customer
)
My dad loved the mug! It's a very creative idea, and the pictures turned out very well. Very pleased!!!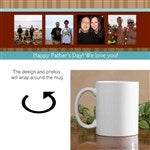 FATHER'S 86TH BIRTHDAY
By
Shopper

(NEWTON, NJ) - October 25, 2011
The photos on the mug came out beautifull . Customer service is wonderful and thankfully in the USA. I cannot say enough about this company, their staff, their products, the quality and speed in which I rec'd my gift. My father's birthday is Sunday and I'm sure he will enjoy it very much.

Classy
By
Sharon M.

(Dracut, MA) - June 27, 2011 (
See all reviews by this customer
)
The receipent was thrilled with the clearity of the photos, it made for a very memorable Father's Day gift for a dear friend.

product review
By
Shopper

(Hope Valley, RI) - June 25, 2011
the mug and personalization are good...just wish the mug came in a larger size. The quality of the photos I downloaded are great.

great gift for dad
By
Shopper

(Milton, WI) - June 22, 2011
It's a nice way to make memories last....great Father's day gift

1st Father's Day
By
Karyn F.

(Windsor Mill, MD) - June 20, 2011 (
See all reviews by this customer
)
I ordered this mug Memorial Day weekend and it arrived fairly early. Thankfully so because there were quality flaws. Customer Service was great, friendly and professional. They shipped out a replacement the next day and it arrived in plenty of time for Father's Day. It's my husband's 1st and the mug was designed with pictures of the baby in chronological order from ride home from the hospital to first teeth! He loves it. Oh and PM told me to keep the flawed one so I'll use it at work. I would order this again.
P.S. I've ordered several items from PM (about 8 or 9) and this is the first time that I've had to have anything replaced.

Picture Mug
By
Jaime T.

(Rohnert Park, CA) - June 20, 2011 (
See all reviews by this customer
)
This item was much smaller than it looks on the website, but it is designed brilliantly. It looks wonderful and is NOT cheaply made! My husband loved it and I am very happy with this purchase!

make sure you use light pictures...
By
sandy S.

(Chandler, TX) - June 14, 2011 (
See all reviews by this customer
)
my mug arrived today and I was a bit disappointed with 2 of the pictures - you need to make sure that they are bright and close ups of the people - otherwise they will not be to visual. the 2 pictures on the right are great but the 2 on the left are very hard to visually see - so in a nut shell...all of your pictures will be printed darker than you think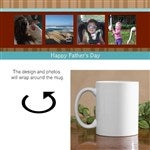 Photo Mug
By
Shopper

(Pinellas Park, FL) - December 12, 2012
Mug and photo reproduction were of average quality. Photos could have been brighter and sharper.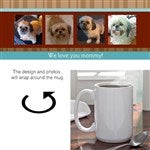 Very Disappointed with Quality
By
Jerrie W.

(Youngsville, NC) - December 26, 2012 (
See all reviews by this customer
)
The good news is the company delivered when they said they would. The bad news is the quality of the picture on the cups were much darker than what they actually were. They were also smaller than what I expected. I had the same picture used for a cup with another company and the quality was far better. Pricing was about the same as the other company but unfortunately picture quality was not good :(

Photo Mugs were pale
By
Glenda M.

(Fresno, CA) - December 22, 2011 (
See all reviews by this customer
)
We picked pictures that looked good on the website. White backgrounds, but they all came out pale and washed out and the one dark picture just came out okay. We have bought other mugs and had better quality, but these were a better price. We would not purchase from this company again.