Father's Day Photo Mug
By
Lynda F.

(Cleveland, OH) - June 17, 2011 (
See all reviews by this customer
)
I loved the coffee mug for my husband. It is beautiful, my daughter loved it also. I know my husband is going to love it also. I put my kids baby picture, and then their graduation picture on the mug, with his favorite great nephew and niece whom he has always treated as his kids. When the family sees this they are going to flip. I love your website as you can tell as I have ordered 3 times already. We recently lost our dog of 15 years, I added him to the mug also. You can expect me to be back again. Can you get more religious sayings or scripture choices. Thanks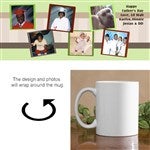 Another Great Purchase!
By
Shopper

(Cleveland, TN) - June 14, 2011
I am always so pleased with all of my purchases from Personalization Mall. I am go excited for my husband to receive this gift on Father's Day. He will love it!

Wonderful gift for coffee drinkers!
By
Shopper

(Raleigh, NC) - June 13, 2011
The pics on the mugs were well placed and exactly like they were in the preview.

LOVE this mug
By
Riana S.

(St Albans, NY) - June 12, 2011 (
See all reviews by this customer
)
I bought this mug for my husband and put it from my daughter for Father's Day. I absolutely love it. Can't wait for him to see it.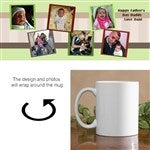 Papi's coffee mug
By
Shopper

(Salinas, CA) - June 6, 2011
OMG, this came out so cute!!! I love it and Papi will too. I am so pleased with this site! I love the site and I will be back soon! Thank you! Great JOB!!

great gift
This is an awesome gift to remenber your loved ones.

Gift for Grandma
By
Shopper

(Creekside, PA) - December 3, 2012
Pictures turned out very well, like the collage, fast shipping very accurate.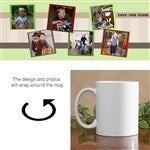 Pretty mug
By
jamie N.

(running springs, CA) - June 17, 2012 (
See all reviews by this customer
)
The mug itself came out very pretty. The images were not blurry at all. However, the picture's color on the mug were not as bright as the original picture.

Great
By
Shopper

(Austin, TX) - May 15, 2012
Grandma loved this as a mothers day gift!! Best gift ever.

Good, a little lighter than expected
By
Meredith C.

(Bloomington, IL) - December 16, 2011 (
See all reviews by this customer
)
The mug came out pretty good, but I've ordered quite a few from this site and others and the design on this is not my favorite when you see it in person. The colors for the background look a bit faded, like it's been through the wash a lot, and the picture borders were a bit fuzzy and not as sharp as the other mugs I've gotten. Overall, pretty good, just not quite the quality of the pictures/design I expected.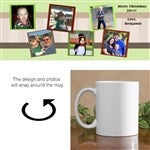 Always a hit!
By
Sharon M.

(Dracut, MA) - December 12, 2011 (
See all reviews by this customer
)
I give this mug to the special men in my life and they LOVE it!!! The picture size is small but masciline enough that each one of them Loves it! Worth it!

great stuff
By
sharon T.

(meridian, ID) - December 9, 2011 (
See all reviews by this customer
)
I bought many cups as gifts for this Christmas and with just looking at them, not yet washing or using , Id say they are totally wonderful. I WISH THEY MADE MORE 6 PHOTO HOLDING CUPS WITH MORE COLORS! This one is great but I ordered more than 1 of these and would have like more choices for 6 photos. In fact I bought this cup in my 1st order and was so pleased that this place did nice work and wasn't a rip off that I ordered from them again. I was just as pleased with the second order (that I just got today yippee:) as I was with the 1st. Thanks!

awesome
By
mallika R.

(bronx, NY) - November 16, 2011 (
See all reviews by this customer
)
I liked it....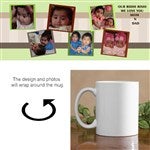 Nice gift
By
Shopper

(Chicago, IL) - September 2, 2011
I got this a gift but I had it delivered to myself because I was going to put chocolates in there. The mug is great, the only thing is that one of the pictures came a little bit faded and with some sort of 'whitish' shadow over it. Other than that, this is a great gift.

Exactally What I Wanted!
By
Nichole B.

(Anchorage, AK) - July 1, 2011 (
See all reviews by this customer
)
I bought this for my dad for fathers day, and it was exactally what I wanted! The colors and the quality of the pictures were good. The only issue with it, was that there were a couple little random ink spots that didn't belong. But, other then that this was perfect and turned out very nice.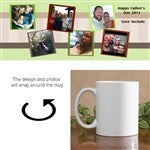 Would Recommend!
By
Shopper

(Grand Rapids, MI) - June 14, 2011
I purchased this for my husband for Father's Day and he absolutely loved it! The only thing that i can say about it is that i wish the colors were a little more vibrant but it is very well made. I would absolutely recommend this to anyone who is sentimental and loves keepsakes!

Father's Day gift to Pop pop
By
Cathy C.

(Aurora , IL) - June 15, 2013 (
See all reviews by this customer
)
I bought the mug for my father in law for a father's day gift. When I shipped the mug to my in law the handle broke. Its a shame because the gift was suppose to be for father's Day . I uploaded pictures of my son and his grandfather on the mug.

Cute mug
By
Shopper

(Beverly, MA) - December 28, 2011
I wanted to love it so much more than I did. The quality is okay - though better then the other mug I bought with the order. I like that it has several photos ... It gets the job done and the recipient who received for Xmas, loved it, but I'd probably go with Snapfish next time.

Photo Collage Mug
By
Faustine L.

(Altadena, CA) - December 20, 2012 (
See all reviews by this customer
)
The shipping was quick and the services were very efficient. The product looks good but the photos on the product look a bit grainy and the colors of the photo are poor.