LOVED them!
By
Shopper

(Somis, CA) - October 12, 2011
These turned out great! The picture quality was perfect and i loved the personalization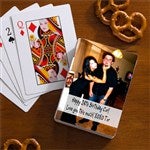 Great Gift--shipping was awesome!!
By
Colleen W.

(Traverse City, MI) - October 28, 2013 (
See all reviews by this customer
)
Ordered these custom playing cards as a last minute add-on gift for my father's 80th birthday...got this brilliant idea just 3 days before the party and they arrived On-Time!! He was so thrilled with them, he took the cards down to the local coffee shop the next morning to play cribbage with them!!

Great shopping/shipping/receiving experience!!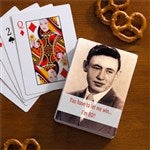 Just what I was looking for
By
Danielle F.

(Felton, DE) - August 12, 2013 (
See all reviews by this customer
)
My husband deployed to Afghanistan and I wanted to get him something practical that would also help him not miss us so much so when I saw the playing cards I thought they were perfect! I didn't put any text on them but the picture I chose to put on them turned out perfect!! Great quality and our soldier LOVED it!! Now he can play cards if he gets bored over there and see our family :)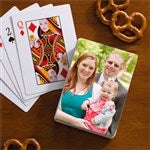 Just Perfect!
By
Kara P.

(Saint mary, GA) - February 25, 2013 (
See all reviews by this customer
)
I got these cards for my husband. He is a submariner and I always try to get him a bunch of little gifts for his deployment. I got the cards sooner then I was suppose to and they were exactly what I wanted! The picture was clear along with the wording. I plan on ordering these for his uncle and grandparents too! I would and do recomend this site and this certain gift to everyone!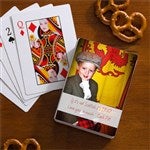 birthday present
By
miriam P.

(fort mitchell, AL) - January 21, 2013 (
See all reviews by this customer
)
It looked great. Loved them...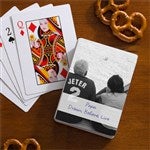 Playing Cards
By
Shopper

(Webster Groves, MO) - January 20, 2013
Cards came in great, perfect job with the photo.

Jeff playing cards
By
Shopper

(bridgeport, WV) - January 2, 2013
Cards were beautiful. Very clear picture. MY grandson loved it.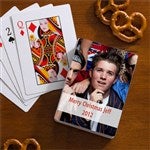 Great gift
By
Shopper

(Monrovia, CA) - December 30, 2012
My grandson loved these. The picture was perfect and the customer service excellent.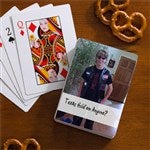 christmas present
By
Jason O.

(Bardonia, NY) - December 28, 2012 (
See all reviews by this customer
)
We ordered this product as a christmas gift and once we actually recieved the product it was great. The picture was clear and the writing was perfect BUT getting the cards was a whole nother story!! At first we recieved a deck of cards with someone we didnt know on them and when i called and was told that they would be shipped out with express shipping to make sure i recieved them by christmas they DID NOT! Called again after christmas and they tell me they are on the truck and i should get them today.... WELL G THANKS THAT HELPS WITH A CHRISTMAS PRESENT!!!!!!!!!!!!!! Happy with the product NOT happy with the company!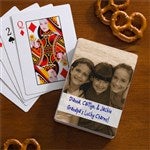 Cute Playing Cards
By
Shopper

(Oelwein, IA) - December 27, 2012
I bought these cards for my nephew who is in the Army & the picture on the back is his 6 month old son. He loved them & is taking the cards with him to Germany.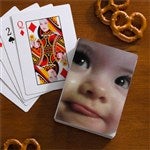 Memory Keepers Special Place
By
Judy A.

(Mesa, AZ) - December 26, 2012 (
See all reviews by this customer
)
We have had a deck of cards with our first names on them for years.
I have wanted to replace them and couldn't find anyplace to do this... Until
Personalization Mall! Not only could I put our names on them, I could could
put a picture on them! It was amazing! I put both our precious Boston Terriers
on them. They turned out wonderful and were a huge hit for my husbands
Christmas Gift. I will be back to this site again. The quality is terrific... Thank you SO
Much!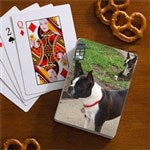 Beuatiful! Just what I wanted!
By
Lydia W.

(Springfield, TN) - December 22, 2012 (
See all reviews by this customer
)
I used a picture of my grandmother's dog for the cards, and it came out beautifully! It looked just like it did when I reviewed it online! The picture was perfect and the script that went at the bottom was perfect!

In addition, I had bought a card box so the cards could go in it, and this was a perfect Christmas present for my grandmother! I am very happy with this purchase and I am planning on using this to buy another set so my Grandmother can travel with it!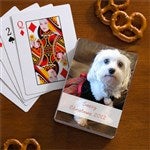 Nice but could be better
By
Kaitlin M.

(Champaign, IL) - December 20, 2012 (
See all reviews by this customer
)
The actual cards are nice, but I wish I would've gotten the ones that come in a picture tin. These came in a cheap Personalization Mall box.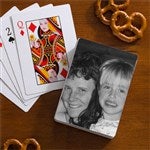 Love 'em!
By
Kimberly K.

(Carmel, IN) - December 18, 2012 (
See all reviews by this customer
)
Very pleased with the personalized cards. The quality of the picture on all the cards is fantastic. Love 'em!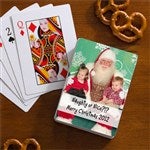 True to preview photo
By
Diane M.

(Saunderstown, RI) - December 10, 2012 (
See all reviews by this customer
)
Bought five different photo card decks and all were true to the photo preview of the card deck before purchasing. Cards are of good quality but the cardboard box each came in is weak. Big hit with 3 of the recipients (2 kids and 1 adult) yesterday.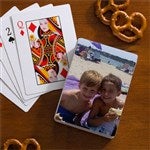 Great gift idea
By
Dennise M.

(Chicago, IL) - November 19, 2012 (
See all reviews by this customer
)
I ordered two sets of cards as a gift for my Mom, each deck had photos of a set of grandchildren. The ordering process was easy, it allowed us to edit the photos so the pictures on the cards were centered just right. The cards came quickly and turned out beautifully, both decks. My only issue is that I wish they would have come with a case to protect them and to show them off, as beautiful as they are a hard clear plastic case would have been perfect.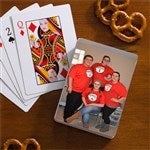 Great quality! But a hint of caution.
By
Shopper

(Rancho Santa Margarita, CA) - October 3, 2012
I think the quality of these cards is just amazing. I worried a bit that maybe they would be paper-thin, but they are perfect quality, just like regular playing cards.

My only problem with them is how they were packaged. The cards themselves are put into a box similar to a familiar playing cards box, and the box is an advertisement for Personalization Mall. I had hoped that I would be surprised by a box that was customized, just like my cards, but that's no one's fault but my own for having that expectation. However, the box was severely dented because it was only shipped in an envelope. So while I know the recipient will love the cards, I'm less than enthusiastic about giving them to him with a box that's so beaten up.

Overall, I love the cards and I think they're perfect. But I would suggest maybe being prepared with a playing card box you designed yourself (or even just one from another deck of cards) to transfer the cards into once you receive them.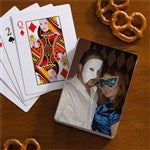 Great product
By
Shopper

(Dickinson, TX) - September 26, 2012
This is my second year to order personalized playing cards for a neighborhood party we have. I again am very pleased with the quality. Thanks again.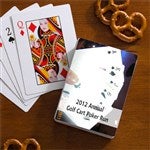 Great gift for the person who has everything
By
Lisa M.

(Smithtown, NY) - September 19, 2012 (
See all reviews by this customer
)
I purchased the personalized cards for a friend who is stationed in Afghanistan. I had a picture of my friend who was dressed in uniform with is niece added to the cards. I thought they would serve two purposes, one being that he could use them and the other would be to see his family. The cards came out excellent and I was very pleased. He was excited to receive them.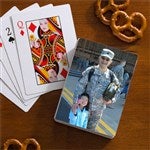 playing cards
By
Shopper

(Monroe, NJ) - September 16, 2012
It was so easy to order the deck of cards. I loved the way it was personalized and able to have the photo,too. I am always satified with my purchases,from Personalization Mall,there workmanship it top notch.....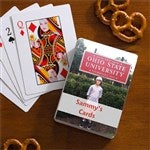 Awsome
By
Shopper

(Gladwin, MI) - September 11, 2012
I absolutly love them!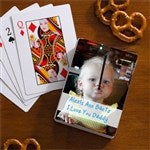 Not what I was hoping for...
By
Shopper

(Wildwood, MO) - September 8, 2012
The cards are placed loosely in a solid gray box, the presentation is less than impressive. I had to go out and find plastic cases, an extra expense, and tie a cute ribbon on them to make them look presentable, very disappointed that I had to go thru all the extra work, especially after how much they cost just to buy the cards!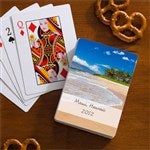 Great website!
By
Robin S.

(Medina, WA) - August 10, 2012 (
See all reviews by this customer
)
I LOVE this website! Very user-friendly, large choice of products, extremely fast turnaround and good quality! I will definitely use this again.
I got this for a gift and the recipient was so touched and surprised.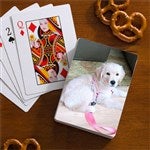 Photo Playing Cards
By
Lynda M.

(Long Beach, CA) - June 11, 2012 (
See all reviews by this customer
)
Love the cards! Ordered them for my father-in-law for Father's Day, now everyone who has seen them wants to order some. Good quality, clear, sharp photo.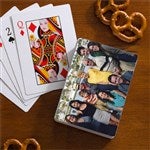 print quality good, but there were some slight imperfections
By
Shopper

(indianapolis, IN) - April 20, 2012
these make really nice novelty cards, but I won't be able to play any serious card games with them as some of the cards have print imperfections where the image didn't cover the card all the way leaving a white line on the bottom. I gave the cards to my boyfriend for his birthday and he was pleased with them none the less.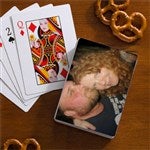 Great Gifts for the Grandparents!
By
Sally W.

(Canada) - April 7, 2012 (
See all reviews by this customer
)
I order a few of these for Easter gifts for my son's 4 sets of grandparents. They turned out awesome and so neat. Great for those people who don't live close to their grandparents/parents and want to share those special memories!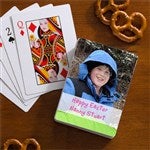 Great Photo Quality !
By
alison E.

(san Francisco, CA) - April 6, 2012 (
See all reviews by this customer
)
I ordered these for my dad as a birthday present. He absolutely loved the cards! They aren't floppy and will surely last a long time. Thank you Personalization Mall!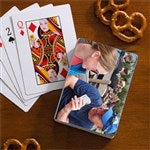 enjoying family or new friends when playing games
By
KATHRYN B.

(WEST SENECA , NY) - April 1, 2012 (
See all reviews by this customer
)
I purchased this product for my daughter who is going away to school, to remember her brothers when she may want to play a game with new friends.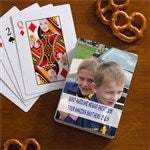 Awesome Qualtiy!
By
Shopper

(Highland, MI) - March 27, 2012
Ordered these Playing Cards for my daughter for her birthday of her three kids at the beach! She was a little confused at first, "you got me cards?" until I told her to "turn them over" and she was so excited to see her kids' smiling faces on her own deck of cards! Quality work done on a quality deck of cards! Great gift!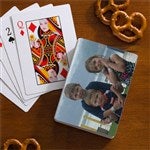 Playing Cards
By
Gloria B.

(Aldan, PA) - March 27, 2012 (
See all reviews by this customer
)
The were very nice and I loved them!

Engagement Gift
By
Patricia S.

(Hawthorne, NJ) - March 27, 2012 (
See all reviews by this customer
)
I purchased the cards for a bridal shower gift for my son and his fiance' and they are perfect. They are good quality and the picture is very clear. I am sure they will be a hit at the shower.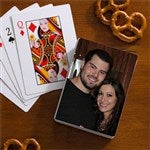 perfect
By
Karissa Q.

(Medford, OR) - March 17, 2012 (
See all reviews by this customer
)
Just what I ordered. Love it. Thank you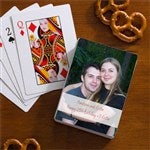 awsome cards
By
Mary N.

(Clarkston, WA) - January 31, 2012 (
See all reviews by this customer
)
The cards that I got are the best looking cards, you did good with the photo that I chose which made my birthday, Thanks so much.

Sincerely,
Mary Norris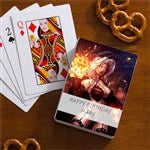 Great Quality
By
Shopper

(Mount Juliet, TN) - January 20, 2012
The playing cards were perfect. Nice quality and the picture turned out great.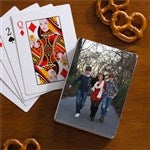 Looks great! :)
By
Shopper

(Greenwood, IN) - December 27, 2011
Great set of cards, already started playing with them!

Perfect gift!
By
Shopper

(Crown Point, IN) - January 15, 2012
Great cards with a nice photo quality. Great for the women I play cards with!

Personalized Playing Cards a Big Hit
By
Shopper

(Colorado Springs, CO) - December 26, 2011
I had a picture of our son's young Labrador Retreiver put on a deck of poker cards. Our son was surprised and thrilled. He and his fiance both thought it was the best gift ever.
The cards are excellent quality and packaged beautifully. This is definitely a great gift for many different occasions.

Christmas gifts
By
Shopper

(Pataskala, OH) - December 28, 2011
I have ordered several products from this company and they are great. I received my orders within a day or two and the quality is excellent.

Love this idea!
By
Kathy G.

(Mantua , NJ) - December 29, 2011 (
See all reviews by this customer
)
I recently purchased this personalized guft for my Dad for Christmas. My Dad loved it!!

Not so good quality
By
Shopper

(Nashua, NH) - April 5, 2013
The printed photo on card is ok but the quality of cards could be more better.... The signs and numbers are not of professional quality.... It would be better with quality cards....