Cute Cards
By
Shopper

(Blackstone, VA) - September 10, 2012
The cards turned out great! The only thing I would change would be the box they come in. It would be nice to have the box display the card personalization or for there to be a case for them to be stored in.

nice
By
Shopper

(warsaw, IN) - May 7, 2012
i wish the box cover would have had photo on outside like there puzzles do on the outside of the puzzle tin.

unique
By
Shopper

(Indian Head Park, IL) - May 4, 2012
Nice idea and the cards are good quality. The box that the cards come in should be a little nicer though. Perhaps a sturdy cardboard box would be better. I feel it cheapens the gift.

Great Girft For Anyone Who Likes To Play Cards
By
Shopper

(Elk Mound, WI) - December 17, 2011
I recently ordered 2 different sets of these as Christmas gifts, and I'm very happy with them. It's exactly what you expect; a personalized set of playing cards. I did think they were a tad pricing, but I'd still recommend them. Excellent gift idea!

Loved the cards.
By
Shopper

(Odenton, MD) - December 11, 2011
I was pleased with the photo on the deck of cards and the quality of the cards. Great gift for Mom.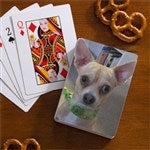 Very good quality
By
Shopper

(maplewood, NJ) - December 4, 2011
I have purchased these cards for my grandma, since she loves to play with her friends. The quality of the picture on the card was really good, it also help if you follow the recommendations from this website, to download a higher quality photo to your order. The cards arrived just on the time that the company said they would. I know my grandma is going to love these cards.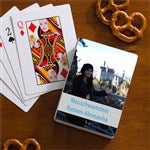 love this item
By
anna L.

(Canada) - November 28, 2011 (
See all reviews by this customer
)
great gift i should have bought more at same time

Photo playing cards
By
Shopper

(Memphis, TN) - June 17, 2013
The picture looked great but I was disappointed with the quality of the playing cards. Very thin and cheap feeling.

print quality good, but there were some slight imperfections
By
Shopper

(indianapolis, IN) - April 20, 2012
these make really nice novelty cards, but I won't be able to play any serious card games with them as some of the cards have print imperfections where the image didn't cover the card all the way leaving a white line on the bottom. I gave the cards to my boyfriend for his birthday and he was pleased with them none the less.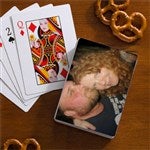 Not so good quality
By
Shopper

(Nashua, NH) - April 5, 2013
The printed photo on card is ok but the quality of cards could be more better.... The signs and numbers are not of professional quality.... It would be better with quality cards....

Not what I was hoping for...
By
Shopper

(Wildwood, MO) - September 8, 2012
The cards are placed loosely in a solid gray box, the presentation is less than impressive. I had to go out and find plastic cases, an extra expense, and tie a cute ribbon on them to make them look presentable, very disappointed that I had to go thru all the extra work, especially after how much they cost just to buy the cards!