Fun fun fun
i have ordered several different decks with varying photos. All were big hits with recipients. I will be ordering more!

LOVED them!
By
Shopper

(Somis, CA) - October 12, 2011
These turned out great! The picture quality was perfect and i loved the personalization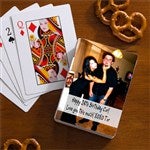 Perfect for grandpa
By
Cassandra C.

(San Leandro, CA) - June 23, 2014 (
See all reviews by this customer
)
Was looking for something for Father's Day for my elderly father and this was perfect. He loved the picture and he and my mom love to play games to pass the time.

Playing Cards
By
Shopper

(Coral Gables, FL) - June 15, 2014
The playing cards were great! Super Cute! The box they came in tore the first time I pulled the cards out. Would order again

Pretty good!
By
Beth T.

(Norfolk, VA) - December 24, 2013 (
See all reviews by this customer
)
Ordered one of these every year for the past 3 years and it is always a pretty good product! My main issue is with the photo uploading software. This year it was a bit better, but I feel like it takes away some of the quality of the photo. But aside from that, great product!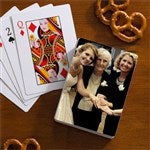 Look great -wish they were a bit bigger
By
Shopper

(Holland, MI) - December 14, 2013
These turned out great with the pictures and the writing on them. I bought them for a gift and I'm sure they will enjoy them. I would have liked the deck of cards to be just a bit bigger though.

Playing Cards
By
Halle S.

(Eugene, OR) - December 9, 2013 (
See all reviews by this customer
)
While the playing cards were printed beautifully, the cardstock used was rather flimsy feeling and matte instead of glossy (like normal playing cards). I still plan to give them as gifts, but I wish they were a little sturdier for real play. Also, the black packaging they came in was equally flimsy. STILL, 4/5 stars because the photo looks exactly as I had hoped and the text is legible and printed the same on each card.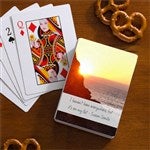 Good Quality Photo
By
Katie H.

(Sterling Heights, MI) - July 31, 2013 (
See all reviews by this customer
)
The photo turned out great. The deck of cards was a cute Birthday gift for my husband. However, the card quality could have been better for the price I paid for the product.

Father's Day Gift
By
Shopper

(Valley Park, MO) - June 18, 2013
Very nicely done., the quality of the picture was good.
problem: I wish I would had been able to move the comments to the top of the item instead of being place at the bottom of the picture because it covered some of the pic. When I called your chat center I was told that moving the comments up wasn't an option. This problem reduced the picture options I had. Think about adding that option for future purchases.

christmas present
By
Jason O.

(Bardonia, NY) - December 28, 2012 (
See all reviews by this customer
)
We ordered this product as a christmas gift and once we actually recieved the product it was great. The picture was clear and the writing was perfect BUT getting the cards was a whole nother story!! At first we recieved a deck of cards with someone we didnt know on them and when i called and was told that they would be shipped out with express shipping to make sure i recieved them by christmas they DID NOT! Called again after christmas and they tell me they are on the truck and i should get them today.... WELL G THANKS THAT HELPS WITH A CHRISTMAS PRESENT!!!!!!!!!!!!!! Happy with the product NOT happy with the company!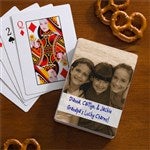 Nice but could be better
By
Kaitlin M.

(Champaign, IL) - December 20, 2012 (
See all reviews by this customer
)
The actual cards are nice, but I wish I would've gotten the ones that come in a picture tin. These came in a cheap Personalization Mall box.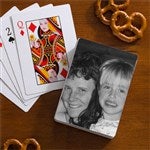 Photo Playing Cards
By
Shopper

(Del Valle, TX) - December 11, 2012
The photo playing cards are adorable. I couldn't have been happier with my choice. The cards are on a stronger paper than I anticipated. The photo is very clear and precise.

Very cute & personable
By
Janet O.

(Weirton, WV) - December 8, 2012 (
See all reviews by this customer
)
Allows u to upload a personal quality pic & add a short phrase. Very cute to play card games w children's pics. Cards of decent quality

Great gift idea
By
Dennise M.

(Chicago, IL) - November 19, 2012 (
See all reviews by this customer
)
I ordered two sets of cards as a gift for my Mom, each deck had photos of a set of grandchildren. The ordering process was easy, it allowed us to edit the photos so the pictures on the cards were centered just right. The cards came quickly and turned out beautifully, both decks. My only issue is that I wish they would have come with a case to protect them and to show them off, as beautiful as they are a hard clear plastic case would have been perfect.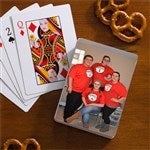 Cute Cards
By
Shopper

(Blackstone, VA) - September 10, 2012
The cards turned out great! The only thing I would change would be the box they come in. It would be nice to have the box display the card personalization or for there to be a case for them to be stored in.

nice
By
Shopper

(warsaw, IN) - May 7, 2012
i wish the box cover would have had photo on outside like there puzzles do on the outside of the puzzle tin.

unique
By
Shopper

(Indian Head Park, IL) - May 4, 2012
Nice idea and the cards are good quality. The box that the cards come in should be a little nicer though. Perhaps a sturdy cardboard box would be better. I feel it cheapens the gift.

Great Girft For Anyone Who Likes To Play Cards
By
Shopper

(Elk Mound, WI) - December 17, 2011
I recently ordered 2 different sets of these as Christmas gifts, and I'm very happy with them. It's exactly what you expect; a personalized set of playing cards. I did think they were a tad pricing, but I'd still recommend them. Excellent gift idea!

Loved the cards.
By
Shopper

(Odenton, MD) - December 11, 2011
I was pleased with the photo on the deck of cards and the quality of the cards. Great gift for Mom.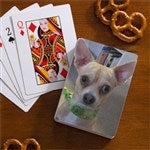 Very good quality
By
Shopper

(maplewood, NJ) - December 4, 2011
I have purchased these cards for my grandma, since she loves to play with her friends. The quality of the picture on the card was really good, it also help if you follow the recommendations from this website, to download a higher quality photo to your order. The cards arrived just on the time that the company said they would. I know my grandma is going to love these cards.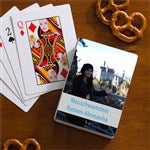 love this item
By
anna L.

(Canada) - November 28, 2011 (
See all reviews by this customer
)
great gift i should have bought more at same time

Very nice but could be better
By
Chelsea G.

(New Hyde Park, NY) - April 8, 2014 (
See all reviews by this customer
)
I purchased this gift to give to my boyfriend for his birthday and just recently received it. The image is stunning and is just how I wanted it and the shine adds a nice effect. However, the cards seem to be a little thin and although not too bad still enough to notice. Also the box the came in tore immediately and now I have to think of another way to wrap them to give them as a gift. All in all a nice idea that could use some tweaking.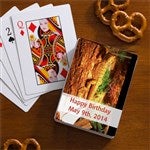 50th anniversary favors
By
Anna R.

(Newhall, CA) - February 17, 2014 (
See all reviews by this customer
)
Although the cards show our picture beautifully, the quality of the card itself is very poor, they are extremely hard to shuffle.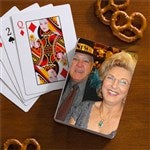 Good thought but might want to rethink
By
Shopper

(Cheyenne, WY) - January 11, 2014
Playing cards are kind of not worth the price you pay, unless your family plays cards all the time; and they can remember the gesture.

Photo playing cards
By
Shopper

(Memphis, TN) - June 17, 2013
The picture looked great but I was disappointed with the quality of the playing cards. Very thin and cheap feeling.

print quality good, but there were some slight imperfections
By
Shopper

(indianapolis, IN) - April 20, 2012
these make really nice novelty cards, but I won't be able to play any serious card games with them as some of the cards have print imperfections where the image didn't cover the card all the way leaving a white line on the bottom. I gave the cards to my boyfriend for his birthday and he was pleased with them none the less.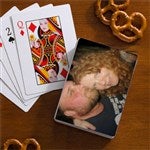 Photo Cards
By
Shopper

(Erie, PA) - January 13, 2014
I hae ordered these photo cards for my dad as he enjoys the great-grandchildren's pictures on them and plays cards every night and wears them out. He literally will ask me for a new deck of cards when the previous ones are worn out. I will say this particular set of cards I WAS NOT happy with the quality of the picture as it was not glossy, it was grainy. All the previous decks were glossy. I am disappointed and I feel their photo quality is not as good as previously.

Not so good quality
By
Shopper

(Nashua, NH) - April 5, 2013
The printed photo on card is ok but the quality of cards could be more better.... The signs and numbers are not of professional quality.... It would be better with quality cards....

Not what I was hoping for...
By
Shopper

(Wildwood, MO) - September 8, 2012
The cards are placed loosely in a solid gray box, the presentation is less than impressive. I had to go out and find plastic cases, an extra expense, and tie a cute ribbon on them to make them look presentable, very disappointed that I had to go thru all the extra work, especially after how much they cost just to buy the cards!