Cute Playing Cards
By
Shopper

(Oelwein, IA) - December 27, 2012
I bought these cards for my nephew who is in the Army & the picture on the back is his 6 month old son. He loved them & is taking the cards with him to Germany.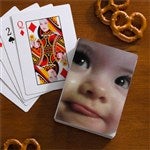 Great gift
By
Shopper

(Carol Stream, IL) - December 26, 2012
These playing cards make an adorable gift. They are really easy to create and the finished product is very nice!

Memory Keepers Special Place
By
Judy A.

(Mesa, AZ) - December 26, 2012 (
See all reviews by this customer
)
We have had a deck of cards with our first names on them for years.
I have wanted to replace them and couldn't find anyplace to do this... Until
Personalization Mall! Not only could I put our names on them, I could could
put a picture on them! It was amazing! I put both our precious Boston Terriers
on them. They turned out wonderful and were a huge hit for my husbands
Christmas Gift. I will be back to this site again. The quality is terrific... Thank you SO
Much!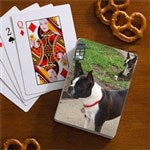 Beuatiful! Just what I wanted!
By
Lydia W.

(Springfield, TN) - December 22, 2012 (
See all reviews by this customer
)
I used a picture of my grandmother's dog for the cards, and it came out beautifully! It looked just like it did when I reviewed it online! The picture was perfect and the script that went at the bottom was perfect!

In addition, I had bought a card box so the cards could go in it, and this was a perfect Christmas present for my grandmother! I am very happy with this purchase and I am planning on using this to buy another set so my Grandmother can travel with it!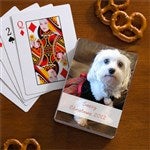 Make things special...everyone loves them!
By
Melanee S.

(Irving, TX) - December 20, 2012 (
See all reviews by this customer
)
I got several sets of these cards. My mom at her 62nd bday at a strip club, my nephew in his little league uniform and my son with his Taekwondo instructors when he got his 3rd degree as well as a set of he and his girl friend for her stocking. I am so anxious to give them out. I can't hardly wait. I have showed them to a couple people and they love them!! These are unique and special to each recipient and the giver as well. And, you know, I may get another set for a good friend of mine too. I can't stop thinking about the many people who would enjoy getting these. Bravo!

Great unique gift
By
Shopper

(Palm Beach Gardens, FL) - December 20, 2012
Did these for little fun gifts for Christmas! Came out great

Better than expected
By
Kimberly S.

(Mechanicsville, MD) - December 19, 2012 (
See all reviews by this customer
)
These turned out better than I had hoped. Excellent quality and received them very fast.

Sturdy and well made
By
Ragini S.

(Cypress, TX) - December 18, 2012 (
See all reviews by this customer
)
I ordered these as a gift for my aunt, who loves to play solitaire. I had them made with a picture of her and my son at the beach. The picture came our perfect, just as I had edited it. I like the feel and look of the cards, they look sturdy and durable.

Love 'em!
By
Kimberly K.

(Carmel, IN) - December 18, 2012 (
See all reviews by this customer
)
Very pleased with the personalized cards. The quality of the picture on all the cards is fantastic. Love 'em!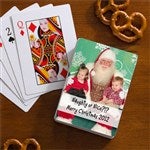 What a HIT!
By
Valeri A.

(San Diego, CA) - December 16, 2012 (
See all reviews by this customer
)
Ordered these for my daughter and her friends. The picture was of their 5th grade graduation, (I did the picture sideways). The girls loved them! Even better than I had expected. Will definitely get these again for my other kids. No issue with quality, size, etc.

very nice quality
By
Amanda U.

(Flushing, MI) - December 14, 2012 (
See all reviews by this customer
)
Exactly what I ordered. Nice quality. Will be likely to purchase again in the future.

family playing cards
By
Shopper

(Edna, KS) - December 13, 2012
I was very surprised and pleased with the fast service and the quality of the cards that I purchased. I would recommend anyone to do the same.

Beautiful, perfect gift
By
Christina D.

(Worthington, MO) - December 12, 2012 (
See all reviews by this customer
)
This gift was as perfect as I thought it would be from the picture. Very good quality product. The person I bought this gift for absolutely loved it.

Great Quality!
By
Shopper

(Canton, GA) - December 12, 2012
This is perfect for my grandpa who sits and plays solitare a lot! The picture turned out very clear and the personalization was just perfect! Very fast processing and shipping. He will love them! Thank you personalization mall for making great products at affordable prices!

True to preview photo
By
Diane M.

(Saunderstown, RI) - December 10, 2012 (
See all reviews by this customer
)
Bought five different photo card decks and all were true to the photo preview of the card deck before purchasing. Cards are of good quality but the cardboard box each came in is weak. Big hit with 3 of the recipients (2 kids and 1 adult) yesterday.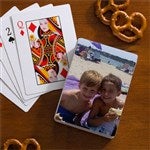 3 amigos
By
Shopper

(Plano, TX) - December 10, 2012
Hard to find a small and usefull gift for my nephew who is in the navy. These personalized (photo) playing cards were perfect. Now he can remember a fun time with his brother and cousin while playing a game of cards.

Personalized playing cards
By
LouAnn V.

(Angola, NY) - December 9, 2012 (
See all reviews by this customer
)
I ordered the peronalized playing cards with my firend & her husband's picture on it. They turned out beautiful. The picture was clear & I can't wait to give them to her as a Christmas gift. I would order this item again.

Perfect Cards!
By
Shopper

(Vermilion, OH) - December 3, 2012
As always, the products I received from personalization mall are perfect! The pictures on the cards look great, I can't wait for my parents to open their Christmas present! Thank you!

Beautiful!
By
Camille L.

(Garnerville, NY) - October 12, 2012 (
See all reviews by this customer
)
The quality of these cards exceeded my expectations! I ordered them for my son & daughter-in-law as a gift for their first wedding anniversary. I chose one of their wedding photos--the reproduction of the photo on the cards is beautiful, and this turned out to be the perfect 1st anniversary "paper" gift!!! The ordering process was very easy, and they were delivered much sooner than promised. I'm very pleased with this purchase!

Great quality! But a hint of caution.
By
Shopper

(Rancho Santa Margarita, CA) - October 3, 2012
I think the quality of these cards is just amazing. I worried a bit that maybe they would be paper-thin, but they are perfect quality, just like regular playing cards.

My only problem with them is how they were packaged. The cards themselves are put into a box similar to a familiar playing cards box, and the box is an advertisement for Personalization Mall. I had hoped that I would be surprised by a box that was customized, just like my cards, but that's no one's fault but my own for having that expectation. However, the box was severely dented because it was only shipped in an envelope. So while I know the recipient will love the cards, I'm less than enthusiastic about giving them to him with a box that's so beaten up.

Overall, I love the cards and I think they're perfect. But I would suggest maybe being prepared with a playing card box you designed yourself (or even just one from another deck of cards) to transfer the cards into once you receive them.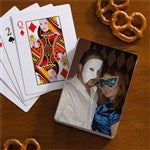 Great product
By
Shopper

(Dickinson, TX) - September 26, 2012
This is my second year to order personalized playing cards for a neighborhood party we have. I again am very pleased with the quality. Thanks again.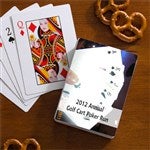 Great gift for the person who has everything
By
Lisa M.

(Smithtown, NY) - September 19, 2012 (
See all reviews by this customer
)
I purchased the personalized cards for a friend who is stationed in Afghanistan. I had a picture of my friend who was dressed in uniform with is niece added to the cards. I thought they would serve two purposes, one being that he could use them and the other would be to see his family. The cards came out excellent and I was very pleased. He was excited to receive them.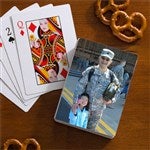 playing cards
By
Shopper

(Monroe, NJ) - September 16, 2012
It was so easy to order the deck of cards. I loved the way it was personalized and able to have the photo,too. I am always satified with my purchases,from Personalization Mall,there workmanship it top notch.....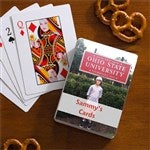 Amazing!
By
Shannon R.

(Nashville, TN) - September 12, 2012 (
See all reviews by this customer
)
I ordered these cards for my mother/father-in-law for their wedding anniversary. We are a big poker playing family so I figured these personalized playing cards would be a hit! They turned out awesome and were delivered very fast as well! I would definitely reccomend these to anyone!

Awsome
By
Shopper

(Gladwin, MI) - September 11, 2012
I absolutly love them!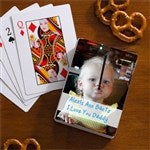 A fun momento
By
Shopper

(alpharetta, GA) - August 27, 2012
The cards actually turned out to be nicer than I expected. Folks really enjoyed getting them as a surprise momento of a family reunion

Impressive Personalized Gift!
By
Shopper

(Atlanta, GA) - August 27, 2012
I ordered personalized playing cards with a family photo. The end result is wonderful. Can't wait to see their reaction to the gift. I know it will be a favorite.

Great website!
By
Robin S.

(Medina, WA) - August 10, 2012 (
See all reviews by this customer
)
I LOVE this website! Very user-friendly, large choice of products, extremely fast turnaround and good quality! I will definitely use this again.
I got this for a gift and the recipient was so touched and surprised.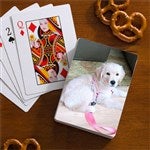 Photo Cards
By
Lucia B.

(Hbg, PA) - August 4, 2012 (
See all reviews by this customer
)
My Family that the Gift was purchased for Loved the cards. It was for a First Annvsy gift which was Paper So they loved the gift and they get to use it Often..

Great Gift!!
By
Shopper

(Caldwell, ID) - July 13, 2012
I purchased this for a loved one that was away from home...he loved them! The photo and print was excellent - what a fun keepsake!

Really worth it! A very good gift idea
By
Shopper

(Chicago, IL) - July 7, 2012
Loved this, would be better if we could have added more photos for different cards. But all in all a very good gift idea.

product review
By
Shopper

(Englewood , CO) - June 20, 2012
We ordered the playing cards and wooden box. We had both personalize. It was amazing! It was great quality and turned out way better then we could have expected! Thank you!

Dad Loved It!
By
Shopper

(Gilbertsville, PA) - June 19, 2012
Purchased this deck of cards for my daughter to give her dad for Father's Day and he loved it. They are good quality and look great!

Great gift for card lovers
By
Shopper

(Ottawa Hills, OH) - June 17, 2012
I gave this to my father in law on father's day with my daughter's picture on it and he loooooved it! It was definitely worth it as he loves playing cards!

Photo Playing Cards
By
Lynda M.

(Long Beach, CA) - June 11, 2012 (
See all reviews by this customer
)
Love the cards! Ordered them for my father-in-law for Father's Day, now everyone who has seen them wants to order some. Good quality, clear, sharp photo.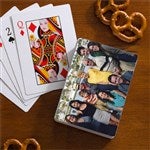 Cards
They are nice

Great gift idea!
By
Shopper

(Armonk, NY) - May 15, 2012
I was happily surprised to see the quality of the cards were so good. I was worried the cards would be flimsy but they weren't. The picture came out great and everyone loved the look and wanted to know where I got them. Great gift idea!

My daughter was thrilled!
By
Shopper

(Douglasville, GA) - April 8, 2012
Great quality with super fast delivery.

Great Gifts for the Grandparents!
By
Sally W.

(Canada) - April 7, 2012 (
See all reviews by this customer
)
I order a few of these for Easter gifts for my son's 4 sets of grandparents. They turned out awesome and so neat. Great for those people who don't live close to their grandparents/parents and want to share those special memories!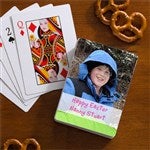 Great Photo Quality !
By
alison E.

(san Francisco, CA) - April 6, 2012 (
See all reviews by this customer
)
I ordered these for my dad as a birthday present. He absolutely loved the cards! They aren't floppy and will surely last a long time. Thank you Personalization Mall!