Disappointed!!!!!!!!!!!!
By
Jo B.

(Madisonville, LA) - January 2, 2012 (
See all reviews by this customer
)
I PAID TOTAL OF $24.11 FOR A DECK OF CARDS THAT YOU CAN'T USE WITHOUT BENDING THEM. THEY ARE EXTREMELY THIN AND I WAS EMBARASSED TO GIVE THEM AS A GIFT. YOU CAN NOT USE THESE CARDS AS PLAYING CARDS I EXPECTED QUALITY FOR THIS PRICE AND I WILL NOT MAKE ANOTHER PURCHASE FROM THIS COMPANY. THIS WAS A CHRISTMAS GIFT.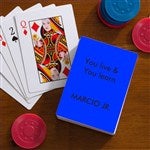 A great gift for your friends that play cards
By
Shopper

(Clarendon Hills, IL) - November 16, 2012
I bought the black & pattern. Glad I did, I think you might have trouble reading the names on the strip patterns. Paper quality is good, order came very quickly. I would suggest buying one of the card cases (I bought the Rosewood one),placed the cards inside.
I would reccomend the cards...you won't be sorry.

He is THRILLED!
By
Malika B.

(Marietta, GA) - January 17, 2013 (
See all reviews by this customer
)
My husband is a huge card player, mainly spades. I have been looking for personalized cards for him for quite sometime but have never been 100% sold on a company. I finally decided to go with Personalization Mall, and when I received the cards, I was extreamly impressed with not only the quality of the work, but also the quality of the cards, themselves. I gave them to my husband last night for his birthday, and I don't think I could have asked for a better reaction! He is very happy! Thank you!

perfect for the monthly poker game
By
Shopper

(Tallmadge, OH) - December 23, 2011
these cards were a fun gift to my ladies poker group. and since we use a double deck for some of our 'crazy' games, the different colors I choose make it even more interesting. The bright colors, bold print, and font were perfect. The one thing I would have liked is a choice of a larger numbered playing card....

Great Quality
By
Madison R.

(Shallowater, TX) - December 14, 2013 (
See all reviews by this customer
)
I bought these cards as a present for my boyfriend. The quality is great and the patterns and fonts turned out even better than they looked on the screen! No regrets about ordering these.

Not what I expected
By
Shopper

(St Augustine, FL) - August 12, 2014
The cards are much lower quality than expected for that price. The personalization did not show up well at all. I previewed different colors on the site and chose what I thought was best based on the review. The collir is much darker and almost can't see personlization

Great gift
By
Shopper

(plymouth meeting, PA) - December 23, 2011
Great gift for my sons friend. Nice quality, quick delivery.

A must for Card Collectors
By
Shopper

(The Woodlands,, TX) - March 5, 2012
My college son has collected decks of playing cards since he was a little boy when his grandfather got him started. He is receiving his Personalized deck for graduation from college in May, with his name, college and year of graduation personalized in his school colors. I know he will love this deck of cards!

Great gift!
By
Shopper

(Collinsville, IL) - September 22, 2012
Very nice, but you will have to buy something nicer to store them in. Would definitely buy them again.

Great gift
By
Shopper

(Bronx, NY) - August 4, 2012
Great gift, reasonably priced, good quality!

Complete Satisfaction
By
Shopper

(North Myrtle Beach, SC) - December 9, 2012
I was completely satisfied with the quality of the cards and the quality of the printing work. I was amazed at the speed of delivery.

Fast and accurate
By
Shopper

(Urbandale, IA) - November 12, 2012
Easy, affordable, fast shipping and the process was super easy! I recommend this site to all and I will be returning for x-mas!

My grandson was thrilled!
By
Shopper

(Platteville, WI) - January 8, 2012
Our grandson is a budding magician and card "shark" and all he wanted for Christmas were magic tricks and decks of cards, even though he must have 25 or more already. But when I was able to give him a deck of cards that had his name and the title of Magician on it, he was really ecstatic. He is hoping to take part in a talent show at his school, and will do some cards tricks using this special deck of cards.

By the way, I was interested to see that these were shipped from Burr Ridge, since that is where he lives as well. I have your website bookmarked so that the next time I want a personalized item, I will know just where to look.

Thanks for your good service and great product.