Doctor mugs
By
Shopper

(Jacksonville, FL) - May 20, 2014
My son loved the mug! Wonderful gift for a med school graduate.

Perfect Doctor's Day gift
By
Shopper

(Muscle Shoals, AL) - March 31, 2014
The cup was the perfect size, the personalization was perfect and our doctors loved the sentiment and craftsmanship. I would definitely recommend this item.

Mug
By
Diane S.

(Springfield, MO) - February 12, 2014 (
See all reviews by this customer
)
Exceeded expectations. It is very pretty and a gift I am pleased to give. Will order again.

Coffee Mug
By
Jeanette M.

(North Stonington, CT) - August 6, 2013 (
See all reviews by this customer
)
I purchased this coffee mug for my granddaughter & I am very satisfied with
my purchase & the quality of the item. I would recommend anyone looking for personalized items, to check this site out.

Thank You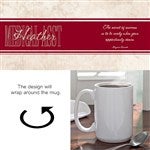 Best affordable and reliable gift
By
Asim M.

(Amherst, NY) - June 28, 2013 (
See all reviews by this customer
)
Prompt service. Exceptional customer service. Definitely recommend.

High quality and an excellent price point!
By
Maurine R.

(Alliance`, NE) - March 11, 2013 (
See all reviews by this customer
)
This is the second time I've utilized Personalizationmall.com. I'm completely happy with their turnaround time and selection of products. I'm sure we'll be using them again!

timskris
By
Shopper

(Tehachapi, CA) - January 14, 2013
Cups were perfect for the Doctors.
The quality and quick delivery time was great as well.

Nice mug
By
Shopper

(Clermont, FL) - December 28, 2012
Would buy from here again. Very pleased.

Nice gift
By
Shopper

(Glastonbury, CT) - July 3, 2012
Nice ceramic mug, message makes it special.

Nurse Hero
By
Karen S.

(Peotone, IL) - April 1, 2012 (
See all reviews by this customer
)
I was very happy with the easy of ordering, the shipping and the quality of the product. It is just enough design, not gaudy, for young adults through older adults. It turned out to be a great gift for our Nurse Hero.

Review for product
By
STELLA F.

(FLUSHING, NY) - December 24, 2011 (
See all reviews by this customer
)
Odered this for my ob ' who delivered my girls. N saved us ;)
Loved the Saying. N the way it looks

Great gift!
By
Shopper

(Keller, TX) - October 18, 2011
High quality, personal gift for any health professional! Highly recommend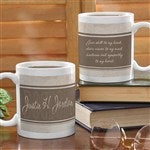 Great quality mug!!
By
Shopper

(Alma, GA) - September 30, 2011
I bought this "just because" for the sweet, caring nurse at my Dr.'s office. When she read the verse I chose, she was almost in tears. Love the quality and selection of mugs, love the choice of verses given here, and the best thing is that most orders arrive within 3-5 days w/Standard Shipping. I will continue to buy the bulk of my gifts here. Great price point also! Thanks!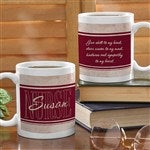 Why I liked this product.
By
Shelah B.

(Whitehouse, OH) - June 20, 2011 (
See all reviews by this customer
)
I gave these as a gift to graduating residents. The personalization along with the gift was very much appreciated by all. Being able to pick my own quote was extra special.

Good quality
By
Shopper

(Chapel Hill, NC) - July 20, 2013
These are nice mugs, the only thing for improvement is to change font maybe for quote at the back of the mug, right now it is quite small and difficult to read, but overall it is a very nice gift.

Great gift
By
Shopper

(oceanside, CA) - March 22, 2013
I purchased this mugs for provider appeciation day. They cameout very nice.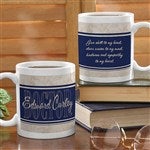 Would Purchase Again
By
Shopper

(Elizabeth, NJ) - January 1, 2012
Bought this as a holiday gift for someone special. Fast delivery and good quality product. Would purchase from retailer again!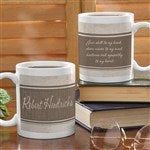 Inspiring Gift
By
Cheryl C.

(Silver Creek, NY) - December 30, 2011 (
See all reviews by this customer
)
I was very pleased with the color/print on this mug, but disappointed that the organization wasn't printed as I requested. I was surprised at how quickly this was delivered.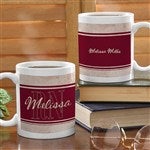 size matters
By
Shopper

(East Northport, NY) - December 21, 2011
all personalization is correctly spelled and placed. Downside, the mug appears somewhat "taller" in the photos, and the "personalized background" under the name is more subtle that I had expected. Otherwise, item was shipped and received very quickly and was well- and securely packaged.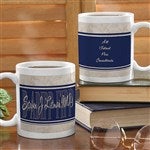 Very well met my expectation
By
Suresh K G.

(Cleveland, OH) - November 22, 2011 (
See all reviews by this customer
)
I liked the ordered item , it turned out to be exactly the same as I saw in the pre-view window after I customized the wordings.

It was worth the amount.Overall, I am satisfied.

Thanks

Hard to Read
By
Shopper

(Monrovia, CA) - May 20, 2014
The writing was harder to read than I had hoped. Even the names on the front were very thin and harder to read. They will still work well as a graduation gift, but I wish it looked more professional.

Not Impressed
By
Shopper

(Los Angeles, CA) - December 4, 2011
I usually love everything I order from personalization mall but this just didn't do it for me. I ordered it for a secret santa gift and while I am going to give it, I am not thrilled about the look. The actual writing appears much smaller than the picture and the quality of the design just isn't what I am used to getting from Personalization mall. I will continue to order from PM just won't be ordering any more of these.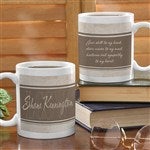 Doesn't look as good as preview
By
Shopper

(Johns Creek, GA) - December 15, 2011
I really liked the idea of this product, because it allowed for personalization of our department, in addition to individual staff member. And the quotes are great. However, I am very unhappy with the product I received - it does not look anywhere as clear and sophisticated as the preview picture showed it would be. I received it and the image is very grainy and the colors are not as advertised. I bought this gift for each doctor in my practice. I am embarrassed to give something that does not look as good as I expected, but I have no choice because the timeline for our upcoming holiday party. I would not recommend this item to you, especially if you are planning to gift it to people at work.