GREAT PRODUCT-FAST DELIVERY
By
Jo Ann H.

(Manalapan, NJ) - May 7, 2014 (
See all reviews by this customer
)
This was my first order with the company and was extremely satisfied with the quality, customer service and promptness of delivery! I will definitely be ordering again whenever I need personalization on a product. Thanks!

Really cute and professional
By
Shopper

(Stockton, CA) - January 31, 2014
Bought this cup for multiple teachers and my boss and they loved it! I've shopped at many stores offering custom cups, but none compares to the quality of personalizationmall! I loved the quality of the print and bought myself one too. It's a gift that anyone would keep forever. Order also shipped the next day and received it really quick.

Gym Teacher
By
Terry F.

(Huntsville, AL) - September 1, 2013 (
See all reviews by this customer
)
We brought two of these mugs for my daughter's gym teacher and coach and they both loved them as well as I.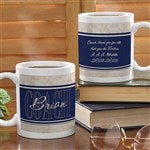 Classy Mug
By
Darlene C.

(Fresno, CA) - June 11, 2013 (
See all reviews by this customer
)
We used this as a gift for my kids' principal. Looked great. It was nice that there were quotes to choose from, but I liked that I could type my own quote that made it more personal for him.

this was way nicer then I could have evan emagined!!
By
Shopper

(ville platte, LA) - March 16, 2013
This was well made and very pretty. It was loved by the teacher of the year!!
And my daughter was very please with her teacher gift.

Beautiful!
By
Susan K.

(Rotterdam, NY) - March 10, 2013 (
See all reviews by this customer
)
I purchased this as a thank you gift for a preschool teacher. The mug arrived quickly and looks nice!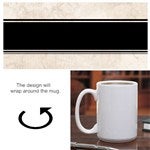 First Time Shopper
By
Shopper

(Kansas City, KS) - May 20, 2012
My first time ordering and item was received much faster than expected and my mug was perfect!

Cute mug
By
Shopper

(Monrovia, CA) - May 14, 2012
I ordered this mug for my daughter's second grade teacher for teacher's
appreciation week and it is really cute.
It is a great gift for someone special and it will remind them of the giver
for a long time.
Shipping was fast and reliable.

Beautiful Mug.
By
Liliana G.

(Miami, FL) - May 2, 2012 (
See all reviews by this customer
)
I gave this mug to one of my co-workers as a Christmas gift, and he love it.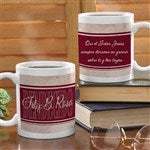 Makes A Nice Gift
By
Coleen W.

(Allentown, PA) - March 19, 2012 (
See all reviews by this customer
)
I love the different options this gift mug has available! I bought this for my daughter's bible teacher, she really liked it. The extra design options make it easy to give a unique gift.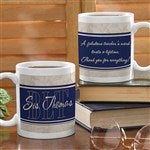 Personalized Coffee Mug
By
Tonya J.

(West Monroe, LA) - January 21, 2012 (
See all reviews by this customer
)
Good quality

Awesome gift, awesome company!!
By
Shopper

(CHARLESTON, IL) - December 26, 2011
I love this company!! The options for personaliation are amazing, and on this mug, we were able to make it personal for the recipient and personal from the giver. We bought this for our daughters Sunday school teacher, and will buy again for other teachers!!

great gifts for teachers
By
Shopper

(Lock Haven, PA) - December 26, 2011
I love the quality of these mugs and the teachers loved them as well. They are a great price and great idea.

Perfect for sons teachet
By
Shopper

(willis, TX) - December 19, 2011
We ordered this coffee mug for my Sons teacher. It was perfect and we got.it quickly.

great affordable gift
By
Shopper

(Brentwood, NY) - December 16, 2011
cute mug!

Teacher Mug
By
Melanie R.

(New York, NY) - December 15, 2011 (
See all reviews by this customer
)
It is beautifully done! Thank you.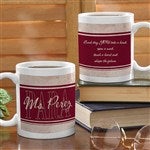 Inexpensive gift for teachers
By
Shopper

(Merritt Island, FL) - October 29, 2011
I wanted something nice to express our appreciation to a gymnastics coach, pottery teacher, and reading tutor. These mugs are perfect because you can say what you feel about each person.

Excellent Gift Idea
By
Shopper

(FISHKILL, NY) - October 4, 2011
Wonderful way to share your admiration and respect for a Special Teacher!
High Quality Product

Great Gift for Teachers
By
Thesia W.

(Aurora, CO) - October 14, 2013 (
See all reviews by this customer
)
I ordered several of these mugs as gifts for former teachers who attended our 30 year class reunion. They all really loved the mug & the inspirational message that was included. However, when I first received it, I was somewhat disappointed that the title & name was not properly centered in the space that was allotted. Other than that, it was a great gift idea. It arrived in a timely manner and the recipients were all pleased. I would definitely recommend this item to others.

Very good quality mug and acceptable image
By
Chelle Annette I.

(San Diego, CA) - October 10, 2013 (
See all reviews by this customer
)
This was a decent gift to give for CHRISTmas 2012... of course, we would prefer not to have the pmall.com advertising permanently affixed to the bottom. What exactly is wrong with removable stickers? Although we spent $400 for CHRISTmas 2012, not sure we would do it again, since the company's name was too prominent and permanent on almost every single gift purchased.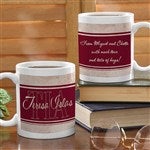 Great product
By
Shopper

(Harleysville, PA) - December 18, 2011
This product arrived as shown and was very cute! I know the person for whom I ordered it will enjoy it. The person is older, so I wish the message could have been in a larger font for their failing eyesight. I don't remember if I was able to increase the font, but I don't think so.

Disappointing!
By
Jay L.

(Newton, NJ) - January 7, 2013 (
See all reviews by this customer
)
I purchased 4 pieces, disappointed in 3
Color of mugs are not white as shown, but a mottled white; looks as if someone with soild hands packed them!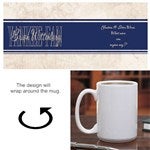 didnt love this
By
Annie W.

(Littleton, MA) - December 28, 2011 (
See all reviews by this customer
)
This was the second order with your company in the month of December. The first order of 7 mugs was great, this one however, not so great. 3 issues. First, one of the mugs has some ceramic burs on the rim. The second is the font of the writing over the main background word, very difficult to read. Third is the engraving on the back side prints off the colored area. You should only allow as many letters that will actually fit in the colored area.