bridal shower ribbon
By
Shopper

(Ephrata, PA) - July 4, 2014
I love this ribbon, it is perfect for tying on the honey spoon favors for my daughter's bridal tea shower. I was surprised at how quickly it came also. Much prettier than I imagined.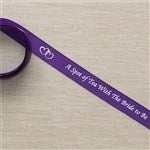 Lovely
By
Ana G.

(Denver, CO) - June 5, 2014 (
See all reviews by this customer
)
It is really nice... perfect for our needs and really cute!
Another small detail to make this a lovely weeding.

Personalized Ribbon
By
Carolyn R.

(Grand Blanc, MI) - October 20, 2013 (
See all reviews by this customer
)
This product was of good quality and exactly as described. I actually used the "heart" design and had it personalized for a 90th birthday party. We used the ribbon for a large bow on the basket holding her cards & also to tie up the individual table favors....a big hit!

Love it
By
Shopper

(Quincy, MA) - September 29, 2013
We did order the satin ribbon for out wedding. It's a really good length. You can tie more than 150 little ornaments.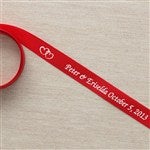 Used for wedding
By
Shopper

(Canada) - September 1, 2013
I used the ribbon to wrap our bridal party's gifts and to close the gift bags for our out of towners. We where able to use it on over 60 bags.

Satisfied Customer
By
Judith G.

(Hackettstown, NJ) - August 5, 2013 (
See all reviews by this customer
)
Once again Personalzation Mall came through. I received the ribbon less than a week of purchase and in plenty of time for the occasion. It was as I ordered with no surprises. I am extremely happy with the purchase and would not hesitate to purchase other products. Thank you,

TOOOOO CUTE!
By
Pamela P.

(Madera, CA) - July 28, 2013 (
See all reviews by this customer
)
Another smash hit by PM! This is a high quality ribbon that so far I've used to wrap around the containers I'll be using for centerpieces at a rehearsal dinner. Uses for this ribbon are endless!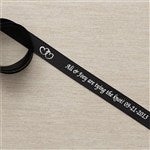 Add that special touch!
By
Shopper

(Englewood, FL) - April 22, 2013
I have not used the ribbon yet,but I am very pleased with the way they came out and the timely manner in which they arrived.They are very affordable and will add that special touch I am looking for. I will be ordering more. They will be used for wedding wands for my daughter's wedding. Now I am thinking of other ways to incorporate them. Thankyou so much for a great product.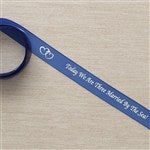 Bridal Shower ribbon
By
Eloise M.

(Washingtonville, NY) - April 9, 2013 (
See all reviews by this customer
)
The expedient service was outstanding and the quality of the ribbon is superb.
Thank you. I would and will recommend PersonalizationMall.com to my family and friends.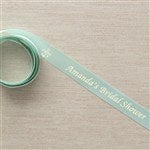 Good buy!
By
Stephanie C.

(Lynchburg, VA) - January 22, 2013 (
See all reviews by this customer
)
This was an excellent buy considering I have researched other sites for the same product. Came quickly and with no surprised. It was exactly as described by the site. Would recommend!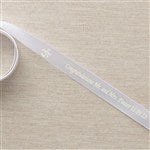 For the Wedding
By
Shopper

(Houston, TX) - January 13, 2013
Great purchase truly happy!!!

Wedding ribbon
By
regina L.

(sherborn, MA) - November 12, 2012 (
See all reviews by this customer
)
Great look great quality. Service was prompt thanks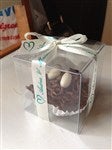 personal touch
By
Lisa C.

(Simi Valley, CA) - October 29, 2012 (
See all reviews by this customer
)
We used the ribbon on our wedding favors at my daughters wedding.Loved that small personal touch!!!! BEAUTIFUL

Satisfied Customer
By
Janice M. J.

(Nashville, TN) - August 20, 2012 (
See all reviews by this customer
)
I received the personalized Satin Ribbons for my daughter's wedding. I love them. I will definitely refer my friends and family to you. Thanks.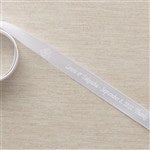 Very pretty
By
Shopper

(Pearland, TX) - August 31, 2012
It came out very nice. It is a lot bigger then I thought it would be, you really have to pay attention to the dimensions. And the space between the words and the symbol is larger then in the preview of your item. Overall though it is a great product.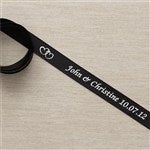 Great ribbon, a little wide for many uses
By
Rachelle W.

(Aldie, VA) - August 16, 2012 (
See all reviews by this customer
)
I ordered this ribbon as a surprise for a co-worker, but was disappointed when it arrived *only* because *I* missed reading the size on the description. I had looked forever that day, so was frazzled by then. In the pictures, it looked thin and perfect.

I had no issues with the spacing, etc. I added some spaces of my own to have it look the way I wanted on the preview. My ribbon did look just like my preview.

This is a great and FAST item for wedding planning folks -- or any occasion for that matter. However, I felt the ribbon was way too wide for our intended purpose--to tie bows on the little kissing bells. However, this would be great for running across tables, laying across place settings, wrapping around gift boxes with a bow, etc. It is not really for dainty work.

If you are unsure, I suggest going to a store and looking at 5/8" wide ribbon to have an idea.

But, as with all I order from this website, it came quickly and was beautifully made, of high quality.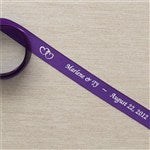 Product features I do not like
By
Minda G.

(Dix Hills, NY) - August 12, 2012 (
See all reviews by this customer
)
I have called about a problem with this item and never received a response. The ribbon is lovely but the space between the heart and the writing on the ribbon is very large. Not as shown in the picture description. I plan to call once again as I am not satisfied with this item.The photo below is not the way the ribbon actually came!