Couple Mug
By
Shopper

(Belle Vernon, PA) - February 23, 2014
This particular item was part of other items purchased for a monogrammed shower. A very nice quality and personal touch.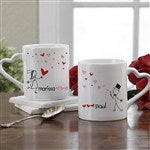 wedding Mugs
By
Shopper

(scottsdale, AZ) - February 19, 2014
They were really cute! gave them as a valentine gift. the mugs themselves are kinda small, but still useful and hope will they will have them a very long time.

Absolutely perfect for a wedding gift!
By
Shopper

(Washington, DC) - February 18, 2014
I got the personalized mug set as a wedding gift and both my friend and her fiance really liked it. I think it meant a lot to have their names on the mugs and my friend was happy to see her new last name. Thanks for the awesome product!

Great valentine's present!!
By
Shopper

(Bluffton, SC) - February 18, 2014
I love this site, is so neat. Personalization makes it more meaningful.

Snuggling Cups
By
Sharon R.

(Sunset, LA) - October 22, 2013 (
See all reviews by this customer
)
I love these two snuggling mugs. I put it in the mail with another personalized item (also from Personalizationmall.com) to a friend who is getting married the first weekend in November. These gifts are wonderful reminders of memorable events. This company offers superb customer service and products. I've purchased over 10 items from them and was never disappointed.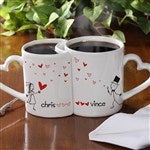 Shellie
By
Shopper

(Hayden, ID) - August 23, 2013
Priced right, delivered timely, personalized nicely. I highly recomend this site for all your gift purchases.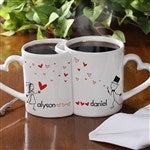 Gift
By
Shi L.

(York, PA) - August 19, 2013 (
See all reviews by this customer
)
My friend is getting marry and move to a new place this was a gift and they love it.
I'm am very happy about it too, Because precious moment it's always one of my favorite.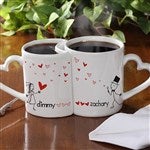 Perfect Gift
By
marisol D.

(Compton, CA) - August 13, 2013 (
See all reviews by this customer
)
It's a perfect wedding gift plus super cute...

Great Product!
By
Shopper

(Saint Paul, MN) - August 12, 2013
I bought this for a wedding gift and it is perfect! I will probably buy more in the future.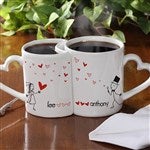 Great gift, worth the money
By
Shopper

(Niles, IL) - July 13, 2013
I was looking for a wedding gift for an acquaintance and I have to say this was a perfect gift without spending a fortune. The cups were smaller than I expected, but the quality is nice and the design just looks like the picture provided in the website. I don't think it's going to easily break. I think this is a great gift!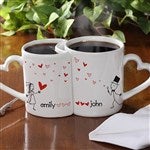 Nice Cups
By
Shopper

(flushing, NY) - July 6, 2013
Excellent Quality. Great Product.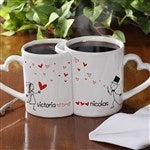 Excellent Mugs
By
Saleh A.

(Murray, KY) - May 31, 2013 (
See all reviews by this customer
)
Excellent Mugs i have never expect to have it with this type of finishing Professional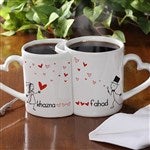 Great buy
By
Shopper

(Chicago, IN) - May 15, 2013
I got this set for my brother and his future wife. The order came quick, was wery good packed and most important it looks just like the picture. I love this set and i'm pretty sure the couple will love it as much as I do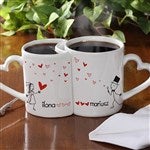 Perfect :-)
By
Shopper

(Mertztown, PA) - May 15, 2013
I got this mug set for my fiancé and I after he proposed. He's an avid coffee drinker and I'm a once-in-a-while tea drinker, so the 1oz size difference is perfect for us :-) we both absolutely love the set, they are very well made, not cheap feeling or looking. I ran them through the dishwasher once with no problems at all. All in all these were a great buy for us :-)

cute mugs!
By
Shopper

(Brooklyn, NY) - March 1, 2013
I start using it when I first got them in mail!! I love it, I will give the other mug to my boyfriend tomorrow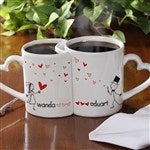 love them!
By
Shopper

(Portage, MI) - February 5, 2013
So stinkin' cute! Using these as engagement props for our engagement photos. :)

perfect gift
By
Shopper

(Anchorage, AK) - December 12, 2012
very cute mugs, looked exactly like on the picture, fine quality, arrived earlier than scheduled, perfect gift! The box it arrived in looked nice so if you don't have much time to pack it then go ahead and order the present wrapped.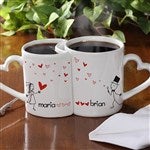 very cute for gifts
By
Shopper

(West Melbourne, FL) - November 23, 2012
Unique accessories for gifts, the price was reasonable

what a cute gift add on!
By
Kimberly D.

(Dorchester, MA) - October 24, 2012 (
See all reviews by this customer
)
i cannot wait to give this little add on gift to my brother in law and his new wife!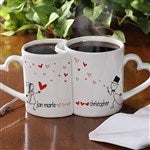 Exactly how you would want an order to go
By
Shopper

(Irvine, CA) - October 22, 2012
The item shipped promptly - one cup was unfortunately cracked but a call to their customer service resulted in a new set being shipped out immediately, free of charge. My wife loves the gift and they look exactly as they do in the images. I highly recommend this product along w/ the company's excellent customer service.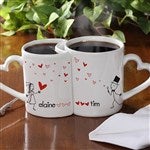 super cute!
By
Shopper

(glendale, NY) - September 8, 2012
very, very cute gift!

Beautiful!
By
Shopper

(Gainesville, FL) - July 20, 2012
I absolutely love this present for my friend's weeding!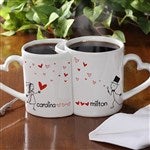 Very cute
By
Shopper

(Santa Clara, CA) - June 30, 2012
I ordered it for my friends anniversary. My friends loved it. It is a very cute gift

Cute cups!
By
Shopper

(Canada) - June 26, 2012
Cute cups! My friends would love them!

Great product, super cute
By
Shopper

(SAN YSIDRO, CA) - June 22, 2012
He LOVED these mugs I got for our new place. I got the matching pillowcases and they both look adorable. High quality product perfect for the customized names on each.

Top Notch Quality!
By
Laura K.

(Mannford, OK) - May 5, 2012 (
See all reviews by this customer
)
I have ordered several items from you guys and I am so pleased with the quality! I am definatly a repeat customer!

Perfect!
By
Renee H.

(Sterling Heights, MI) - May 2, 2012 (
See all reviews by this customer
)
Mugs were exactly what I pictured them to be (size and all)! Love them!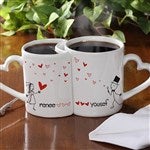 Wedding Present
By
Shopper

(Sunnyvale, CA) - April 17, 2012
These "Blown Away By Love" mugs are the perfect wedding gift for my son and his bride !!! They don't really "need" anything, so they're just right !

perfect
By
fatimah A.

(PITTSBURG KS, KS) - April 7, 2012 (
See all reviews by this customer
)
cute perfect size very satisfied overall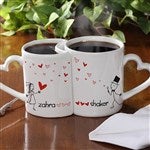 very cute
By
Huan Y.

(Kent, OH) - March 3, 2012 (
See all reviews by this customer
)
the customer service is really good. and this is a sweet gift.

Adorable mugs
By
Jamie T.

(Orlando, FL) - March 3, 2012 (
See all reviews by this customer
)
These are exactly how they look online. They are absolutely adorable!

great gift!
By
Shopper

(Vallejo, CA) - February 18, 2012
absolutely love it!!!!

Beautiful gift.
By
Drew P.

(Cooper City, FL) - February 17, 2012 (
See all reviews by this customer
)
This gift was for my fiancee on Valentines Day. It was beautifully done, the personalization looked great, and she truly loved it. Thanks!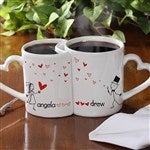 very beautiful
By
Shopper

(HOT SPRINGS, AR) - February 10, 2012
Thank you, we loved the gift. Nice quality and it is very beautiful

Huge Hit @ my friend's wedding shower!
By
Ashley O.

(Warrior, AL) - February 8, 2012 (
See all reviews by this customer
)
I bought this for my friends' wedding shower. They are young, and love coffee, so I thought they would love this. I was so pleased with them when they were shipped. I received them very quickly (even with the cheapest form of shipment). My friends loved them, and I loved the price!!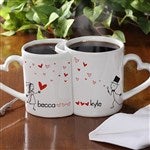 Very nice!
By
Shopper

(Stoughton, MA) - December 26, 2011
It looks nice for a couple! beside my "personalizationmall.com" are my favorites they sent me the wrong one first time, but they fix their mistakes so quickly they sent me the real order after so quick, I thought it will never get to my house before christmas! I am very pleased with their fast and reliable customer service! they never dissapoint me! thanks you are the best.

Really nice
By
Lyaysan Z.

(Brooklyn, NY) - December 23, 2011 (
See all reviews by this customer
)
I ordered this item as a gift, but the mugs came with a reversed picture, the boy and girl looked the opposite way. I called customer service, they will send me a replacement overnight for no additional charge and they don't even need the mugs back. Great service!

great quality
By
Shopper

(la, CA) - December 19, 2011
very nice and great quality, the only thing is that its little small in size.

Very cute
By
Shopper

(Fairlawn, OH) - November 23, 2011
I ordered these for my brother and future sister-in-law for their wedding gift. I am planning to create a "coffee" themed basket as they both like to drink coffee together. Like other reviewers stated, they are smaller than I pictured them when they arrived, but they are so special. I know they will use them, or display them. My sister-in-law will be very pleased.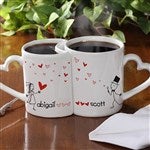 SO cute!
By
Lindsey W.

(Summerville, SC) - November 21, 2011 (
See all reviews by this customer
)
I got these for my best friend for her bridal shower. They were such a hit!! Loveee them! I want some for myself :)