Cute cups!
By
Shopper

(Canada) - June 26, 2012
Cute cups! My friends would love them!

Great product, super cute
By
Shopper

(SAN YSIDRO, CA) - June 22, 2012
He LOVED these mugs I got for our new place. I got the matching pillowcases and they both look adorable. High quality product perfect for the customized names on each.

Top Notch Quality!
By
Laura K.

(Mannford, OK) - May 5, 2012 (
See all reviews by this customer
)
I have ordered several items from you guys and I am so pleased with the quality! I am definatly a repeat customer!

Perfect!
By
Renee H.

(Sterling Heights, MI) - May 2, 2012 (
See all reviews by this customer
)
Mugs were exactly what I pictured them to be (size and all)! Love them!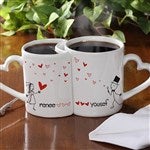 Wedding Present
By
Shopper

(Sunnyvale, CA) - April 17, 2012
These "Blown Away By Love" mugs are the perfect wedding gift for my son and his bride !!! They don't really "need" anything, so they're just right !

perfect
By
fatimah A.

(PITTSBURG KS, KS) - April 7, 2012 (
See all reviews by this customer
)
cute perfect size very satisfied overall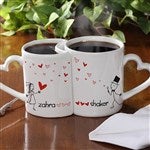 very cute
By
Huan Y.

(Kent, OH) - March 3, 2012 (
See all reviews by this customer
)
the customer service is really good. and this is a sweet gift.

Adorable mugs
By
Jamie T.

(Orlando, FL) - March 3, 2012 (
See all reviews by this customer
)
These are exactly how they look online. They are absolutely adorable!

great gift!
By
Shopper

(Vallejo, CA) - February 18, 2012
absolutely love it!!!!

Beautiful gift.
By
Drew P.

(Cooper City, FL) - February 17, 2012 (
See all reviews by this customer
)
This gift was for my fiancee on Valentines Day. It was beautifully done, the personalization looked great, and she truly loved it. Thanks!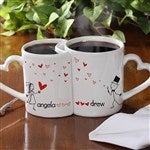 very beautiful
By
Shopper

(HOT SPRINGS, AR) - February 10, 2012
Thank you, we loved the gift. Nice quality and it is very beautiful

Huge Hit @ my friend's wedding shower!
By
Ashley O.

(Warrior, AL) - February 8, 2012 (
See all reviews by this customer
)
I bought this for my friends' wedding shower. They are young, and love coffee, so I thought they would love this. I was so pleased with them when they were shipped. I received them very quickly (even with the cheapest form of shipment). My friends loved them, and I loved the price!!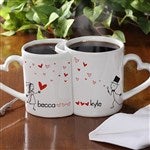 Very nice!
By
Shopper

(Stoughton, MA) - December 26, 2011
It looks nice for a couple! beside my "personalizationmall.com" are my favorites they sent me the wrong one first time, but they fix their mistakes so quickly they sent me the real order after so quick, I thought it will never get to my house before christmas! I am very pleased with their fast and reliable customer service! they never dissapoint me! thanks you are the best.

Really nice
By
Lyaysan Z.

(Brooklyn, NY) - December 23, 2011 (
See all reviews by this customer
)
I ordered this item as a gift, but the mugs came with a reversed picture, the boy and girl looked the opposite way. I called customer service, they will send me a replacement overnight for no additional charge and they don't even need the mugs back. Great service!

great quality
By
Shopper

(la, CA) - December 19, 2011
very nice and great quality, the only thing is that its little small in size.

Very cute
By
Shopper

(Fairlawn, OH) - November 23, 2011
I ordered these for my brother and future sister-in-law for their wedding gift. I am planning to create a "coffee" themed basket as they both like to drink coffee together. Like other reviewers stated, they are smaller than I pictured them when they arrived, but they are so special. I know they will use them, or display them. My sister-in-law will be very pleased.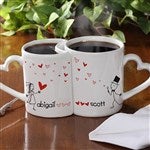 SO cute!
By
Lindsey W.

(Summerville, SC) - November 21, 2011 (
See all reviews by this customer
)
I got these for my best friend for her bridal shower. They were such a hit!! Loveee them! I want some for myself :)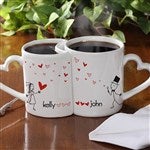 good product
By
Shopper

(sunnyvale, CA) - October 24, 2011
Really sweet gift. My wife liked it very much.

visible love
By
Carolyn W.

(Mechanicsville, VA) - September 19, 2011 (
See all reviews by this customer
)
This product is unique and absoultely adorable for the newly engaged couple to which it was given !! A lovely little "we are so happy for you" gift !!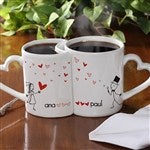 Such a wonderful Gift
By
Shopper

(VALLEJO, CA) - August 26, 2011
such a great gift, i have to say it exceeded my expectations :-) only thing was that it was not as big as i imagine but it is big enough to pour your coffee and be reminded that i hubby is blowing you kisses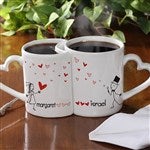 So cute!
By
Samantha H.

(Albuquerque, NM) - August 24, 2011 (
See all reviews by this customer
)
Bought this as a little extra wedding gift with the matching card. SO CUTE! They loved it. Great quality too. Definitely recommend for a cute wedding gift!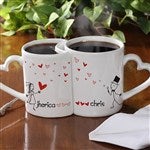 Thanks!
By
Shopper

(Ham Lake, MN) - August 23, 2011
This set was absolutely amazing as my dad and stepmom's first wedding anniversary gift. It was a wonderful surprise to them. Thank you to all the people at Personalization Mall. My family and I all give our thanks!

Cute
By
Shopper

(Valparaiso, IN) - July 26, 2011
Just how i expected them too look! Makes a great gift for coffee lovers! Unique and Cute!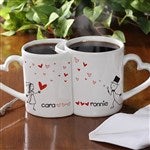 Great Mugs
By
Shopper

(Saint Cloud, MN) - July 25, 2011
My husband and I love this set of mugs very much!

Hooray!
By
Shopper

(Saint Petersburg, FL) - July 11, 2011
I was extremely pleased with the ease of placing, receiving and giving this super cute gift!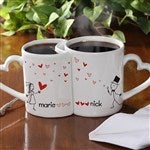 adorable wedding shower gift
By
Shopper

(Colorado Springs, CO) - July 9, 2011
This mug set was purchased for a wedding shower gift. They are absolutely adorable - a very fun gift to give, as well as, receive. The mugs and the personalization both appear to be very nice quality. Although they are not a big as I thought they would be, they make a wonderful keepsake for any couple!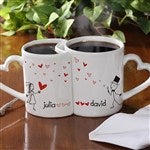 Too cute!
By
Shopper

(Westfield, IN) - July 5, 2011
These mugs were too cute to turn down. I also ordered the matching pillow cases. Both products are absolutely adorable. The young bride and groom I bought them for will love them. The Shipping and packaging was fantastic. Because I am the mother of the bride, I went wild and bought several items. I was impressed with everything I purchased and the shipping.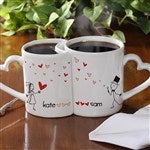 Cute wedding gift
By
Elizabeth F.

(Hazleton, PA) - June 12, 2011 (
See all reviews by this customer
)
A beautiful set that you truly don't understand until it's in your home. I saw this mug set and instantly thought of my other half and with our wedding so close I thought I'd make him smile with mugs that show how close we are and will always be. Thank You!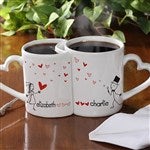 Great Gift!!
By
Shopper

(Ottawa, KS) - June 12, 2011
I bought these mugs for a Wedding gift...the Happy couple LOVED them as did I. I now need another Wedding gift and this is where I came shopping, can't wait for the arrival of my purchase! Best gift website EVER!! Thank You!!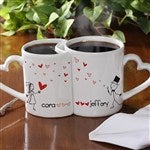 Personalized Mug Set
By
Shopper

(miami lakes, FL) - May 27, 2011
I loved the personalized mug set. It arrived quickly and looks just like the picture. I love the design, it's very cute!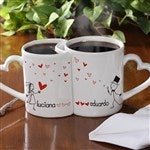 Great gift!
By
sandra D.

(lawndale, CA) - May 24, 2011 (
See all reviews by this customer
)
My friends loved it! Thank you Personalization mall!