Lovely gift
By
Shopper

(Hobe Sound, FL) - December 29, 2011
We bought this as a Christmas gift to Granny and she loves it. She used it this morning and she said that she will use it every morning and she'll be happy because it will make her think of us. :)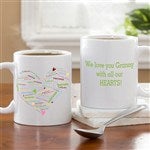 disappointed
By
anita R.

(charlottesville, VA) - December 28, 2011 (
See all reviews by this customer
)
I COULDN,T EVEN SEE THE NAMES IN THE HEART.YOU WOULD NEED A MAGNIFY GLASS. I COULDN,T BELIEVE IT EVERYBODY THAT SAW IT SAID THE SAME THING.I REALLY SHOULD SEND IT BACK.THE PERSON WHO GOT IT WANTED TO BE KIND.NOT HAPPY.PRODUCT NOT WORTH IT AT ALL. I JUST LIKED THE IDEA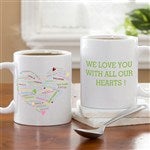 Perfect Gift
By
Kelcey S.

(Westland, MI) - December 28, 2011 (
See all reviews by this customer
)
I have purchsed this mug on 2 seperate occasions with excellent results both times. I love being able to enter multiple names on items and, by being creative with the aloted charecters have even been able to add as many as 14 names. This is truly an amazing keepsake!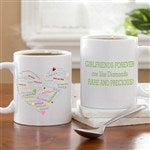 Love the mug
By
Shopper

(PRESCOTT VALLEY, AZ) - December 27, 2011
Thank you so much for this wonderful mug!! We had this made for our mom for Christmas and could not be happier!! We will be ordering again from you in the near future for my best friends wedding.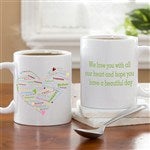 My Mom/Nana Loves it!!!!!
By
cheryl C.

(canton, MA) - December 23, 2011 (
See all reviews by this customer
)
Love It!!!!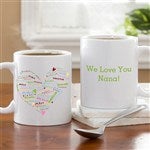 Wonderful Gift!
By
Mearyl S.

(Patterson, LA) - December 22, 2011 (
See all reviews by this customer
)
I soo love this site and I am always happy with my orders..I love that you can get a preview of what it will look like before you even buy it! And the item looks exactly like the preview! I love to get my parents personalized gifts because it adds a little extra something to it and they know that I took the time to get something unique and just for them...Thanx so much Personalization Mall!!!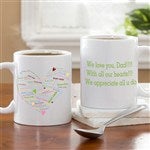 Lynda's view of Heart of Love Coffee Mug
By
Lynda F.

(Cleveland, OH) - December 13, 2011 (
See all reviews by this customer
)
I loved it!! It was everything and then some,of what I expected. I have No doubt,that everything I order from your website is going to be impeccable. I'm sure you've noticed since I ordered at least 8 items from your website, and looking to order more.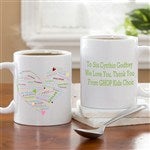 Perfect Coffee Mug
By
John F.

(Appling, GA) - December 12, 2011 (
See all reviews by this customer
)
My wife is celebrating her 4th birthday of beating cancer.
she cried when she got this mug. It was perfect. Thank
you for offering such a product. John - Georgia USA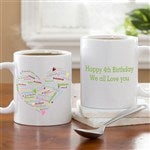 Nice mug, light font
By
Shopper

(Chadron, NE) - December 9, 2011
This mug is so neat! It arrived quickly and the price was right. My only issue is the green font on the front appears to have a fill pattern and is not actually solid. The names on the back are small and some of theme are so light they are more difficult to see than others. Regardless of this specific issue, I know this will be a gift that my mother loves.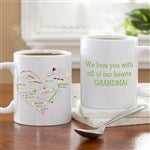 Awesome Product!
By
Tracy W P.

(Villa Rica, GA) - December 5, 2011 (
See all reviews by this customer
)
This item is so cute! I ordered one for my sister and one for my mom. They are good quality and very original!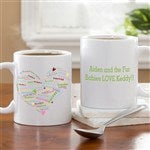 WONDERFUL!
By
Courtney M.

(Barksdale AFB, LA) - December 1, 2011 (
See all reviews by this customer
)
i ordered this for my mother-in-law and she loved it!!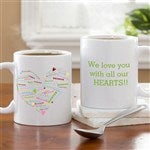 A Mug Full of Love
By
Shopper

(POWELL, OH) - November 30, 2011
I purchased 2 mugs for 2 different friends. Both are from a group of 6 best friends. One was for retirement and the other for a birthday. We put gift cards in the mug, and tied a ribbon. Each friend will think of us for years as she uses the mug. The design of the heart is very impressive and the sentiment is perfect. It exceeded my expectations.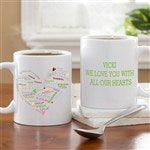 great personalized Christmas gifts
By
Shopper

(Daytona Beach, FL) - November 27, 2011
I ordered these cups for 25 different people and was able to personalize each one.They look just like the picture.Thick sturdy cup.They arrived at my house in just a couple days.Unfortunately 2 were broken but when I called the company sent out replacement cups the next day.I Did not have the hassle of sending the others back and they were so friendly on the phone.I loved that each cup came in its own sturdy cardboard box so I could gift wrap it sooo easy! The lettering looks like it is glazed right into the cup. Not a decal. I don't know how they can make them to order so FAST.Very impressed and great price. All 25 cups were less than $200.00 including the shipping. I would buy here again!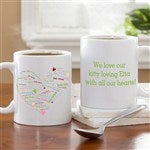 Love this!
By
Shopper

(Clinton, IA) - November 21, 2011
Bought it as a Christmas present! What you see is exactly what you get which is what i LOVE about personalization mall!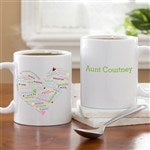 Christmas gift for friend
By
Shopper

(Paynesville, MN) - November 20, 2011
Turned out awesome; hoping she likes it as much as I do!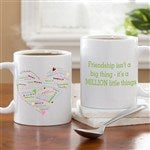 Christmas presents
By
Shopper

(Paoli, IN) - November 11, 2011
I loved coffee mugs I ordered!! FAST shipping!!!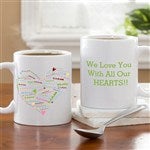 Darling
By
Shopper

(Amarillo, TX) - October 12, 2011
I love the heart of names. It's so cute. I buy personalized mugs for Christmas gifts and this is by far my favorite!!!
On the other side of the mug where you can put a message i wish we had a choice of lettering color. Don't get me wrong I love the green. I just think that i could have ordered more of this style if there were more message lettering options.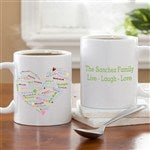 Excellent
By
Christina P.

(Mulberry, FL) - September 23, 2011 (
See all reviews by this customer
)
I love this mug. It is so cute. I bought it as a birthday gift for a cousin, but liked it so much that I had to get one for myself too.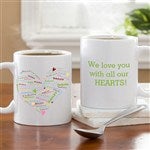 Love it!
By
Heather V.

(Richmond, TX) - July 26, 2011 (
See all reviews by this customer
)
Purchased this for my Grandmother and it looks amazing! All of the names are in different fonts and colors...the mug looks exactly like the preview.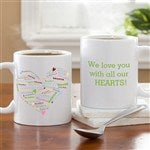 Heartwarming Gift
By
Dorothy K.

(Friendswood, TX) - July 11, 2011 (
See all reviews by this customer
)
Purchased for my mother's birthday with seven kids names. It arrived in less than a week. She was extremely touched and uses it everyday. I would highly recommend this gift for anyone looking for something sentimental, especially for a grandparent.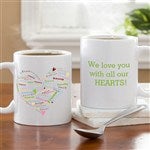 My Dispatchers close to my heart
By
Gail B.

(Dade City, FL) - July 8, 2011 (
See all reviews by this customer
)
I purchased 8 of these for my dispatchers, I just recently retired as a Communications Supervisor at our local Police Department, and we were a very close net group, I wanted to purchase something personalized for them to remember me by and this was my choice, and they all loved them, I had all of their names placed in the heart and wrote them a little note on the reversed side from me, they turned out just perfect, thank you so much, I have never been disappointed with anything that I have purchased from you and will continue to order from you, because I love giving things to people that are personalized as it means something to them.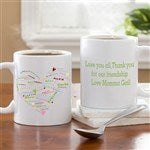 Awesome !
By
Shopper

(Baytown, TX) - June 21, 2011
Loved it ! Thanks for your fast service.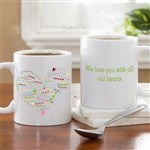 Heart of Love Personalized Coffee Mug
By
Shopper

(Guilford, CT) - June 20, 2011
I was very pleased with this product.I bought three and each was personalized.I loved how easy they were to create, and the recipients were just thrilled. I'd recommend this product as a great gift for volunteers you want to recognize or anyone you want to make feel special. The packaging was also nicely done with each mug sent in its own box with outside identification for each.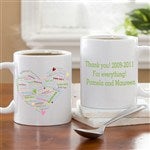 Love It
By
Shopper

(Gilroy, CA) - May 18, 2011
my mom loved her personalized mug for mother's day. Very simple to order online. Shipped to my home. Cost was low. Shipping affordable. Will definitely order from here again!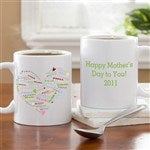 Great Mother's Day Gift
By
Melissa P.

(Jacksonville, FL) - May 17, 2011 (
See all reviews by this customer
)
Our Mom loved it!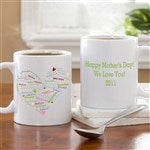 Poor packaging
By
Shopper

(Arnold, MO) - May 16, 2011
This mug was purchased as a mother's day gift for my grandmother. My grandmother was one of the victim's of the horrific Alabama tornadoes from three weeks ago. I purchased this not only for mother's day, but also so my grandmother would have something to put a smile on her face. When she received the first mug, it was in a hundred pieces. She said to the point that it could not even be fixed. She also said it was packaged with only 1 piece of tissue paper. Who would honestly use one piece of tissue paper to package a coffee mug??? I called customer care immediately and they sent out a new one. My grandmother received the new one, packaged properly, and loved it.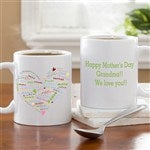 Mug to Celebrate Dyslexia?????
By
Kathleen J.

(Scotia, NY) - April 13, 2014 (
See all reviews by this customer
)
Sure. We selected the names of eight famous people with dyslexia (Whoopie, Disney, Beethoven, Gates etc.) and gave it to a superintendent of schools who is especially supportive to creative, intelligent, wonderful kids who have dyslexia.
We love it!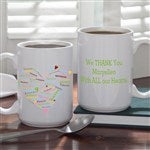 Best, warmest personal gift, and yet affordable!
By
Shopper

(Redondo Beach, CA) - March 21, 2014
I must have bought 15 of these mugs over the last couple years. They're great! So fun and personal and one can customize it to the ultimate to make them the most meaningful possible. They're beautiful, bright and I can't help but believe they reflect the soul of Personalization Mall. You must be nice people. Thank you. I really appreciate your creating a gift that can aptly express my gratitude to people.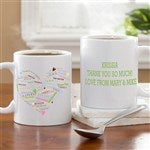 Awesome
By
Galaxis A.

(paterson, NJ) - March 16, 2014 (
See all reviews by this customer
)
Great cup. Love the design.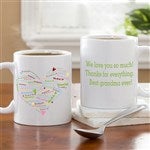 Heart Mug
By
Shopper

(Brea, CA) - March 13, 2014
Very nice mug. Gave it to my sister for Christmas with her grandchildren s' names, she loved it!! Some of the names did print a bit to small but overall, very nice.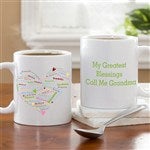 Wonderful
By
Candi J.

(Hometown, IL) - March 2, 2014 (
See all reviews by this customer
)
Arrived just as pictured. Always get exactly what I expect with super fast shipping!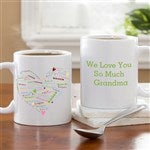 cute
By
Dina B.

(Rome, NY) - March 1, 2014 (
See all reviews by this customer
)
Loved this item and so did the person I gave this to. Wish it had more color options but great item!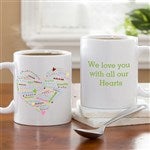 GREAT
By
Shopper

(Lewisburg, KY) - February 17, 2014
I purchased this for my older sister for Valentine's Day and had her grandchildren's names put on it. She absolutely loved it. And so did I.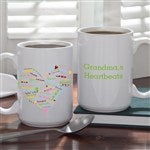 This Mug Made a great gift!!
By
Theresa F.

(Elmwood Park, NJ) - January 18, 2014 (
See all reviews by this customer
)
Thank you my Gf Loved this mug!!!! Sometimes a girl just needs something just for her each morning & this is what my gf needs:):). She loves it!!! Thank you for helping me make her birthday a little more special!!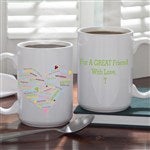 3 coffe mugs
By
david J.

(cameron, TX) - January 14, 2014 (
See all reviews by this customer
)
I order 3 different mugs. They where delivered in a snow storm. I was like wow no stopping them. The work o. The mugs was so great it looked like I had paid a lot of money. But I didn't. This is a great place to buy from, love u guys so much.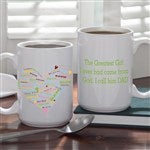 Iexpected more
By
Jennifer V.

(Houston, TX) - January 12, 2014 (
See all reviews by this customer
)
The heart was smaller than i expected. .. The names looked crappy..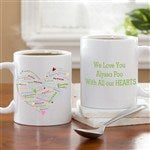 Perfect mug for Gramma
By
Katie M.

(Marietta, GA) - January 10, 2014 (
See all reviews by this customer
)
This came exactly as pictured, I couldn't be happier and my mom LOVES her new mug with all of her grandchildren's names on it. Great quality!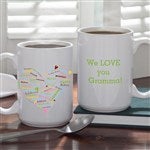 Loved it
By
Shopper

(Philadelphia , PA) - December 31, 2013
Bought this for my granddaughter's Christmas stocking, she loved it! I put all her name and nicknames to make up the heart!!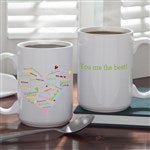 Fun and pretty but off center
By
Jennifer H.

(Lake charles, LA) - December 30, 2013 (
See all reviews by this customer
)
I loved the idea of this mug and adding our own names was cute and fun. When I relieved this mug the design seemed off center. I'm not sure if it was printed incorrectly or if the design is just a little wonky. The colors are bright and this gift was still appreciated.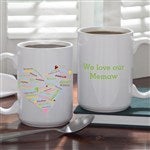 Adorable Heart Mug
By
Shopper

(Warwick, RI) - December 28, 2013
Mug was a gift for my sister. Heart contains the names of my husband & I, my children and their special someone, & my grandchildren. To remind her of how much we all love her, each time she uses her mug.