Very nice
By
Diane P.

(Waltham, MA) - April 9, 2012 (
See all reviews by this customer
)
I did not see the completed item myself, but the recipient liked it very much. I was told it was nice quality, very well packaged and well done.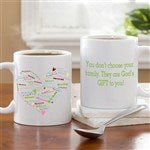 Great coffee mug.
By
Sharon S.

(Lodi, CA) - March 13, 2012 (
See all reviews by this customer
)
I just love this coffee mug. Especially with my grandkids names on it.
Personalization did a great job. Thank you. A treasure.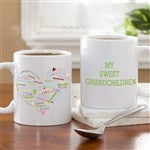 A wonderful present
By
Jennifer C.

(Baton Rouge, LA) - March 6, 2012 (
See all reviews by this customer
)
These coffee cups look so cute and the quality is superb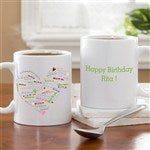 Love from the family :-)
By
Shopper

(Fond du Lac, WI) - February 16, 2012
The personalization of the gift is wonderfully creative with loved ones' names forming a heart. So cute!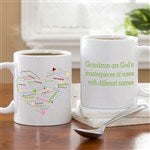 JUST HOW I IMAGINED IT !!!
By
Shanta N.

(Kissimmee , FL) - February 14, 2012 (
See all reviews by this customer
)
i ORDERED THIS MUG FOR MY BEST FRIENDS BIRTHDAY AND ADDED ALL THE WONDERFUL TRAITS AND HER NAME TO THE HEART ..IT IT WAS SO BEAUTIFUL. iT WAS EXACTLY WHAT I ORDERED ...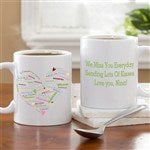 Great Gift for the Aunt who has everything
By
Wendy S.

(Hollister, CA) - January 1, 2012 (
See all reviews by this customer
)
I am really pleased with this mug. The colors and fonts are pretty and go well together. My Aunt loved it!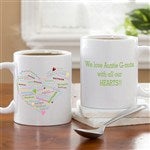 Happy customer!
By
Shopper

(Kentwood, MI) - February 11, 2012
Great Job! I love the heart on the front of the cup that you are able to put your love ones name in the form of a HEART. You also are able to give a heartfelt message on the back of the cup.

Just like it said it would be
By
abe K.

(Brooklyn, NY) - December 16, 2011 (
See all reviews by this customer
)
It arrived in a timely fashion, very professional, well made.

Beautiful
By
Shopper

(Ballwin, MO) - December 15, 2011
I'm really pleased with these mugs. The printing is very good quality and they came very quickly.

Great Gift Idea
By
Shopper

(Richmond Heights, OH) - December 14, 2011
Gave this to my grandmother and personalized the heart with all her great-grandchildren names. I love that one can personalize the front of the mug as well. Quick shipping.

Small print and hard to read
By
Shopper

(Lake Worth, FL) - December 18, 2012
The preview looked great...but the delivered product was hard to read....tiny print and light colors

Love it!
By
Michelle W.

(Woodbridge, VA) - June 12, 2012 (
See all reviews by this customer
)
So adorable! I only wish that the names and the heart were a tad bit bigger.

Christmas Gift
By
Shopper

(Portland, TX) - December 14, 2011
The heart portion of the mug was exceptionally nice; however, I would recommend a darker print for the message portion (3 lines) or the option of choosing our own colors. It was a tad on the light side.

names
By
Tina A.

(Massillon, OH) - May 17, 2012 (
See all reviews by this customer
)
This cup was a wonderful gift for my mother on Mother's Day! She really liked it except she had to use a magnifying glass to read all the names. My only complaint is the names don't come out as clear as it shows on their web site.

Excellent
By
Rebecca K.

(Howell, NJ) - December 23, 2011 (
See all reviews by this customer
)
Mug is very cute! Arrived very quickly.

Very Cute Cup
By
Shopper

(Dickinson, TX) - December 23, 2011
This is one my favorite designs on a coffee cup! I bought as a gift for my sister, and I know she'll love it. The heart shape with our family names is so clever, cute, and memorable. I plan on buying more while they are on sale! Some of the names in the heart are small; but it's all readable, and quite touching.

The names on the cup are blurry
By
Laura G.

(los angeles, CA) - January 3, 2012 (
See all reviews by this customer
)
It wasn't what I expected from PersonalizationMall.com. Most gifts from this site are impeccable, but this time the names where blurry and difficult to read. Invest your $$ in another gift. The idea of the names in a heart is great, but not on a mug... wasn't too happy.

Awesome mug!
By
Jessica K.

(Rockville, MD) - June 22, 2014 (
See all reviews by this customer
)
I loved making this mug and my mom loved receiving it! Such a wonderful and creative gift! It also came in the mail pretty quickly.

NOW HERE'S A MUG YOU CAN TAKE PLACES
By
Mary R.

(Redondo Beach, CA) - January 14, 2012 (
See all reviews by this customer
)
GREAT GIFT FOR A GREAT FRIEND.
SHE LOVED IT. PARTICULARLY BECAUSE IT WAS PERSONALIZED.
LOVELY COLORS. ARRIVED TOTALLY IN TACT.
(AND THE ONLINE DIRECTIONS WERE WELL WRITTEN.)
THANK YOU FOR PROVIDING A VEHICLE TO EXPRESS GRATITUDE TO A FRIEND.

Great Gift
By
DeLaAnna T.

(Austin, TX) - February 11, 2012 (
See all reviews by this customer
)
This is a great gift for anyone. This is a wonderful company to order products. A great blessing for anyone.

Disappointed!!
By
Shopper

(lees summit, MO) - December 16, 2012
The mugs looked used and made with really cheap materials. I was so embarrassed to give them to my friends. With the time frame, I have no other choices but to keep them. I am so disappointed.

This cup is a beautiful gift, If they really do it right!
By
Shopper

(Slidell, LA) - April 27, 2012
I purchase this gift for two (2) special mothers, and it had over seven (7)
lines for characters filling and when I got the cup I was so disappointed
you cannot even see the words in the heart, I have a 20 - 20 vision and it
was impossible for me to read the words, If you really want the cup, just
fill in about four (4) lines probable that might be better. The writing in
the green that was in the back was good.... but I was not really happy with
the writing in the heart....

Very cute
By
Shopper

(Federal Way, WA) - January 14, 2012
As always I love the product I recieved. The words are a little small but still clean and crisp. The colors are great and the feel of the mug is very sturdy. My friends was very happy with her gift :)

Cute Mug
By
Linda D.

(Santa Clara, CA) - July 21, 2014 (
See all reviews by this customer
)
Very creative... and a special mug. Love how ALL the names could be read very clearly on the colorful heart. Like the black trimming. Mug would be too plain without the black trimming.

Perfect gift for a boyfriend/girlfiend!
By
DANIELA T.

(ANAHEIM, CA) - November 21, 2011 (
See all reviews by this customer
)
I gave this mug to my boyfriend as a gift for an anniversary, but a month anniversary (17 months) so it was nice to give him something when he did not expect it! Plus, every time he will drink coffee or tea he will think of me :)

A big hit with grandmother
By
Shopper

(Benicia, CA) - May 14, 2014
We got this mug for Mother's Day for our grandmother & put all the grandchildren's names on it. It was a huge success. Granny loved it. I just wish the names were a bit bigger. Otherwise, it was the perfect gift.

Make sure you include a magnifying glass with this gift!
By
Pamela D.

(Bay St. Louis, MS) - April 22, 2012 (
See all reviews by this customer
)
It's a nice cup and the design is nice, but you seriously need a magnifying glass to read almost everything written inside the heart. The heart needs to be bigger and if that's not possible, then the cup needs to be bigger. Nice idea but poor implementation.

That said, I'm sure my mother will like the cup because of the thought that went into the gift.....and after I warn her before she opens it that she WILL need a magnifying glass to read it.

Wonderful present for mother-in-law
By
Mary Beth A.

(Walnut Creek, CA) - May 16, 2011 (
See all reviews by this customer
)
It was both fun to create this, and fun for her to receive it. We got to put everyone's name in the heart, several times. It turned out really attractive and reminds her of how we all love her when she uses it. A Great present!

Godmother cup
By
Shopper

(Jacksonville, NC) - November 26, 2011
This really did turn out nice, but I would recommend darker colors for the writing, the lime green did nothing for the cup, it looked darker on the preview. Would recommend this for anyone, and would buy it again.

Outstanding
By
Wendy J.

(Napa, CA) - May 16, 2011 (
See all reviews by this customer
)
My mother in law loved her mug. I had a lot of fun creating the mug. The site was real easy to use and great fun to put together. You can change the inscription on the mug to make it more meaningful. I love this site. Perfect price range for a personal gift to share. The down size of this mug is it only holds eight names, I have a large family. We got creative and added two smaller names together with a few spaces inbetween on the same line to fit them all in. She loved it, thats all that counts.

Great gift
By
Carla L.

(Silver Spring, MD) - November 23, 2011 (
See all reviews by this customer
)
This mug was wonderful. A perfect gift for my daughter's coach. All of her teammates' names were included and the coach loved it. I love the fact that everything could be personalized, including the text on the opposite side of the cup. A great gift for parents and grandparents too!

Cute mug
By
Christine B.

(rockaway, NJ) - May 7, 2013 (
See all reviews by this customer
)
This is a very cute gift for anyone! These were bought for my mother/mother in law from my daughter. They are nice and big and colorful. They will love them. The only thing I might mention is I thought the heart might be slightly bigger.

Fun Mug - Great Gift
By
Shopper

(Saint Charles , IL) - May 13, 2013
I like that there was writing on both sides of the mug and ample room to put in my personal message. The only reason I gave it three stars is because it is hard to see some of the names/messages inside the heart, particularly the light-colored ones, especially those in yellow. They should use more intense colors. (Months ago I had ordered the tote bag with this same heart and, again, the light colors were hard to see.) Also, on the mug, it does not appear that there was equal distribution of each of the names requested. Otherwise, it is a fun gift, worth what I paid, and unique.

soooo cute
By
Shopper

(Gilbert, AZ) - December 31, 2011
My mom loved this mug with the names of all of her 7 grandchildren. Came out better than I expected; I just wish I was a little more creative with the message printed on the other side. It also would have been nice to be able to choose what colors you wanted the names to be. It's not a big deal but boys names written in pink would not have been my choice.

New Addition
By
Shawn Y.

(Laredo, TX) - July 8, 2011 (
See all reviews by this customer
)
I ordered two cups for my brother and sister-in-law when their 3rd child was born.

I ordered the matching pillow as well. They loved the cups and use them all of the time now.

Great gift!

Mother's Birthday Present
By
Shopper

(Seabrook, NH) - June 17, 2011
Came out great, she loved it and the price was wonderful.

sweet
By
Shopper

(ironton, OH) - November 21, 2011
It's a beautiful mug and will be a very sweet gift for grandma!

Love it but wish more names could be added
By
Megan E.

(Kennesaw, GA) - August 13, 2013 (
See all reviews by this customer
)
I bought this for my MIL for her 70th birthday. There are 8 grandkids so we put their names, I wish we could have added the adults names too but she will love it non the less.....really cute!!

My mom LOVED it!
By
Kelli O.

(Springfield, OR) - November 8, 2013 (
See all reviews by this customer
)
I was completely pleased with this...

My only issue was the shipping was later than I was told, and therefore missed my mom's birthday completely. Made me quite sad... but the quality is wonderful.

Thank you again for a job well done. (Just check with the carrier and give yourself a couple of extra days.)

Meh
By
Shopper

(round rock, TX) - May 14, 2013
Although the personalization is nice, the mug itself is so cheap and unfinished.