Product features that you like
By
Shopper

(Checotah, OK) - May 1, 2012
I like the fact that you can put names on the cup and the fact you can add what ever message you like. I got this cup for my mother for mothers day, can't wait till she gets it. I will be moving away next year, and this is a perfect gift for her to remember me and her grand children by. She loves coffee and this is a great gift for someone that drinks coffee all the time.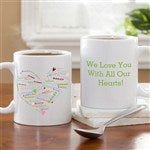 Great gift
By
Ranea L.

(Toledo, OH) - April 30, 2012 (
See all reviews by this customer
)
that was the best gift my mom got for mothers day,specially that you get to pick your quote on the back,she love is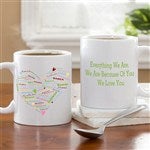 Wonderful gift
By
Shopper

(LAS VEGAS, NV) - April 29, 2012
The quality of the mug and the print is absolutely great. Love the design of the heart. The result is looking really sharp and nice. The only down side is that I would love to be able to choose which side the person will see while handling the cup. However, this is a wonderful gift. I sent it to my Mom for mother's day and I'm sure she'll love it!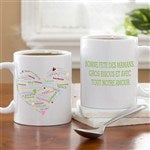 Perfect gift for Mother's Day!
By
Dawn A.

(Chicago, IL) - April 24, 2012 (
See all reviews by this customer
)
I bought one for my mom and one for my future mother-in-law. They both are coffee drinkers and this is the perfect gift to remind them every morning how much we love them. The printing on the cup is very nice and the overall product is a very good quality. I definetly recommend this coffee mug.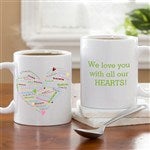 Very nice
By
Diane P.

(Waltham, MA) - April 9, 2012 (
See all reviews by this customer
)
I did not see the completed item myself, but the recipient liked it very much. I was told it was nice quality, very well packaged and well done.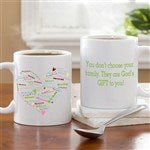 Great coffee mug.
By
Sharon S.

(Lodi, CA) - March 13, 2012 (
See all reviews by this customer
)
I just love this coffee mug. Especially with my grandkids names on it.
Personalization did a great job. Thank you. A treasure.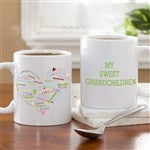 A wonderful present
By
Jennifer C.

(Baton Rouge, LA) - March 6, 2012 (
See all reviews by this customer
)
These coffee cups look so cute and the quality is superb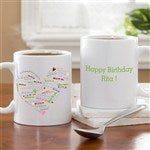 Love from the family :-)
By
Shopper

(Fond du Lac, WI) - February 16, 2012
The personalization of the gift is wonderfully creative with loved ones' names forming a heart. So cute!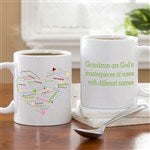 JUST HOW I IMAGINED IT !!!
By
Shanta N.

(Kissimmee , FL) - February 14, 2012 (
See all reviews by this customer
)
i ORDERED THIS MUG FOR MY BEST FRIENDS BIRTHDAY AND ADDED ALL THE WONDERFUL TRAITS AND HER NAME TO THE HEART ..IT IT WAS SO BEAUTIFUL. iT WAS EXACTLY WHAT I ORDERED ...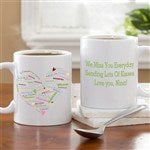 Great Gift for the Aunt who has everything
By
Wendy S.

(Hollister, CA) - January 1, 2012 (
See all reviews by this customer
)
I am really pleased with this mug. The colors and fonts are pretty and go well together. My Aunt loved it!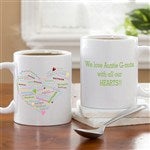 Cute Mug
By
Linda D.

(Santa Clara, CA) - July 21, 2014 (
See all reviews by this customer
)
Very creative... and a special mug. Love how ALL the names could be read very clearly on the colorful heart. Like the black trimming. Mug would be too plain without the black trimming.

Happy Mom
By
Ricky H.

(Altoona, IA) - May 17, 2014 (
See all reviews by this customer
)
For mothers day I got my mom a mug and had it personalized from my wife, myself and the grandkids, oh and the dogs too. She absolutely loved it and thinks I am the clever child who is always coming up with these unique gifts but personalization mall makes it easy for me and did I mention that it was fairly inexpensive also. We were all happy this past Mothers Day, Thank you.

A big hit with grandmother
By
Shopper

(Benicia, CA) - May 14, 2014
We got this mug for Mother's Day for our grandmother & put all the grandchildren's names on it. It was a huge success. Granny loved it. I just wish the names were a bit bigger. Otherwise, it was the perfect gift.

Love my mug
By
Tory G.

(salinas, CA) - May 18, 2014 (
See all reviews by this customer
)
Love my mug that I got my mom for Mother's Day it was perfect

Mothers Day present
By
Shopper

(Mc call, ID) - May 20, 2013
This was a gift for my Mom. She loved it. It was very cute. Thanks.

Love this mug
By
Kathleen R.

(Palm Coast, FL) - July 16, 2014 (
See all reviews by this customer
)
Not only was it great to personalize with my grandchildren's names but it is also a perfect size for my morning coffee. Love it!

Perfect gift for a boyfriend/girlfiend!
By
DANIELA T.

(ANAHEIM, CA) - November 21, 2011 (
See all reviews by this customer
)
I gave this mug to my boyfriend as a gift for an anniversary, but a month anniversary (17 months) so it was nice to give him something when he did not expect it! Plus, every time he will drink coffee or tea he will think of me :)

Excellent!
By
Cathy M.

(Garland, TX) - November 17, 2013 (
See all reviews by this customer
)
The mug is good quality and the design is true to how it looks on-line. I am very happy with this gift purchase! I know the recipient will love it, too!

My mom LOVED it!
By
Kelli O.

(Springfield, OR) - November 8, 2013 (
See all reviews by this customer
)
I was completely pleased with this...

My only issue was the shipping was later than I was told, and therefore missed my mom's birthday completely. Made me quite sad... but the quality is wonderful.

Thank you again for a job well done. (Just check with the carrier and give yourself a couple of extra days.)

Godmother cup
By
Shopper

(Jacksonville, NC) - November 26, 2011
This really did turn out nice, but I would recommend darker colors for the writing, the lime green did nothing for the cup, it looked darker on the preview. Would recommend this for anyone, and would buy it again.

Nice
By
Shopper

(Upper Marlboro, MD) - May 21, 2013
She loved it! :)

Very impressed with your company!
By
Shopper

(La Canada, CA) - June 9, 2013
I have just ordered many personalized items from your company for the first time. I am totally impressed with your timely delivery service and email updates. Everything I ordered is exactly like the picture and there were no errors. THANK YOU for your great service and your beautiful merchandise. I will be ordering a lot more in the future,as I have a large family and shopping on line is very helpful.

Great gift
By
Carla L.

(Silver Spring, MD) - November 23, 2011 (
See all reviews by this customer
)
This mug was wonderful. A perfect gift for my daughter's coach. All of her teammates' names were included and the coach loved it. I love the fact that everything could be personalized, including the text on the opposite side of the cup. A great gift for parents and grandparents too!

Wonderful gift
By
Gloria L.

(Riverside, CA) - November 3, 2013 (
See all reviews by this customer
)
My sister in law loved this cup! I gave her the apron to match, as well as the gift card. Everyone thought they were unique!

Congratulations, excellent service
By
Shopper

(LAREDO, TX, TX) - September 19, 2011
Congratulations, its a favorite site after gift her .My mom likes so much!! hpersonalize coffee mug.
This gift arrives very fast!!!! Thanks. Excellent service

Mother's Birthday Present
By
Shopper

(Seabrook, NH) - June 17, 2011
Came out great, she loved it and the price was wonderful.

wonderful
By
Shopper

(buffalo, NY) - August 10, 2013
My kids bought that for their grandma and she loved it. I couldn't find anything for her. But that's the best gift she ever got. Thank you so much.

sweet
By
Shopper

(ironton, OH) - November 21, 2011
It's a beautiful mug and will be a very sweet gift for grandma!

Mother's Day Gift
By Shopper (Langhorne, PA) - June 8, 2014
Great Grandma loved her new mug I was able to squeeze all 11 great grandchildren on it :) Now I now what to get Grandfather.

New Addition
By
Shawn Y.

(Laredo, TX) - July 8, 2011 (
See all reviews by this customer
)
I ordered two cups for my brother and sister-in-law when their 3rd child was born.

I ordered the matching pillow as well. They loved the cups and use them all of the time now.

Great gift!

Beautiful Mug!!!!
By
Shopper

(Miami, FL) - June 3, 2014
Great quality and beautiful personalization. As always, it was delivered promptly.

Great gift.
By
Shopper

(Fresno, TX) - June 8, 2014
This mug was a great good-bye gift for a fellow coworker. The recipient loved the style, workmanship, and the quality. Every gift given from Personalization mall has been cherished and the shipment speed has always been excellent.

Awesome mug!
By
Jessica K.

(Rockville, MD) - June 22, 2014 (
See all reviews by this customer
)
I loved making this mug and my mom loved receiving it! Such a wonderful and creative gift! It also came in the mail pretty quickly.

lovely mugs
By
Shopper

(Elmont, NY) - October 30, 2013
as per usual, personalization was precise , design was charming, mug is good quality. agree with shopper Ryan C. The only thing I'd suggest is having the mug itself available in different colors OR the print/wording for the mug available in different colors (for instance, monochromatic, like different shades of red writing, or different shades of blue or green, etc...)

A Perfect Gift
By
Shopper

(North Baltimore, OH) - August 22, 2011
Bought this as a gift for my mom. Even though she knew; she really enjoyed when the mug came.

Grandma will love
By
Leslee M.

(Vista, CA) - September 8, 2011 (
See all reviews by this customer
)
Bought this mug for a friends mom, who has always been a grandma to my daughters and both my brother and sisters kids, as if they were her own. What better way to tell her Merry Christmas and that we all love her!! Can't wait for her to open it!!

Mothers Day Mug
By
lindsay A.

(lawrenceville , GA) - June 10, 2013 (
See all reviews by this customer
)
perfect gift for any mother who loves to have their cup of coffee in the morning, or anytime! Even nice to have to sit at work on a desk to admire her children and grandchildren names!

Wonderful present for mother-in-law
By
Mary Beth A.

(Walnut Creek, CA) - May 16, 2011 (
See all reviews by this customer
)
It was both fun to create this, and fun for her to receive it. We got to put everyone's name in the heart, several times. It turned out really attractive and reminds her of how we all love her when she uses it. A Great present!

Alonzetta
By
Shopper

(Enterprise, AL) - July 9, 2013
The mugs are beautiful. The names are clear and it is true to size. My mother loved them. Only question was if they are dishwasher safe. Care information was not in the packaging.

Outstanding
By
Wendy J.

(Napa, CA) - May 16, 2011 (
See all reviews by this customer
)
My mother in law loved her mug. I had a lot of fun creating the mug. The site was real easy to use and great fun to put together. You can change the inscription on the mug to make it more meaningful. I love this site. Perfect price range for a personal gift to share. The down size of this mug is it only holds eight names, I have a large family. We got creative and added two smaller names together with a few spaces inbetween on the same line to fit them all in. She loved it, thats all that counts.