Excellent
By
Rebecca K.

(Howell, NJ) - December 23, 2011 (
See all reviews by this customer
)
Mug is very cute! Arrived very quickly.

Very Cute Cup
By
Shopper

(Dickinson, TX) - December 23, 2011
This is one my favorite designs on a coffee cup! I bought as a gift for my sister, and I know she'll love it. The heart shape with our family names is so clever, cute, and memorable. I plan on buying more while they are on sale! Some of the names in the heart are small; but it's all readable, and quite touching.

My Mom/Nana Loves it!!!!!
By
cheryl C.

(canton, MA) - December 23, 2011 (
See all reviews by this customer
)
Love It!!!!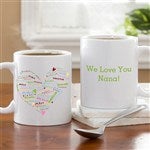 Wonderful Gift!
By
Mearyl S.

(Patterson, LA) - December 22, 2011 (
See all reviews by this customer
)
I soo love this site and I am always happy with my orders..I love that you can get a preview of what it will look like before you even buy it! And the item looks exactly like the preview! I love to get my parents personalized gifts because it adds a little extra something to it and they know that I took the time to get something unique and just for them...Thanx so much Personalization Mall!!!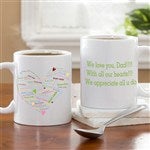 Just like it said it would be
By
abe K.

(Brooklyn, NY) - December 16, 2011 (
See all reviews by this customer
)
It arrived in a timely fashion, very professional, well made.

Beautiful
By
Shopper

(Ballwin, MO) - December 15, 2011
I'm really pleased with these mugs. The printing is very good quality and they came very quickly.

Great Gift Idea
By
Shopper

(Richmond Heights, OH) - December 14, 2011
Gave this to my grandmother and personalized the heart with all her great-grandchildren names. I love that one can personalize the front of the mug as well. Quick shipping.

Christmas Gift
By
Shopper

(Portland, TX) - December 14, 2011
The heart portion of the mug was exceptionally nice; however, I would recommend a darker print for the message portion (3 lines) or the option of choosing our own colors. It was a tad on the light side.

Lynda's view of Heart of Love Coffee Mug
By
Lynda F.

(Cleveland, OH) - December 13, 2011 (
See all reviews by this customer
)
I loved it!! It was everything and then some,of what I expected. I have No doubt,that everything I order from your website is going to be impeccable. I'm sure you've noticed since I ordered at least 8 items from your website, and looking to order more.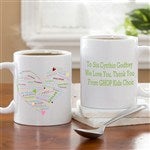 Perfect Coffee Mug
By
John F.

(Appling, GA) - December 12, 2011 (
See all reviews by this customer
)
My wife is celebrating her 4th birthday of beating cancer.
she cried when she got this mug. It was perfect. Thank
you for offering such a product. John - Georgia USA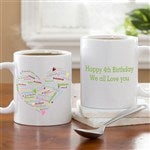 Awesome Product!
By
Tracy W P.

(Villa Rica, GA) - December 5, 2011 (
See all reviews by this customer
)
This item is so cute! I ordered one for my sister and one for my mom. They are good quality and very original!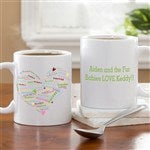 WONDERFUL!
By
Courtney M.

(Barksdale AFB, LA) - December 1, 2011 (
See all reviews by this customer
)
i ordered this for my mother-in-law and she loved it!!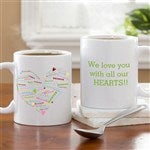 A Mug Full of Love
By
Shopper

(POWELL, OH) - November 30, 2011
I purchased 2 mugs for 2 different friends. Both are from a group of 6 best friends. One was for retirement and the other for a birthday. We put gift cards in the mug, and tied a ribbon. Each friend will think of us for years as she uses the mug. The design of the heart is very impressive and the sentiment is perfect. It exceeded my expectations.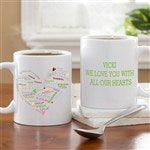 great personalized Christmas gifts
By
Shopper

(Daytona Beach, FL) - November 27, 2011
I ordered these cups for 25 different people and was able to personalize each one.They look just like the picture.Thick sturdy cup.They arrived at my house in just a couple days.Unfortunately 2 were broken but when I called the company sent out replacement cups the next day.I Did not have the hassle of sending the others back and they were so friendly on the phone.I loved that each cup came in its own sturdy cardboard box so I could gift wrap it sooo easy! The lettering looks like it is glazed right into the cup. Not a decal. I don't know how they can make them to order so FAST.Very impressed and great price. All 25 cups were less than $200.00 including the shipping. I would buy here again!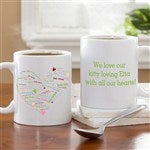 Godmother cup
By
Shopper

(Jacksonville, NC) - November 26, 2011
This really did turn out nice, but I would recommend darker colors for the writing, the lime green did nothing for the cup, it looked darker on the preview. Would recommend this for anyone, and would buy it again.

Great gift
By
Carla L.

(Silver Spring, MD) - November 23, 2011 (
See all reviews by this customer
)
This mug was wonderful. A perfect gift for my daughter's coach. All of her teammates' names were included and the coach loved it. I love the fact that everything could be personalized, including the text on the opposite side of the cup. A great gift for parents and grandparents too!

Perfect gift for a boyfriend/girlfiend!
By
DANIELA T.

(ANAHEIM, CA) - November 21, 2011 (
See all reviews by this customer
)
I gave this mug to my boyfriend as a gift for an anniversary, but a month anniversary (17 months) so it was nice to give him something when he did not expect it! Plus, every time he will drink coffee or tea he will think of me :)

Love this!
By
Shopper

(Clinton, IA) - November 21, 2011
Bought it as a Christmas present! What you see is exactly what you get which is what i LOVE about personalization mall!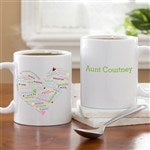 sweet
By
Shopper

(ironton, OH) - November 21, 2011
It's a beautiful mug and will be a very sweet gift for grandma!

Christmas gift for friend
By
Shopper

(Paynesville, MN) - November 20, 2011
Turned out awesome; hoping she likes it as much as I do!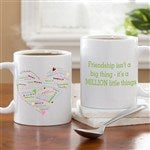 Christmas presents
By
Shopper

(Paoli, IN) - November 11, 2011
I loved coffee mugs I ordered!! FAST shipping!!!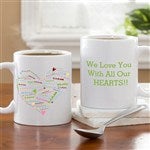 Darling
By
Shopper

(Amarillo, TX) - October 12, 2011
I love the heart of names. It's so cute. I buy personalized mugs for Christmas gifts and this is by far my favorite!!!
On the other side of the mug where you can put a message i wish we had a choice of lettering color. Don't get me wrong I love the green. I just think that i could have ordered more of this style if there were more message lettering options.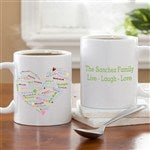 Excellent
By
Christina P.

(Mulberry, FL) - September 23, 2011 (
See all reviews by this customer
)
I love this mug. It is so cute. I bought it as a birthday gift for a cousin, but liked it so much that I had to get one for myself too.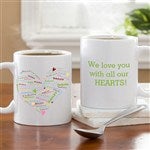 Congratulations, excellent service
By
Shopper

(LAREDO, TX, TX) - September 19, 2011
Congratulations, its a favorite site after gift her .My mom likes so much!! hpersonalize coffee mug.
This gift arrives very fast!!!! Thanks. Excellent service

Grandma will love
By
Leslee M.

(Vista, CA) - September 8, 2011 (
See all reviews by this customer
)
Bought this mug for a friends mom, who has always been a grandma to my daughters and both my brother and sisters kids, as if they were her own. What better way to tell her Merry Christmas and that we all love her!! Can't wait for her to open it!!

A Perfect Gift
By
Shopper

(North Baltimore, OH) - August 22, 2011
Bought this as a gift for my mom. Even though she knew; she really enjoyed when the mug came.

Love it!
By
Heather V.

(Richmond, TX) - July 26, 2011 (
See all reviews by this customer
)
Purchased this for my Grandmother and it looks amazing! All of the names are in different fonts and colors...the mug looks exactly like the preview.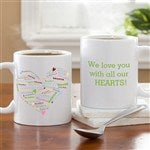 Heartwarming Gift
By
Dorothy K.

(Friendswood, TX) - July 11, 2011 (
See all reviews by this customer
)
Purchased for my mother's birthday with seven kids names. It arrived in less than a week. She was extremely touched and uses it everyday. I would highly recommend this gift for anyone looking for something sentimental, especially for a grandparent.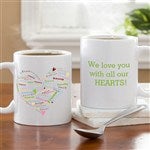 New Addition
By
Shawn Y.

(Laredo, TX) - July 8, 2011 (
See all reviews by this customer
)
I ordered two cups for my brother and sister-in-law when their 3rd child was born.

I ordered the matching pillow as well. They loved the cups and use them all of the time now.

Great gift!

My Dispatchers close to my heart
By
Gail B.

(Dade City, FL) - July 8, 2011 (
See all reviews by this customer
)
I purchased 8 of these for my dispatchers, I just recently retired as a Communications Supervisor at our local Police Department, and we were a very close net group, I wanted to purchase something personalized for them to remember me by and this was my choice, and they all loved them, I had all of their names placed in the heart and wrote them a little note on the reversed side from me, they turned out just perfect, thank you so much, I have never been disappointed with anything that I have purchased from you and will continue to order from you, because I love giving things to people that are personalized as it means something to them.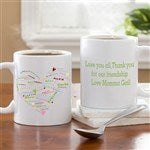 Awesome !
By
Shopper

(Baytown, TX) - June 21, 2011
Loved it ! Thanks for your fast service.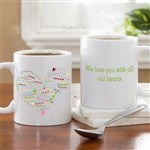 Heart of Love Personalized Coffee Mug
By
Shopper

(Guilford, CT) - June 20, 2011
I was very pleased with this product.I bought three and each was personalized.I loved how easy they were to create, and the recipients were just thrilled. I'd recommend this product as a great gift for volunteers you want to recognize or anyone you want to make feel special. The packaging was also nicely done with each mug sent in its own box with outside identification for each.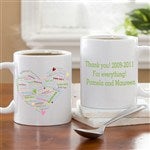 Mother's Birthday Present
By
Shopper

(Seabrook, NH) - June 17, 2011
Came out great, she loved it and the price was wonderful.

Love It
By
Shopper

(Gilroy, CA) - May 18, 2011
my mom loved her personalized mug for mother's day. Very simple to order online. Shipped to my home. Cost was low. Shipping affordable. Will definitely order from here again!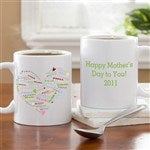 Great Mother's Day Gift
By
Melissa P.

(Jacksonville, FL) - May 17, 2011 (
See all reviews by this customer
)
Our Mom loved it!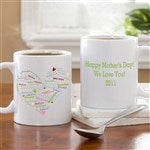 Wonderful present for mother-in-law
By
Mary Beth A.

(Walnut Creek, CA) - May 16, 2011 (
See all reviews by this customer
)
It was both fun to create this, and fun for her to receive it. We got to put everyone's name in the heart, several times. It turned out really attractive and reminds her of how we all love her when she uses it. A Great present!

Outstanding
By
Wendy J.

(Napa, CA) - May 16, 2011 (
See all reviews by this customer
)
My mother in law loved her mug. I had a lot of fun creating the mug. The site was real easy to use and great fun to put together. You can change the inscription on the mug to make it more meaningful. I love this site. Perfect price range for a personal gift to share. The down size of this mug is it only holds eight names, I have a large family. We got creative and added two smaller names together with a few spaces inbetween on the same line to fit them all in. She loved it, thats all that counts.

Poor packaging
By
Shopper

(Arnold, MO) - May 16, 2011
This mug was purchased as a mother's day gift for my grandmother. My grandmother was one of the victim's of the horrific Alabama tornadoes from three weeks ago. I purchased this not only for mother's day, but also so my grandmother would have something to put a smile on her face. When she received the first mug, it was in a hundred pieces. She said to the point that it could not even be fixed. She also said it was packaged with only 1 piece of tissue paper. Who would honestly use one piece of tissue paper to package a coffee mug??? I called customer care immediately and they sent out a new one. My grandmother received the new one, packaged properly, and loved it.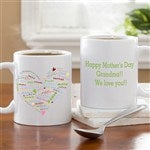 Great Gift
By
Shopper

(Douglasville, GA) - September 17, 2014
I got this for my daughter for Christmas. It has all her my grandbabies names, her sisters name, mine and my husbands name along with all her fiancé's kids names so every time she get a cup of coffee she will know she is loved.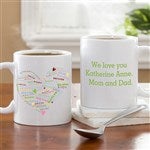 Cute Mug
By
Linda D.

(Santa Clara, CA) - July 21, 2014 (
See all reviews by this customer
)
Very creative... and a special mug. Love how ALL the names could be read very clearly on the colorful heart. Like the black trimming. Mug would be too plain without the black trimming.