Color choice
By
Rhonda H.

(Salem, NH) - December 8, 2012 (
See all reviews by this customer
)
I love the producte, but only wish I had a choice of color scheme to choose from, pastel, bold, Christmas, Easter, Valentines...etc. Otherwise...love it!!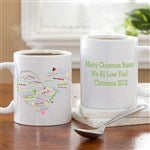 Cute Mug
By
Crystal T.

(Baltimore, MD) - December 6, 2012 (
See all reviews by this customer
)
The mug came exactly as the preview screen showed it. The names were spelled correctly and the message was correct. I can't wait to see the recipient's face when she gets it for Christmas.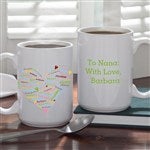 Cute but do not add to many names
By
Amanda I.

(Carlsbad, CA) - December 6, 2012 (
See all reviews by this customer
)
Ordered this for Grandma with my childrens names printed (as they stated you could have multi. names). Some of my sons JJ's look like Ji and this is really for women and not men.... it's light colors.

very nice
By
Dawn T.

(Amherst, OH) - August 15, 2012 (
See all reviews by this customer
)
For the price with personalization I thought they would look very cheap. They are not, they are very nice mugs. Super fast process and delivery time. had delivery of 2 mugs within 5 days. Will definately order again.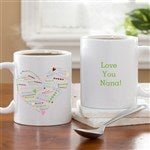 Love it!
By
Michelle W.

(Woodbridge, VA) - June 12, 2012 (
See all reviews by this customer
)
So adorable! I only wish that the names and the heart were a tad bit bigger.

Cute mug...
By
Amy M.

(Bristow, VA) - May 19, 2012 (
See all reviews by this customer
)
Words in heart are a little small, outside of that it was really cute...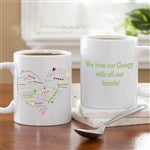 names
By
Tina A.

(Massillon, OH) - May 17, 2012 (
See all reviews by this customer
)
This cup was a wonderful gift for my mother on Mother's Day! She really liked it except she had to use a magnifying glass to read all the names. My only complaint is the names don't come out as clear as it shows on their web site.

Heart of love
By
Shopper

(Nichols, NY) - May 16, 2012
This was a great gift for Mother's Day. Quality of the product is great. Quick turn-around time. The only complaint was that it isn't big enough for those serious coffee drinkers.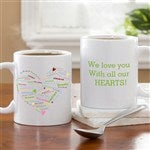 Mug of love
By
Shopper

(Montclair, CA) - May 14, 2012
Cute, cute!

Satisfied
By
Gloria M.

(Choctaw, OK) - May 14, 2012 (
See all reviews by this customer
)
The design, prining & quality were excellent
The item was shipped on time
I recommend; however,would have given product a five if print had been larger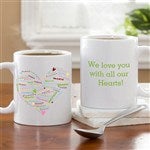 A Happy Mom on Mother's Day!
By
Shopper

(Colchester, VT) - May 14, 2012
Once again I hit the mark on a great present, thanks to this site! Mom was thrilled with the mug with all her children's names on it. (I even included the puppies!). I have shopped here before and will be back again.

Great little gift
By
Shopper

(Miami, FL) - May 2, 2012
Love how the mugs came out except that the heart is a lot smaller that what it looked like on the site. I thought it would be a bit bigger. Also, the printing quality is good.

Great gift
By
Ranea L.

(Toledo, OH) - April 30, 2012 (
See all reviews by this customer
)
that was the best gift my mom got for mothers day,specially that you get to pick your quote on the back,she love is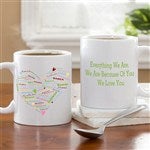 Wonderful gift
By
Shopper

(LAS VEGAS, NV) - April 29, 2012
The quality of the mug and the print is absolutely great. Love the design of the heart. The result is looking really sharp and nice. The only down side is that I would love to be able to choose which side the person will see while handling the cup. However, this is a wonderful gift. I sent it to my Mom for mother's day and I'm sure she'll love it!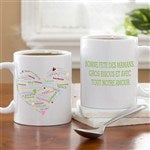 Not just for families
By
Shopper

(Virginia Beach, VA) - April 21, 2012
I purchased this for a couple about to get married and put their names on it...it looks great! :)

Very nice
By
Diane P.

(Waltham, MA) - April 9, 2012 (
See all reviews by this customer
)
I did not see the completed item myself, but the recipient liked it very much. I was told it was nice quality, very well packaged and well done.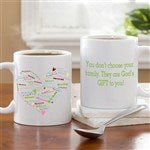 soooo cute
By
Shopper

(Gilbert, AZ) - December 31, 2011
My mom loved this mug with the names of all of her 7 grandchildren. Came out better than I expected; I just wish I was a little more creative with the message printed on the other side. It also would have been nice to be able to choose what colors you wanted the names to be. It's not a big deal but boys names written in pink would not have been my choice.

Perfect Gift
By
Kelcey S.

(Westland, MI) - December 28, 2011 (
See all reviews by this customer
)
I have purchsed this mug on 2 seperate occasions with excellent results both times. I love being able to enter multiple names on items and, by being creative with the aloted charecters have even been able to add as many as 14 names. This is truly an amazing keepsake!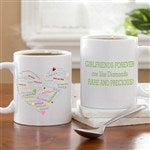 Nice mug, light font
By
Shopper

(Chadron, NE) - December 9, 2011
This mug is so neat! It arrived quickly and the price was right. My only issue is the green font on the front appears to have a fill pattern and is not actually solid. The names on the back are small and some of theme are so light they are more difficult to see than others. Regardless of this specific issue, I know this will be a gift that my mother loves.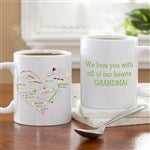 Fun and pretty but off center
By
Jennifer H.

(Lake charles, LA) - December 30, 2013 (
See all reviews by this customer
)
I loved the idea of this mug and adding our own names was cute and fun. When I relieved this mug the design seemed off center. I'm not sure if it was printed incorrectly or if the design is just a little wonky. The colors are bright and this gift was still appreciated.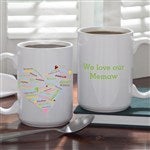 Fun Mug - Great Gift
By
Shopper

(Saint Charles , IL) - May 13, 2013
I like that there was writing on both sides of the mug and ample room to put in my personal message. The only reason I gave it three stars is because it is hard to see some of the names/messages inside the heart, particularly the light-colored ones, especially those in yellow. They should use more intense colors. (Months ago I had ordered the tote bag with this same heart and, again, the light colors were hard to see.) Also, on the mug, it does not appear that there was equal distribution of each of the names requested. Otherwise, it is a fun gift, worth what I paid, and unique.

Writing Small
By
Shopper

(Washington, PA) - January 18, 2013
The mug itself was ok, but the writing is very small and hard to read. I'm a little disappointed with this item.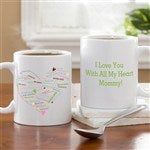 Cute but...
By
Shopper

(Homewood, IL) - December 19, 2012
I love the option of including so many names but I was a little surprised at how small the heart and names actually were. As this is for an older woman, I imagine she'll have a little difficulty seeing the names all that clearly. Also, the yellow font color is already difficult to read -- should be a different color or much darker.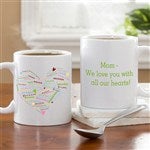 Make sure you include a magnifying glass with this gift!
By
Pamela D.

(Bay St. Louis, MS) - April 22, 2012 (
See all reviews by this customer
)
It's a nice cup and the design is nice, but you seriously need a magnifying glass to read almost everything written inside the heart. The heart needs to be bigger and if that's not possible, then the cup needs to be bigger. Nice idea but poor implementation.

That said, I'm sure my mother will like the cup because of the thought that went into the gift.....and after I warn her before she opens it that she WILL need a magnifying glass to read it.

holiday mug
By
Geri A.

(Endicott, NY) - December 16, 2011 (
See all reviews by this customer
)
This would be very nice if they did not use yellow ink for some of the names, the yellow ink dos not show up very well at all against the white mug, that is the only thing that I can say I do not like about it.

Could use a little updating
By
Shopper

(Westwego, LA) - December 14, 2011
I like the mug just wish you could choose the color of the font and font style. Heart detail could be a little clearer, but it is ok.

Iexpected more
By
Jennifer V.

(Houston, TX) - January 12, 2014 (
See all reviews by this customer
)
The heart was smaller than i expected. .. The names looked crappy..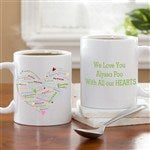 Meh
By
Shopper

(round rock, TX) - May 14, 2013
Although the personalization is nice, the mug itself is so cheap and unfinished.


Text smaller than expected
By
Shopper

(Stowe, VT) - December 18, 2012
I have had good luck in the past with a similar item, the cookie jar, but I was underwhelmed with this coffee mug. The printed heart with names arrived much smaller than the example appears and not as sharp and nice as I would have expected.

Small print and hard to read
By
Shopper

(Lake Worth, FL) - December 18, 2012
The preview looked great...but the delivered product was hard to read....tiny print and light colors

Disappointed!!
By
Shopper

(lees summit, MO) - December 16, 2012
The mugs looked used and made with really cheap materials. I was so embarrassed to give them to my friends. With the time frame, I have no other choices but to keep them. I am so disappointed.

Cute Idea
By
Carol W.

(Covington, GA) - December 11, 2012 (
See all reviews by this customer
)
I really like the idea of this mug. The cup itself is great, but the script on the cup is SO SMALL that it's indistinguishable. For the price that we paid, it's still very cute and may be worth giving as a gift just because of the "IDEA".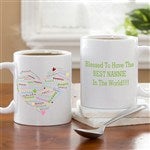 This cup is a beautiful gift, If they really do it right!
By
Shopper

(Slidell, LA) - April 27, 2012
I purchase this gift for two (2) special mothers, and it had over seven (7)
lines for characters filling and when I got the cup I was so disappointed
you cannot even see the words in the heart, I have a 20 - 20 vision and it
was impossible for me to read the words, If you really want the cup, just
fill in about four (4) lines probable that might be better. The writing in
the green that was in the back was good.... but I was not really happy with
the writing in the heart....

Cups are not white!
By
Breanna S.

(Modesto, CA) - January 19, 2013 (
See all reviews by this customer
)
This was such a cute idea! I ordered 6 of them for all of my instructors. I was so dissapointed when I saw them because ALL the cups were an off-white color. Don't let the picture fool you. It totally takes away from how cute the overall design is. If they are pictured white, they should be white for the customer.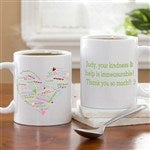 The names on the cup are blurry
By
Laura G.

(los angeles, CA) - January 3, 2012 (
See all reviews by this customer
)
It wasn't what I expected from PersonalizationMall.com. Most gifts from this site are impeccable, but this time the names where blurry and difficult to read. Invest your $$ in another gift. The idea of the names in a heart is great, but not on a mug... wasn't too happy.

disappointed
By
anita R.

(charlottesville, VA) - December 28, 2011 (
See all reviews by this customer
)
I COULDN,T EVEN SEE THE NAMES IN THE HEART.YOU WOULD NEED A MAGNIFY GLASS. I COULDN,T BELIEVE IT EVERYBODY THAT SAW IT SAID THE SAME THING.I REALLY SHOULD SEND IT BACK.THE PERSON WHO GOT IT WANTED TO BE KIND.NOT HAPPY.PRODUCT NOT WORTH IT AT ALL. I JUST LIKED THE IDEA