holiday mug
By
Geri A.

(Endicott, NY) - December 16, 2011 (
See all reviews by this customer
)
This would be very nice if they did not use yellow ink for some of the names, the yellow ink dos not show up very well at all against the white mug, that is the only thing that I can say I do not like about it.

Could use a little updating
By
Shopper

(Westwego, LA) - December 14, 2011
I like the mug just wish you could choose the color of the font and font style. Heart detail could be a little clearer, but it is ok.

heart cup
By
Shopper

(RANDOLPH, MA) - March 21, 2014
I was disappointed with the cup. You could hardly read the names within the heart shape. The letters were too light and I imagine over time, the writing will just fade away. Not sure if less names would have made a difference. I would not purchase this particular cup again.

Iexpected more
By
Jennifer V.

(Houston, TX) - January 12, 2014 (
See all reviews by this customer
)
The heart was smaller than i expected. .. The names looked crappy..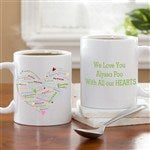 Meh
By
Shopper

(round rock, TX) - May 14, 2013
Although the personalization is nice, the mug itself is so cheap and unfinished.


Text smaller than expected
By
Shopper

(Stowe, VT) - December 18, 2012
I have had good luck in the past with a similar item, the cookie jar, but I was underwhelmed with this coffee mug. The printed heart with names arrived much smaller than the example appears and not as sharp and nice as I would have expected.

Small print and hard to read
By
Shopper

(Lake Worth, FL) - December 18, 2012
The preview looked great...but the delivered product was hard to read....tiny print and light colors

Disappointed!!
By
Shopper

(lees summit, MO) - December 16, 2012
The mugs looked used and made with really cheap materials. I was so embarrassed to give them to my friends. With the time frame, I have no other choices but to keep them. I am so disappointed.

Cute Idea
By
Carol W.

(Covington, GA) - December 11, 2012 (
See all reviews by this customer
)
I really like the idea of this mug. The cup itself is great, but the script on the cup is SO SMALL that it's indistinguishable. For the price that we paid, it's still very cute and may be worth giving as a gift just because of the "IDEA".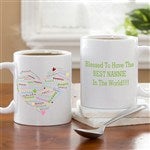 This cup is a beautiful gift, If they really do it right!
By
Shopper

(Slidell, LA) - April 27, 2012
I purchase this gift for two (2) special mothers, and it had over seven (7)
lines for characters filling and when I got the cup I was so disappointed
you cannot even see the words in the heart, I have a 20 - 20 vision and it
was impossible for me to read the words, If you really want the cup, just
fill in about four (4) lines probable that might be better. The writing in
the green that was in the back was good.... but I was not really happy with
the writing in the heart....

Cups are not white!
By
Breanna S.

(Modesto, CA) - January 19, 2013 (
See all reviews by this customer
)
This was such a cute idea! I ordered 6 of them for all of my instructors. I was so dissapointed when I saw them because ALL the cups were an off-white color. Don't let the picture fool you. It totally takes away from how cute the overall design is. If they are pictured white, they should be white for the customer.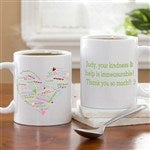 The names on the cup are blurry
By
Laura G.

(los angeles, CA) - January 3, 2012 (
See all reviews by this customer
)
It wasn't what I expected from PersonalizationMall.com. Most gifts from this site are impeccable, but this time the names where blurry and difficult to read. Invest your $$ in another gift. The idea of the names in a heart is great, but not on a mug... wasn't too happy.

disappointed
By
anita R.

(charlottesville, VA) - December 28, 2011 (
See all reviews by this customer
)
I COULDN,T EVEN SEE THE NAMES IN THE HEART.YOU WOULD NEED A MAGNIFY GLASS. I COULDN,T BELIEVE IT EVERYBODY THAT SAW IT SAID THE SAME THING.I REALLY SHOULD SEND IT BACK.THE PERSON WHO GOT IT WANTED TO BE KIND.NOT HAPPY.PRODUCT NOT WORTH IT AT ALL. I JUST LIKED THE IDEA