great quality product
By
VIVIAN N.

(NORWOOD, MA) - December 9, 2011 (
See all reviews by this customer
)
I buy the garden stake,and i love it,best quality product,i will recomend to anyone to order one.I my self will trust this company for any future orders.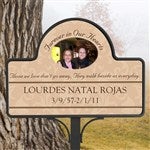 Put this on my sisters grave
By
Deborah A.

(Mechanicsburg , OH) - November 30, 2011 (
See all reviews by this customer
)
I really was pleased with the product it was a heavy stake exceeded my expectations thanks so much for providing this so we can place this on our loved ones graves . The picture came out perfect i uploaded . I surely would recommend this to my friends and family . I loved the verse also was told by friends what a lovely verse .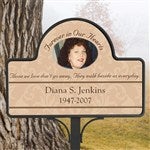 Colorful and nice large size
By
CHARLENE B.

(Stroudsburg, PA) - October 14, 2011 (
See all reviews by this customer
)
We buried our faithful pet underneath our tree and this stake is a nice colorful memory. I was thinking about getting a stone with a photo but with the snow coming, I didn't want it buried. It's nice, colorful and doesn't need any installation. Be sure to buy it as a set (stake and photo).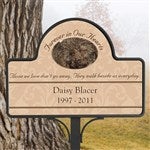 love it! super fast shipping!
By
Shopper

(FLEMINGTON, NJ) - August 6, 2011
absolutely beautiful!!!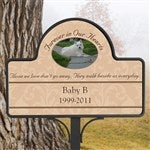 Remembering a Loved One...
By
Aimee H.

(Mansfield, TX) - July 5, 2011 (
See all reviews by this customer
)
I bought this to remember my cousin who passed away December 2010. I thought this would be a great item for my Aunt & Uncle to put in their yard where they planted a memorial tree. It was a Fabulous surprise for them, and I am very glad I saw this item and bought it. I have purchased some of the other yard stakes and seasonal magnets, and they are very well made. I was glad when I saw this new photo memorial stake. It is great to be able to remember those who passed and have a small memorial for them. This is a great item.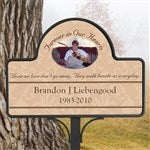 Love it
By
BRENDA G.

(SPARTA, TN) - June 25, 2011 (
See all reviews by this customer
)
I was very pleased with this item.It seems well made and sturdy.The picture looked great.The perfect memorial marker.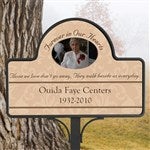 Beautiful Tribute
By
Denise K.

(North Port, FL) - June 12, 2011 (
See all reviews by this customer
)
My 27 year old son died in January, I was looking for a way to honor his name. I ordered two of these markers. One for ashes we are placing this summer and one for our home. We have a tree planted in our yard.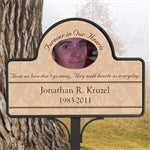 I love it
By
Michelle S.

(Brooklet, GA) - September 9, 2014 (
See all reviews by this customer
)
Very we'll made! Colors were bright. Shipping was right on time.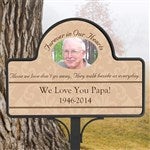 Beautiful
By
sandra a C.

(Winchester, NH) - August 12, 2014 (
See all reviews by this customer
)
It does meet every expectation, and is of the highest quality, everyone that sees it wants to know where it came from Great job and would recommend your product to anyone I know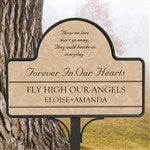 Tribute to Tom our cat.
By
alvin B.

(Bevier, MO) - July 26, 2014 (
See all reviews by this customer
)
Excellent quality. I have bought from you before, and have never been disappointed, but this memorial out shines them all. Thanks, alvin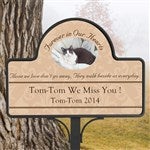 Kathy
By
Kathleen H.

(Henderson, NV) - June 23, 2014 (
See all reviews by this customer
)
This Memorial Stake was a beautiful quality product to memorialize my wonderful father on my first fathers day without him. His burial place is in another state so now I have a place to reflect on his life. I highly recommend this product.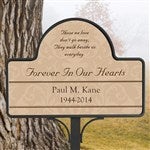 Exceelent
By
Ronald M.

(CONKLIN, MI) - June 21, 2014 (
See all reviews by this customer
)
I purchased this for a gravesite in honor of my grandson. It was beautiful and I received so many complements on it. As always, I was so very pleased with this purchase,along with many other items I purchased in the past. Thank you very much for your excellent work.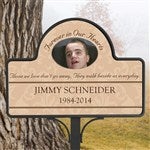 Nice Tribute for Yard
By
Cathy E.

(Las Vegas, NV) - May 2, 2014 (
See all reviews by this customer
)
Best part of this item is the personalization. As long as you can fit what you want to say in two lines. I wanted a tribute to thank my Mom and Dad who are deceased for allowing me to landscape my backyard from my inheritance. So now I smile each time I'm sitting on my porch and see the tribute and know that they are a part of the pleasure I'm enjoying.

Sign is sturdy and just the right width and height for a memorial garden tribute. Magnet looks great. Has already withstood the high winds of my area.

Love it
By
Diane H.

(Middleboro, MA) - March 16, 2014 (
See all reviews by this customer
)
Was very pleased when I received this. They did a great job. Stand seems sturdy. Great item and great price. Will definitely order from them again.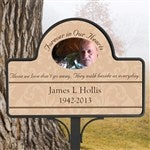 A memorial placard in my garden.
By
Narcissa Q. E.

(Tampa, FL) - February 26, 2014 (
See all reviews by this customer
)
Originally I bought the stake and magnet. Since the magnet gets wormed out with inclement weather, I always reorder two magnets at a time so it could be replaced when it stars fading. It's a great memorial in honor of my husband, that I want to keep for as long as I can.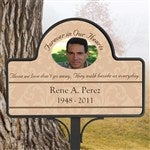 Thrilled
By
Kelly E.

(Maple grove, MN) - February 14, 2014 (
See all reviews by this customer
)
I bought this for my husbands grave. I wanted everyone to see how handsome he was and the saying is beautiful. I highly recommend this!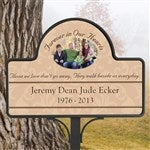 Memorial Stake
By
Michele C.

(Troy, IL) - October 11, 2013 (
See all reviews by this customer
)
This product is heavy duty and very nice. It was a nice added touch for the Angel we purchased in memory of my niece.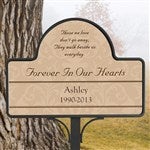 Beautiful Item
By
Shopper

(Elkton, FL) - July 23, 2013
This a beautiful item, it is well made and the inscription is excellent.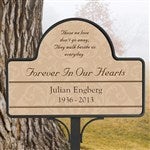 Perfect
By
Dianne W.

(Brooklyn, NY) - June 5, 2013 (
See all reviews by this customer
)
Beautiful memorial plaque, which can be easily updated and photo changed. Good service and quick delivery. Excellent prices and choice of services offered. You have a returning customer in me.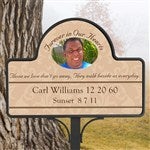 Great product
By
Louis M.

(Eldred, NY) - May 29, 2013 (
See all reviews by this customer
)
Better than shown. Great look, durable, and easy to display. Would buy again.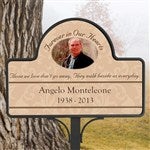 Excellent!
By
Robin D.

(Cheektowaga, NY) - May 19, 2013 (
See all reviews by this customer
)
We lost our 30 yr old son a month ago and wanted something special to mark his grave until the headstone arrived. We ordered this marker, and it is absolutely perfect, excellent quality. Everyone that has seen it has been amazed at how beautiful it is. Thank you for making a very saddened family a little bit happier and for honoring our son.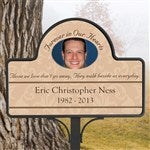 Perfect memorial for my Dad
By
Julie J.

(Waterloo, NE) - February 10, 2013 (
See all reviews by this customer
)
My Dad recently passed away and I wanted the perfect memorial for him to place at his gravesite. When I saw this memorial stake with the photo on it I knew this was exactly what I was looking for. I received it so quickly and was pleasantly surprised at the quality. It is very well made and very sturdy so it should survive the elements of the outdoors. My mom was very pleased with it also. Thank you so much for the awesome items you offer.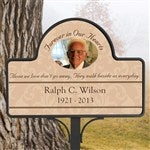 Goggy
By
AUTUMN D.

(CUMBERLAND, MD) - November 3, 2012 (
See all reviews by this customer
)
Was better than I imagined it was so wonderful and perfect to put at her grave Goggy will love it thanks so much!!! :)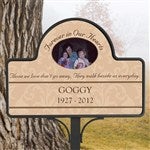 Memorial stake
By
Nancy B.

(Angleton, TX) - August 2, 2012 (
See all reviews by this customer
)
The memorial stake I ordered is absolutely beautiful! I bought it in honor of my daughter who passed away in October. I plan on putting it in a memorial garden for her. It is very well made and sturdy. The lettering is beautiful. I would highly recommend this product.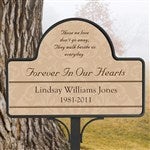 Aunt Hellen
By
Joseph L.

(plattsburgh, NY) - June 5, 2012 (
See all reviews by this customer
)
Thank you , this memorial stake is just what Iv'e been looking for.My Aunts grave stone is level with the ground and can be hard to find for some.Now it will be easy.
NICE JOB !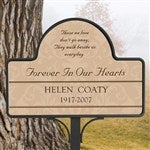 Love It!!
By
Shopper

(Schaller, IA) - April 29, 2012
I recently purchased this item, quick delivery!! I love it! I got it for my fathers grave. I did not relize the entire front is magnetic! I haven't yet put it on his grave so I don't know how it holds up in the weather but I love the look of it in person!!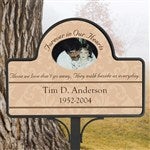 memorial stake with magnet
By
Shopper

(West Lafayette, OH) - April 22, 2012
This was appropriate for a grave marker since I had little money to work with. The stake is well built and secure. The magnet is heavy enough to withstand high winds. The wording is just as I ordered it. Thank you for a product that is well worth the price and shipping.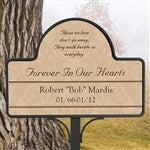 Beautiful way to commemorate my dad
By
Wendy B.

(Hewitt, TX) - April 17, 2012 (
See all reviews by this customer
)
We put this stake in our garden in memory of my dad who loved to garden. We had a picture of him in his gardening hat and all of his veggies. I just needed a medium to display this photo and remember dad every time we tend our garden. This stake is absolutely perfect! It looks to be well made and and seems as though it will withstand the elements well!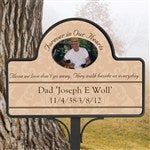 VERY PLEASED
By
Shopper

(Miami Shores, FL) - March 8, 2014
I was very pleased with my purchase. It is very attractive and well made.

Love, love it!
By
Shopper

(Yorktown, VA) - April 4, 2014
It was exactly what I ordered. Perfect and everyone loves it.

Great Quality, Fast Delivery
By
Shopper

(Sandyville , WV) - August 15, 2011
I was very pleased with the product. I purchased it to put at the gravesite since there is such a wait for the actual headstone. The picture I uploaded was from a cell phone & I was concerned about how the quality of the image would appear. The quality definately exceeded my expectations. We are so happy with this product as it allows us to pay tribute to someone recently lost & missed dearly. Delivery was unbelievably fast too!

sentimental
By
Shopper

(Ventnor, NJ) - April 9, 2012
Worked perfectly until the gravestone came in. Well made.

Memorial Plague for my beloved son's one year death anniversary
By
Shopper

(Garden City, NY) - December 13, 2011
We purchased this memorial plague to be placed on our son's gravesite for his one year death anniversary. We weren't ready for a headstone yet but wanted something placed there. I put in my order and realized hours later that I had put in the wrong year of death (had entered 2011 instead of 2010. I tried calling but they were closed for the nite. I sent off an email and when I called the next morning first thing they said they had already corrected the error per my email request. Besides this wonderful experience with the customer service dept. (who also offered me their condolences), the plague itself is beautiful. The sentiment on it is comforting and it is so nice for me to now have a picture of my son to look at when I visit him. I would highly recommend this and will definitely be using this company for any other personalization needs I may have in the future.

Magnet/stake
By
Ted T.

(Redding, CA) - November 3, 2013 (
See all reviews by this customer
)
The service and shipping were excellent and the quality of product seems great too. Wound't hesitate to use again.

Perfect for my Brother
By
Casey H.

(east liverpool, OH) - September 2, 2013 (
See all reviews by this customer
)
I lost my 28 year old brother to a motorcycle accident 1 month before his birthday on 7-21 we wanted to put something as a marker since it will be awhile until we can get a headstone I was very pleased when this arrived!!! very well made and beautiful!

Memorial Garden Stake with Magnet
By
Valerie B.

(MARIETTA, GA) - September 20, 2014 (
See all reviews by this customer
)
Absolutely wonderful, something to treasure! I purchased this in memory of Tex, our beloved family dog of 10 years. It is comforting to walk outside each day and among the flowers, see his face on this garden stake. The production of this item is flawless, the picture is crystal clear and the length of the stake is just right! I also love that it is a magnet and can be changed if desired. This is a high quality item and the price is an incredible value! Personalization Mall does it right and the customer service is great!

great
By
john Z.

(macomb, MI) - July 22, 2014 (
See all reviews by this customer
)
What a wonderful and beautiful piece of work! I am so pleased with this item

Love it!!!
By
Tiffannie B.

(Clinton, UT) - June 6, 2011 (
See all reviews by this customer
)
It is so cute, way better than I pictured it to look! I love it - thank you!

Looks good but poor quality
By
Shopper

(Fort Davis, TX) - September 7, 2012
The magnet is really great looking but the stake part is very bad quality. We were trying to just gently push it into soft ground and the whole top part bent in half. There is no way to get it in the ground without bending the extremely soft metal stake.

Loved it just wish it was bigger
By
Kelli F.

(Lake Tapps, WA) - October 13, 2013 (
See all reviews by this customer
)
It is beautiful I used it for a roadside memorial but it is too small