Christmas Gift
By
Sherita H.

(GAINESVILLE, FL) - December 8, 2012 (
See all reviews by this customer
)
I brought this item as a christmas gift for my husband, so he hasn't actually used it yet but the cosmetics of it is super cute. I think when he opens it he will crack a smile:)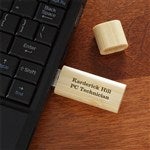 Lovely and affordable gift.
By
Shopper

(Valley Stream, NY) - September 20, 2012
The personalization of this item was amazing. This is definitely a lovely, and practical, gift to present to anyone.

Flash drive
By
Keisha L.

(Los Angeles, CA) - August 2, 2012 (
See all reviews by this customer
)
I love the bamboo texture and look of this product.

Excellent Service
By
Shopper

(Tinton Falls, NJ) - August 1, 2012
I have and will continue to recommend Personalization Mall. I had a minor issue with imprinting and the correction was made at no additional cost. I received great and timely service. Exceptional turn around time!

Personalization Mall went above and beyond.

Graduation Gift
By
Allison G.

(Jackson, AL) - May 15, 2012 (
See all reviews by this customer
)
We gave this gift as a College Graduation Gift. We were very pleased w/ the professional look & the creativity of this item. The Graduate was even more pleased. In the end everyone was happy. :)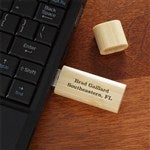 Very nice
By
Shopper

(Enid, OK) - April 2, 2012
I got this as a gift for my sister. It's very natural looking and feeling. The cap sticks on with a magnet and the personalization was perfect!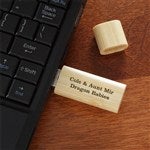 Great Valentine's gift!!
By
Shopper

(Escondido, CA) - February 27, 2012
We traveling around in our RV and have cameras and laptops with. What a perfect gift for my husband's own collection of pictures and documents. He loves it. His own personalized file system---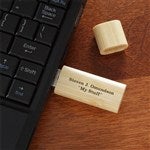 Flash drive
By
Shopper

(Shohola, PA) - December 16, 2011
I got this for my father-in-law. The engraved wood case is very classy. I'm glad there's a magnet inside the cap to keep it on! FAST shipping! Very satisfied with purchase.

Great Graduation Gift
By
Sonya M.

(Westmont, NJ) - August 13, 2011 (
See all reviews by this customer
)
I bought this item for my fiance's nephew. He just graduated from Rowan University and got a great job and this item will be very useful to carry files back and forth to work! The personalization add's the perfect touch!!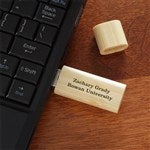 Great grad gift!!
By
Shopper

(Muncie, IN) - June 22, 2011
Don't like "traditional" grad gifts.....this is SO perfect for a student going to college. Doubt that it would be duplicated!

terrific job
By
Lu Ann G.

(Highspire, PA) - May 20, 2014 (
See all reviews by this customer
)
This was a great item for a male friend who was graduating nursing school. It will be used and appreciated for many things. It is the perfect gift especially since most of the nursing themes seem to be pointed towards females. The USB flash drive is a super unisex gift. It was the perfect answer as a gift.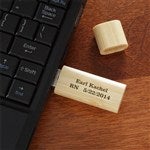 Mother's Day Gift
By
Shopper

(Oakdale, MN) - October 25, 2012
Mom got a kick out this one! She really liked it. Only 4 stars because the cover is pretty loose fitting, so you have to be careful! Very clean looking and well engraved though!

Almost Perfect
By
Shopper

(Hiram , GA) - June 24, 2012
I did not see the USB in person but my boyfriend was thrilled when he received it and immediately sent me a picture of it. It arrived just in time for fathers day the only downside to the USB is there is no place for a lanyard which would be ideal. Otherwise he was very satisfied.



nice idea
By
Shopper

(Virgin Islands (U.S.)) - March 26, 2012
this product is really nice.. the only downside is that it only comes in 2GB sizez. more size otpions would be nicer

good
By
Shopper

(Long Beach, CA) - March 25, 2012
bought it for my dad, good item

Nice looking
By
Shopper

(Washington, DC) - November 22, 2011
this is a good looking flash drive and the personalization looks great. The only problem is it is so tiny that it could easily be lost. There is no key ring hook or other way to minimize the likelihood it will be lost in a second.

Bamboo Flash Drive
By
Shopper

(Tempe, AZ) - November 15, 2013
I love the look of the drive but it's really too bad that the cap doesn't fit better. I would not order another because it will slip off too easily and it should be a easy fix.

Cool idea
By
Amanda L.

(Okemos, MI) - June 13, 2011 (
See all reviews by this customer
)
I purchased 2 and the cap doesn't fit tightly on either of them.....making it seem kinda cheap to give away as appreciation items. I do however love the leather keychain flash drive also sold from this site.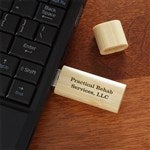 Unique but Loose
By
Shopper

(Ludington, MI) - December 15, 2011
I loved getting the personalized flash drive for my boss, but was a little disappointed. The top or the cover was loose fitting. I don't know if I got a bad one or they are all that way. I would be concerned that the cover would not stay tightly on when traveling.

Cap doesn't fit well.
By
Marsha B.

(Norman, OK) - November 20, 2011 (
See all reviews by this customer
)
The cap doesn't stay on well.

flash drive
By
Shopper

(Granada Hills, CA) - December 15, 2013
I was disappointed in the quality - looks much better in the picture. The printing was very sloppy.

Cap too loose
By
Joan A.

(Skokie, IL) - June 16, 2013 (
See all reviews by this customer
)
The cap is magnetic, however it's very loose. I'm sure it will be lost sooner than later. It does look nice. Just wish the cap was tight!