Nice sign!
By
Shopper

(Granite Falls, NC) - September 19, 2014
Sturdy. Shipped fast. Very pleased.

Home Theater Sign Looks Great!
By
Shopper

(Johnson City, TN) - September 14, 2014
Our new home under construction will have a Home Theater. This sign was the perfect birthday present for my husband. It will look great on the wall.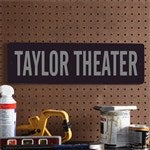 Great sign at a great price
By
Shopper

(Chicago, IL) - July 21, 2014
We ordered a sign for the high schools and colleges in the various school colors that our family attended to hang on our back porch. They turned out better then expected and look great. Quite a conversation piece too for people who stop by. The delivery time was very fast (which shipping had been cheaper though) but overall we are VERY pleased with our order.

Street Sign
By
Shopper

(Virginia Beach, VA) - June 25, 2014
The signed that I created for father's day was great. The colors are perfect. Thank you for a great product.

Love your products!
By
Shopper

(kincaid, IL) - June 18, 2014
This was a Father's Day gift for my dad. It arrived quickly and looked great. My dad really liked it. I've ordered ornaments, shirts and recently ordered a cookie jar for my mom which she loved. I have and will continue to order from and recommend your website to friends. I love it!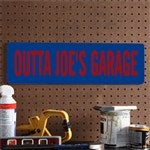 Love it!
By
Shopper

(Deland, FL) - June 18, 2014
Purchased for our race shop's front steel door. Looks awesome! Have always been very happy with every item I have bought from Personalization Mall. Shipped and received so quickly. Deciding factor in buying - it was on sale - making me enjoy even more!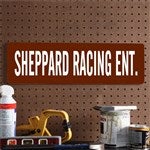 Fun, simple gift
By
Vanessa B.

(San Jose, CA) - April 7, 2014 (
See all reviews by this customer
)
My husband loved his sign! He looks forward to hanging it in the garage, once he finishes painting. Good quality. I was pleased to give it as a gift!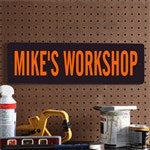 Great Gift!
By
Elizabeth P.

(Beech Grove, IN) - March 1, 2014 (
See all reviews by this customer
)
Gave this to hubby for his hobby room.

Great!
By
Shopper

(Bentonville, AR) - February 18, 2014
Nice sign. Great gift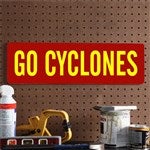 Product was great!
By
Shanna H.

(New Tazewell, TN) - February 9, 2014 (
See all reviews by this customer
)
The sign was great quality and exactly what I expected to see when I opened the box. Pretty good size, and spelling and colors were correct. Fast shipping...received it 3-4 days after I placed the order.

Personal Sign
By
Melissa D.

(Las Vegas , NV) - December 27, 2013 (
See all reviews by this customer
)
Perfect gift for my Dad and my Husband ...they loved it ! I just wish I could've fit my Husbands whole name on it instead of his nickname ...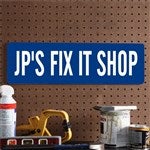 Garage sign
By
Shopper

(Kansas City, MO) - December 23, 2013
Received the sign in excellent condition. The green and yellow colors were bright and the sign was well made. I wish it was a little longer. All in all, very satisfied.




great for anyone..to mark their space
By
Veronica R.

(Rancho Dominguez, CA) - August 30, 2013 (
See all reviews by this customer
)
I first bought one for fathers day to my husband... when I had visitors over my home they all loved it...they started to order from me - once i place the order & gave it to them - they were thrilled... this is awesome! LONG TIME CUSTOMER ALWAYS HAPPY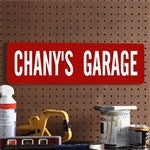 Loved It!!
By
Shopper

(Cuthbert, GA) - July 20, 2013
My husband just built a workshop, so I needed to name it. I surprised him with it! Needless to say, he loved it!!

He Loved It
By
Mary S.

(Covington, GA) - June 12, 2013 (
See all reviews by this customer
)
Turns out really cute, and well made. He really was surprised and liked it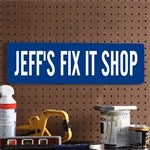 Everyone needs his own sign!
By
Karen G. S.

(Lexington, SC) - June 10, 2013 (
See all reviews by this customer
)
I got this for my Mr. Fixit Son for his workshop! It is done so well and professionally! I love every product I've ever ordered from Personalization Mall! Thank you for great quality and customer service. Lightning fast delivery!

Love this street sign!
By
Lisa S.

(Northfield, OH) - March 11, 2013 (
See all reviews by this customer
)
This was my first time to use this website. Wow! What great service! I placed my order on a Tuesday and received the finished product on a Thursday! I got this street sign personalized for my daughter and her roommate who are getting their first apartment this fall at college. They will love it! The colors are vivid, and the quality of the sign is higher than I expected. Will definitely be checking out more gift ideas on this site!

Perfect!
By
Gabrielle B.

(Schenectady, NY) - March 9, 2013 (
See all reviews by this customer
)
I purchased this for my dad as a birthday present, seeing as how we're moving it's perfect for his new garage! He loves it.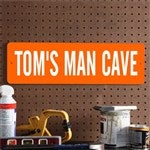 Bold and colorful
By
Kelly I.

(Melrose, MA) - December 28, 2012 (
See all reviews by this customer
)
I got this sign in the RED background with the WHITE letters. The quality of the board is very thick and solid. Not wobbly at all! My husband has a skate sharpening machine in our garage that he is always at; sharpening my sons Hockey Skates. My kids got a kick out of it also! I liked seeing all the different color choices as I scrolled thru the reviews. Cute idea to help choices. My colors are terrific and are bold. Nice gift for the man who "wants nothing"! You know those kind!
Again Personalization Mall has not disappointed on quality and fast shipping! So far I have ordered a fair amount the past few years and love everything. And I am a very fussy person.

Cool sign and a great gift idea!
By
Leigh R.

(Alstead, NH) - December 26, 2012 (
See all reviews by this customer
)
This sign was an excellent gift for my husband.

FAST SHIPPING
By
Cynthia C.

(chicago, IL) - December 26, 2012 (
See all reviews by this customer
)
Ordered this item on Thursday got it the very next day FRIDAY!!!! Fastest shipping and great pricing.. WILL be ordering again..Thank you so much , I am a satisfied customer....

Wow very impressed!
By
Terry B.

(Grand Rapids, MN) - December 19, 2012 (
See all reviews by this customer
)
I am very impressed with the quality of this item and the very pleasant transaction... from ordering to delivery. Thank you so much for the 5 star customer service! Merry Christmas!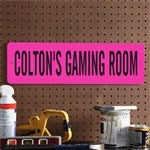 Very Satisfied!
By
Arijana C.

(Dover, PA) - December 17, 2012 (
See all reviews by this customer
)
I did not know what to expect when I placed my very first order. I read previous product reviews and based on that, I decided to purchase the item.
I am very satisfied. Item is not cheap or flimsy. Very good and I would definitely buy again. Item was shipped within 24-48 hours after my order was placed. I would and will buy again.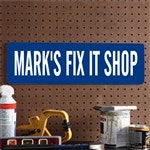 Gifts
By
Alicia H.

(Pontiac, MI) - December 5, 2012 (
See all reviews by this customer
)
These are awesome cant wait to give them out in christmas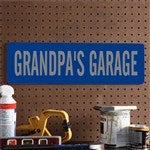 Great Man Cave Sign!!
By
Shopper

(New York City, NY) - November 24, 2012
My hubby ordered this sign for his dear friend to put in his garage or man cave. Since I had been ordering from Personalization Mall and gotten rave reviews, my hubby decided to put in a order for his friend, When the product arrived, my husband was elated because it looked better than he expected!! Nice and excellent for the price!!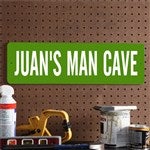 Perfect- Good quality
By
Shopper

(Lake Forest, CA) - November 2, 2012
The sign is great quality and well made. It came out just like I wanted. I can't wait to give this as a gift to my dad for his garage.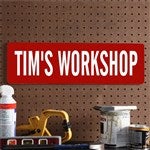 great quality
By
Jerry B.

(Columbus, GA) - October 29, 2012 (
See all reviews by this customer
)
item was exactly as i expected it to be. great quality.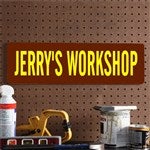 Great Buy!
By
Melissa O.

(Boston, MA) - September 1, 2012 (
See all reviews by this customer
)
I bought this for my maintenance guy who was incredibly handy and always did a job well done! He absolutely loved it! He was going to hang it in his home. It was very sturdy, a great size, and quality. I highly recommend this sign.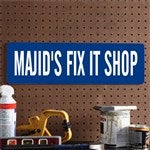 Workshop Sign is great
By
Shopper

(Fenton, MO) - August 10, 2012
I ordered this as a gift for a friend that works on peoples lawn mowers, weed whips, etc. and it came out perfectly. Will probably order more for other friends. Solid and perfect lettering!

this stuff's great
By
James S.

(Wynona, OK) - July 13, 2012 (
See all reviews by this customer
)
I love how my signs turned out. they are so coool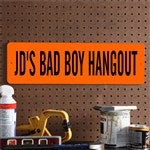 Great quality!
By
Quinton C.

(nampa, ID) - June 29, 2012 (
See all reviews by this customer
)
I thought it was going to be like decal stickers on a metal sheet. But I was impressed that it wasnt that way at all. Everything was spelled correctly and colors were correct. Very satisfied.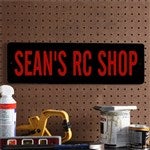 GREAT QUALITY!
By
Shopper

(El Centro, CA) - June 19, 2012
Much larger than I expected, my husband loved it! Great quality and worth the money.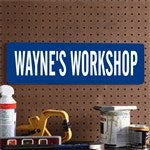 Fun Sign!
By
Diane J.

(Highlands Ranch, CO) - April 9, 2012 (
See all reviews by this customer
)
Fun sign for Dad's birthday to put up in his garage/work place! We had made to fit on board as shown & printing is very nice.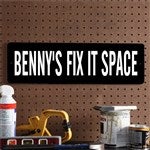 My home office landmark
By
Shopper

(State College, PA) - February 6, 2012
What this company promises, gets delivered! There was something personal missing in my home office, and this item answered my search.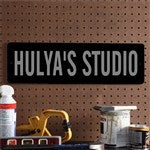 Great Sign
By
Thuy A.

(Moyock, NC) - February 4, 2012 (
See all reviews by this customer
)
I was pleasantly surprise when this sign arrived. Great quality and was larger than expected. Husband LOVED it and displayed it proudly in his "Man Cave"!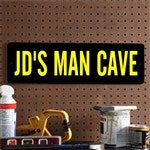 Cute Idea!
By
Shopper

(Reno, NV) - January 29, 2012
This item is a gift for a friend who is a bicyle nut and has converted his spare garage into a bike shop. I'm sure he'll be tickled with his own personalized sign. The quality was good, the printing perfect and the always amazing turn-around time of your products is excellent. It's nice to know that the items are usually in stock and can usually be received in a week. Thanks.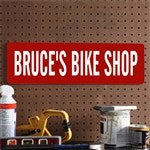 Great sign
By
Shopper

(Tacoma, WA) - January 28, 2012
Puchased this as a gift and he was very happy with it. It would be even better if it was able to be outside. It looks just like the preview picture however it will look better in his taxidermy shop. Good quality sign!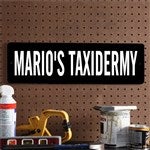 Great Value
By
Deborah S.

(Frostburg, MD) - January 27, 2012 (
See all reviews by this customer
)
Print quality and colors are very vivid and bright. Perfect!!

Looks exactly like it did in the picture!
By
Abbey K.

(Dillsburg, PA) - January 24, 2012 (
See all reviews by this customer
)
I got my husband this sign for his birthday to hang in the garage. Looked great when it arrived and it is very good quality!

Personalized Sign
By
Shopper

(Fenton, MO) - January 16, 2012
Mark's Build-It Shop sign was such a hit with my son-in-law. He designs and builds wood items in his spare time, and got a kick out of the "street sign". He said he knows just where he plans to hang it. The workmanship and quality of the sign was just right, and I will definitely recommend this site to anyone.