I would have given it a 5, but...
By
Leslie C.

(New York, NY) - May 5, 2012 (
See all reviews by this customer
)
... the packaging was a zip loc bag.

Perfect gift for golfer
By
Joy N.

(Stow, OH) - March 18, 2012 (
See all reviews by this customer
)
I bought these as an add-on for the personalized golf tee tin which I had previously purchased for a friend on Personalization Mall. The only reason I don't give this 5 stars is because the "natural color" of the personalized tees does not match the "natural color" of the tees that came with the tin. Other than that, they are a really nice, inexpensive gift to give the golfer in your life.

Pretty Good Tees
By
Shopper

(Eutawville, SC) - February 5, 2012
They are pretty good, but I thought I was going to get wood ones... they were plastic. Whether they are wood or plastic needs to be made more clear. Otherwise, they are good, the customization looks nice.

Fits Them to a Tee
By
crystal C.

(Marrero, LA) - December 19, 2011 (
See all reviews by this customer
)
This unique gift idea is perfect for the avid golfer in your life! I was a little disappointed with the font size but we can't have everything right?! :) I am still overall very pleased.

Very cute
By
Shopper

(Coppell, TX) - December 8, 2011
I bought these for my husband who is a major golf player. I put "Worlds PAR-fect Dad! and he loved them!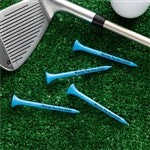 Cute Tees
By
Anne K.

(Broomfield, CO) - November 29, 2011 (
See all reviews by this customer
)
Great for the end of year Golf League Ladies!

Helpful opinion of product
By
Shopper

(Nashville, IN) - August 11, 2013
Tees are nice but lettering on blue tees with black lettering are hardly noticeable. We would suggest white letters for better contrast for prsonalization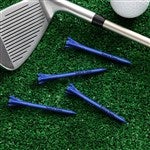 Color
By
Joy P.

(Danbury, CT) - February 17, 2013 (
See all reviews by this customer
)
I bought the tees as party favors for my upcoming wedding. My fiance and I chose the natural color because we thought it resembled the natural colored tees that one would use out in the course. When we received it, it was actually darker than the natural color we had wanted. It comes as a dark brown not a medium tan color. The font is black so the dark brown and black color didn't really go well together...

Item Slightly Different
By
Shopper

(Woburn, MA) - January 2, 2013
I was very pleased with the personalization of the item (also could view how it would appear before order was placed). However, I ordered the product in wood and somehow was sent product made from a recyclable material (i.e. plastic). Still an okay product, but wood would have been much better. Probably will not order again as I was disappointed to give as a Christmas gift.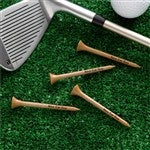 Plastic, not wood
By
Shopper

(Scottsdale, AZ) - December 30, 2012
The tees are ok, but I thought I was ordering wood tees. These are plastic. I've ordered personalized natural wood tees from another company before (just couldn't remember which company this time, or I would have ordered through them), and they were exactly what I wanted. These tees are brown plastic. I also really wish they would let you print more letters. There's plenty of room on the tee. It limits your creativity. My fiancée still liked them. I ordered 2 orders and had something different printed on each, and I put them in a martini glass on our bar.... The guys love them:)

A little unsatisfied
By
Shopper

(Houston, TX) - October 16, 2012
A few months back I ordered the pink ones and recently we ordered the blue and brown ones for my husband's fundraiser golf tourn. My son was so disappointed in the very tiny print he wanted me to send them back but I didn't. The golf tourn was last week. My son said the tees are of good quality but no one noticed the print because it was so tiny. The preview of your order shows the personalization as if it is going to be a decent size, but when you receive the product the personalization is very very tiny; no exaggeration either. You should ask your printer to work on that.

hard to read
By
Shopper

(Little Meadows, PA) - July 21, 2012
The print is just a little too small. Hard to read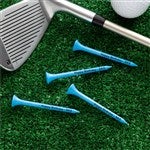 Not what I pictured
By
Carol H.

(Temple, TX) - January 24, 2012 (
See all reviews by this customer
)
I ordered these golf tees as a marketing item for my husband's business, but the imprinting is so small I don't think they will be very effective. It looks easier to read in the photo, but the actual print is very tiny and does not contrast much with the background. The tees are recycled plastic, not wood. I won't order these again.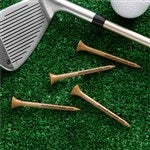 Tees OK for Small Gift
By
Shopper

(Marietta, GA) - January 20, 2012
I bought the personalized tees as a small birthday gift for a friend. While the personalization shows a certain amount of forethought, the tees themselves look a bit cheap - very "plasticy." They would have looked better if they were wood. I also agree with another reviewer - the name is small and very near the pointed end of the tees. It would have been better if the name was bigger and centered.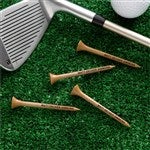 Name on Tees
By
Shopper

(Cochran, GA) - December 11, 2011
I ordered a pack of pink tees for my 5 y/o granddaughter who is beginning to play golf and she loves the game. Of course, her favorite color is pink. I had her name put on them and it is printed so small you can barely see it and also the name is printed at the very bottom of the tee so when she puts it in the ground, her name disappears. Not good for a child who loves to see her own name.

Plastic.
By
Melissa F.

(Roebling, NJ) - August 13, 2011 (
See all reviews by this customer
)
Tees are plastic and on the long side.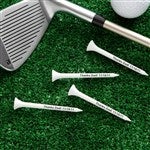 Dissapointed
By
Paula C.

(Midlothian, VA) - October 11, 2013 (
See all reviews by this customer
)
The black name imprint on the blue tees does not show up! It would have been much better if the personalization had been printed in white. I also order white and pink tees and they look great.

Disappointed
By
Patricia A.

(Kingsport, TN) - April 8, 2013 (
See all reviews by this customer
)
The discription said neutral, and It looked like a light wood color. However, it's gray. Not a good look.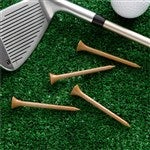 Golf widow
By
Shopper

(Orono, MN) - December 24, 2012
PrintIng was nice but VERY hard to read on the dark color of tee. I thought I got light tan but it was a dark toffee color.

Plastic tees with small writing
By
Stephen D.

(Bluffton, SC) - January 24, 2012 (
See all reviews by this customer
)
I probably didn't pay enough attention when I ordered the tees as a gag gift for a friend, but I thought these would be wooden tees. Instead they are the plastic kind that golfers hate becaus they bend when trying to insert into hard ground. The font is also quite small.

Tee It Up Golf Tees
By
Sheila V.

(North Chelmsford, MA) - September 19, 2011 (
See all reviews by this customer
)
I am extremely disppointed in the golf tees that I purchased,but I suppose what i paid for them I shouldn't complain, but they look terrible and don't even know if I'm going to use them.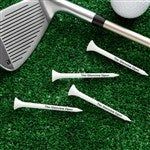 Need white lettering
By
Debi S.

(Beardstown, IL) - July 27, 2013 (
See all reviews by this customer
)
The black print on the blue tees does not show up very well. Needs to be imprinted with white ink. Personalization Mall was great in replacing the blue tees with white ones as these were wedding favors for a wedding held at a golf resort.

Plastic is not natural
By
Amy D.

(Presque Isle, ME) - June 16, 2013 (
See all reviews by this customer
)
These are plastic brown. These were for a five year (wood) anniversary and now I have no gift for my husband. I am disappointed beyond words!

Not the same as ad picture
By
Shopper

(Crown Point, IN) - December 6, 2012
Ordered two sets of personalized "natural" golf tees for Christmas presents. The tees are dark brown with extremely small black font which makes the name almost impossible to see. No option for other font colors. Embarassed to give these as gifts to my friends. With shipping and handling, price was just under $50, so not cheap---just the product. Regret this purchase big time.