critic
By
Shopper

(Henderson, NV) - May 11, 2012
The silver flower and initial charms were very flimsy. Not very good quality for the price. As the pearls were not genuine I had expected the silver charms, at least, to be a little nicer. The picture is deceiving.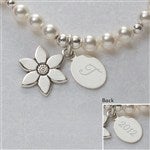 Very nice
By
Paula C.

(Levittown, NY) - April 27, 2012 (
See all reviews by this customer
)
These are very cute. The engraving of the initial was a little hard to see, but overall we are happy with them.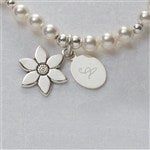 Can't see the personalization
By
Shopper

(Rockville, MD) - July 2, 2011
I love the idea of this bracelet and the pearls are very pretty. However I got this bracelet as a present for my niece and so I wanted to have her initial on it. You can barely see that there is anything written on there. I had to turn it over several times and take it directly beneath a light source to even see that there was anything on the silver piece. That was kind of a disappointment; otherwise the pearls are pretty- they just aren't as special and/or unique.

Ok for the price
By
Courtney R.

(Williamsville, NY) - February 1, 2013 (
See all reviews by this customer
)
I ordered 2 of these bracelets for my flower girls and I think the price is fair for the size and quality that you get. However, I was a little disappointed with the size(much smaller than shown/expected) and the quality of the engraving isn't very nice. The girls are young and will love it regardless and it will be something they have for life to remember the day with. Again, fair for the price but I probably wouldn't buy these again or recommend if you're looking for a nice quality product. Mediocre at best.

great bracelet
By
Sarah V.

(Reading , MA) - April 2, 2012 (
See all reviews by this customer
)
the bracelet was as described.

Very pleased
By
Shopper

(Danbury, CT) - January 25, 2013
The bracelets are adorable for my three flower girls! Perfect size and the engraving is just right.

Very Pleased
By
Shopper

(CENTREVILLE, MD) - May 28, 2013
My flower girl will love this! Although our bracelet came with two very small scratches on the oval charm, they are barely noticeable unless inspecting closely. Very pretty, & very pleased overall!

Perfect.
By
Shopper

(Staunton, VA) - July 5, 2013
The quality of this bracelet is wonderful. It's beautiful. The fact that is stretches too is very nice. My flower girl LOVED it and instantly put it on and never took it off the entire day of the wedding. It can fit small-medium adult wrists too - it fits her mother's wrist (and mine too for that matter), so as my flower girl gets older, if she inherits her mother's traits she'll be able to wear it for her whole life. Which is another big reason for why I got it.

perfect flower girl gift!
By
Jennifer C.

(Schenectady, NY) - October 18, 2011 (
See all reviews by this customer
)
I gave this to my 9-year old niece who was my flower girl/jr. bridesmaid. It fit perfectly and had just enough dangle to keep her interested. The stretch made it easy to get on and off without any need for assistance. She loved it and it looked wonderful on her!!

Really adorable
By
Michelle W.

(Woodbridge, VA) - June 12, 2012 (
See all reviews by this customer
)
This is for my niece to wear for my wedding. It is absolutely perfect for it! Very dainty and sweet.

Lovely item!
By
Kathleen F.

(Piscataway, NJ) - March 3, 2014 (
See all reviews by this customer
)
Bought these lovely bracelets for my flower girls. I can not wait to give them to the girls in June. They are simply adorable and the personalization is perfect. The gift wrapping is not necessary as the items were packaged in velour drawstring bags...perfect wrapping for little ones.

wonderful event
By
Adela D.

(Los Altos, CA) - October 4, 2011 (
See all reviews by this customer
)
The bracelets are just perfect and a life time treasure for the flower girls, Thank you once again for all your help and calling me and e-mailing me to keep track of the bracets..