wonderful event
By
Adela D.

(Los Altos, CA) - October 4, 2011 (
See all reviews by this customer
)
The bracelets are just perfect and a life time treasure for the flower girls, Thank you once again for all your help and calling me and e-mailing me to keep track of the bracets..

Adorable bracelet!
By
Lori W.

(Big Rapids, MI) - August 14, 2011 (
See all reviews by this customer
)
I ordered this bracelet for my 9 year old daughter. She is going to be in her first wedding this fall. I wanted something to give her that would remind her of this special occasion. This bracelet does that. It is adorable and I know that she will love it. I was worried that it would be a little small, but it is big enough. I love how quickly it came and the quality is great. I have already oredered something else. I will be shopping here on a regular basis.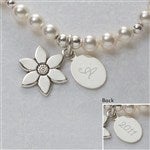 Runs on the small side
By
Shopper

(Lykens, PA) - July 21, 2014
We bought this bracelet for one of our flower girls (age: almost 7). It's definitely smaller than the picture makes it look but it is still very elegant looking. I'm hoping it'll fit over her hand. The flower and initial charm on the bracelet I ordered isn't flimsy like another reviewer said, but the initial was not centered. I think she will love it though!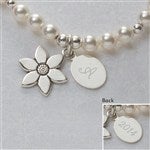 Perfect!
By
Shopper

(Plaistow, NH) - April 5, 2014
This braclet is for an 8 year old girl who will be helping out at our wedding and we wanted to give her a little gift to remember the occasion by.
This is perfect and very affordable

Cute bracelet but personalized wrong
By
Diane W.

(Jacksonville, AR) - March 18, 2014 (
See all reviews by this customer
)
I was very pleased with the bracelet and the charms, however, the personalized charm was off centered. I reported it problem to customer service on the day that I received it but still have not heard anything back from the. I did send an email back with a picture of the default but not response has been returned on what they will do to correct the problem. The present was for a very special little girl and am really disappointed with this. I have purchased from your company before and had planned to order more but until this dispute is settled, I will not be ordering anything else. Looking a the picture below, the initial charm is NOT the one that I received. Bad representation on your part.

Diane Wheeler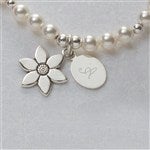 Lovely item!
By
Kathleen F.

(Piscataway, NJ) - March 3, 2014 (
See all reviews by this customer
)
Bought these lovely bracelets for my flower girls. I can not wait to give them to the girls in June. They are simply adorable and the personalization is perfect. The gift wrapping is not necessary as the items were packaged in velour drawstring bags...perfect wrapping for little ones.

Super Cute
By
Jessica M.

(Plantation, FL) - February 7, 2014 (
See all reviews by this customer
)
I would suggest this for a younger lady. I ordered it for my flower girl who is 10 years old, I hope it fits her because it looks smaller then I was hoping for but it stretchs a little so it should fit on her wrist. Other then that, it is a very pretty delicate braclet.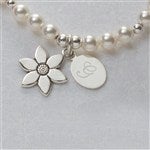 Flower girl Bracelet
By
Shopper

(Shady Side, MD) - September 15, 2013
We purchased this bracelet to give as a gift for the flower girl in my daughter's wedding. It is an adorable bracelet, dainty and pretty. The quality is great.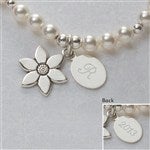 Cute
By
Hollie B.

(San Antonio, TX) - August 27, 2012 (
See all reviews by this customer
)
Cute flower girl gifts. I would recommend this product for anyone else using them for this purpose.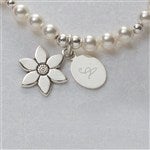 Really adorable
By
Michelle W.

(Woodbridge, VA) - June 12, 2012 (
See all reviews by this customer
)
This is for my niece to wear for my wedding. It is absolutely perfect for it! Very dainty and sweet.

Very nice
By
Paula C.

(Levittown, NY) - April 27, 2012 (
See all reviews by this customer
)
These are very cute. The engraving of the initial was a little hard to see, but overall we are happy with them.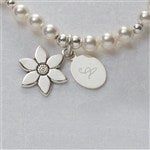 great bracelet
By
Sarah V.

(Reading , MA) - April 2, 2012 (
See all reviews by this customer
)
the bracelet was as described.

Perfect flower girl gift
By
Shopper

(New York, NY) - October 9, 2011
i got a bracelet for each of the flower girls in my wedding and they loved them. The engraved letter is a bit small and hard to see but it's a nice touch. I would recommend for kids 3 years old and up, as it was too big for my 18 month old niece.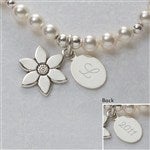 Flower Girl Bracelets
By
Shopper

(Canfield, OH) - July 6, 2011
I bought one for each of my flower girls. They are pretty and dainty, which is what I wanted, but I kind of wish I had shopped around a little more since they're a little over-priced for tiny faux pearls on a stretch band and all you can get is one initial and a year (as opposed to three initials and the whole date of the wedding). They'll be okay, but I do wish I had looked around more.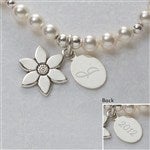 Can't see the personalization
By
Shopper

(Rockville, MD) - July 2, 2011
I love the idea of this bracelet and the pearls are very pretty. However I got this bracelet as a present for my niece and so I wanted to have her initial on it. You can barely see that there is anything written on there. I had to turn it over several times and take it directly beneath a light source to even see that there was anything on the silver piece. That was kind of a disappointment; otherwise the pearls are pretty- they just aren't as special and/or unique.

Smaller than expected
By
Lindsay S.

(Milwaukee, WI) - March 28, 2014 (
See all reviews by this customer
)
When I purchased this item, I was excited to give it to our younger sister (12 years old). It is rather on the small size. I wasn't expecting it to be so so small. I truly hope it fits her.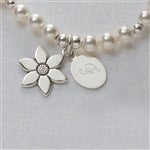 Ok for the price
By
Courtney R.

(Williamsville, NY) - February 1, 2013 (
See all reviews by this customer
)
I ordered 2 of these bracelets for my flower girls and I think the price is fair for the size and quality that you get. However, I was a little disappointed with the size(much smaller than shown/expected) and the quality of the engraving isn't very nice. The girls are young and will love it regardless and it will be something they have for life to remember the day with. Again, fair for the price but I probably wouldn't buy these again or recommend if you're looking for a nice quality product. Mediocre at best.

critic
By
Shopper

(Henderson, NV) - May 11, 2012
The silver flower and initial charms were very flimsy. Not very good quality for the price. As the pearls were not genuine I had expected the silver charms, at least, to be a little nicer. The picture is deceiving.