Love it!!
By
Shopper

(Portage, MI) - August 13, 2011
I looked all over the internet for personalized shirts for my growing family and could never find just quite what I wanted. I was so happy to stumble on Personalization Mall! Love the romper! I wish I could have gotten a smaller size, as sizing started at 6 months, but am still pleased. I am even more impressed with how quickly my entire transaction (6 personalized shirts) took. I ordered on a Monday evening and had the shirts in my hand Thursday at noon! I will definitely be ordering from Personalization Mall again!

Big Sister Tee
By
Shopper

(Newport Beach, CA) - April 13, 2014
Very cute

Read the description carefully
By
MARLENE M.

(BALTIMORE, MD) - October 25, 2013 (
See all reviews by this customer
)
I really like the sweatshirts I bought, however, I thought the words were embroidered on, not just stamped, so I was disappointed by that. I had purchased the glow in the dark pumpkin t-shirts last year for my grandkids and was thoroughly satisfied because of the embroidery. Not PMs fault, so read descriptions carefully before purchase.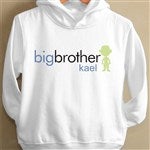 excellent quiality t-shirt
By
Candy T.

(Solana Beach, CA) - October 19, 2012 (
See all reviews by this customer
)
I got the smallest size (2-4) for my 2 /12 yr old grandson but it's BIG, more like a 4-5 yr old size. Everyone loved it though, great quality, and he will always be "big brother gavin"

Klotz review
By
Rita K.

(Branchburg, NJ) - September 18, 2012 (
See all reviews by this customer
)
the graphics were fine, I just wish we had a choice of a color other than the white background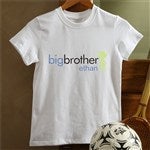 Adorable!
By
Becca L.

(Little Rock, AR) - August 2, 2012 (
See all reviews by this customer
)
This the way we chose to review our pregnancy to friends. It was a huge hit. My only complaint is that you cannot capitalize the first letter of the name.

so adorable! runs small though
By
Shopper

(Depew, NY) - August 1, 2012
The t shirt is exactly what I was looking for, for my son to wear to the hospital to meet his baby sister in! It's really cute and great quality. my son currently fits into size 18 months and is 22 months old, I'm glad I read a review to order the larger size because the 24 month size is the same size as his 18 month clothing. If I had ordered 18 months it would be too small for him. Love the shirt and can't wait to give it to him when the baby is born :-)

Love the design but not the t-shirt size
By
Darlene M.

(Garland, TX) - July 28, 2012 (
See all reviews by this customer
)
Just like my other review, love the design but not satisfied with the size of the shirt too big. Not sure what to do to shrink them without ruining them.

Pretty satisfied
By
Darlene M.

(Garland, TX) - July 28, 2012 (
See all reviews by this customer
)
When I ordered the shirts I wasn't sure how they would look since the sizes ranged from 2-4 and 6-8, that's a big difference in sizes. I received the shirts and right away was unsatisfied by how big they were. I love the design itself but the t-shirt is huge, not really sure how to shrink it without ruining it.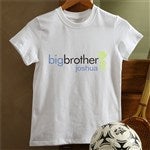 Cute but big
By
Shopper

(Bridgewater, NJ) - March 16, 2012
Design was perfect, my only complaint is that the size seems to run a bit big.

very cute, but size ran big
By
Shopper

(Bridgewater, NJ) - March 16, 2012
This came in on time and is super cute... however, the size seems to run a little big.

Awesome Tee
By
Josephine O.

(Bayonne, NJ) - September 26, 2011 (
See all reviews by this customer
)
Purchased this tee for a gift and have to say it was a good quality t-shirt and great printing. Loved it.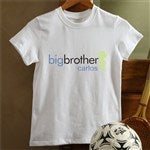 Cute "Big Sister" sweatshirt
By
Ellen K.

(Blairsville, GA) - October 28, 2013 (
See all reviews by this customer
)
The sweatshirt was nice, but I wish there were other logos to chose from in this category.

baby brother bodysuit
By
Shopper

(Prince Frederick, MD) - December 6, 2013
The quality and size of the item are great. The only problem is the color of the ink for the wording. Baby and the Name are a very light lime green and hard to see. A darker color would make this item 5 stars.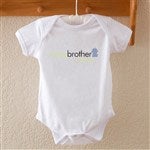 Sizing too small!
By
Shopper

(New Bern, NC) - February 11, 2013
This is the second time I have ordered a tshirt trying to get a shirt to fit a 6 month old baby. I ordered a 18 months this time and it looks like a 3-6 month shirt. Don't plan to order again!

looks great runs very very small
By
Shopper

(Charlotte, NC) - January 20, 2013
I knew to expect this to run small, similar to gerber onesies. unfortunately I ordered 2 sizes up and it barely fits, so it will probably fit in 2 weeks when the baby arrives and then be a keepsake. Order much bigger than you could possibly need. My little girl wears 9 months and 18 months tee is already too short and quickly approaching too small.

Be careful what you order
By
Shopper

(New York Mills, NY) - April 7, 2014
I ordered this t shirt in royal blue. In the photos it looked beautiful. When it arrived however, the words were barely noticeable. I contacted personalization mall and they told me that's how it's supposed to be. I wouldn't recommend this product. Perhaps a different color would work better but in that case, they shouldn't offer it in a color which is not visible upon printing. Their photos are inaccurate.

Very unhappy Nanny.
By
Shopper

(Jamestown, NC) - April 23, 2012
My 18 month old grandson could not wear this yesterday when his brand new sister
came home from the hospital because it was too small and not what I expected. I was very disappointed, and upset.It was the first time I saw it.
The shirt is very cute, but the sizing is incorrect.

Iron on
By
Shopper

(Miami, FL) - September 26, 2011
Although the design is quite nice, I was disappointed to receive a product with the design as an "iron on." I could have reproduced this by buying the iron on sheets at a craft store. The quality of he shirt is good, but again diappointed with the "iron on" design. Not at all what I expected.