This is a great bracelet & great website. 100% satisfied
By
Shopper

(Davie, FL) - September 8, 2012
I am very satisfied with this product. I got it on time and I was very happy, when I opened the package and saw a beautiful lil bracelet n I knew my neice would love it on her 6th birthday. Good quLity :)

Beautfiul gift for a little girl
By Shopper (East Islip, NY) - August 28, 2012
I was trying to figure out what to get my niece for her 7th birthday. There are lots of toys out there that she is most likely going to be getting lots of so I wanted to give her something extra special..and feel like the princess she is.. I know she will love this and will treasure it. I bought this today and i cannot wait for her to get it.. The only thing I wished was there more options in other colors like purples and pinks but this shade of blue is just perfect.

THE PERFECT GIFT
By
Jacqueline S.

(Deerfield Beach, FL) - August 4, 2012 (
See all reviews by this customer
)
My husband's and my niece turned 1 and she LOVED this item! It held up hasn't broken from her pulling it. I will purchase for our other niece.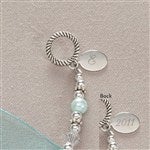 Cute and substantial
By
Shopper

(Saint Clair Shores, MI) - July 25, 2012
The bracelet is very cute and more substantial than I thought it would be (read "heavier"). The quality seems good/as described - really can't beat it for the price especially! Have not gifted it yet but I'm sure my 11-year-old niece will love it!

Gift for First Communion
By
Teresa E.

(Round Rock, TX) - May 17, 2012 (
See all reviews by this customer
)
Such a sweet gift for our niece. Not too big - still a little girl so it fits her age and innocence.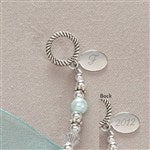 Perfect Gift
By
Shopper

(Hutto, TX) - April 17, 2012
It was a dainty gift for a special young lady. My great niece adores her bracelet.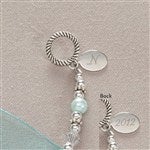 Jr. bracelet
By
Shopper

(Sunnyside, NY) - December 25, 2011
I have not physically seen this item...but, my sister has. The package was sent directly to their resident. She claims that it's the most beautiful ever and will fit her little wrist. I would purchase this item again. She also stated that the bracelet was elegant. I hope my niece will treasure this piece, I'm sure she will...I feel great. I'm so happy I found this site, Personalization Mall...I was searching high and low for the perfect gifts..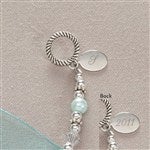 flower girl gift
By
heidi C.

(cohoes, NY) - December 11, 2011 (
See all reviews by this customer
)
this was a great bracelet for the price. it will make a great flower girl gift for my niece. it is perfect for her to wear in my wedding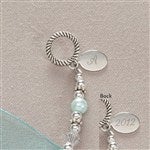 Perfect Gift
By
Shopper

(Spring, TX) - November 12, 2011
I was very satisfied with the quality of the bracelet. It is very pretty. I ordered it for my niece - I thought it would be a wonderful gift to her because I often tell her I will always love her so the words were perfect on the bracelet.

Great buy!
By
Shopper

(Geneva, IL) - October 1, 2011
I bought this for my 5 year old niece for her birthday...it's a beautiful bracelet and looks so pretty on her...everyone loves it!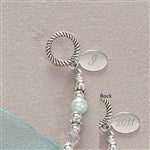 just the right fit!
By
Shopper

(east hartland, CT) - April 24, 2014
needed a little something for niece for 1st communion and this is totally adorable. Just the right size for an 8 year old with cute detailing. She is just going to love it!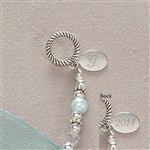 great quality!
By
Shopper

(blue bell , PA) - June 11, 2012
The bracelet is very cute, great quality and perfect for a little girl :)

Sweet
By
Shopper

(Plainview, MN) - April 23, 2012
I got this for my niece for First Communion. It was a perfect fit and a pretty piece I just wish there was a little more room for the engraving.
The ordering and shipping was so easy and the bracelet came very quickly.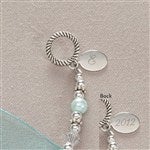 beautiful braclet
By
Lisa B.

(Durahm, NC) - March 25, 2012 (
See all reviews by this customer
)
This braclet is so beautiful and perfect for a little girl. The color was just right. I would recommend this braclet as a christmas or birthday gift. My niece will be recieving this braclet as a birthday gift.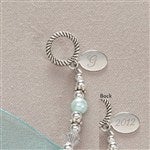 My niece's gift.
By
Shopper

(Houston , TX) - April 7, 2014
I loved it. The only problem was that it was too small for her wrist. I suggest that if you are thinking of buying it, it should be for a girl younger than 9 and older than 5. My niece still loved it even though it fit too small. I had the number 9 engraved since its her birthday gift.

My niece is 11 and it doesn't fit
By
Keyshia H.

(Cambridge, MA) - March 18, 2013 (
See all reviews by this customer
)
This bracelet should say "up to age 5". My niece is 11 and i ordered it for her and she could not fit it. I am going to keep it because it's memorable but she cannot fit it and I don't know how to go about adding pieces to it so she could fit it. If someone could tell me how to add pieces to it so I can extend it would be great. The bracelet and the pendants are so small it looks like it could only fit a five year old. The letter "Z" does not look like a "Z".

Pretty buy really small!
By
Shopper

(port washington, NY) - March 9, 2013
I purchased this as a First Communion gift for my 8 year old niece....it looks too mall. My loss since it was engraved with her initial. It will become a keepsake only then. I would recommend this for girls 2-5 years old....possibly 6 years old if she is small for her age. Quality wise it is really pretty!

Really small
By
Sally K.

(Plainfield, IL) - May 21, 2012 (
See all reviews by this customer
)
I was looking for a first confirmation gift and this popped up. I don't know of any 8 year old who's wrist this would fit. Take it off the First Confirmation list of things to give. More appropriate for a baptism or newborn gift.