For parents' beach house
By
Shopper

(Pittsboro, NC) - May 7, 2012
This was my first purchase here. Maybe I ordered years ago, but I don't remember. I was so pleased with this purchase for my mom for Christmas that I came back for shirts for our moms for Mother's Day! Mom loved the mat and won't even use it outside at her beach house b/c she's afraid of it getting messed up! She uses it just inside. Perfect for her place she named "Flip Flip Time"!

Super great personalized doormat!
By
Shopper

(Fort Dodge, IA) - April 29, 2012
This doormat is for friends who are buying their first home. I had to open it and look at it first. It's so colorful for summer and a super purchase for the money. It's a great, fun gift!

Very pleased!
By
kimberly G.

(wyoming, MI) - April 28, 2012 (
See all reviews by this customer
)
Arrived very quickly and looks exactly as the picture did. Cleans up great after it rains. Will be back!!!!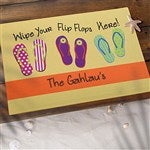 Just Right!
By
Shopper

(Fort Myers Beach, FL) - April 23, 2012
I have bought several of these mats over the years. They're always well received and unique!

Cute Flip Flop doormat
By
Carol P.

(Pineview, GA) - April 22, 2012 (
See all reviews by this customer
)
Cute doormat. It is even cuter in person.

Perfect
By
Shopper

(Perryville, MD) - March 24, 2012
Service good - exactly what I ordered and delivery time exceeded my expectations


Perfect
By
Tracy M.

(Lexington, KY) - February 16, 2012 (
See all reviews by this customer
)
I got this as a house warming gift. It turned out to be exactly what I was expecting and my friend just loved it. I ordered it on short notice and it arrived within days. I just love this and will definitely order another one.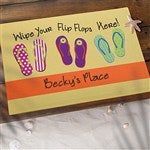 Nice item!
By
Shopper

(Columbus, OH) - December 20, 2011
Nice Mat

A. Rose
By
Shopper

(Highland, WI) - December 20, 2011
LOVE this! Great gift idea even at Christmas time for your friends/relatives that have 2nd homes in warm climates!

Great gift
By
Shayna R.

(Houston, TX) - September 30, 2011 (
See all reviews by this customer
)
I gave this as a little house warming gift to friends that just moved into a new house with a pool. They love it!

Excellent Quality
By
Shopper

(Columbia, KY) - September 28, 2011
This is a Christmas gift for my in-laws Florida home. I can't wait to give it to them! Shop early for Christmas!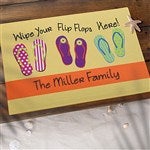 Great product
By
Shopper

(Clark, NJ) - September 25, 2011
Very happy with this welcome mat. It is well-made and looks great!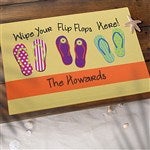 Present
By
Shopper

(Collingdale, PA) - September 11, 2011
This was purchased as a present for my daughter in law for her birthday so I did not use it personally. But it looks to be of superb quality and the imprinting came out very nice. It is to be used as a welcome mat at her beach house retreat and I hope she will enjoy it. I believe it was priced appropriately and it arrived within a few days of ordering...well in advance of when I needed it. Would definitely purchase from this company again.

great
By
Deborah M.

(West Chester, PA) - August 21, 2011 (
See all reviews by this customer
)
item is great, better than i expected, service was superb, excited to give
it to my friend for her birthday to use at her shore house.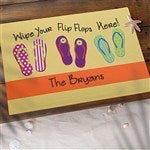 What A Way To Enter !
By
Shopper

(Americus, GA) - August 21, 2011
I love this mat...and as another reviewer said...the colors are true to what it was in the ad....what a way to start a conversation ! I'll be back :))

Cute!!!!
By
Shopper

(Fredericksburg, VA) - August 14, 2011
Got this for our pool area, everyone likes flip flops in the summer. Highly recommend this and anyother product from Personalizationmall.com. I have ordered alot of things and all love them. Thanks

Welcome Mat
By
Shopper

(Washington, IN) - August 9, 2011
Really great door mat for my family in Flordia

So Fun
By
Julie B.

(Rockford, MI) - July 24, 2011 (
See all reviews by this customer
)
this mat is so fun! It looks great in my sunroom, going out to my deck. I love it.

Very colorful but thin..
By
Debbie S.

(Mission Viejo, CA) - July 22, 2011 (
See all reviews by this customer
)
wish it was a little thicker for the price..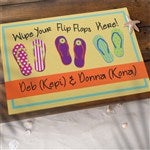 Love IT!
By
Michele M.

(Lyndhurst, NJ) - July 21, 2011 (
See all reviews by this customer
)
So adorable! It's so nice I'm afraid to put anywhere it'll get dirty....lol I'm using mine in our screened-in back porch. It's our summer hangout spot and everyone who has seen it, has complimented it!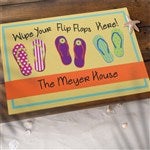 Good quality and perfect size!
By
Shopper

(Las Vegas, NV) - July 21, 2011
I am so pleased with the mat I ordered. I sent it as a gift to my parents who live in Hawaii. They loved it. Thought it was so cute and ideal. The mat is well-made with a rubber backing and the colors were exactly as you see them online. Not heavy either so it's easy to clean.

simply adorable!
By
Shopper

(Chelsea, AL) - July 19, 2011
What a cute, unique, quality-made item!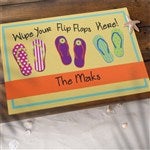 mats
By
Charlotte L.

(Rising sun, MD) - July 11, 2011 (
See all reviews by this customer
)
I have bought a couple of the mats & everyone loves them. I use them as gifts for my home buyers. I get good service & fast delivery. As a realtor this is
a welcome site for me.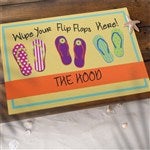 Good quality but bad color
By
Shopper

(Tonawanda, NY) - August 14, 2014
I'm very pleased with the quality of the item and how the personalized section looks. However, while the yellow color looks nice, it shows up dirt and sand too much. A darker color - or at least a less bright one - would have been a better choice. But it does vacuum easily and I'm overall pleased with the item.

Great mat
By
Karilyn M.

(Sandusky, OH) - May 27, 2014 (
See all reviews by this customer
)
It was much bigger than expected, and the colors/customization were amazing as usual.
Only bad thing is that there isn't much "carpet" to this mat, hardly any at all really. But if you're just putting shoes on it you'll be fine. But don't expect it to get rid of any dirt. Then again, it is yellow, so you probably won't anyhow.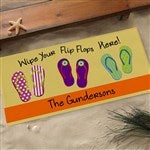 Pool to house
By
Shopper

(Tucson, AZ) - May 18, 2014
Very cute and will help keep the wood floor dry from pool to kitchen.

Very nice but light color shows the dirt
By
Shopper

(Danville, PA) - July 1, 2013
I really like the look of this and my grandkids get a kick out of it but it shows the dirt badly

Wipe your flip flops here doormat
By
Shopper

(Lighthouse Point,, FL) - May 31, 2013
Cute design, the mat itself is thin, but good for drying feet leaving pool to go into house. Good for what I wanted. Have rinsed with the hose, but have not washed it yet.

Cute
By
Shopper

(marana, AZ) - March 5, 2013
It's a cute mat,more of a decoration/conversaton piece, not very practical.
Makes a great personal gift for someone has a pool.

Flip Flops Door Mat
By
Penny M.

(Broomfield, CO) - August 31, 2012 (
See all reviews by this customer
)
Received my order for this item quickly, and it looks great! Not sure how well it will hold up outside in an uncovered area, but it looks nice enough to put inside the door. I got this for friends' lake house, and I'm sure they will be impressed. I love ordering from Pesonalization Mall!

Cute - but color was yellow vs. beige/tan as it appears online
By
Shopper

(Lexington, KY) - August 12, 2012
Expected mat to be a neutral beige color but it was yellow. Still cute but not quite as expected!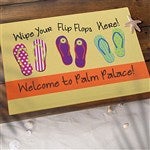 Love it!
By
Kim K.

(Los Angeles, CA) - June 26, 2012 (
See all reviews by this customer
)
Ordered and came in pretty quickly. Absolutely love it!

Cute
By
Shopper

(Lake Frederick, VA) - December 30, 2011
Nicely made. No errors. Recipients who own a pool loved it.

Looks just like the picture
By
Shopper

(Deerfield, IL) - December 29, 2011
Product is exactly as pictured however the mat is very thin and I'm not sure that it will be very absorbent.
It is also a little smaller than I expected but the personalization makes up for these few negatives.


Flip Flop Floor Mat
By
darlene R.

(elmwood park, NJ) - December 29, 2011 (
See all reviews by this customer
)
I was very satisfied with its outer look, but I expected a rug like this to be a little thicker.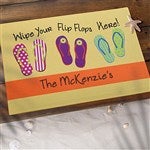 fun doormat
By
Shopper

(Wichita, KS) - December 3, 2011
great for a gift!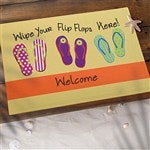 Adorable
By
Jessica P.

(Willow Springs , IL) - August 20, 2011 (
See all reviews by this customer
)
This is adorable, bright great color, just nervous about how it will wash

Soooooo cute!
By
charlotte O.

(Glen Saint Mary, FL) - July 11, 2011 (
See all reviews by this customer
)
This "flip flop" mat is so cute. We can't wait to use it.

very cute
By
Jenna W.

(Hampton, VA) - August 2, 2012 (
See all reviews by this customer
)
I loved the mat when I saw it. Just like the picture. However the mat was not as durable as I was hoping for. Sort of flimsy in material and unfortunately with the color that it is, which I wasn't thinking about when I bought it, picks up dirt VERY easily. So, the mat was dirty the first day I used it. I even stopped stepping on it just because I wanted to keep it's appearance. Again, very cute.. just don't have anyone step on it. ;)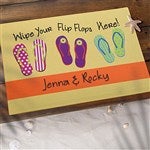 Stains easily
By
Shopper

(Shawnee, KS) - July 6, 2013
This mat gets really dirty immediately and it was impossible to get clean.