Circle Of Strength Plaque
By
Ruby H.

(Reidsville, NC) - July 20, 2011 (
See all reviews by this customer
)
I love the plaque!It says exactly what I would have written myself.It was also well wrapped and shipped quickly! Thanks for being there!?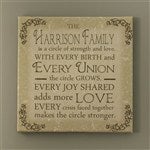 Family
By
Shopper

(Chicago, IL) - February 10, 2014
I love this sentiment on the plaque- it captured how I feel about my family. We recently remodeled our basement and I bought this to hang as a focal point for a wall of family pictures! It's just what I needed to pull it together!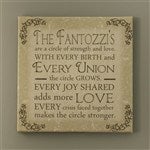 Highly recommend
By
Shelly A.

(Campbell, CA) - January 5, 2012 (
See all reviews by this customer
)
Small wedding gift for family and it is great to be able to find something so personalized! Love that is shows a sample of what you are ordering before you purchase and shipping was very fast! Thank you from a returning customer!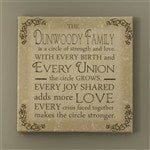 canas art
By
Lori D.

(Upper Sandusky, OH) - January 4, 2012 (
See all reviews by this customer
)
excellent quality and a great gift. I would highly recommend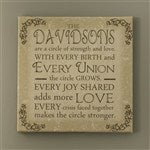 Loved it!
By
Shopper

(Lexington, NC) - December 30, 2011
I was extremely pleased with this purchase! It doesn't look like a name was added to already printed canvas. It looks like the whole thing was printed at the same time. Very high quality, centered perfectly, stretched tightly over the frame. I was proud to present this gift to my daughter's new in-laws and their whole family really LOVED it!

Very Happy
By
Shopper

(Saint Louis Park, MN) - January 3, 2012
I was not only happy with the product, since it was the perfect for this years Christmas gift, but I was so excited about how great their customer service was. They made me believe in a company who wants the best for their clients, and because of that I will always look at their stuff for future gifts. They arrived on time and their quality is amazing.

This Looks Amazing!
By
Shopper

(Lexington, NC) - July 19, 2011
This item turned out GREAT! Arrived quickly and I was expecting it to be smaller than it actually is. Well worth the price. Packaged very well and included a little metal wall hanger to attach if you want to hang it. The quality is very nice. Does NOT look like they just patched a name at the top. Looks like it was completely made for me. I love your stuff!

Nice Item
By
Shopper

(Charlotte, NC) - May 26, 2014
This was a perfect gift for a special house warming gift. I like the sale price it is today better than what I paid. I felt the original price a little on the high side.

Love this plaque!
By
Shopper

(Reidsville, NC) - July 26, 2011
Love...love...love it!

Very nice
By
Shopper

(Morris, IL) - December 26, 2012
Looked very nice, nice quality for the price. There was a strange odor to the product though. Hope the odor will go away.

Beautiful with a lot of compliments!
By
Shopper

(Zillah, WA) - October 25, 2013
I had been looking for something to complete a wall with my kids 2 wedding pictures and 1 graduation picture. This is exactly what I was looking for at the price I was looking for. I hadn't been able to find anything for under $100.00. This is just right! I will be shopping again soon on this sight when my first grandchild arrives!

Family Canvas Art is Fabulous!!!
By
Karen M.

(Nevada City, CA) - May 13, 2013 (
See all reviews by this customer
)
I sent this to my son and his wife for their anniversary and they are thrilled! It is already hanging in a place of honor in their home! Amazingly, it was delivered in only three days so it was in time for their big day! I'll be ordering this again for gifts for other friends and family!

A must have or gift
By
leza N.

(Irvine, CA) - May 10, 2014 (
See all reviews by this customer
)
Love Love Love the Canvas Print! Will be getting one for our family and for others as gifts. Thank you

Turned out great
By
Kevin D.

(Big Lake, MN) - December 24, 2013 (
See all reviews by this customer
)
I think for the price and being personlized it is a very good value. Ours turned out great

Personalized canvas
By
Shopper

(Hoffman Estates, IL) - December 31, 2012
This was a great gift and SO easy to personalize!! Love it,,

Great for a housewarming gift!
By
Jennifer B.

(Sunrise, FL) - September 21, 2012 (
See all reviews by this customer
)
This is the 2nd personalized plaque I purchased w/in the last 2 months. . .great for housewarming gift!

Just Perfect and Fast
By
Shopper

(Murrells Inlet, SC) - June 29, 2012
I was initially concerned about turn around time and having a professional product, but this company was fast, and the picture was just amazing. It was loved by our family and friends for our party. Thank you and I will definitely use you again!

perfect gift
By
Shopper

(Evanston, IN) - November 20, 2012
My husband's parents are hard to buy for, this will be a wonderful surprise for them at Christmas! It shipped and delivered in days. I was thrilled with the quality but not surprised because I have purchased from Personalization Mall in the past. I've never been disappointed.

A great gift
By
Debi P.

(Canada) - October 3, 2012 (
See all reviews by this customer
)
This was a great gift for my father and mother-in-law they loved it!