Good Product
By
Mariama W.

(Dorchester, MA) - December 26, 2011 (
See all reviews by this customer
)
We got a lot of compliments on these cards. The quality was great. The only challenge that I had was that the card ended up being matte on the outside and glossy on the inside. I thought I had asked for them to be glossy on both sides, so I wish that had been clearer on the site. Nonetheless, these cards were easy to do and were a hit with our family and friends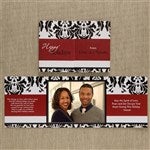 Beautiful Card-very elegant
By
destinie K.

(Austin, TX) - October 25, 2011 (
See all reviews by this customer
)
I ordered these for one of the offices within our company and they turned out great they loved them and I think they are very elegant cards being black and white they look nice, now I want some for my personal use!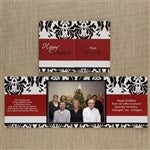 GORGEOUS HOLIDAY CARD!
By
Esther M.

(Limerick, PA) - October 10, 2011 (
See all reviews by this customer
)
I was searching the Internet for something different for my holiday cards this year, when I came upon the Holiday Damask Gatefold card. I must admit, I was skeptical at first because I was looking at a very small photo on-line, and I like to have a "hard copy" sample in my hands. I went ahead and placed my order, and hoped for the best. The very next day, I received an email that my cards had been shipped. I thought, "How can that be? I just ordered them yesterday!" I started to worry they would look cheap, BUT much to my surprise, the cards arrived quickly and safely packaged. They are EXCELLENT quality, and far exceeded my expectations! I couldn't be more pleased. In fact, I told my husband, "Personalizationmall.com has my future business!!" I can hardly wait to mail our my holiday cards this year, and I know I will get positive feedback.:) Thank you for a great product!!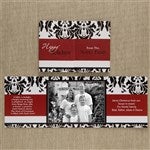 Quality Card
By
Susan R.

(Pearl river, NY) - October 4, 2013 (
See all reviews by this customer
)
This is a quality card...the stock is heavy, the colors are rich, the print is impressive...and the overall design is excellent! It is a bold statement card --generously sized and I would highly recommend this card. Also, I purchased the matching return address labels which are an added finishing touch. As a nice bonus--shipping was extremely quick :)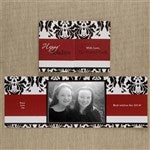 Beautiful Card!!
By
Shopper

(whitehouse station, NJ) - January 4, 2012
This Christmas card was my first purchase from Personalizationmall.com. I was very impressed with the quality of the card. I received many calls and text messages letting me know how much my friends and family LOVED the card. There was a great sale on these after Thanksgiving and they were very affordable. I will definitely be looking here next year for another winner. I also loved the choices of verses and greeting for the inside. I was shorted some envelopes, but the company quickly rectified the problem. I will be recommending this site to everyone next year!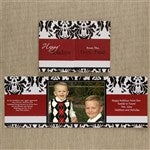 Great product and service!
By
Maria Z.

(East Boston, MA) - December 31, 2011 (
See all reviews by this customer
)
My personalized Christmas cards were just great! My friends and family were very impressed by the cards' quality and were very happy to receive such a cute little gifts from me and my fiancee. Although I had some issues with the delivery (oh, Christmas time), they had been taken care of by customer service representative. Thank you. Personalization Mall!! Will definitely order from your site again!!!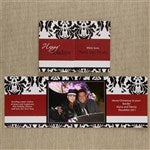 Loved it
By
Shopper

(springfield gardens, NY) - October 8, 2011
the cards were soooo beautiful. Loved them so much. Gonna order some more!

Great quality card
By
Shopper

(Morris Plains, NJ) - December 17, 2013
My holiday card was printed beautifully. I got many compliments on the quality and different type of layout. This item would have gotten 5 stars, however, the envelopes were flmsy and didn't match the weight and refinement of the card.

Photo Christmas Cards
By
Shopper

(Clinton, MD) - December 5, 2012
The Christmas cards are beautiful & blended with our color scheme. I was not happy with the clarity of our photo on the card, it was darker than our skin tones & blurred not like original photo submitted. I have ordered other products from this company and have been very happy with them, however I don't plan to order photo Christmas cards again. Decided to just keep them & send them since the holidays are so close.

holiday cards
By
Cathy G.

(Methuen, MA) - December 4, 2011 (
See all reviews by this customer
)
While the cards were exactly what I expected and ordered, I was really disappointed with the envelopes. They were covered with ink and at least 5 of them also had dirty fingerprints! Even with the ones that were not filthy, I couldn't use them because there was no glue to seal them and the paper used to make the envelopes was the lowest quality I have ever seen. Fortunately I was able to find envelopes locally, but I would expect for the price I paid to get full quality in every aspect of my order. I will be thinking twice before ordering again from here.

Christmas Cards
By
Shopper

(Austin, TX) - November 18, 2013
I bought these on sale and very happy with the order. I wish that I could have changed the Happy Holiday to Merry Christmas on the cover but used my own wording later. I did experience some difficulty cropping the photo, but all in all have always been very satisfied with anything I order from Personalization.

Family Holiday Card
By
Alyson A.

(Gainesville, FL) - November 19, 2012 (
See all reviews by this customer
)
I love this item! This is the first time we did something like this for the holiday and it turned out better than I thought it would. It wasn't very hard to customize nor did the delivery take long at all! I would recommend this product to any and everyone. B.t.w. we did matte as the finish touch and looks great!

Spectacular!
By
Donna D.

(Newfield, NY) - November 4, 2013 (
See all reviews by this customer
)
Wow....was I ever inpressed with the quality of these cards. The photo was spot on and the card itself was heavy and durable. These are well worth every penny. A great way to share with friends and family. Love them!

Love it!
By
Shopper

(Des Plaines, IL) - December 23, 2013
3 time return customer, I love PersonalizationMall.com for my holiday cards every year. I actually have coworkers tell me they look forward to seeing my cards each year because they are so unique and beautiful. My pictures end up looking perfect, the quality is amazing! I have many Christian and Jewish friends to send cards to and finding cards that can cover both holidays can be difficult. I find many different options on this site and all of the various religious styles can be covered in one card.

great Christmas card!!!
By
Larry C.

(Durham, NC) - December 23, 2011 (
See all reviews by this customer
)
Love it! and got a lot of compliments on it this year. Nice and heavy paper, great quality! Love the way the card opens...just something little different than you normally see...will order from personalization mall again. Thanks!

Beautiful Cards
By
Sara G.

(Lake Forest, CA) - December 12, 2011 (
See all reviews by this customer
)
They were easy to personalize and arrived promptly. Very easy to send. Thanks!

Loved this card!
By
charlene M.

(marietta, GA) - December 15, 2011 (
See all reviews by this customer
)
These cards are made of heavy card paper and the design is great!

Christmas cards
By
G M.

(warner robins, GA) - December 18, 2011 (
See all reviews by this customer
)
This item was so beautiful, I could not wait to mail them out. I will be ordering similar items again.