Great Gift
By
Shopper

(Deerfield , IL) - October 21, 2011
Fun family holiday gift

Awesome Wedding Gift!
By
Shopper

(Weston, WI) - September 20, 2011
I bought this for a wedding gift, and I hope that that bride and groom enjoy it! When I got it, I was impressed with the quality and the beauty of this item! I like to buy unique gifts....and all things that I have bought from Personalization Mall have exceeded my expectations!

Just as it was described!
By
Shopper

(Trenton, IL) - September 18, 2011
This picture was just as it was described and looked great when I got it!

WONDERFUL wedding present!
By
Shopper

(Corvallis, OR) - September 5, 2011
The new couple absolutely LOVED it, VERY high quality, looks like it cost a fortune! The personalization was a wonderful addition. I wish you could put the exact date, not just the year (for like when the family was established).
Shipped fast, and again the couple LOVED it!
Very cool design, style, quality!
This site is so user friendly! I could actually see what the personalization would look like!

Great quality!
By
Shelley B.

(Apex, NC) - August 23, 2011 (
See all reviews by this customer
)
Loved the design and pattern! Print was well executed on canvas. We really need to trust more in the Lord, so the timing of the message and product was perfect!!!!

Beautiful
By
Shopper

(MILTON-FREEWATER, OR) - August 20, 2013
This was a great house warming gift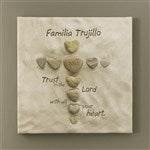 Fitting Gift
By
Natalie L.

(Kirby, TX) - July 29, 2013 (
See all reviews by this customer
)
This was purchased as a wedding gift for my nephew. I was suprised at how nice it is. I believe it will be a great addition to their home. I can see as time goes by them adding their childrens names to the rocks. Hopefully this will be a great keepsake of their love for many years to come.

Beautiful Peice
By
Dawna L.

(Houston, TX) - December 27, 2011 (
See all reviews by this customer
)
The product is large, but I imagined it more textured and 3 dimensional than it was. That's my fault, but still disappointing.

Beautiful product, just know up front that it's not textured.

Nice Gift
By
Shopper

(Dyer, IN) - November 18, 2011
This is a good gift for someone who is religious. It's nicely made and appears just as it does on the website.

Good Deal
By
Brittany Y.

(Morven, NC) - November 1, 2011 (
See all reviews by this customer
)
I recently ordered this product for a christmas present and it was very nice, and was what I expected.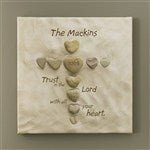 Disappointed in this product
By
Shopper

(Rocky Mount, NC) - February 3, 2014
Purchasing this item has taught me to read reviews before purchasing items in the future. I am usually very happy with items I purchase from Personalization Mall, but this item was not what I expected when it arrived. Like other reviewers, I thought there were actual dimensional stones because the description spoke of authentic handcrafting which led me to believe there would be real stones on the canvas print. I suggest that the description should be made clear so that customers understand what they are actually ordering.

Happy enough
By
Shopper

(Winnebago, IL) - January 31, 2013
I was somewhat unhappy only because by the picture I thought the "rocks" were real...Maybe I didn't read the small print :-/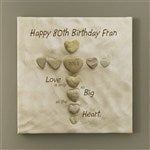 Rock cross
By
Kimberly R.

(San Pedro, CA) - December 4, 2012 (
See all reviews by this customer
)
It was ok. I wasn't very excited about it. Much bigger then I thought.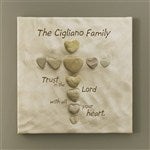 Too pricey for item
By
Margie C.

(Ashburn, VA) - December 31, 2011 (
See all reviews by this customer
)
I was disappointed in the price for the item provided. While the item was interesting, the quality was only average for the price paid. It was probably worth only half the price.

pass on this
By
Shopper

(Parker, CO) - August 13, 2012
Although the semtiment is great, picture looks too cheap.

Wrongly represented
By
Shopper

(Land O Lakes, FL) - August 1, 2012
Well, I read the description and it said it was on canvas with authentic stones. Maybe we took this too literally because both my husband and I both thought there were stones on the canvas.
Still the canvas was nice except there is a shiny line going across it which is very noticeable.