Great Personalized Pencils
By
Shopper

(accokeek, MD) - December 19, 2011
We have a joke that I run a hotel for my out of town guests. What better way to thank them for their stay. HAHA. The pencils are nothing like your basic #2 pencils. Love the crystal and the personalization. I can't wait to give out my first one :)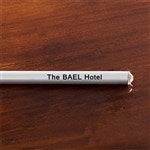 Beautiful!!
By
Shopper

(Lake City, FL) - June 1, 2014
Pencils are really TOO NICE to use but they were a big hit! The secretary loved them! Great quality!!!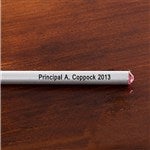 as promised
By
Shopper

(Westlake, OH) - April 7, 2014
just like advertised.........
nice gift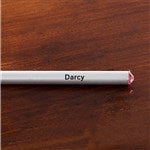 Excellent!
By
Judith I.

(Berea, OH) - March 26, 2014 (
See all reviews by this customer
)
My very, very picky friend loved them. No higher recommendation!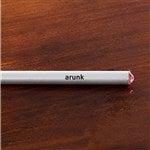 Pretty in pink
By
Stacey S.

(Warrenville, SC) - February 7, 2014 (
See all reviews by this customer
)
These are the cutest pencils I've ever seen. I paired them with a glitter notebook. FABULOUS!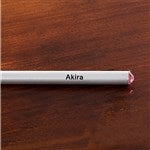 Lovely Pencils
By
Shopper

(Hackettstown, NJ) - January 31, 2014
Gave to a relative for 60th birthday and she loved them - pink swarovski stones were great! Highly recommend product.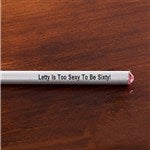 Elegant
By
Cheryl F.

(Geneva, OH) - December 26, 2013 (
See all reviews by this customer
)
This is a gift for my mother. I was pleasantly surprised by the quality and bag that they came in..almost nicer than the pencils!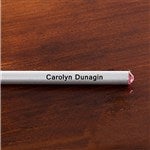 kindergarten teacher gift
By
Shopper

(Hunt Valley, MD) - November 15, 2013
My kindergarten son has Mrs. Hollander for only reading. I wanted to get her a cute but useful Christmas gift. This will be perfect because it has her new married name on it (new brides love to see their new names on things!), and because she uses pencils EVERY day to teach the kids. No one will walk away with these pencils because it is very clear to whom they belong!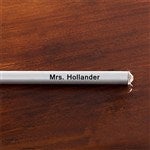 custom pencils
By
Shopper

(Saint Louis, MO) - September 8, 2013
fantastic quality and quick delivery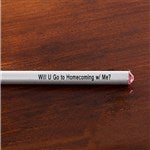 Nice pencils
By
Shopper

(Desoto , TX) - April 23, 2013
I received my pencils and they were just what I needed.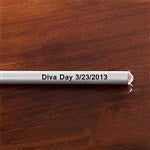 Gift for my step-daughter
By
Shopper

(Eden Prairie, MN) - January 22, 2013
My step-daughter always gives gifts that are thoughtful and perfect for the person she is giving to. It has made me want to do a better job selecting gifts. I know she will like the pencils with pink Swarovski stones AND her printed name because her favorite color is "sparkle". I liked the sheer bag the pencils came in. It will be 'part' of a Just Because gift for a very special step-daugher.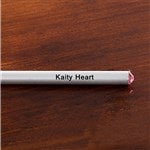 Beautiful!
By
valerie S.

(columbus, MS) - January 14, 2013 (
See all reviews by this customer
)
Love this product, ordered them for my studio to make appointments!!! Great quality! Have done business several times with this company, FIVE STARS!!!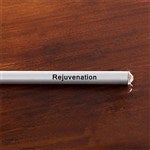 VERY PLEASED!
By
Shopper

(Central Point, OR) - January 8, 2013
Very pretty pencils/you can enter your own sentence on it or just a name! I entered "Sherry is one classy lady" and she loved them. The sentence gave it an extra "cool" factor!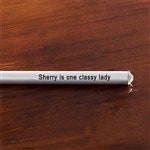 Almost beautiful
By
Shopper

(Los Angeles, CA) - December 29, 2012
These pencils are beautiful, but the engraving is black with block letters and just look mismatched and wrong on these pencils. I would love them if the engraving were in script font. Otherwise, sweet idea. Just didn't cross the finish line.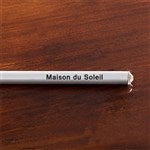 GREAT JOB
By
NANCY G.

(COHOES, NY) - December 28, 2012 (
See all reviews by this customer
)
I'VE ORDERED SEVERAL TIMES FROM THIS SITE AND HAVE HAD GREAT EXPERIENCES. THE ONE TIME I HAD AN ISSUE IT WAS RESOLVED SWIFTLY AND EASILY. GREAT COMPANY TO DEAL WITH.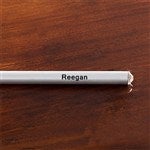 Fun item!
By
Shopper

(San Antonio, TX) - November 23, 2012
Got these for the guest bedrooms at our lake house.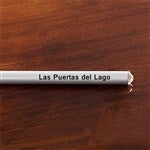 Beautiful!
By
Stephanie C.

(Switzerland) - August 1, 2012 (
See all reviews by this customer
)
They are really a class of their own. I buy swarovski crystal pencil at 3 for US$24 at Swarovski stores and I think this is a great buy at 6 for $10.45. (on offer)The name was beautifully engraved and it writes really well. Love it. Will order again. Will be even better if they come with a set of 6 matching crystal pencil covers too.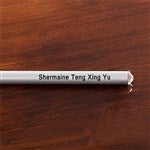 Just beautiful
By
Robert O.

(San Antonio, TX) - March 6, 2012 (
See all reviews by this customer
)
I recently purchased this item to add a little personal touch to my working area. My goodness did it exceed my expectations! I absolutely love my pen holder. The acrylic used is so clear and glossy. Just beautiful!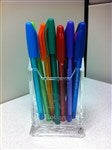 Eraser
By
indulge F.

(Woodland hills, CA) - January 21, 2012 (
See all reviews by this customer
)
Would be nice if some type of eraser was included. The look and quality of the pencil is exactly as i has hoped. I haven't had them very long, i am hoping the crystals do not fall off.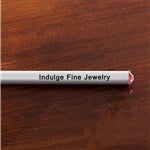 I'm so glad I discovered this website!
By
Shopper

(Detroit, MI) - December 17, 2011
My husband Loves this Personalized Pencil Set with the Swarovski stones so much that he refuses to write with them! They were part of a few other gifts I got from PersonalizationMall.com & he loves them all. The guests at his 50th Bday dinner were all so very impressed. I'm a new customer but also now a satsified customer!

Awesome gift, great price!
By
Camille D.

(Harleysville, PA) - December 18, 2011 (
See all reviews by this customer
)
I chose this item for a teacher who uses a plastic cup for her pencils. What a great deal on the price and for it to be monogrammed is especially nice. I think she will like that we took the time to order it in advance for an extra special Christmas gift that was within our budget!

Love your work!!!
By
Shopper

(Lake Park, GA) - December 16, 2011
Exactly what I pictured!!! Thanks!!!

Birthday gift
By
Shopper

(Shirley , NY) - March 29, 2014
They are very cute

satisfied
By
Dawn S.

(Frankfort, IL) - December 14, 2011 (
See all reviews by this customer
)
Classy, elegant gift idea. Priced right.

Beautiful pencils
By
anastasia M.

(pittsburgh, PA) - January 3, 2012 (
See all reviews by this customer
)
These were a Christimas gift for my sisterin-law who loves to write everything down. She is known for her 'lists'! She loved them Christimas eve. She said 'Wow'.
Thanks!

great gift
By
Shopper

(Yarmouth Port, MA) - January 9, 2012
I ordered these personalized pencils with a pencil case as a gift for a little girl-they look great and were half price.

Super Stocking Stuffer
By
Lanise J.

(Medford, MA) - December 27, 2011 (
See all reviews by this customer
)
Absolutely beautiful pencils - the crystals sparkle and shine in the light - I would recommend all capitals, though, on the name.

very unique pencil set
By
Shopper

(Channelview, TX) - January 17, 2014
this stylish pencil set really stands out. it's the makings of a great gift.

fun gift
By
Rickie S.

(Atlanta , GA) - December 27, 2011 (
See all reviews by this customer
)
love this personal touch to have a set of clear pencil with your name on them...excellent vaule..lol we work in a office that pens and pencils are always come up missing...these wont....

Nice pens crystal on end
By
Shopper

(Princeton Junction, NJ) - June 9, 2012
Bought several as gifts. Look pretty.

Great gift
By
Shopper

(Princeton Junction, NJ) - June 9, 2012
Bought as gift and they look pretty.

Nice Size
By
Lisa G.

(Kansas City, MO) - April 17, 2012 (
See all reviews by this customer
)
The holder came very quickly and for the price I paid; it was very nice.


Clear Stone
By
Shopper

(Beaverton, OR) - December 29, 2013
I like the gift for the price and the personal touch of adding someone's name, but I was disappointed that the stone was clear, not pink as advertised, and the bag it comes in says PersonalizationMall.com on it, which is a bit tacky to give a gift with an advertisement on it.

Back to School
By
Kathleen A.

(Freehold, NJ) - August 19, 2014 (
See all reviews by this customer
)
I purchased this Pencil Set and the Personalized Bookmark Set for my Granddaughter. She'll be heading back to school in a few weeks and I'm sure she'll enjoy showing them to all the girls in here class. She'll be the only one with Rhinestones on top of her pencils!

Great Diva Gift
By
Shopper

(Leland, NC) - November 4, 2013
I ordered these for my friend who has everything. She is a Diva in the best sense of the word and will love these, which will be included in her Birthday Goody Gift.

classy little item
By
Shopper

(Bronx, NY) - January 20, 2014
I purchased this 6 pencil set for the secretary at my school. As much as I like the gift, it wasn't given a 5 star rating because it took 1 month for me to receive it. It was suppose to be a Christmas gift, but I guess I'll give it now as a "thinking of you" gift.

gift for a friend
By
Shopper

(Richmond Heights, OH) - August 26, 2013
They look really great and she loves Bling!

Good job
By
Shopper

(Altamonte Springs, FL) - October 1, 2012
Job well done

GREAT gift!!!!
By
Shopper

(Madison, VA) - April 3, 2014
This set is for the person that has everything! The pencils are so well made and the stones on the end just make it snazzy! My niece loves these and has them on her desk in her office. She gets lots of compliments!

Wonderful
By
Shopper

(Cambridge, MA) - December 23, 2012
The pencils are as pretty as they look in the picture :) And they arrived so quickly. 5 stars!