Nice!!
By
Carolyn R.

(Humble, TX) - October 28, 2012 (
See all reviews by this customer
)
These are a nice touch to your loved ones desk.

a real gem
By
Shopper

(stoughton, MA) - October 7, 2012
even if you dont use pencils these are absolutely beautiful.the swarovski stones sparkle just right especially against the light.the pencils are a very smooth,attractive color silver,they are so pretty that i put them on my desk in a holder,but just for show.i dont want to use them,because then i wont have them anymore,and i like them that much.these pencils could actually be found in your fancier more expensive hotels.....you would leave the bathrobe and take the pencils! i do suggest getting your name in capital letters,the black lettering really stands out against the silver

Bunco Babe Personalized Pen
By
Stacy R.

(Brea, CA) - September 23, 2012 (
See all reviews by this customer
)
I know the girls in my Bunco group are going to love these!

Beautiful!
By
Stephanie C.

(Switzerland) - August 1, 2012 (
See all reviews by this customer
)
They are really a class of their own. I buy swarovski crystal pencil at 3 for US$24 at Swarovski stores and I think this is a great buy at 6 for $10.45. (on offer)The name was beautifully engraved and it writes really well. Love it. Will order again. Will be even better if they come with a set of 6 matching crystal pencil covers too.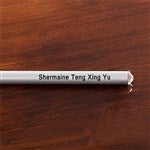 Sturdy yet pretty
By
Shopper

(Princeton Junction, NJ) - June 9, 2012
Arrived quickly, looks nice and functions well.

Elegant pencils
By
Shopper

(Waccabuc, NY) - April 30, 2012
These are understated, handsome pencils. The crystal at the tip and the crisp name against the gray pencil are very attractive. A lovely gift.

6-Piece Pencil Set
By
Shopper

(Hoover, AL) - April 9, 2012
It is great and I got all my orders ontime.
Thanks.

Just beautiful
By
Robert O.

(San Antonio, TX) - March 6, 2012 (
See all reviews by this customer
)
I recently purchased this item to add a little personal touch to my working area. My goodness did it exceed my expectations! I absolutely love my pen holder. The acrylic used is so clear and glossy. Just beautiful!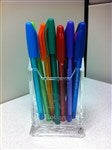 Eraser
By
indulge F.

(Woodland hills, CA) - January 21, 2012 (
See all reviews by this customer
)
Would be nice if some type of eraser was included. The look and quality of the pencil is exactly as i has hoped. I haven't had them very long, i am hoping the crystals do not fall off.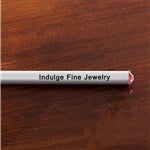 great gift
By
Shopper

(Yarmouth Port, MA) - January 9, 2012
I ordered these personalized pencils with a pencil case as a gift for a little girl-they look great and were half price.

Beautiful pencils
By
anastasia M.

(pittsburgh, PA) - January 3, 2012 (
See all reviews by this customer
)
These were a Christimas gift for my sisterin-law who loves to write everything down. She is known for her 'lists'! She loved them Christimas eve. She said 'Wow'.
Thanks!

Super Stocking Stuffer
By
Lanise J.

(Medford, MA) - December 27, 2011 (
See all reviews by this customer
)
Absolutely beautiful pencils - the crystals sparkle and shine in the light - I would recommend all capitals, though, on the name.

fun gift
By
Rickie S.

(Atlanta , GA) - December 27, 2011 (
See all reviews by this customer
)
love this personal touch to have a set of clear pencil with your name on them...excellent vaule..lol we work in a office that pens and pencils are always come up missing...these wont....

Great Personalized Pencils
By
Shopper

(accokeek, MD) - December 19, 2011
We have a joke that I run a hotel for my out of town guests. What better way to thank them for their stay. HAHA. The pencils are nothing like your basic #2 pencils. Love the crystal and the personalization. I can't wait to give out my first one :)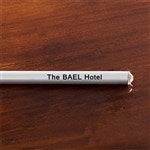 Awesome gift, great price!
By
Camille D.

(Harleysville, PA) - December 18, 2011 (
See all reviews by this customer
)
I chose this item for a teacher who uses a plastic cup for her pencils. What a great deal on the price and for it to be monogrammed is especially nice. I think she will like that we took the time to order it in advance for an extra special Christmas gift that was within our budget!

I'm so glad I discovered this website!
By
Shopper

(Detroit, MI) - December 17, 2011
My husband Loves this Personalized Pencil Set with the Swarovski stones so much that he refuses to write with them! They were part of a few other gifts I got from PersonalizationMall.com & he loves them all. The guests at his 50th Bday dinner were all so very impressed. I'm a new customer but also now a satsified customer!

Love your work!!!
By
Shopper

(Lake Park, GA) - December 16, 2011
Exactly what I pictured!!! Thanks!!!

satisfied
By
Dawn S.

(Frankfort, IL) - December 14, 2011 (
See all reviews by this customer
)
Classy, elegant gift idea. Priced right.

as promised
By
Shopper

(Westlake, OH) - April 7, 2014
just like advertised.........
nice gift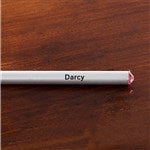 classy little item
By
Shopper

(Bronx, NY) - January 20, 2014
I purchased this 6 pencil set for the secretary at my school. As much as I like the gift, it wasn't given a 5 star rating because it took 1 month for me to receive it. It was suppose to be a Christmas gift, but I guess I'll give it now as a "thinking of you" gift.

Great Diva Gift
By
Shopper

(Leland, NC) - November 4, 2013
I ordered these for my friend who has everything. She is a Diva in the best sense of the word and will love these, which will be included in her Birthday Goody Gift.

gift for a friend
By
Shopper

(Richmond Heights, OH) - August 26, 2013
They look really great and she loves Bling!

Nice pencils
By
Shopper

(Desoto , TX) - April 23, 2013
I received my pencils and they were just what I needed.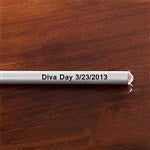 Good job
By
Shopper

(Altamonte Springs, FL) - October 1, 2012
Job well done

Great gift
By
Shopper

(Princeton Junction, NJ) - June 9, 2012
Bought as gift and they look pretty.

Nice pens crystal on end
By
Shopper

(Princeton Junction, NJ) - June 9, 2012
Bought several as gifts. Look pretty.

Nice Size
By
Lisa G.

(Kansas City, MO) - April 17, 2012 (
See all reviews by this customer
)
The holder came very quickly and for the price I paid; it was very nice.


Almost beautiful
By
Shopper

(Los Angeles, CA) - December 29, 2012
These pencils are beautiful, but the engraving is black with block letters and just look mismatched and wrong on these pencils. I would love them if the engraving were in script font. Otherwise, sweet idea. Just didn't cross the finish line.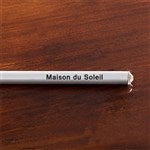 Clear Stone
By
Shopper

(Beaverton, OR) - December 29, 2013
I like the gift for the price and the personal touch of adding someone's name, but I was disappointed that the stone was clear, not pink as advertised, and the bag it comes in says PersonalizationMall.com on it, which is a bit tacky to give a gift with an advertisement on it.