Great product
By
Kathlene A.

(Bakersfield, CA) - July 28, 2012 (
See all reviews by this customer
)
This stamp is just as cute in person as it is online...and it works great too! I can't wait to use it for my thank you cards after my wedding!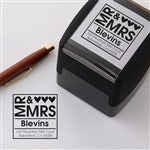 Stamp Happy!
By
Shopper

(Cumming, GA) - July 28, 2012
I love it! It's a perfect gift for newlyweds. I bought one for myself and plan on buying more as gifts!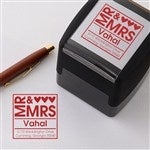 Love it! Very large!
By
Shopper

(Denham Springs, LA) - July 16, 2012
This stamp was alot larger than I thought it would be based on the picture. I am pleasantly surprised by the size! The self-inking works great and I enjoy using it and get compliments!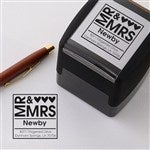 Creatively display the "From"
By
Julie J.

(Prosper, TX) - April 22, 2012 (
See all reviews by this customer
)
The stamp operates and looks as I expected. My only concern is that it doesn't seem to have enough ink - it is already faint on one side when I stamp after only a few uses. I think it should be darker being this new. I have the black ink stamp.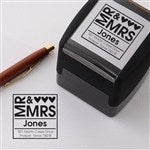 Great Gift Idea!
By
Tiffany R.

(Brownsburg, IN) - April 18, 2012 (
See all reviews by this customer
)
This stamp is a great shower or wedding gift. I have purchased 2 and will be getting at least 2 more before the summer is out. It is very cute in person and the stamp works well. Each bride I have given it to immediately opens it up and starts stamping whatever she can reach - while giggling:)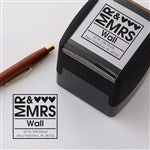 easy
By
Shopper

(Springfield, KY) - February 10, 2012
Cant wait to us it for invites!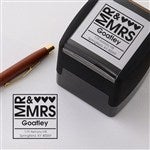 Super Cute
By
Shopper

(Moore, SC) - July 9, 2012
Super cute gift idea for my sister and her fiance on their upcoming nuptials! We haven't used it much yet as they haven't gotten married yet, but the few test stamps are good quality and they're very excited about using it after the wedding!

Cute but limited use
By
Megan F.

(Conroe, TX) - October 22, 2013 (
See all reviews by this customer
)
I love this stamper, it is so fun. However I purchased it with the goal of addressing all those wedding thank you notes and found it doesn't do so well with stamping more than about 3-4 times in one sitting. It is not super great about reinking and takes a little while to ink itself again. Right now I'm setting a timer and stamping a new one every 15 minutes or so. The idea is darling but for what I wanted to do it's a bit more frustrating than helpful. For an occasional letter use it would be great.

Cute Wedding Present
By
Shopper

(Ipswich, MA) - July 10, 2012
If you know the future address of the future Mr. and Mrs. then this is the PERFECT present! I bought it as an early wedding present for them and she is already stamping her Thank You cards for after the wedding.

love it
By
Muna N.

(Sunnyvale, CA) - July 10, 2012 (
See all reviews by this customer
)
I recently ordered the Mr and Mrs stamps and I couldn't be any happier . Great quality and more that what I had expected, its great to give as a gift or to use in thank u card and invitations

perfect
By
Christina N.

(Gilbertsville, PA) - July 10, 2012 (
See all reviews by this customer
)
the stamp is perfect and i love it.

AWESOME!!
By
Alyson P.

(Jackson, NJ) - July 2, 2012 (
See all reviews by this customer
)
Bought this because I was tired of writing our last name in the return address section. LOVE it!! Only have used it a few times...so so far so good!!

Exactly as pictured...
By
Shopper

(Pittsburgh, PA) - October 28, 2011
I purchased this self-inking stamper as a small wedding gift for my niece. It arrived in a timely manner, and the product was exactly as advertised. The ink is a vibrant color, and the print is very clear and sharp. I would have rated it with 5-stars, but the product is brand-new and I don't know how it will wear.

Love design but ink not great
By
Shopper

(Middletown, DE) - March 29, 2014
I saw this on pinterest and loved the design. I looked at other stamp designs before settling on this one. It is on the larger size but I like it. The only thing was that when I got it in the mail and tried it on paper, the address part was hard to see. I did it a few times before pressing it very hard and then it came out darker. I just do not like how the ink does not come out dark enough.

Highly recommend! ***
By
Shopper

(Logansport, IN) - July 9, 2012
I love my new stamper. It's so cute and works perfectly!

LOVE IT!! But it's bigger than I thought...
By
Shopper

(Salt Lake City, UT) - July 3, 2012
LOVE!! I didn't realize that it was going to be as big a stamp as it is, so I can't use it on my small envelopes, which is why I bought it :(. But it is great quality and makes nice consistant stamps.

Great/ Cute idea
By
Tiffany S.

(Rialto , CA) - July 30, 2012 (
See all reviews by this customer
)
I saw this item on Pintrest and knew I had to have it! I recieved it quickly and it works great! i will be buying this as future wedding gifts.

not everything I wanted
By
Timothy W.

(WHITING, IN) - February 23, 2014 (
See all reviews by this customer
)
This product is cute, easy to use, and affordable, but the most important part, the actual address, never stamps fully. 2 stars for this major disappointment.

Love this stamp!
By
Shopper

(Costa Mesa, CA) - July 30, 2012
I love the quality of the stamp! I use it all the time. Good find and good buy!

Great product
By
Jennifer H.

(Chester, VA) - August 4, 2012 (
See all reviews by this customer
)
Great product a little bigger than I expected but great stamp!

LOVE THIS!!
By
Shopper

(Bloomsburg, PA) - August 2, 2012
This stamper exceeded my expectations!! It shipped fast & arrived in just a few days. I can't wait to use it on my thank you notes. It's such a great gift for newlyweds, I plan to buy more for all my friends as they get married!

Cute, but big and light inked
By
Jennifer C.

(Deerfield, IL) - April 24, 2013 (
See all reviews by this customer
)
It is a really cute stamp, but it is rather large... so not great for little thank you cards. And it didn't seem like there was enough ink in mine.

Bridal shower gift
By
Sheri F.

(Clearwater, FL) - July 13, 2012 (
See all reviews by this customer
)
Bought this for a shower gift for my cousin. It arrived very quickly. I am thrilled with how it looks and can't wait to see the bride's excitement!

LOVE THIS
By
Shopper

(Chico, CA) - July 20, 2012
Ordered this stamp as a way to save time, and our hands while addressing save the dates and other wedding related invites. It was here within a week, and is very cool looking. A bit larger than I thought, but if you keep really close to the top, it fits fine and looks great. LOVE how cute, and personal it looks and feels.

Stamp doesn't always show up fully
By
Dani H.

(Waukesha, WI) - January 18, 2013 (
See all reviews by this customer
)
I love the look of this, but I have to hold it down for 6 seconds and sometimes the small number and letters of the address still don't show.

personalized stamp
By
Shopper

(Moundridge, KS) - July 28, 2012
This stamp works and looks great! I'm planning to order another one soon!

I L<3VE MY STAMPER!!
By
Shopper

(Temple, TX) - July 2, 2012
This was so FABULOUS! I'm absolutely in L<3VE w/ my STAMPER! Anyone who has an address should order a personalized stamper, TODAY!!

A nice stamp
By
Sara S.

(Buffalo, NY) - August 4, 2013 (
See all reviews by this customer
)
I absolutely love this stamp. I had seen this in a search I'd done a while ago and knew that I wanted this. I waited and then snagged it while it was on sale. It is making my Thank you card writing a little less painful and shows off my new name in style. I truly love it, it's easy to use and seems easy to refill when needed. The only reason why I didn't give this 5 stars is because when I have been stamping it has been light on the paper in some areas. I don't quite know if it's because I'm not pressing it down hard enough or the ink isn't even on the stamp. That is my only complaint and truly it's a minor one.

mr and mrs stamp
By
Shopper

(Lincoln, NE) - November 5, 2012
I wish the stamp would roll up into it to get the ink. Because sometimes it doesn't stamp all the way. But other then that I love it.

Cute Stamp
By
Shopper

(Brook Park, OH) - August 13, 2013
This is a really cute stamp. We got it to use for our Wedding thank you cards. My only complaint with it, is that you have to find the right spot to push the stamp down. If not, not all of the address shows up. I tested the stamp a bunch on a piece of paper first. Otherwise, it's an adorable stamp!

Adorable
By
Shopper

(Happy Valley, OR) - February 28, 2014
This stamp is exactly what it looks like on line. Super cute! My only complaint is that the address line on the stamp is so thin that it does not print very well all the time. I have to press pretty hard in order for it to show up completely.

Great
By
Shopper

(Taft, CA) - September 1, 2013
Loved this product! I didn't get it as fast as I hoped I would but it still arrived in a reasonable amount of time.

No Instructions. Like the stamp
By
Shopper

(Indianapolis, IN) - December 16, 2012
The stamp is great....one main issue is that Personalization Mall put a label right over the instructions. I ruined a few envelopes figuring out how to make it fully stamp and I have no idea how to re-ink it. They might rethink the placement of their label in the future.

custom address label stamp
By
Marian Diane B.

(Adin, CA) - February 25, 2013 (
See all reviews by this customer
)
this is a great item at a great price

Too Cute!!!
By
Kristen B.

(Parkville, MD) - May 20, 2013 (
See all reviews by this customer
)
I love the stamper and so have the people who received mail from us. You have to make sure you press down firmly enough and on a flat surface so the entire stamp shows up. Don't put a card in the envelope and then stamp it - it doesn't turn out right. Stamp everything before you put anything in the envelopes. Other than that I love it!!!

Mr. and Mrs. Stamper
By
Shopper

(Saint Charles, MO) - November 19, 2012
This is a cute time saver for return addresses for thank you cards for our wedding

Love This
By
Shopper

(tulsa, OK) - June 19, 2013
Love everything about this stamper...ordered it for my wedding. Color I choose was just like I thought and it stamps really well...don't know yet how long it will last...only only problem I have with it is one spot in my address doesn't stamp well no matter how I push or wiggle with it which is kinda sad but all in all I really like it.

Great shower gift!
By
Casey H.

(Champaign, IL) - May 7, 2012 (
See all reviews by this customer
)
I got this for a friend of mine before she got married, and she was so excited! With all of the thank you notes, etc that she had to send out after the wedding, showers, parties this made her process a little faster! I'd give this again to every newly married couple.

Looks great
By
Shopper

(Church Hill, TN) - December 18, 2011
I really am glad I got this stamp. I gave it four stars instead of five because the ink sometimes doesn't go on evenly, but if I make sure to press and slightly wiggle (if that makes sense) it doesn't leave the bald spot in the middle. Anyways, I love it. Thinking about ordering another one in a different style as well.

Cool
By Shopper (Midland, TX) - June 15, 2012
I'm so excited to get this for my upcoming wedding. This will make the thank-you note writing process much easier!