Looks GREAT!
By
Ilena D.

(Philadephia, PA) - February 10, 2012 (
See all reviews by this customer
)
I like it....we have a reunion on the beach every year. Its perfect, large enough for all to see...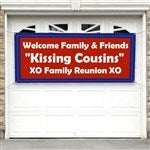 My 50th Birthday Banner was awesome
By
Belinda D.

(Winston Salem, NC) - May 9, 2012 (
See all reviews by this customer
)
There are no words to explain how I am truly pleased with my Banner. I order from Personalization Mall a lot... But, this time the gift was for myself. It is just beautiful!!!! Thank You so much...The quality of this Banner was worth more than I paid for it. I am really Happy about it...


Happy Customer
By
Fatima P.

(Suisun City, CA) - May 4, 2012 (
See all reviews by this customer
)
This is the 3rd banner I have ordered in the past year and I LOVE them!!!! They are a nice BIG size and they are crafted very well! I love the price most of all!!!

Mrs. Natalie Rivera
By
Natalie R.

(Camden, NJ) - October 11, 2011 (
See all reviews by this customer
)
The banner was bigger than I thought. Excellent product. Good quality.

Will order this product again.


Great Product
By
Shopper

(Manlius, NY) - September 6, 2011
It was even better than we expected. We received a lot of very positive comments on the banner. I would definitely order this product again!!! J

Great price, large and bold!
By
Mari-Anne K.

(Redondo Beach, CA) - August 27, 2011 (
See all reviews by this customer
)
I love this banner. It really made a splash at our promotion party this summer. The price was right, it came in 3 days and the quality is fantastic. I expect we'll reuse it for the right occassions. Very pleased.

Quality Banner
By
Shopper

(Oldhams, VA) - April 1, 2012
I am very satisfied with the banner I ordered for my mom's 60th birthday party. Shipping was fast and the quality was great! I would shop here again!

Welcome Home Sign
By
Shopper

(KEW GARDENS, NY) - March 25, 2012
Good quality. All the neighbors noticed the welcome home sign.

Best Ever!
By
Shopper

(Pontiac, MI) - April 14, 2014
I really love this site and the hard work that's put into all their products! My dad was overly excited when he opened his package! Right on time! Everything was perfect! Highly recommend if you are campaigning, selling, parties..

Love it!
By
Shopper

(Sandusky, OH) - April 5, 2013
This banner is PERFECT for any occasion. I love everything I've ever ordered from personalization mall. Great quality....great deals! I recommend them all the time.

awesome!
By
Karen L.

(Belle Plaine, KS) - January 8, 2013 (
See all reviews by this customer
)
This is amazing. Thank you!!!

A++ All Around
By
Shopper

(WILLIAMSBURG, VA) - December 23, 2012
These are quality banners that are amazing for the price. Ordering is simple, products ship quickly and there is never a problem. I've gotten a couple dozen already and they just can't be beat!

Banner
By
Margie D.

(Williston, VT) - June 25, 2013 (
See all reviews by this customer
)
Amazing quality and beautiful!!! Loved it!!

Quality Banner
By
Shopper

(Philadelphia, PA) - June 8, 2013
I was very pleased when I received this item. The quality was excellent and the item was very reasonably priced. Thus far I have ordered 4 banners. I have received 3 and am pleased with the product. I am awaiting receipt of the 4th.

Very pleased
By
Shopper

(Exton, PA) - April 23, 2013
The banner was sturdy and well done. I was pleasantly surprised.

Fabulous!
By
Shopper

(WILLIAMSBURG, VA) - October 30, 2012
Once again, great items and great quality. I have one that's hung outside on the waterfront for over 8 months and it looks like it just came out of the box. Can't beat it for the price! I'm sure I will buy more both personally and for my businesses.

Banners great for business!
By
Shopper

(Dyersburg, TN) - June 23, 2012
We ordered 4 of these signs for our business. And we not only got them for a great price, we customized them just the way we needed. They have produced a lot of new business! Well worth the money!

Completely Satisfied!
By
Vanja S.

(Las Vegas, NV) - June 18, 2012 (
See all reviews by this customer
)
I am so pleased once again with my banner purchase. It will really give our family reunion an official look to the event. Since I did not put a date on the banner and it is so well made, I will be able to use it for many years to come.

Thank you!

The best banner ever.
By
Sheri C.

(Newport, NE) - June 14, 2012 (
See all reviews by this customer
)
I ordered this banner for my Grandmothers 100th birthday. The colors were excellent, the material very sturdy and beautiful, the printing perfect. I can't say enough good things about this product. I ordered this on a Tues. and recieved it on Friday. Unreal for something customized. This is the second time I have ordered from this company and their service can't be beat.

They made an error, but fixed it to my satisfaction
By
Shopper

(Houston, TX) - August 31, 2012
I ordered a banner for a meeting and received someone else's banner two days before my meeting. I contacted them that day and they were able to print me another and express ship it to my destination (in another city). It was there waiting for me at the hotel when i arrived. Although I was initially frustrated that they made the error, I was very pleased with their quick and adequate response. I would definitely use them again!

great gifts
By
margaret M.

(bronx, NY) - October 4, 2013 (
See all reviews by this customer
)
I have ordered several items from Personalization mall and each gift was beautiful and the people that they were given to were so impressed and love having the personal touch to it. Great quality and delivery. Will be doing business with this company for a long time

Party Banner
By
Shopper

(Vergennes, VT) - July 16, 2012
A very nice banner. Great color selection and speedy service. Love it!