Banners great for business!
By
Shopper

(Dyersburg, TN) - June 23, 2012
We ordered 4 of these signs for our business. And we not only got them for a great price, we customized them just the way we needed. They have produced a lot of new business! Well worth the money!

Completely Satisfied!
By
Vanja S.

(Las Vegas, NV) - June 18, 2012 (
See all reviews by this customer
)
I am so pleased once again with my banner purchase. It will really give our family reunion an official look to the event. Since I did not put a date on the banner and it is so well made, I will be able to use it for many years to come.

Thank you!

The best banner ever.
By
Sheri C.

(Newport, NE) - June 14, 2012 (
See all reviews by this customer
)
I ordered this banner for my Grandmothers 100th birthday. The colors were excellent, the material very sturdy and beautiful, the printing perfect. I can't say enough good things about this product. I ordered this on a Tues. and recieved it on Friday. Unreal for something customized. This is the second time I have ordered from this company and their service can't be beat.

Great Banner!
By
Lorrie C.

(Midland, TX) - May 31, 2012 (
See all reviews by this customer
)
Purchased this for an upcoming Housewarming--looks great and I think it will be a plus for the party. Worth the money.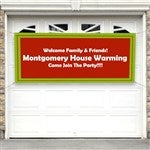 High quality item for a very affordable price
By
Christopher D.

(Danbury, CT) - May 18, 2012 (
See all reviews by this customer
)
This item was purchased for two graduating high school students. It can be personalized with school colors and whatever message you like - for under $25 dollars it is a good value and offers much more versatility than offer like products on the market. I liked my first one so much, I bought a second!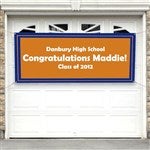 90th Birthday Banner
By
Shopper

(Manteca, CA) - May 14, 2012

We thought it would be fun to announce Grandma's 90th Birthday....and what better way than a great big banner!
It came out great and will surely make her smile!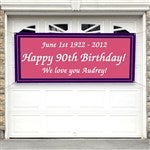 Perfect Entrance
By
linda V.

(andover, MA) - May 11, 2012 (
See all reviews by this customer
)
I am so excited about this purchase. I have been looking for a banner like this and they have been way too expensive. I was certain, because of the price, that it wasn't going to be sturdy but still liked the idea. I was surprised at just how well made it is...grommets for the ties and it is a nice thickness. It is a gift for a family gathering. I know they will LOVE it. PersonalizationMall came thru for me once again. I just love you guys.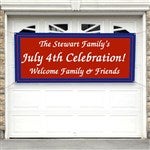 My 50th Birthday Banner was awesome
By
Belinda D.

(Winston Salem, NC) - May 9, 2012 (
See all reviews by this customer
)
There are no words to explain how I am truly pleased with my Banner. I order from Personalization Mall a lot... But, this time the gift was for myself. It is just beautiful!!!! Thank You so much...The quality of this Banner was worth more than I paid for it. I am really Happy about it...


Happy Customer
By
Fatima P.

(Suisun City, CA) - May 4, 2012 (
See all reviews by this customer
)
This is the 3rd banner I have ordered in the past year and I LOVE them!!!! They are a nice BIG size and they are crafted very well! I love the price most of all!!!

Quality Banner
By
Shopper

(Oldhams, VA) - April 1, 2012
I am very satisfied with the banner I ordered for my mom's 60th birthday party. Shipping was fast and the quality was great! I would shop here again!

Welcome Home Sign
By
Shopper

(KEW GARDENS, NY) - March 25, 2012
Good quality. All the neighbors noticed the welcome home sign.

Amazing Quality - Quick Turnaround!
By
Shopper

(WILLIAMSBURG, VA) - February 13, 2012
I've ordered from this company before with great success but mostly personal items. I ordered these banners for my store and they are fabulous. Much easier and more ecconomical than dealing with commercial sign people and the turnaround was so quick I couldn't believe it. Have already suggested them to three other people for both personal and business.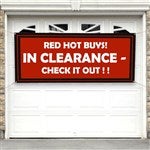 Looks GREAT!
By
Ilena D.

(Philadephia, PA) - February 10, 2012 (
See all reviews by this customer
)
I like it....we have a reunion on the beach every year. Its perfect, large enough for all to see...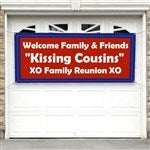 Great Quality!!!
By
BobbySue S.

(Fort Morgan, CO) - October 17, 2011 (
See all reviews by this customer
)
This Banner was made for my Business and it is sturdy enuf to use over & over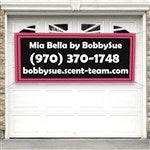 Mrs. Natalie Rivera
By
Natalie R.

(Camden, NJ) - October 11, 2011 (
See all reviews by this customer
)
The banner was bigger than I thought. Excellent product. Good quality.

Will order this product again.


Great Product
By
Shopper

(Manlius, NY) - September 6, 2011
It was even better than we expected. We received a lot of very positive comments on the banner. I would definitely order this product again!!! J

Great price, large and bold!
By
Mari-Anne K.

(Redondo Beach, CA) - August 27, 2011 (
See all reviews by this customer
)
I love this banner. It really made a splash at our promotion party this summer. The price was right, it came in 3 days and the quality is fantastic. I expect we'll reuse it for the right occassions. Very pleased.

Love the banner but not the recent change
By
Misha H.

(Cincinnati, OH) - August 10, 2013 (
See all reviews by this customer
)
I love these banners and order them all the time. At least 30 per year. However, they recently made a change to put their logo on it and absolutely don't like that.