Great design and price
By
Shopper

(Thousand Oaks, CA) - September 4, 2012
The best design I could find--and the price is way lower then other companies with less creative designs. And--it arrived super fast. Loved that I could see our peronal information on the stamp before we ordered it. Great product!

Great design
By
Shopper

(Lubbock, TX) - August 3, 2012
We are very pleased with the design choices, compact size, price and quality. We'd order again if we move again. Hopefully not to soon!

Love
By
Dana P.

(Grand Blanc, MI) - July 9, 2012 (
See all reviews by this customer
)
I am so excited to use this stamp for our wedding thank you's and in the future. The personalization turned out exactly as it was presented on the website. Another great purchase from this site!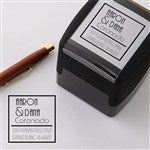 Clean and easy
By
Shopper

(Little Canada , MN) - June 16, 2012
I purchased this address stamper as an anniversary gift for my daughter and her husband. The design is classic and easy to read. The stamping is quick and clean with the self-inking feature. The stamp comes in a 2 piece unit that fits together for easy storage.



So excited about my new stamp!
By
Shopper

(Stevensville, MI) - June 15, 2012
I had been researching address stamps for our first home. I found one that I liked but it was almost $50. I came to this website and found one almost identical for half the price.
I am so impressed by the quality of the stamp and the price. I will recommend this website to my friends!

Fun Gift Ideas
By
Shopper

(Lemon Grove, CA) - May 16, 2012
I was thrilled to find Personalization Mall. (Thanks Milly) So many fun ideas. My daughter is getting married and I ordered an address stamp for them. It is great for people with unique names and for special occasions. I'll be back!

Self-Inking Stamp
By
Shopper

(Tupelo, MS) - April 24, 2012
Really Like the stamp!! Looks and stamps Great! Will be ordering more from this company.

Modern Stamp
By
Kelly L.

(Long Beach, CA) - January 21, 2012 (
See all reviews by this customer
)
Great modern printing and works very good.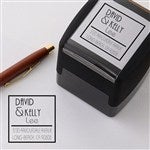 Great Stamper
By
Karen M.

(Cedar Hill, TN) - September 19, 2011 (
See all reviews by this customer
)
Love this stamper. Great design and great quality!

came out great
By
Deena K.

(Bend, OR) - August 4, 2014 (
See all reviews by this customer
)
This stamp came out great - my only complaint would be that it's not a perfect stamp every time. you really have to TRY to get the ink totally even on the push. But it looks beatiful and it's very nice quality.

I like this stamper
By
Kelley L.

(Corinth, MS) - April 8, 2013 (
See all reviews by this customer
)
I really like this stamp and I would've given it 5 stars if it just would've had a little more ink in it. It did seem a little dried for a new stamp but other than that I love it and I can add more ink to it.

Great Stamp
By
Rebecca L.

(Sacramento, CA) - June 26, 2012 (
See all reviews by this customer
)
I purchased this stamp instead of having our return address printed on our wedding invite envelopes. My only complaint with the stamp is that the paper needs to be flat and on a hard surface. I had stuffed my envelopes prior to stamping them, so some didn't turn out perfectly. Overall, I am very happy with how this stamp works and the results it produced.
You can also refill the ink. I haven't done this yet, but love that I won't need to buy a new stamp when the ink runs out!

Not what you'd expect.
By
Jessica O.

(Seattle, WA) - July 3, 2012 (
See all reviews by this customer
)
Not a traditional rubber stamp. Dirt sticks to it way to easily. Good size not bold enough for me. I would order again though because it gets the job done. And was relatively inexpensive.

Poor stamp quality
By
Shopper

(Portland, OR) - May 15, 2012
I purchased this stamp a few weeks ago, and while the overall shopping and delivery experience was great, the product itself is quite disappointing. The stamp quality is rather poor especially considering it ended-up costing me close to $30 (factoring in shipping). Specifically, you have to press very hard on each side and corner of the stamp to get an even color, and even then, it doesn't stamp very well. It also seems to lose color fairly rapidly. I tried to stamp 15 envelopes, and it was frustrating that the color seemed to fade after a few uses. I haven't used it since.

Poor quality
By
Scott M.

(Milton, FL) - April 19, 2013 (
See all reviews by this customer
)
Lettering is difficult to read and doesn't ink well. Would avoid this.