Nice little gift
By
Shopper

(Chicago, IL) - May 7, 2013
For the price, I think this is a nice little gift. It's a small, plastic plaque. If you are looking for a little, sentimental item, I think this is perfect.

Small, but cute
By
Shopper

(Morrisonville, NY) - April 8, 2013
This is very cute, and is something I cannot wait to give our Godchild for her Baptism. I was, however, a little upset by how small it was. I did NOT read the dimensions before I ordered (so my bad), but I would have preferred it be bigger.

Great item, little small
By
Lindsay S.

(Otsego, MN) - December 10, 2012 (
See all reviews by this customer
)
Great item. Was much smaller than I thought though. But overall terrific.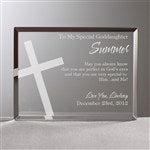 Lettering was a little blurry
By
Shopper

(Shell Lake, WI) - December 5, 2012
Was satisfied with the product overall, but was a little disappointed on the lettering. Was a little blurry.

Lovely
By
Shopper

(Fresno, CA) - November 9, 2012
I got this for my grandson, who is going to be baptized. It is very nice looking and easy to read. The only "con" would be that it is smaller than I thought it would be. Guess, I should have read the measurements!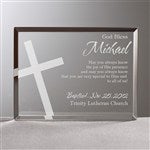 Gift
By
Shopper

(Kaneohe, HI) - November 3, 2012
I thought it was going to be bigger but other than that its great.

Beautiful
By
Emely J.

(Bronx, NY) - August 23, 2012 (
See all reviews by this customer
)
I ordered two of these keepsakes as thank you presents for my daughter's Godparents. They were a bit smaller than expected but beautiful none-the-less. As a negative they do not come with a stand to stabalize the gift.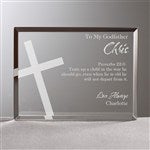 Perfect
By
Shopper

(Ballwin, MO) - August 3, 2012
Its better than it looks in the picture ordered it for a baptism. It was perfect.

Quality item but small
By
Shopper

(Cuyahoga Falls, OH) - July 30, 2012
I was very pleased with the quality of this item and how quickly it was shipped out. The only thing that I was disappointed in was the size of the item. I guess I thought from the picture it would be 3 x 5 or 4 x 6. I guess I never looked at the dimensions. It is around 3 x 3. Other than the size, it is what I expected.

Nice Gift
By
Shopper

(Wexford, PA) - January 16, 2012
Similar to other reviews I would caution that this is small. That being said it is still a beautiful little keepsake.

Great Christening Gift
By
Ginger T.

(Virginia Beach, VA) - December 19, 2011 (
See all reviews by this customer
)
I really like this gift but I just wish that it was a little larger.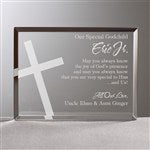 Good Godmother gift
By
Shopper

(enfield , CT) - December 15, 2011
This is a great gift to give from a godmother to a child. Being that it was my nephew, all the standard gifts seemed so girly. It was, however, a bit smaller than I expected.

Beautiful Keepsake Gift
By
Susan V.

(Middle Island, NY) - September 24, 2011 (
See all reviews by this customer
)
This item was beautifully done. The only reason I didn't give it 5 stars was because of the size. It appears much larger in the picture, when in reality it is very small (my fault---I probably missed the specs). It should be at least twice the size, but again, beautifully done.

Great Buy
By
Anna F.

(Lexington, MO) - September 6, 2011 (
See all reviews by this customer
)
This turned out so cute!!! I'm so glad I found this. I wish it was bigger, but it was well worth the money.

a cute baptism gift
By
Shopper

(West Orange, NJ) - August 19, 2011
The keepsake is nice, but thought it would be larger in size and made of glass, not acrylic. But overall, happy with the item.