LOVE THIS
By
Shopper

(Hudson, FL) - September 6, 2012
I ordered this for my husband who recently had to put down his childhood friend. She was a VERY GOOD DOG and it was hard for him. I saw this and thought it would be a good tribute to her. The frame came out wonderful! We both could not be more thrilled to add this to our home. I am very satisifed and I recommend this to absolutely everyone!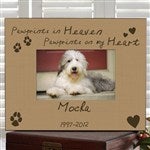 photo frame for granddaughters dog she recently lost
By
Arlene B.

(Bellevue, WA) - August 24, 2012 (
See all reviews by this customer
)
I ordered the PawPrints photo frame for my granddaughter she unexpectantly lost her little dog Timber.I was very surprised at the quality and sturdiness of the frame and it is very nice looking. Heavy duty construction. Will order again from Personalization.
Thank you, very much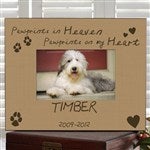 Beautiful!
By
Cecelia R.

(NEWBERRY, FL) - August 12, 2012 (
See all reviews by this customer
)
The frame is beautiful and is of great quality!

Very nice
By
Shopper

(Placentia, CA) - August 6, 2012
I purchased this item for myself and it's good quality. Frame arrived quickly.

Pawprints Photo Frame
By
Dyanna B.

(Scottsdale, AZ) - August 6, 2012 (
See all reviews by this customer
)
This is my third order in three months and each order exceeds my expectations! All of the orders were gifts for friends and family, and nothing says you care better than a personalized gift. Your products are first class and arrive carefully packaged to avoid damage during shipping. I will recommend your website to everyone I know who desires unique products.

Great!
By
Shopper

(Shorewood, MN) - July 13, 2012
I received my order quickly and it looked even better in person. I ordered a frame and it was sturdy and well made. I would definitely order from this company again.

Quality Product
By
Dawn C.

(Jacksonville, FL) - July 8, 2012 (
See all reviews by this customer
)
Very well made. I bought two for my two golden retrievers. Personalization very well engraved. Extremely fast shipping.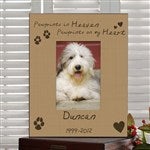 Charlie's memorial frame
By
Shopper

(Valley Springs, CA) - June 30, 2012
Just love the frame. Looks expensive, but it was reasonable. Not too mushy like some of the other ones.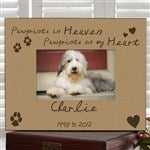 Beautiful
By
Shopper

(Oakland, MI) - June 29, 2012
Very well made and packaged, even better than I expected. I bought this as a gift, and I would not hesitate to purchase it again.

Wonderful quality, fast shipping!
By
Kayla K.

(Alexandria, VA) - June 26, 2012 (
See all reviews by this customer
)
I bought this frame for my Dad as a Father's Day gift after our 20 year old cat passed away. I purchased the vertical frame- it's gorgeous! The quality is amazing, and the color goes well in any room. I am extremely happy with my purchase! Beautiful frame to honor my little girl, Tiger.

Beautiful/Great Quality
By
Maxine D.

(Lancaster, CA) - June 23, 2012 (
See all reviews by this customer
)
The frame came out beautiful. My daughter loved it. Looks much better in person, like the frame is glass-like, very pretty. VERY SPEEDY delivery too!!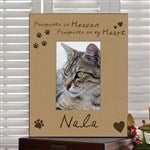 Better that it looks on the web
By
Heather S.

(Sunnyvale, CA) - June 21, 2012 (
See all reviews by this customer
)
This frame looks better than it seems on the screen. It's got a good, heavy weight. Not cheap. I gave it to my friend with a picture of his dog who had recently passed away. He loved it. A great way to memorialize a pet. The frame arrived in about a week after I ordered it in a very nice box. Thanks.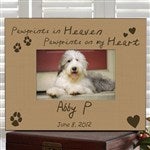 Memorial Frame
By
Shopper

(Neosho, WI) - June 17, 2012
This frame is much nicer than it appears online. I was very pleased when I got it...and shipping was very fast!

Beautiful!
By
Shopper

(Webster, WI) - June 11, 2012
Beautiful picture frame to honor a lost loved one. The frame itself was much bigger than I expected.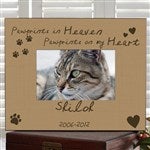 Wonderful!
By
Shopper

(new city, NY) - May 17, 2012
I got this for a gift for my mom after the family dog passed away. She loved it so much it brought tears to her eyes. It is a wonderful way to show someone you care, and it is great quality and the shipping was quick.

Pawprints in Heaven
By
Shopper

(Concord, CA) - May 4, 2012
Very nice - better than I expected in quality and a very touching gift. Gave to my mom who is 81 and just had to put her cat to sleep. Would highly recommend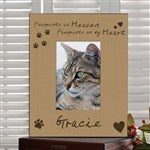 Perfect tribute
By
Ellen and Bob P.

(Livingston, NJ) - April 26, 2012 (
See all reviews by this customer
)
My dog is a therapy dog, with 3 others. When one of them had to be put down, we were all heartbroken. This was the perfect gift to remember our wonderful Cheyenne. Our friend, her Mom - was in tears when she received the gift and personalized card.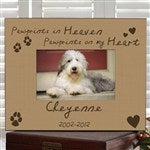 Pawprints in Heaven Picture Frame
By
Shopper

(Sharpsburg, GA) - April 25, 2012
The picture frame is very pretty and really means a lot to me. I definitely recommend this product to anyone who has lost a beloved pet.

Love it!
By
Shopper

(Wisconsin Dells, WI) - April 16, 2012
It exceeded my expectations. Nice quality and adorable!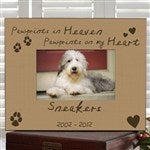 Better than expected
By
Shopper

(Billings, MT) - April 2, 2012
I bought this for some friends of mine who recently lost their bulldog, Precious, and do not have one complaint. I became very close to Precious throughout the years i had known and After I learned of her unexpected passing, I looked for a gift (for her owners) for a couple days trying to find something that would measure up to such a fun, charismatic, and smart dog. I decided on this and am so glad i did. The quality of the frame and card were great. The couple I bought this for said it was the nicest sympathy gift they had received. I Definitely recommend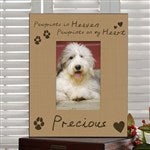 Soothing Frame
By
Rebecca F.

(Temperanceville , VA) - March 25, 2012 (
See all reviews by this customer
)
This frame far surpassed my expectations with quality. It is on our mantle!
I love it!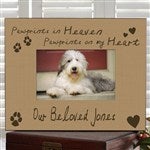 Great customer service
By
Lisa G.

(Pass Christian, MS) - March 16, 2012 (
See all reviews by this customer
)
I had previously rated my frame with only 3 stars. Customer service was very quick to respond to my not so great rating. They immediately corrected the printing on the frame, and sent a new one to me at no cost. I appreciate their dedicated customer service team. Thanks! The frame is beautiful.

Pawsitively Delightful !
By
Shopper

(Phoenix, AZ) - March 12, 2012
This is the perfect gift to display memory and respect for my beloved Nikki.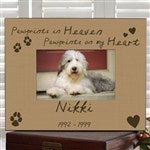 Awesome!
By
Shopper

(Lakeland, MN) - March 11, 2012
I looked online for a long time to find a keepsake picture frame to remember my cat Mikey. I was a little worried about ordering something I could not see in person but the website allows you to to personalize the frame so you can see what it looks like with his name! I was very happy and was even happier when I got the frame in the mail. It is beautiful, high quality, and a great price. Thank you for offering me such a beautiful keepsake.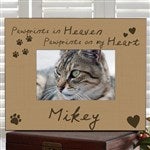 Pic frame for my friends loss of pet
By
Jennifer F.

(Brentwood, CA) - March 5, 2012 (
See all reviews by this customer
)
She received it and loved it.... Thanked me many times. It's worth a present!!!!

The online picture doesn't do it justice!
By
Katrina C.

(Amityville , NY) - February 8, 2012 (
See all reviews by this customer
)
When I opened the frame I was beyond happy! It's so much more than I expected. I'm very happy with the quality of the frame. I'm giving it as a gift but I'm going to order myself one now! It's a perfect and beautiful way to remember your pet!

Pets in heaven frame
By
Ashley A.

(Oakland, TN) - February 5, 2012 (
See all reviews by this customer
)
The frame is beautiful and a perfect way to remember a pet


Memory Frame
By
Kari H.

(Dublin, OH) - February 4, 2012 (
See all reviews by this customer
)
I the frame was very pretty. The words said just how I feel. His is name printed below picture frame made it special. That made it look and seem as if it was made for my baby. Which I know it is. I didn't just stick his picture in a frame. This was meant for him. I will always be an awesome reminder of my baby. Whom was a 17 year old baby when he passed away.

Frame was very nicely done
By
Shopper

(Hartford City, IN) - February 1, 2012
Shipping was speedy and very satified with the product. Highly recommend.

wonderful tribute
By
Shopper

(Mequon, WI) - January 21, 2012
I was still reeling from the sudden loss of my furry friend when I ordered this, and it turned out to be an important and touching part of our grieving process - a great way to show she will never be forgotten even as we move on.

a perfect memory
By
Shopper

(Hollywood, FL) - January 20, 2012
the frame is beautiful and when you put your picture looks amazining. it is a perfect item to keep the memory of that special pet.

So Nice!
By
Shopper

(wentzville, MO) - January 15, 2012
This was to remember our beloved pet and this frame is so perfect to honor him. i get many comments on how pretty it is! Love this!

Paw Prints
By
Donna M.

(Orrville, OH) - January 9, 2012 (
See all reviews by this customer
)
I was very pleased with the plaque, the qualitity was all I expected. I will order from your company again.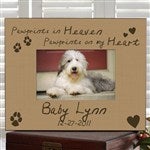 Beautiful
By
Shopper

(Seven Hills, OH) - December 29, 2011
I had two cats that passed away within weeks of each other. I was able to fit both names on the frame. It's a beautiful way to remember my two girls.

Pleasantly Surprised
By
Leslie C.

(Fowler, CA) - December 27, 2011 (
See all reviews by this customer
)
This came out nicer than what I expected. Very pleased with this purchase..

Loved it!
By
Shopper

(Kirksville, MO) - December 23, 2011
The frame was beautiful! I was a bit nervous since I was ordering online, but was not disappointed. We can't wait to give this to grandma on Christmas. I'm sure she will love it too!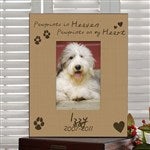 Beautiful frame
By
Shopper

(Yukon, OK) - December 18, 2011
This was the perfect frame for a picture of my little guy. This is a perfect gift for someone who has lost a loved pet.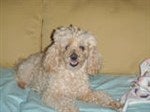 Love it
By
Shopper

(LA SALLE, IL) - December 16, 2011
quality product! Was very impressed!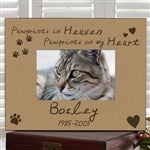 The recipient was very happy with this lifetime gift!
By
Shopper

(ARLINGTON, TX) - December 6, 2011
The frame is an ideal gift for my grandson to display a picture of him and his new dog together. The family is pleased with the selection and personalization and already have the perfect picture for his frame.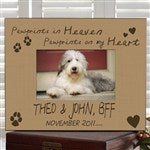 Great Memorial to Beloved Pet
By
Teresa L G.

(Terre Haute, IN) - November 8, 2011 (
See all reviews by this customer
)
Our pets are family and we never want to forget them so I purchased this frame the dog we recently lost. Since I'd ordered personalized frames from PM before, I knew it would be of great quality and I was not disappointed. PM's product quality is second to none!