product features and uses
By
Shopper

(Lenox, IA) - December 21, 2012
I ordered 4 of these art pieces for our daughters as Christma gifts. I was able to bring out each one of their unique personalities with the words at the bottom and with the color choices--even though they are all girls, I knew 2 of them would prefer blue. I wanted the girls to be able to keep them later in life, so I tried to focus on their personality traits when I created the phrases at the bottom. I was so excited about name art pieces, I took pics to show my friends! They all loved the name art, as well!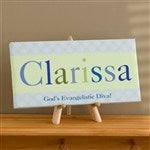 Great
By
Shopper

(Humphrey, NE) - December 12, 2012
Heavy duty and well made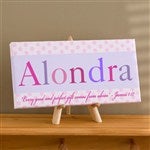 Simple and elegant
By
Janine L.

(Lynn, MA) - December 10, 2012 (
See all reviews by this customer
)
I bought two boy "Just for Them" frames. I really like the way they came out! With my son's I was able to put his first and middle name and then I put his birthday on the bottom. I love the colors on this. It has a really nice blue and green combo and it goes very well with his room. The second frame I bought as a gift. I did not have as much room on this to put his first and middle name so it only has the first. I wish it could hold a few more letters as I really like the look of the full name. It is also very small. I would have liked it to be bigger of a statement. Make sure you read the dimensions before you buy it. Overall I am very happy with this and I know he will have it in his room for years to come!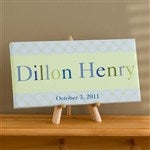 Great Gift
By
christine C.

(freehold, NJ) - December 8, 2012 (
See all reviews by this customer
)
I sent this to a friends daughter that had a baby boy & they LOVED it! Both grandma & daughter raved about it. This is the second time I sent this as a gift for a new baby and each one loved it. This is my go-to gift!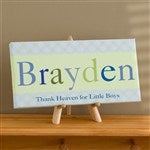 Colorful & Cute!
By
Joyce B.

(Queensbury, NY) - December 8, 2012 (
See all reviews by this customer
)
The new parents loved the canvas sign! I had both her first and middle name printed and it turned out great! It will be a wonderful addition to the baby's room. I chose not to get the easel this time as I thought they would prefer to hang it on the wall.
Very nice quality and as always prompt service...my favorite online site to buy gifts is Personalizationmall.com!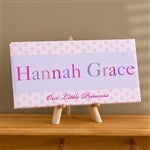 Just Right.
By
Shopper

(Tucson, AZ) - November 19, 2012
It is a little small. But not too small! It's very cute and very well done. Good quality, it's got some weight to it. I'm impressed!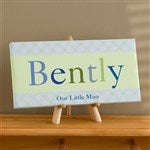 Adorable
By
Tucson's F.

(Tucson, AZ) - October 19, 2012 (
See all reviews by this customer
)
So pretty looks so nice I would buy it again.

Love It!!
By
Shopper

(Avon, OH) - October 5, 2012
Colors are beautiful and very professional looking.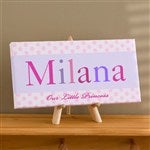 GREAT KEEPSAKE
By
PATRICIA P.

(TAMPA, FL) - September 22, 2012 (
See all reviews by this customer
)
I ordered this as a baby gift. Since they live in Texas, I had it delivered dirrectly to the new Mom & Dad. Since I've been a Personalization Mall shopper for years, I knew the quality would be perfect & id not deed to see the product first. The gift was received very quickly & just loved by the new parents to be. Mom was excited that this was the first item her new baby to be had with his full name on it. I has his first name in large letters & his middle & last in smaller letters. Colors were a great match with the baby's room as well. Highly recommend this type of gift for a baby gift, it's different !!!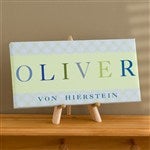 First grandchild
By
Shopper

(Abingdon, MD) - August 3, 2012
The personalization and color was perfect. Great for baby's room display.

Fantastic
By
Kristen B.

(Chicago, IL) - August 1, 2012 (
See all reviews by this customer
)
Love this item, i have now bought 2 of them for friends who have had babies. They are great quality and appear exactly as they are pictured. My friends loved them. I highly recommend.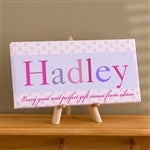 Love it!!
By
Andrea C.

(shrewsbury, MA) - August 1, 2012 (
See all reviews by this customer
)
Such a cute piece for a kids room. Well made with vibrant colors!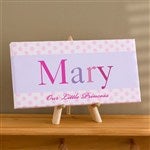 Love It! <3
It's Soo Beautiful , iCan't Wait To Put It Up In MyLiddol' Boys Room! iLike How You Can Add A Customized Messg. At The Bottom & The Colors Are Great & Match The Monkey Theme iAm Doing For MySon. The Pricing Is Perfect .

iCan't Wait To Place MyNext Order . They Have Very Nice & Cute Products On This Website , iAm Glad iFound It! :D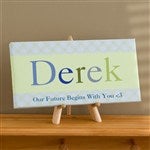 love it !
By
Gia T.

(Hoffman Estates, IL) - June 26, 2012 (
See all reviews by this customer
)
I ordered this decoration for my son and it is everything I wanted it to be. The quality is great and colors are true to pictures online. I am very happy with my purchase !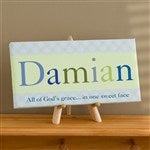 Name art
By
Shopper

(Sumner, IL) - June 24, 2012
Love the piece, it is going tO go great in my daughters room

Very nice...
By
Shopper

(Ridgewood, NJ) - June 2, 2012
I had my daughters names and the meaning of their names printed on the canvas. They were beautiful. Wish they were a bit bigger. Should have done first and middle names on separate pieces as they would look great on the wall in a set of two.

Perfect Touch
By
Susan J.

(Temple Terrace, FL) - May 18, 2012 (
See all reviews by this customer
)
My daughter loved it for my grandaughter. Something a little different.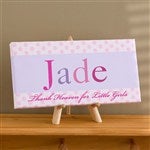 Great product
By
Joyce H.

(Spring, TX) - May 18, 2012 (
See all reviews by this customer
)
Beautiful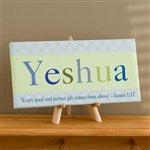 Very sturdy
By
Diana C.

(San Antonio, TX) - May 14, 2012 (
See all reviews by this customer
)
Gave this as a baby shower gift and it was a hit! Didn't know what to expect but it's a very sturdy gift. I got the "girl" sign and used the middle and last name instead of the saying....needless to say the expectant mother was pleasantly surprised.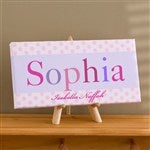 great quality
By
paula N.

(patton, PA) - May 11, 2012 (
See all reviews by this customer
)
The quality was great.Beautiful lettering and colors.The canvas was much heavier with much better quality than i had thought it would be. Beautiful personalized gift.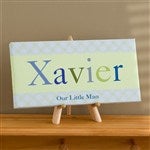 A+++++
By
Shopper

(Ontario, CA) - April 22, 2012
I'm going to a house warming party, and I thought this was perfect for a little girls NEW pink room!!!!
Just as described, fast shipping... And absolutely adorable!
This is my fav website for gifts... Never disappoints!


Great Gift
By
Shopper

(Devils Lake, ND) - March 26, 2012
My friend loved the personalization of this item...it turned out so cute!

Absolutely beautiful
By
Theresa B.

(Huron, TN) - March 8, 2012 (
See all reviews by this customer
)
I ordered two of these for two different baby showers- one for a girl and for a boy. The moms LOVED it, and everyone was asking me where I got them made. The colors are way more vibrant in real life. It's really just a stunning piece. It would be a great addition to any nursery.
I would also like to add that I ordered my stuff at about 5 p.m. on a Monday night , and it arrived on Wednesday!! And I did the standard 5-7 day shipping! Personalization Mall has ALWAYS been my number one choice for personalized gifts- beautiful prices and QUICK delivery! I have ordered several items and have NEVER been disappointed!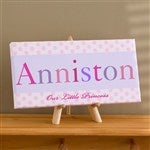 Great item!
By
Shanna W.

(Lexington, KY) - March 7, 2012 (
See all reviews by this customer
)
Love it!! Cant wait to put it up in our baby girl's room! Personalizationmall.com has done it again, every product I have purchased from here has been great quality and I have always been satisfied :)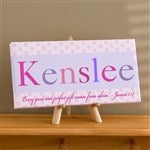 Perfect Baby Gift
By
Shopper

(Little Rock, AR) - March 6, 2012
This is one of the items that I purchased as a gift for my co-worker. They absolutely LOVED it! I am always satisfied with the products and service from this site. I will definitely be ordering again soon. Thanks for you professionalism and great quality.

ADORABLE
By
Shopper

(Marshfield, MA) - March 3, 2012
This is the perfect gift for the New Baby who will arrive in May. It was even more beautiful in person. This is a very upscale looking gift one would never find this in a store. Do not hesitate to purchase this PERSONALIZED NAME ART. This company takes there packing their products seriously. They do an excellent job

nice and simple
By
Shopper

(Canada) - February 13, 2012
bought this name art item including the easel for my niece. colours are very vibrant and letters nice and legible. quality of the canvas is great. so happy with this product

Girly Sign
By
Ashley L.

(El Campo, TX) - January 22, 2012 (
See all reviews by this customer
)
This is a fabulous sign. Gave this as a baby gift!!!

Big Hit
By
Cecile S.

(Mansfield, OH) - January 22, 2012 (
See all reviews by this customer
)
I bought this for a baby shower. The mother had named her daughter Addisyn. The different spelling of her name prompted me to get something personal so she would love. Her father had passed a year ago and had always called her Pocahontas. I was able to write under Addisyn's name.... our little Pocahontas. Making the canvas even more special. It was a big hit and Danielle loved it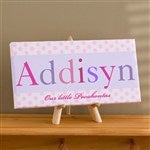 Absolutely Darling!!
By
Shopper

(Owatonna, MN) - January 15, 2012
I ordered this for my Granddaughter and it was so fast and absolutely darling! Just as I expected from the picture.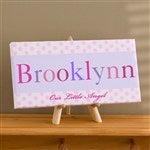 Beautiful name plaques in perfect colors!
By
Shopper

(Darien, IL) - January 15, 2012
The name art plaques were beautiful. I ordered one for my grandson and baby granddaughter. I found a pattern to match each of their rooms perfectly. My son and daughter-in-law love them.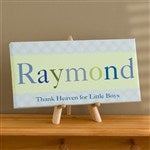 Nice addition to our new addition's room!
By
Shopper

(West Milford, NJ) - January 3, 2012
Looks adorable in our baby's room! Just wish it could be a tiny bit larger.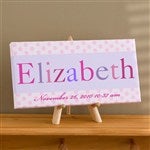 So cute!
By
Angela G.

(Shelby, IA) - December 23, 2011 (
See all reviews by this customer
)
The colors are so vibrant I am excited to give it as a gift. I LOVE personalizationmall.com and can't wait until my next order! It's great that you can preview the item before submitting.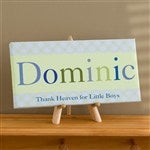 Cute
By
Shopper

(Louisville, KY) - November 22, 2011
Came quickly and was exactly like the preview pic! I am a loyal customer because products are so great. This one is no exception.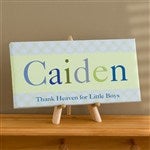 Great
By
Shopper

(Houston, TX) - November 21, 2011
The person I got it for loved it! Great gift and fast shipping!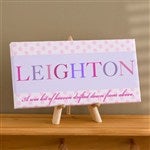 Quick and professionally done.
By
Shopper

(Woodridge, IL) - October 24, 2011
I was looking online for a personalized baby gift, and came across your site. The personalized gifts on the site were unique, beautiful, and reasonably priced. I was so impressed that the way the finished product would look was shown to me before I pressed the purchase button. It was delivered so much quicker than I expected, and much quicker than any other personalization website offered. I have already recommended your website to friends.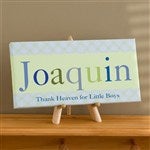 Beautiful Name Art
By
Shopper

(Oconto, WI) - October 4, 2011
I wasn't sure how cute these would be until I received them! The colors are beautiful and the quality is excellent! A must-have for any little girl's room!!