ADORABLE
By
Shopper

(Marshfield, MA) - March 3, 2012
This is the perfect gift for the New Baby who will arrive in May. It was even more beautiful in person. This is a very upscale looking gift one would never find this in a store. Do not hesitate to purchase this PERSONALIZED NAME ART. This company takes there packing their products seriously. They do an excellent job

nice and simple
By
Shopper

(Canada) - February 13, 2012
bought this name art item including the easel for my niece. colours are very vibrant and letters nice and legible. quality of the canvas is great. so happy with this product

Girly Sign
By
Ashley L.

(El Campo, TX) - January 22, 2012 (
See all reviews by this customer
)
This is a fabulous sign. Gave this as a baby gift!!!

Big Hit
By
Cecile S.

(Mansfield, OH) - January 22, 2012 (
See all reviews by this customer
)
I bought this for a baby shower. The mother had named her daughter Addisyn. The different spelling of her name prompted me to get something personal so she would love. Her father had passed a year ago and had always called her Pocahontas. I was able to write under Addisyn's name.... our little Pocahontas. Making the canvas even more special. It was a big hit and Danielle loved it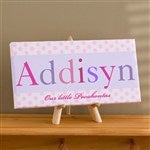 Absolutely Darling!!
By
Shopper

(Owatonna, MN) - January 15, 2012
I ordered this for my Granddaughter and it was so fast and absolutely darling! Just as I expected from the picture.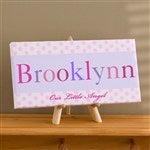 Beautiful name plaques in perfect colors!
By
Shopper

(Darien, IL) - January 15, 2012
The name art plaques were beautiful. I ordered one for my grandson and baby granddaughter. I found a pattern to match each of their rooms perfectly. My son and daughter-in-law love them.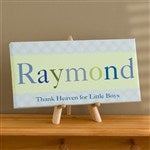 Nice addition to our new addition's room!
By
Shopper

(West Milford, NJ) - January 3, 2012
Looks adorable in our baby's room! Just wish it could be a tiny bit larger.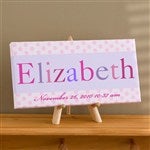 So cute!
By
Angela G.

(Shelby, IA) - December 23, 2011 (
See all reviews by this customer
)
The colors are so vibrant I am excited to give it as a gift. I LOVE personalizationmall.com and can't wait until my next order! It's great that you can preview the item before submitting.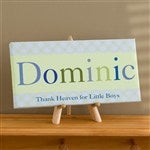 Cute
By
Shopper

(Louisville, KY) - November 22, 2011
Came quickly and was exactly like the preview pic! I am a loyal customer because products are so great. This one is no exception.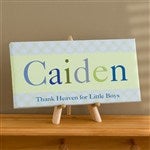 Great
By
Shopper

(Houston, TX) - November 21, 2011
The person I got it for loved it! Great gift and fast shipping!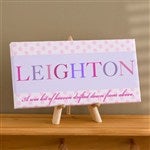 Quick and professionally done.
By
Shopper

(Woodridge, IL) - October 24, 2011
I was looking online for a personalized baby gift, and came across your site. The personalized gifts on the site were unique, beautiful, and reasonably priced. I was so impressed that the way the finished product would look was shown to me before I pressed the purchase button. It was delivered so much quicker than I expected, and much quicker than any other personalization website offered. I have already recommended your website to friends.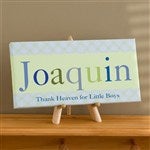 Beautiful Name Art
By
Shopper

(Oconto, WI) - October 4, 2011
I wasn't sure how cute these would be until I received them! The colors are beautiful and the quality is excellent! A must-have for any little girl's room!!

Canvas
By
Crystal T.

(Monticello, IN) - April 15, 2014 (
See all reviews by this customer
)
Nice baby shower gift. Mommy to be loved it! I wish it was a little bigger, but still nice. When it came the hanger was poking through the back of the box so had to tell the person To be careful when opening the gift.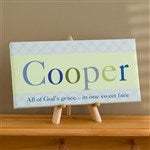 great for "different" names
By
Mary D.

(Mishawaka, IN) - July 2, 2013 (
See all reviews by this customer
)
My great neice is gonna be named Alivia instead of Olivia. I have purchased things in the past from this site that the person loved and I thought this would be perfect for her since she will have to spell her name all the time.. Her Mom was so thrilled to get it! I can't wait to see it in her room.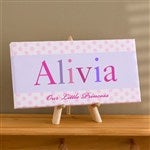 small
By
Shopper

(Bowie, MD) - September 27, 2012
Maybe I did't check the measurements but it was a lot smaller than I expected. About 6 or 7 inches.
Very sturdy and neat came very fast- standard shipping only took 3 days.

Very cute
By
Shopper

(Saint Joseph, MO) - September 4, 2012
I was a little surprised at how small this actually was when I got it, I guess I should have payed more attention to the dimensions instead of going off the picture. Other than that I love it. The colors are exactly like the picture, and the quality of the material is great!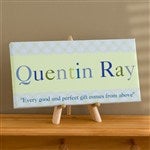 Cute gift idea
By
Jennifer G.

(Boynton Beach, FL) - August 3, 2012 (
See all reviews by this customer
)
Came just as ordered online, my only complaint is that it is a little small, I thought it would be bigger for the price. Great quality, loved it!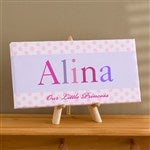 Perfect
By
Jenna D.

(Mount Clemens, MI) - February 15, 2012 (
See all reviews by this customer
)
I ordered this for my second son that I'm expecting. I would have given it 5 stars, but I think we should have the option of ordering the canvas with just the name and no saying. The item is bigger than I expected, which is nice. I also ordered the easel in black.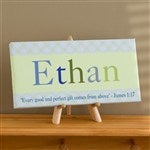 Cute Name Plaque
By
Shopper

(Ottawa, IL) - December 19, 2011
We ordered our nephew this name plaque as a Christmas gift. He is a newborn, so we included the custom inscription "From Small Beginnings Come Great Things."

The first plaque we ordered came damaged due to packaging. I called the customer service line and a replacement plaque was immediately ordered and shipped to us. The new plaque came back perfect. I am very pleased with how this company handled this matter.

The only drawback we had was that we could not fit our nephew's middle name on it due to the number of letters, so we instead used his first and last name. If we could have used his first and middle name, perhaps in a slightly smaller font, I would have rated this product a 5.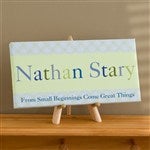 Great Shower Gift
By
Shopper

(Belvidere, IL) - November 24, 2011
The mom to be was so excited when she opened it. It's nice to give something different instead of the usual things off a registery. It was really a great value for the price. I'm going to order one for my daughter.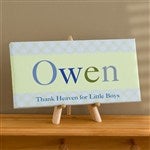 Size
By
Shopper

(Exton, PA) - December 9, 2012
I did not realize how small these would be. While beautifully done, it surprised me when it came in as small as it dd.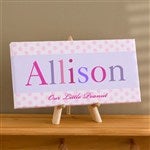 too small
By
Shopper

(Westbury, NY) - August 19, 2012
Too small to hang on a wall. It would of been perfect if it was made larger. It looks great on his dresser.

Nice gift
By
Angie B.

(Houston, TX) - December 14, 2011 (
See all reviews by this customer
)
It makes a nice birthday or holiday gift. The product was of good quality; the color and texture. The only disappointment was the size of it. I thought it would be bigger. Then again before purchasing I didn't carefully read the details to see if it listed a size. It worked out perfectly for both my nephew's names, since it only allows 12 characters.