Love it!
By
Shopper

(FORSYTH, MO) - December 23, 2011
We actually purchased this as an urn for our dog. I love that I was able to put her picture on it and personalize it, with things that reminded me of her. The quality is great I would definitely recomend purchasing this!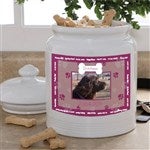 Great Gift
By
Shopper

(Morgan Hill, CA) - December 2, 2011
This was a gift for a friend's dog. It turned out so great that I just ordered another one for my sister's dog (along with a matching mat).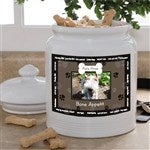 Excellent quality
By
Gayle D.

(Boca Raton, FL) - November 11, 2011 (
See all reviews by this customer
)
Love the product. Gave it as a gift and they loved it too. Really beautiful. Personalization came out great.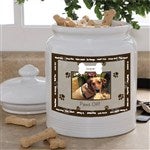 Almost Perfect
By
Mario M.

(Pembroke Pines, FL) - April 8, 2013 (
See all reviews by this customer
)
The treat jars arrived in perfect condition, they look very nice, except the phrases at the bottom were not edited and placed upside down instead of upright.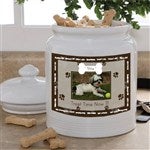 GREAT TREAT JAR
By
Shopper

(MECHANICSVILLE, VA) - January 16, 2013
THIS TREAT JAR IS THE GREATEST. THE UPLOADED PHOTO OF MY PET CAME OUT PERFECE. I HIGHLY RECOMMEND THIS THROW ME A BONE TREAT JAR. IT IS CONSTRUCTED VERY DURABLE AND ALL INSCRIPTIONS ARE PERFECT, AS ORDERED. TIMELY ARRIVAL. GREAT PRODUCT.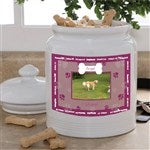 DOGGIE TREAT JAR
By
Shopper

(MECHANICSVILLE, VA) - January 9, 2013
WE LOVE THIS PRODUCT. GAVE IT A FIVE STAR RATING, WOULD HAVE GIVEN IT A TEN STAR RATILNG IF I COULD. ALL THE PERSONALIZED INFORMATION WAS PERFECT AND THE PICTURE WAS OUTSTANDING. THIS SITE IS HIGHLY RECOMMENDED BY ME.
THANK YOU SO MUCH.
GOD BLESS
BILL C.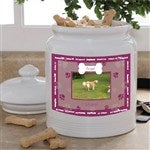 EASY PEASY SHOPPING
By
MONICA F.

(LEMONT, IL) - December 19, 2012 (
See all reviews by this customer
)
This was the first time I visited this web-site thanks to groupon. Shopping couldn't have been easier. Shipping was within 2 days for multiple items. Love the ease and I love the products even more. Will continue to shop this web-site.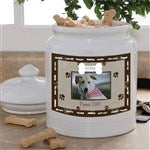 EXCELLENT
By
Michael A W.

(Hurricane, UT) - December 15, 2012 (
See all reviews by this customer
)
Very happy with customizing our dog treat jar. The instructions to create the words, picture and color was very easy. You folks deserve a nice dog treat for a job well done.
THANK YOU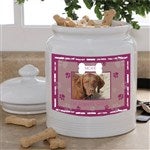 Love the personal photo and being able to put the dog's name on it!
By
Helen H.

(Lafayette, NJ) - December 4, 2012 (
See all reviews by this customer
)
I was so pleased with the size of the ceramic container. I appreciated you listed ideas for wording around the blue area. I like that the dog's name is within the shape of a bone! And the best part, I could personalize it with my photo and not a standard photo of the dog breed.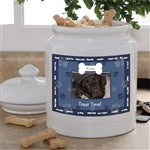 Awesome Product - Just Ordered Second One
By
Shopper

(Byhalia, MS) - November 27, 2012
I ordered one for my personal use and one for a dog rescue group I volunteer for. The personalization options make this a perfect gift for someone else, or the perfect treat jar for your own home.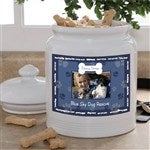 Love it!!
By
Shopper

(Watseka, IL) - November 24, 2012
It turned out great!! Great quality. Looks awesome.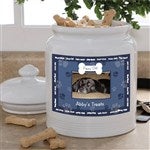 Perfect gift for a dog lover
By
Tracy B.

(Milton, VT) - November 6, 2012 (
See all reviews by this customer
)
This is cute and any dog lover would want this. Personalization mall has great customer service along with very fast shipping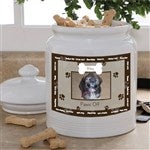 LOVE it!
By
Tonya S.

(Salisbury, NC) - October 15, 2012 (
See all reviews by this customer
)
I bought this a gift for friends. It is charming. But beyond that customer service was amazing. When I received my package the lid was broken. They sent me out a new...everything the next day. Very pleased with my whole experience and will be shopping here again!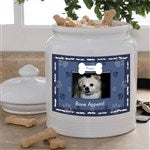 Great quality product
By
Shopper

(Pataskala, OH) - September 21, 2012
Good quality, great job with picture, etc. I recommend this Company without reservation.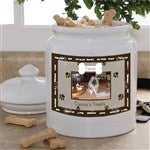 Awesome Pawsome!
By
Sonya V.

(Reed City, MI) - June 15, 2012 (
See all reviews by this customer
)
We were extremely happy with this personalized treat jar! The photo turned out wonderful, the font is nice, the container size is perfect to hold favorite treats for my furry-princess. Very happy with the service and timely manner in which this item arrived. Couldn't be happier!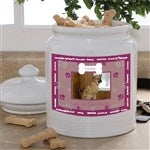 Who ever thought of this product was a genius !!
By
Lynn H.

(Hartland, WI) - April 27, 2012 (
See all reviews by this customer
)
I've ordered three of these jars. I've had kids pictures on one and the other two with dog pictures. All three came out fantastic. Pictures were perfect, the jar is nice and heavy, nothing cheap about this product at all. I know I will be ordering more in the future. You can use any picture you want, it is a great keepsake.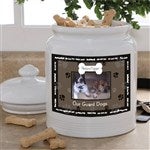 Cute
By
Shopper

(Fox Island, WA) - September 9, 2011
Love the dog treat jar!!! It is just like preview shows. Dog even knows the sound of jar opening already. Jar is nice quality and lid fits snug to keep treat smell in. Looks cute enough to leave it out on the counter. We have our jar right next to the door to get the dog in the house. Just open, dog hears and comes in easily. Love it!

Great Product
By
Jacob T.

(Durham, NC) - September 5, 2011 (
See all reviews by this customer
)
The jar was great and the picture was flawless. I was worried about the picture, but they did a great job and it was very quick.



PHOTO DOG TREAT JAR
By
Ronald W.

(Duvall, WA) - June 14, 2013 (
See all reviews by this customer
)
I looked all over the internet for a dog treat jar and found this one. Ordered at 10pm Sunday night and it was shipped by 10am Monday morning. I was worried about how nice it would be as it was personalized, had a photo but was made so quickly. Arrived two days later and IT IS FANTASTIC! WOW! Great jar and the photo and printing are all under the glaze. Beautifully done! How could they do it so fast, but it is a 10 star rating!!!!! Shipped double boxed and is a great jar with a lid that has a gasket to keep the contents fresh. My only words of advice are after you download the photo (which only takes seconds) you then have your choice of 4 lines that you can type to go on the jar. Be aware that it does not mean one line per side, top and bottom. It is 4 sentences that run around the jar so for example on the top above the dog bone and picture, your 4 sentences run along the top, one after another and then repeat themselves around all sides (look at the pic closely and you will see what I mean). Not a bad thing at all and the type style changes so it looks great. Truly a must for a great counter dog treat jar. This is a great jar and hats off to personalization mall for their lightening fast production, easy to use web site and great shipping!

Great product!
By
Shopper

(Copley, OH) - December 21, 2011
Treat jar arrived quickly and looks great!

treat
By
Shopper

(Marietta, GA) - February 7, 2013
excellent product, enjoyed by recipient would order again

Wonderful Dog Treat
By
Shopper

(LAFAYETTE, LA) - November 23, 2011
The shipping was quick and the items was exactly as shown. The picture and presentation were wonderful! Great job!1!