Memory candle
By
Shopper

(Plymouth, MA) - September 9, 2014
The memory candle was as beautiful in person as I thought it would be. It will be a wonderful memorial for my loved one at my wedding and I will be able to use it for a long time after the candle is gone by putting another one inside the beautifully etched glass. So glad I made the purchase and it came quicker than I anticipated which was wonderful.

Candle
By
Jessica P.

(Tarpon Springs, FL) - April 25, 2014 (
See all reviews by this customer
)
I really like the idea of this candle. I am using this as a memorial candle at my wedding. The only thing I recommend is that you change the amount of lines allowed, if you click create your own message, it says you only are allowed five lines, but in reality you are allowed eight. I only figured that out by pushing the limit to see if it would print with more than five lines. :)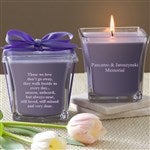 Completely Satisfied Once Again
By
Jerry W.

(Chicago, IL) - March 31, 2014 (
See all reviews by this customer
)
I have been a very happy customer for the past two years.
Keep up the good work.

Love the scent
By
Laura R.

(Glenelg, MD) - January 4, 2014 (
See all reviews by this customer
)
This candle looked so nice the way it was presented that I wasn't sure I wanted to unwrap it, but well worth taking off the bow: the mulberry scent is wonderful!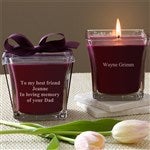 Memorial Candle
By
Carole T.

(Brigantine, NJ) - December 16, 2013 (
See all reviews by this customer
)
The memorial Candle is a magnificent gift. It is beautiful for someone who has lost a loved one, or you can have it engraved for a special occasion. I have purchased 3 candles for differenct occasions. I would highly reccomend this for a gift.

smells great. nice gift
By
Shopper

(Hopedale, MA) - December 15, 2013
I bought this as a gift for a friend that just lost her Dad. The print looks great on glass. Now she can light it whenever she is thinking of him.


GREAT REMEMBERANCE GIFT
By
Shopper

(North Port, FL) - July 27, 2013
I bought two of these (in different fragrances) for my niece and nephew after their father had passed away. It was a small, but very nice gift for them. Both loved them, especially after they turned them around and read the other side!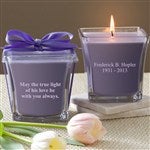 great product
By
Michelle A.

(Goodyear, AZ) - May 20, 2013 (
See all reviews by this customer
)
Bought 2 of these for a frend who lost both her parents. They came out wonderfully! I was very happy with how big they were and how the etching was. I will most definitely buy from here again.

Memory Candle
By
Shopper

(St. Louis, MO) - April 1, 2013
I sent this instead of flowers. In the thank you note, they said the scent was amazing! I didn't actually see the product though.

Great
By
Shopper

(porter ranch, CA) - January 13, 2013
Bigger than expected. Beautifully etched glass. Personalization correct. Arrived on estimated delivery date.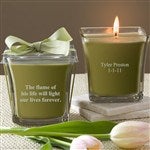 The perfect gift
By
Shopper

(Centennial, CO) - December 27, 2012
I got the candle very soon after ordering it. It is so beautiful and has a message that is such a part of the person it is personalized for. We could not be happier for the prompt service and amazing quality of the gift.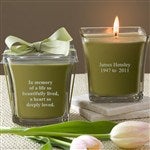 excellent product
By
Shopper

(Springfield Center, NY) - December 4, 2012
This is an excellent product and an appropriate and substantial memorial. It was a beautiful tribute for my friend and she was very touched.

Mulberry Personalized Candle
By
Shopper

(Plano, TX) - November 25, 2012
The candle arrived quickly after I purchased it and with no damage. The personalization came out perfectly and the candle smells great. It will make a wonderful addition to the Christmas pile.

Memorial candle
By
Julie B.

(Overland park , KS) - November 11, 2012 (
See all reviews by this customer
)
The candle has a lovely mulberry scent.. It is a beautiful way to keep a loved one's memory alive and keep the light of their life shining in your life. #ATB

Thank you
By
Carol E.

(Tucson, AZ) - November 9, 2012 (
See all reviews by this customer
)
Thank you for the wonderful way to memorialize and remember my father who just passed in March 2012. We all still miss him very much!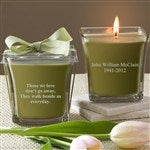 Perfect!
By
Rita P.

(New Bedford, MA) - August 25, 2012 (
See all reviews by this customer
)
This memorial candle is simply beautiful. The scent is wonderful and the shape of the glass is gorgeous. The imprint was done perfectly. It was the perfect gift for a missed loved one.

Exceeded my expectations
By
Janis N.

(Apex, NC) - August 17, 2012 (
See all reviews by this customer
)
I bought this memory candle as a gift, and was very pleased when it arrived. It's larger than it appeared in the picture and it is really beautiful. The custom engraving was done perfectly and I am excited to give this to my loved one.

great quality
By
Jennifer H.

(Canada) - April 20, 2012 (
See all reviews by this customer
)
Looks great, pkged well for delivery, and great scent.

great quality
By
Jennifer H.

(Canada) - April 20, 2012 (
See all reviews by this customer
)
Looks great, pkged very well for delivery. The colour is more purple than the red/wine colour that it appears to be on my computer screen.

great
By
Shopper

(United Kingdom) - March 31, 2012
good EBay site postage was very expensive but the item was wonderful

MEMORY CANDLE
By
Shopper

(Woodstock, GA) - March 25, 2012
The memory candles are beautiful. Great quality, prompt delivery and the lavender/linen scent is lovely.

Love it!
By
Krystal A.

(Louisville, KY) - March 4, 2012 (
See all reviews by this customer
)
This candle is much better quality than I was expecting. Very think glass and much bigger. Love it!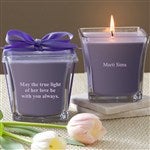 Perfect memorial
By
Shopper

(EL Dorado Springs, MO) - February 11, 2012
I got this for my best friend of 10 years, I also bought one for her father and her sister because they had a family member pass away. This was better than flowers which is a lovely tribute but everyone gives flowers and let's face it they always die, I wanted something they could hold onto forever. Just a little something to look at now and then and remember. I had it personalized but what surprised me is that I got to choose the saying, that was the best part because it was very personal and special. They are beautiful! Beautifully wrapped, and they smell amazing! Thanks so much for making a difficult time a little easier. I will be back!

lavender memory Candle
By
LAURA S.

(Ukiah, CA) - February 6, 2012 (
See all reviews by this customer
)
I bought this for my living room mantle where I have my daughter and many momentos of hers. It smells wonderful and comes so beautiful I will not light it but I have it sitting up there looking as beautiful as she was before she died. I would but more If I had room!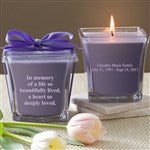 Great!
By
Shopper

(Franklin, MA) - February 3, 2012
Love the candle. It's beautiful.

Peaceful and calming
By
Shopper

(Callaway, MD) - January 14, 2012
My sister was given two months to live after being diagnosed with Stage IV pancreatic cancer. She passed away nearly to the day. My brother and I were having a hard time with her passing and I ordered the mulberry candles inscribed and small canvases and am so pleased. The quality of workmanship and colors are a credit to the craftsman you have working for you. We light our candles while reading the Bible and other inspirational books and we are at peace once again. Thank you for such wonderful products.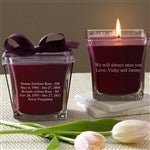 Memory Candle
By
Shopper

(Roscoe, IL) - December 30, 2011
Sent this candle to a friend after she lost both her Mom and Dad within one month of each other. She really liked the candle. Loves the Mulberry sent and the inscription.

In Memory candle
By
Shopper

(Attleboro, MA) - December 30, 2011
The candle was MUCH bigger than I expected and it was a beautiful and well received gift to my dad and aunts and uncles after my grandmother passed away.

review 11/21/2011
By
Jeroice B.

(Lewiston, ME) - November 21, 2011 (
See all reviews by this customer
)
Hello,

I took my gift down to NC to sisters gravesite this weekend that passed unfortunately about 3 months ago. Personally, the candle was very sentimental and touching with lasting affect and did what it was designed to....I think my sister liked the candle as well. It is arrived as expected in the mail and probably will be ordering from consumer in the future. Thanks for helping through painful times...J Lewiston MAine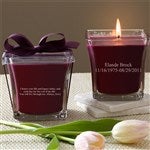 A beautiful addition to my wedding
By
Shopper

(Raleigh, NC) - October 11, 2011
My cousin (bridesmaid) unfortunately lost her battle with cancer a week before my wedding. I wanted to set up a memorial table for her and this candle was perfect. I was afraid the personalization would be on the candle and would melt away with the flame, but it is on the glass so her twin sister can keep it as a momento forever. I felt like my cousin was definitely there in spirit.

Beautiful Remembrance
By
Kathleen T.

(Frederick, MD) - October 7, 2011 (
See all reviews by this customer
)
After my uncle passed, I had this candle sent to his daughter, my cousin. She loved it. She liked the sentiment onit plus the fact that her father's name and years were on it.And she loved the aroma...even unlit.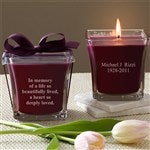 memory candle
By
Shopper

(doylestown, PA) - December 4, 2013
very nicely boxed and presented for a memory candle. I haven't burned the candle yet but it appears to have a pleasant aroma.

Great
By
Shopper

(Bolingbrook, IL) - June 22, 2013
This is a Great Product and a GREAT Gift. The printing is great and the shipping is extremely fast. I would recommend this product to everyone.

We had this sent to the funeral home of a friend that lost his 23 yr. old son
By
Shopper

(Bucyrus, OH) - March 5, 2012
The candle was sent directly to the funeral home in time for the first showing. It was less expensive than flowers and the family placed it in front of the video. They were very emotional and appreciated something they could keep and remember him with love by lighting of this candle on special occasions.

Lettering a little small
By
Shopper

(New Orleans, LA) - October 24, 2011
I was so glad to find a memorial candle gift that I could have personalized. It was the perfect gift. Only issue was that the lettering was a little on the small side.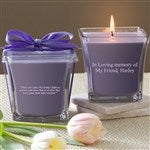 Looks nice but the candle doesn't burn well
By
Shopper

(Yardley, PA) - November 27, 2012
We have tried 3 of the 7 we ordered and the flame is always going out. They need to make the wick taller.