Love my candles!
By
Shopper

(North Bergen, NJ) - June 10, 2014
I love candles & got one from my daughter for Mother's Day! She got me the bamboo/papaya one and I truly love the fragrance! I just ordered the Mulberry one to give to my boyfriend for our 1 year anniversary! That one smells so good too! We both love candles & always light them up in each other's place, so I thought this was a beautiful gift to give to him & personalizing it! Something that I know we both will enjoy! A gift perfect for any ocassion!

Scented candel
By
Sharon C.

(westampton , NJ) - March 8, 2014 (
See all reviews by this customer
)
Smells so good looks just as nice heavy no skimping on this product I recommend it highly

Another Great Wedding Gift
By
Shopper

(Palos Heights, IL) - February 22, 2014
I love personal and different gifts and these are perfect. bought 2 for the upcoming weddings I have and what a wonderful gift, was very impressed with the quality. I am a first time buyer who has become a lifelong one at that!

Beautiful candle.
By
Shopper

(Pinellas Park, FL) - February 21, 2014
Candle was bigger than I expected, it will last a long time. Color beautiful and the personalized message is clear and also beautiful. Other reviews said the wording was hard to read, but I found that at least on the darker color it shows up very well. We love it. Gave it to my husband for Valentine's Day.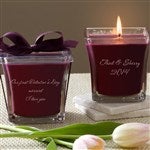 Great Gift
By
Erika S.

(Wixom, MI) - December 12, 2013 (
See all reviews by this customer
)
I purchased two of these candles for my brothers who recently have gotten engaged. I choose to enter my own quotes. Both candles turned out beautifully and smelled wonderful. Candles are a good size and should last a while. Very pleased with the purchase.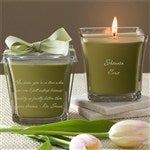 LOVE, LOVE, LOVE this candle!!
By
Shopper

(Pineville, LA) - February 22, 2013
My husband bought me this candle for Valentine's Day and I absolutley love it!! I love the berry scent! And the verses he had inscribed were very sweet!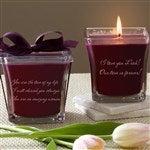 I Love it!
By
Dennise O.

(Willmar, MN) - February 8, 2013 (
See all reviews by this customer
)
I just received the candle over the mail, and as soon as I opened it I could smell the bamboo scent, lovely and strong! The letters look so classy and beautiful, and the candle is huge! I love personalized mall, my boyfriend loves candles and he is going to appreciate the personalized message on it! I will definitely buy again from the site and I would recommend it to a friend! A+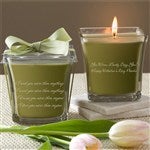 awesome
By
Bridget Y.

(Wilmington, DE) - September 16, 2012 (
See all reviews by this customer
)
Beautiful smells great and a lot bigger then I thought it was!!! Love personalization mall and will continue to shop here! Always has quality produts and great turn around! :-)

Vday Gift
By
Shopper

(Lakewood, CA) - February 27, 2012
Great strong scent. Excellant turnaround and delivery time!! Inscription was perfect and is a very versatile gift for any occasion. Even us men can't mess this one up. Women will love it!!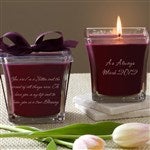 Custom Spa Candle
By
Shopper

(San Antonio, TX) - February 22, 2012
The candle I ordered my girlfriend for a special occasion just arrived yesturday. It looks great and she loves it. I am very happy with my purchase.

Personalized Mulberry Scented Spa Candle
By
Shopper

(Marietta, GA) - February 20, 2012
The Mulberry scented spa candle smells wonderful. The personalization turned out great. I'm going to give it as a gift for a 25-year wedding vows' renewal. The personalization just gives it a very special added touch.

Personalized Scented Spa Candle
By
Shopper

(Marietta, GA) - February 20, 2012
I love the fragrance of the Papaya & Bamboo candle. The personalization turned out great! It's going to make a beautiful wedding gift for my niece.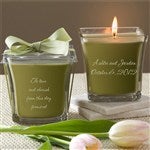 So Awesome!!!!
By
Shopper

(Rancho Cordova, CA) - February 11, 2012
I received my spa candle in a timely manner. I was so very happy to receive it when it arrived. It is soo awesome and I thank you ever so much for offering it on your website. I know it will be such a wonderful gift when I give it to my friend. She will be so surprise! Because I have never seen anything like it before, so I know she will be honored to receive it. I think that it makes a perfect gift for anyone. I thank you ever so much for the spa candle, it is off the chain and I like it myself, I just might order me one. But thank you for given me this opportunity to express my gratitude for the spa candle, I thank you ever so much!!!

Smell so good.
By
Shopper

(Deer Park, TX) - February 7, 2012
When first received, engraving was crooked. All it took was a call to Personalization.com to have it corrected and the new candle came promptly and corrected. No problems here.

Smells Great!
By
Shopper

(Deer Park, TX) - January 31, 2012
After receiving the candle with the engraving crooked, I called customer service who promptly sent out a perfect one to replace it. This was a memorial candle, and it needed to be just right. The candle has a wonderful mulberry scent. I am also very pleased with the size and quality of the candle.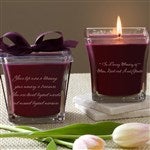 Mulberry candle great product!
By
Melissa C.

(Chandler, AZ) - October 5, 2011 (
See all reviews by this customer
)
I bought the mulberry candle as an anniversary gift for my boyfriend, and he loves it!! It's big in size, smells wonderful, and came in a very professional elegant gift box. The only thing i wasn't aware of; was the verses that i had put on the candle were not engraved they were either hand written with a marker or hand painted so i was a little worried this would chip off, otherwise it was beautifully written. over all a great gift!!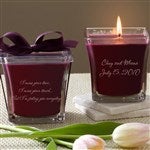 Good, but only one candle
By
Shopper

(China) - February 20, 2012
The picture is misleading, I thought there would be a pair... :P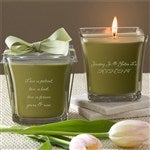 SCENTED CANDLE
By
Shopper

(Johnston City, IL) - October 15, 2011
I was happy with it all but the writing was so small its hard to read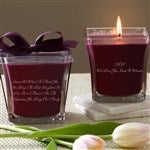 Not wrorth the $
By
Shopper

(East Freetown, MA) - February 17, 2013
Althought the candle itself is nice the inscription is difficult to read because it is small, the font is difficult to see, and there are air pockets between the glass and candle also making it difficult to read. Just not worth the money.