Great frame!
By
Beth R.

(Plainfield, IL) - August 1, 2012 (
See all reviews by this customer
)
This frame is so adorable! There were many compliments when it was opened! Quick turnaround and shipping as well! Personalization Mall is my go-to for personalized gifts!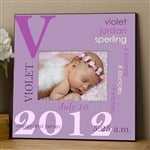 Birth Announcement Frame
By
Lisa S.

(Mount Pleasant, SC) - August 1, 2012 (
See all reviews by this customer
)
I've gifted this frame twice this year. Both parents were very happy to receive it. One mother commented now she needed one for her firstborn, born 3 yrs ago!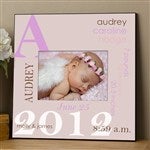 My new "go to" baby gift
By
Kimberly D.

(Clayton, NC) - August 1, 2012 (
See all reviews by this customer
)
This is a beautiful frame. A great gift idea for after baby arrives! Love love love this frame.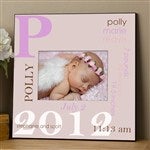 Adorable Baby Frame
By
Tina G.

(Holt, MI) - August 1, 2012 (
See all reviews by this customer
)
Loved this frame, super nice, don't even know where else I could go to get such high quality personalized frame!! Such an awesome gift!! I love buying from you!

great gift
By
LARISSA D.

(TAYLORSVILLE, NC) - July 31, 2012 (
See all reviews by this customer
)
i was worried at how this would turn out, i thought the words would be a paper mat but i was pleasantly surprised that the words are actually made into the frame. very happy with my decision to order it.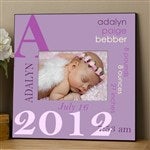 Great!
By
Shopper

(LaPorte, IN, IN) - July 30, 2012
LOVE IT! I was very happy with the way it turned out and so was my sister-n-law that I got it for. Was the best gift she received at the shower!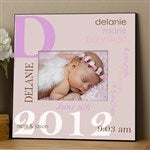 awesome
By
Shopper

(Wildwood, MO) - July 30, 2012
My daughter in law loved this frame! High quality, unique and received my order faster than stated with regular shipping. Will be ordering again soon.l

Perfection!
By
Donna K.

(Colesburg, IA) - July 22, 2012 (
See all reviews by this customer
)
Love this frame and all products from this company! I ordered this frame for my daughter and my niece; absolutely beautiful!

Gorgeous Personalized New Baby Frame
By
Brittany B.

(Canada) - July 16, 2012 (
See all reviews by this customer
)
I absolutely love this frame! I first saw it when my coworker ordered one for a relative who had just had a baby. I knew that I wanted to get one for my cousin's new baby after I saw it! The quality of the frame is exceptional! I love how the personalized information is arranged on the frame.

There are very few things I didn't like about it. I think it would be helpful if the frame had a stand that folded out so that you could place it on a table instead of having to hang it. Also, the "Purple" color was sort of a disappointment. I chose purple because my cousin said that she wasn't a huge fan of pink. It is very hard to find purple baby gifts. However, when I opened the frame the color was a lot more pink than it looked on the site.

That is about it. My cousin loved the frame and it is now hanging in her new baby daughter's nursery! I will definitely be ordering this frame for anyone else I know who has a baby! :)

great item
you never know what you're going to get on-line, but i am a real shopper and am ordering my forth frame. These frames are very clean, very high quality. i haven't found anything nicer for the money. people who recieve them all love them (you can even find coupons on line)

Newborn Baby Gift
By
Susan D.

(Spring Hill, FL) - July 14, 2012 (
See all reviews by this customer
)
Thank you for a product that was an amazing success. The new parents absolutely loved this personalized frame. It arrived so quickly and they raved that it was so unique and something they would never get a duplicate of. I will absolutely be using this as my "go-to" gift any time someone has a new baby.

Quick and easy
By
Alan S.

(McKeesport, PA) - July 6, 2012 (
See all reviews by this customer
)
I tripped upon your site by accident, surfing for a picture frame for our first grandchild.
I liked the frame, but when I actually saw a mock up of 'my frame' on screen, I was impressed.
The price is very reasonable and the turnaround time was lightning fast.
I highly recommend this product and company.

Unbelievably exceptional
By
Shopper

(Crofton, MD) - July 1, 2012
I turned this frame into a memorial frame for the unfortunate loss of a 3 month old baby girl. When I received the frame, it actually brought tears to my eyes. The grandparents that I gave it to, called me immediately to tell me how much they loved it and how they had never seen anything like it. It looked so professional and the workmanship was outstanding and the cost so very affordable. Thank you

Great Quality, great gift!!!
By
Katlyn W.

(North Huntingdon, PA) - June 30, 2012 (
See all reviews by this customer
)
I bought these for my friend who had twin girls. Such an amazing gift! I got to see them in person and they are done beautifully and are great quality, I highly recommend and am thinking of getting one for my son who is almost 7 months! It's a nice keepsake and reminder.

Great Baby Shower Gift
By
Jacinth M.

(GARNER, NC) - June 27, 2012 (
See all reviews by this customer
)
This was a gift for my little cousin as a baby shower gift. I ordered on Friday and it was received by my family in Georgia on Wednesday!!!! They were SOOOOOOO happy and impressed with the quality and of course the personalization!!!!! I am excited that her first picture will go in the frame I personalized especially for her!!!! THANKS PERSONALIZATION MALL!!! You all rock once again!!!

;PERFECT BABY GIFT
By
Shopper

(EAST AMHERST, NY) - June 24, 2012
This picture frame if the perfect baby gift. Surely will not be duplicated. Turned out exactly like the preview of the pesonalized item on line. So pleased that it includes ALL the vital statistics of the newborn.
Thankyou!

Perfect Gift!
By
Shopper

(Lincoln, NE) - June 21, 2012
I bought this for a friend who just had a baby but have yet to ship it to her. I will do that soon. The frame was beautiful and perfect, absolutely flawless and good quality, even bigger than I expected. However, there was a little tiny scratch on the glass...not on the frame. You could see the scratch plain as day but again, it was small. I called and inquired about this and two days later I had a new piece of glass. It was that easy!! Loved the hassle free, no questions asked, offer of sending me a new piece of glass for my frame! Any new mom would love this gift!

Beautiful!
By
Shopper

(Clarksburg, MD) - June 18, 2012
This wall frame is gorgeous! The shipping was super fast too.

Lily
By
Marie R.

(North Attleboro, MA) - June 12, 2012 (
See all reviews by this customer
)
We were thrilled first of all to find your website and this item i am looking forward to getting one of these made for all my grandchildren!!

perfect memory frame
By
Rebecca G.

(henderson, NV) - June 11, 2012 (
See all reviews by this customer
)
This frame is so perfect. I love how it has all her birth stats on it and the quality is great. I already ordered 4 more things for fathers day. I highly recommend ordering your keepsakes from this company!

Creative!
By
Lisa M.

(Selden, NY) - June 10, 2012 (
See all reviews by this customer
)
This frame came out so beautiful and is so unique. I was able to have another one sent to my house at no charge after my first order came in a bit damaged. They were so easy to work with and replied with such speed and kindness. Thank you so much! It was exactly what I was looking for!!

A beautiful memory
By
Shopper

(East Amherst, NY) - June 10, 2012
This frame is beautiful. The first one I received had chipped paint around one edge of the photo border, but I contacted customer service, sent them a picture of the problem, and they promptly sent a replacement frame. The new frame is in perfect shape. I can't wait to hang it in my little girl's room! The personalization on the frame will be such a great memory for us, that I'm happy to give this frame a 5 star rating.

gorgeous
By
Shopper

(Seven Hills, OH) - June 10, 2012
Beautiful frame that came out better than expected. Read the dimensions because it is larger than it looks in the picture. (11.5x11.5 inches)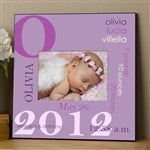 All about baby
By
Shopper

(Vienna, OH) - May 30, 2012
We got this gift for our neice and her husband and we were so proud and happy we got this frame. The quality is beautiful and it being personalized made it even more special. Everything we have purchased has been wonderful and we will continue to purchase other gifts.

Picture frame for Mothers Day
By
Shopper

(Gloversville, NY) - May 29, 2012
Our daughter just had twins and we gave her this frame along with the boy frame like it for her 1st Mothers Day! she loves it. The frame is beautiful and has all important data on it about her new baby girl! lovely!( as is the boy frame )

Great frame
By
Shopper

(Saint Louis, MO) - May 22, 2012
I ordered the frame from my friends's baby. It arrived 4 days after I placed my order and I was very pleased with the quality of the product.

Love it!
By
Claire B.

(Canada) - May 19, 2012 (
See all reviews by this customer
)
This is exactly what I wanted! It is glossy, and a little bigger than you think it's going to be. Also, there is no thing on the back for standing it up like it is on the photo. You have to hang it or lean it. I love it so much, I wish someone had bought it for me! I will be buying this for all new babies from now on. The only problem with Personalization Mall is that shipping to Canada is really expensive. I have to order many gifts at the same time to make it worth while. Wish they had a Canadian site!

Just Beautiful
By
Shopper

(Tarrytown, NY) - May 17, 2012
I ordered this frame for my daughter even though she is 14 months old now, I want to get this for her room. The colors are beautiful and the design is so cute. Is the best frame that I ever seen and the price is so fair. LOVE IT!!!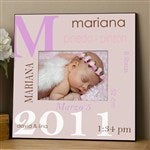 Great memory keep sake!
By
Sonia F.

(San Mateo, CA) - May 15, 2012 (
See all reviews by this customer
)
This is the second one that I bought for a family member who had a baby and both of them just loved it. Every one keeps asking me where I bought it. They are beautiful picture frames that is well made and is a great memory keep sake for you child.

What a wonderful gift!
By
Shopper

(Atlanta, GA) - May 14, 2012
We received this as a gift and loved it. We received so many compliments. We ended up buying it for a friend. Great quality and look. Only thing to note; the frame is intended to hang on a wall. So, you will need a picture easel to put on a shelf. There is no stand on the frame.

Perfect!
By
Theresa C.

(Warrington, PA) - May 14, 2012 (
See all reviews by this customer
)
This was so wonderful! The colors matched our grand daughters nursery perfectly! It was loved by all!

GREAT!!!
By
Shopper

(Temple Hills, MD) - May 12, 2012
This is such a great item. I gave it as a gift and they LOVED it. It's a great keepsake

So cute
By
Tracy B.

(Milton, VT) - May 11, 2012 (
See all reviews by this customer
)
Great gift to a new parent

Awesome
By
Shopper

(Lincoln, ND) - May 9, 2012
I was very impressed with this frame. The color is very vibrant and it's very well made. Thanks!

Very cute
By
AnnaMae K.

(Post Falls, ID) - May 8, 2012 (
See all reviews by this customer
)
Good quality, nice size. Love the pink color

frame
By
Shopper

(Wilmington, DE) - May 8, 2012
It was constructed very well. The frame was very pleasing to the eye.

love it!
By
Jennifer L.

(Lancaster, PA) - May 7, 2012 (
See all reviews by this customer
)
love this frame! I get one for any of my friends that just had a baby and they always are so happy with the personal touch of it. Can't go wrong!

Highly Recommend
By
Shopper

(Ste. Genevieve, MO) - May 7, 2012
I was very pleased with this purchase. I wanted to get a friend a special gift after the birth of her daughter and I think she will be very happy. I know that I am.

Had to redo but great results second time!
By
Simone K.

(Hamilton, NJ) - May 6, 2012 (
See all reviews by this customer
)
My cousin and his girlfriend just had their baby, Sophia who was born a few weeks premature. His girlfriend is extremely nice so I wanted to get them something special especially since she's going through a very rough time right now.
I got all of the baby's measurements from my aunts and ordered the first frame thinking it was all correct. Unfortunately her middle name was spelled differently so I had to order a new one. Fortunately the second one came out perfect and the frame was on sale and I got an additional 20% off my order for the redo. Along with the measurements I've been receiving a TON of pictures so I have many to choose from to print out and put in the frame!

I'll be giving her the frame on Mother's Day.
This is a great idea, personalized gifts are perfect baby gifts.
I plan on ordering another frame for another cousin in September!

My first niece
By
Shopper

(Maryville, IL) - May 5, 2012
My brother- and sister-in-law recently blessed us with my husband's and my first niece (or nephew). When I saw this frame, I knew I had to get it for the proud parents. I thought it was adorable and a great way to celebrate the birth of their daughter, plus it can be kept forever! My mother-in-law loved it too, and too pictures of the frame to show all of her friends and co-workers. Everyone asked me where I got it. The purple contrasted nicely with her yellow room. Super great gift!