precious memento
By
Shopper

(Ventnor, NJ) - April 9, 2012
Present was well received! Haven't seen it in person. Will do this again.

If you have a baby girl, you defintely want this...
By
ARMANDO B.

(Canada) - April 7, 2012 (
See all reviews by this customer
)
Perfection, simply perfection.
This has to be the most original piece I've ever seen, and every little babies room needs one, the information that is shows is invaluable and makes a perfect addition to any room.

Thank you again..!!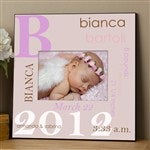 Personalized Wall Frame
By
Shopper

(Plano, TX) - April 5, 2012
Purchased this item for my new granddaughter. It arrived very quickly in excellent condition. Am anxious to give it to her on Easter. Will definitely order from this website again.

The Frame was above expectations
By
Vivian R.

(Jersey City, NJ) - April 2, 2012 (
See all reviews by this customer
)
I ordered this for my daughter and it was absolutely beautiful. We were both very happy with it.

AWESOME Frame
By
Marylee J.

(Mickleton, NJ) - April 1, 2012 (
See all reviews by this customer
)
I was very pleasantly surprised when this frame arrived. I love it and recommend it 100%. This will be my new "go-to" gift for any new baby

Wonderful gift for parents and grandparents
By
Nancy A.

(Port Reading, NJ) - March 31, 2012 (
See all reviews by this customer
)
My daughter and son-in-law were thrilled to receive this frame just 5 days after my beautiful granddaughter was born. It is heartwarming to have all my granddaughter's birth information on this frame. This is a well made frame. I am only sorry it doesn't have an easel back in addition to a hanger, I would prefer to stand it on the table rather than hang it on the wall. I am still thrilled with the frame - don't miss out - this is a wonderful gift.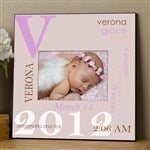 Nice Quality
By
Shopper

(Maple Valley, WA) - March 31, 2012
nice quality for what I paid & a great gift!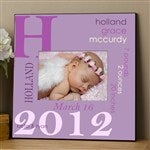 Great gift!
By
Carol H.

(Wheatfield, NY) - March 30, 2012 (
See all reviews by this customer
)
The baby's parents LOVED the frame - they can't wait to put their baby's picture in it and hang it up in the nursery.

Absolutely the best gift ever!
By
Shopper

(Milnesville, PA) - March 30, 2012
I got this present for my god daughter and couldn't be more pleased with the quality!!!

They loved it!
By
Nicole J.

(West Deptford, NJ) - March 29, 2012 (
See all reviews by this customer
)
I purchased this frame for my nephew and his wife for the birth of their first child, a beautiful baby girl. Although I did not personally see it myself, my sister informed me that when they opened the package, my son's wife cried because she thought it was so beautiful. I have purchased these for my own grandchildren, and would highly recommend them as a very 'special" gift for a newborn.

A wonderful gift!
By
Shopper

(New York, NY) - March 27, 2012
The personalization looks great bordering the frame!It was well received!

Love it!
By
Beata H.

(Chicago, IL) - March 26, 2012 (
See all reviews by this customer
)
I looked for a frame similar to this for almost a year! Couldn't find anything that had ALL of the information like this one! I love it! I was able to have my daughters name, birth date, year, weight, height, time of birth PLUS our names! I absolutely love this frame. Once I receved it - the frame actually was a little bigger than I expected which was just a bonus! Will order for my niece and nephew as well!

Love it
By
Debbie P.

(Indiana, PA) - March 26, 2012 (
See all reviews by this customer
)
i absolutely loved the frame. I got it for my niece's baby, and I know they will both love it! The layout of the information is wonderful, it's not crammed together and it's a definite keepsake for the recipient to have and enjoy!

Great Baby Gift
By
Shopper

(Clinton, IL) - March 26, 2012
The frame looks great and looks just like the picture. As usual, I received it quickly and exactly as I ordered. The only thing I might have liked different was that it can only be hung on the wall. It can't be stood up on a shelf. But the person I gave it to didn't seem to mind, she just hung it on the wall. So it was a great choice!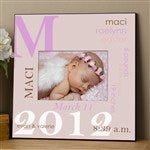 Great 'new baby' gift
By
Gayle D.

(Howell, NJ) - March 24, 2012 (
See all reviews by this customer
)
I have purchased so many gifts from this site over the years and am never disappointed. This baby frame is no exception! It's absolutely beautiful and I am so excited to give it to my friend for her new baby girl. The quality is outstanding; it's a big hearty frame that is shiny and smooth...everything is personalized perfectly and the gift is amazing as well as the price. The only bummer?? Now I want to order two for my own boys!! Fantastic gift that you'll be proud to give!! Thanks PersonalizationMall for yet another awesome item!! You are my go-to site...Always!!

Baby wall Frame
By
Shanie P.

(Gillette, WY) - March 23, 2012 (
See all reviews by this customer
)
This is adorable and I purchase it for two different couples and their new born babies... I will continue to buy this product!!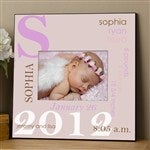 favorite website
By
Shopper

(Geneva, OH) - March 19, 2012
Just want to share that I use this website a lot and love everything I get! From their frames, canvases to floormats the quality of everything is so nice. I love that you can preview what your going to get and the way you want it. Price is right and the delivery is fast. I love the packaging as well. I recommend Personalizationmall.com to everyone. Thank you! Thank you!

Classy and beautiful
By
Francesca H.

(Millville, MA) - March 19, 2012 (
See all reviews by this customer
)
This frame is almost a square - for some reason I didn't realize that because of the horizontal picture. But it is very nice product and I think any parent would appreciate it. I have been using personalizationmall.com for years and have never returned anything. These personalized frames are my "go-to" frame for new parents and for a few grandparents. Thank you for not taking away these products because I use like items for siblings.

Love it !
By
Shopper

(rock hill, SC) - March 18, 2012
I bought this as a gift and they loved and so did everyone who saw it !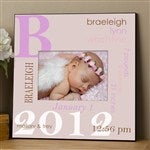 Very nice gift for the new baby
By
Laurie B.

(Amenia, NY) - March 17, 2012 (
See all reviews by this customer
)
This is a perfect gift for baby. It says everything and will be very nice keepsake.

LOVE IT!
By
Lori J.

(Leeds, AL) - March 9, 2012 (
See all reviews by this customer
)
I absolutely LOVE this frame...and I hope my new granddaughter does, too, for years and years to come!!

client gift
By
Shopper

(Sterling, VA) - March 5, 2012
looks fantastic, everyone loved it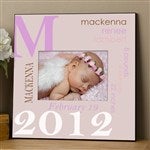 Such a beautiful gift!
By
Shopper

(Farmington, NY) - March 5, 2012
The picture in itself looks amazing for this project, but to see it in person, there are no words. What a wonderful gift to give someone and Personalizationmall.com captures that so well. I have ordered many products from this company over the years and I have NEVER been disapointed. This, by far, was my favorite product!

Absolutely beatiful!!
By
Shopper

(Mount Holly, NJ) - March 5, 2012
I ordered this frame for my daughter as a gift to celebrate the birth of my first grandchild. My granddaughter was born prematurely so I was able to display this frame at her baby shower. This frame was talked about by all the guests & everyone wanted to know where I bought it. Everyone loved it! Thank you for doing such a beautiful job!!

Beautiful Frame
By
Shopper

(Essex, MD) - March 4, 2012
Absolutely loved the layout of the personalized information. It was a great gift for new parents.

Baby frame
By
Lois N.

(Canada) - February 28, 2012 (
See all reviews by this customer
)
I just had 2 new Grandbabies and ordered them each a personalized frame. WOW....they are so beautiful! I am going to be very excited to give these to the little ones knowing that they will be a treasured keepsake from their G'ma!!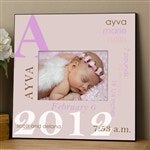 Beautiful
By
Kristi R.

(West Jordan, UT) - February 27, 2012 (
See all reviews by this customer
)
My boss loved this for his new baby!!!

Wonderful keepsake gift for new parents!
By
Hilarie W.

(Beaverton, OR) - February 27, 2012 (
See all reviews by this customer
)
I purchased this frame for my son and his wife who just had their first child. When I saw the frame on the wall of my granddaughter's room, I was very pleased by the clarity of the print, and the layout of the words. The new parents were thrilled to have this keepsake to commemorate the birth of their daughter, especially since it was personalized with all her vital statistics. I have purchased other similar frames from you in the past, but like that this one can easily go on the wall and can be seen across the room. My only suggestion might be to enlarge the name of the child so that it stands out from the other information. I will definitely purchase this product again.

The greatest customized frames
By
Shopper

(New Lenox, IL) - February 15, 2012
For all my family, friends and co-workers who have babies I've purchased these customtized frames. The quality of the frames are the best I've seen. I've probably puchased over 25 of these types of frames over the past 5 years and everyone loves them. I highly recommend.

Impressed!
By
Shopper

(North Olmsted, OH) - February 7, 2012
Really liked the frame. Very big and nice quality. I would purchase this item again.

BEAUTIFUL!
By
Shopper

(Fort Collins, CO) - February 6, 2012
I gave this to my best friend for her brand new baby girl. I was so pleased when I saw what the end result was, it came out perfectly and so beautiful. The mom & dad were SO pleased, the frame was received in tears and amazement!
Thank you for making this so easy, inexpensive, and special for my friend.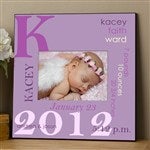 Awesome'
By
megan W.

(Natick, MA) - February 5, 2012 (
See all reviews by this customer
)
I just bought 4 of these! 2 light blue& 2 pink! The size is bigger than I expected, but a truly wonderful keepsake with all the detailed birth information you sometimes forget.

Quality frame
By
Shopper

(Emmons, MN) - February 4, 2012
I purchased this frame as a gift and would definitely recommend it to anyone who wants a personalized gift for a new baby. It attractively displays all the pertinent information about the baby's birth.

Fabulous
By
Shopper

(Missouri City, TX) - February 4, 2012
I order from Personalization Mall a lot, and I have never been disappointed.
All of the products are high quality and the shipping is super fast. This frame exceeded all of my expectations. IT IS ADORABLE. I wish I could go back and send it to every baby that I have sent gifts to in the past. It is soooo much cuter in person than in the picture. You WILL NOT be disappointed.

PRODUCT QUALITY
By
Shopper

(Franklin Park, IL) - February 3, 2012
I loved the quality of the frame and work. Beyond my expectations.
I would order another one and will when my second grandchild
is expected any day now.

Absolutely Beautiful
By
Shopper

(Port Allen, LA) - January 27, 2012
I love this frame!! It is beautiful and perfect for my daughter's room.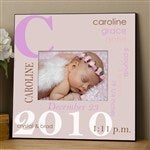 Beautiful Frame
By
Shopper

(Pleasanton, CA) - January 27, 2012
This frame was perfect. So much more than I expected. Packaged very well also.

perfect picture frame
By
Sandra A.

(Bronx, NY) - January 21, 2012 (
See all reviews by this customer
)
When I saw this on the website I though it was a good looking frame, but when I received my package at home I was so impressed with the quality of the frame. I immediately took a picture of it with my phone and forwarded it to my daughter and son in-law who absolutely loved it. I purchased this as a gift for my daughter, but I think I want my own. It is gorgeous. The perfect picture frame for my perfect granddaughter. Thanks!

Precious
By
Shopper

(White Hall, WV) - January 21, 2012
This is the second time I've order from Personalized Mall. Not disappointed! Picture frame was exactly what I'd hope for. They did a wonderful job! Nice quality. Can't wait to see my grandaughter picture in the frame!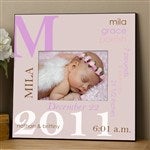 All About Baby
By
Shopper

(Tiffin, OH) - January 20, 2012
Friends LOVED this gift. Thank you