Creative!
By
Lisa M.

(Selden, NY) - June 10, 2012 (
See all reviews by this customer
)
This frame came out so beautiful and is so unique. I was able to have another one sent to my house at no charge after my first order came in a bit damaged. They were so easy to work with and replied with such speed and kindness. Thank you so much! It was exactly what I was looking for!!

A beautiful memory
By
Shopper

(East Amherst, NY) - June 10, 2012
This frame is beautiful. The first one I received had chipped paint around one edge of the photo border, but I contacted customer service, sent them a picture of the problem, and they promptly sent a replacement frame. The new frame is in perfect shape. I can't wait to hang it in my little girl's room! The personalization on the frame will be such a great memory for us, that I'm happy to give this frame a 5 star rating.

gorgeous
By
Shopper

(Seven Hills, OH) - June 10, 2012
Beautiful frame that came out better than expected. Read the dimensions because it is larger than it looks in the picture. (11.5x11.5 inches)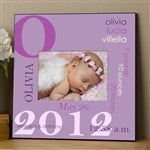 All about baby
By
Shopper

(Vienna, OH) - May 30, 2012
We got this gift for our neice and her husband and we were so proud and happy we got this frame. The quality is beautiful and it being personalized made it even more special. Everything we have purchased has been wonderful and we will continue to purchase other gifts.

Picture frame for Mothers Day
By
Shopper

(Gloversville, NY) - May 29, 2012
Our daughter just had twins and we gave her this frame along with the boy frame like it for her 1st Mothers Day! she loves it. The frame is beautiful and has all important data on it about her new baby girl! lovely!( as is the boy frame )

Great frame
By
Shopper

(Saint Louis, MO) - May 22, 2012
I ordered the frame from my friends's baby. It arrived 4 days after I placed my order and I was very pleased with the quality of the product.

Love it!
By
Claire B.

(Canada) - May 19, 2012 (
See all reviews by this customer
)
This is exactly what I wanted! It is glossy, and a little bigger than you think it's going to be. Also, there is no thing on the back for standing it up like it is on the photo. You have to hang it or lean it. I love it so much, I wish someone had bought it for me! I will be buying this for all new babies from now on. The only problem with Personalization Mall is that shipping to Canada is really expensive. I have to order many gifts at the same time to make it worth while. Wish they had a Canadian site!

Just Beautiful
By
Shopper

(Tarrytown, NY) - May 17, 2012
I ordered this frame for my daughter even though she is 14 months old now, I want to get this for her room. The colors are beautiful and the design is so cute. Is the best frame that I ever seen and the price is so fair. LOVE IT!!!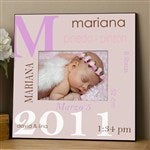 Great memory keep sake!
By
Sonia F.

(San Mateo, CA) - May 15, 2012 (
See all reviews by this customer
)
This is the second one that I bought for a family member who had a baby and both of them just loved it. Every one keeps asking me where I bought it. They are beautiful picture frames that is well made and is a great memory keep sake for you child.

What a wonderful gift!
By
Shopper

(Atlanta, GA) - May 14, 2012
We received this as a gift and loved it. We received so many compliments. We ended up buying it for a friend. Great quality and look. Only thing to note; the frame is intended to hang on a wall. So, you will need a picture easel to put on a shelf. There is no stand on the frame.

Perfect!
By
Theresa C.

(Warrington, PA) - May 14, 2012 (
See all reviews by this customer
)
This was so wonderful! The colors matched our grand daughters nursery perfectly! It was loved by all!

GREAT!!!
By
Shopper

(Temple Hills, MD) - May 12, 2012
This is such a great item. I gave it as a gift and they LOVED it. It's a great keepsake

So cute
By
Tracy B.

(Milton, VT) - May 11, 2012 (
See all reviews by this customer
)
Great gift to a new parent

Awesome
By
Shopper

(Lincoln, ND) - May 9, 2012
I was very impressed with this frame. The color is very vibrant and it's very well made. Thanks!

Very cute
By
AnnaMae K.

(Post Falls, ID) - May 8, 2012 (
See all reviews by this customer
)
Good quality, nice size. Love the pink color

frame
By
Shopper

(Wilmington, DE) - May 8, 2012
It was constructed very well. The frame was very pleasing to the eye.

love it!
By
Jennifer L.

(Lancaster, PA) - May 7, 2012 (
See all reviews by this customer
)
love this frame! I get one for any of my friends that just had a baby and they always are so happy with the personal touch of it. Can't go wrong!

Highly Recommend
By
Shopper

(Ste. Genevieve, MO) - May 7, 2012
I was very pleased with this purchase. I wanted to get a friend a special gift after the birth of her daughter and I think she will be very happy. I know that I am.

Had to redo but great results second time!
By
Simone K.

(Hamilton, NJ) - May 6, 2012 (
See all reviews by this customer
)
My cousin and his girlfriend just had their baby, Sophia who was born a few weeks premature. His girlfriend is extremely nice so I wanted to get them something special especially since she's going through a very rough time right now.
I got all of the baby's measurements from my aunts and ordered the first frame thinking it was all correct. Unfortunately her middle name was spelled differently so I had to order a new one. Fortunately the second one came out perfect and the frame was on sale and I got an additional 20% off my order for the redo. Along with the measurements I've been receiving a TON of pictures so I have many to choose from to print out and put in the frame!

I'll be giving her the frame on Mother's Day.
This is a great idea, personalized gifts are perfect baby gifts.
I plan on ordering another frame for another cousin in September!

My first niece
By
Shopper

(Maryville, IL) - May 5, 2012
My brother- and sister-in-law recently blessed us with my husband's and my first niece (or nephew). When I saw this frame, I knew I had to get it for the proud parents. I thought it was adorable and a great way to celebrate the birth of their daughter, plus it can be kept forever! My mother-in-law loved it too, and too pictures of the frame to show all of her friends and co-workers. Everyone asked me where I got it. The purple contrasted nicely with her yellow room. Super great gift!

Unique & Precious
By
Lisa R P.

(Monterey, CA) - May 4, 2012 (
See all reviews by this customer
)
What a great gift idea! It looks even better in person. I ordered the pink frame. It is high quality & unique. Mommy & Daddy loved the gift & immediately put in the 1st picture taken of their new precious miracle Emma. You can either put the frame on a stand or hang it on the wall. They said this is one of their most cherished gifts...

Perfect
By
Shopper

(Pocomoke, MD) - May 3, 2012
This is such a beatiful wall frame and I love the engraving I am very happy with my purchases on this site. The shipping is fast I received my items within a week of ordering. I will definitely recommend you guys. Five star!

Adorable!
By
Angela Z.

(Baltimore, MD) - May 2, 2012 (
See all reviews by this customer
)
All the other frames I have ordered from this site were perfect but I especially loved this one for a new baby. This one hangs on the wall but it is a good size and I love that it holds a 5x7 photo instead of 4x6. My cousin and his wife loved it for their daughter whom was born in March 2012. I know two others that are having babies soon and I plan on ordering this frame for them as well. Great gift!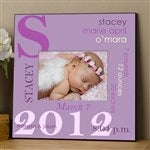 jane
excellent frames

Baby Frame
By
Shopper

(De Pere, WI) - May 1, 2012
I love this frame! I ordered it for my baby's room and it looks great! It is a very nice size and great quality!!

Nice frame
By
margarete O.

(sylvania, OH) - May 1, 2012 (
See all reviews by this customer
)
Great colors and size. Love it.

Simply Perfect
By
Vickie N.

(Hebron, MD) - April 30, 2012 (
See all reviews by this customer
)
Purchased this for my new Grandaughter. As always Personalization Mall delivers exactly what they promise. I have always been pleased with everything I have ordered. Between two weddings and two new grandbabies I have ordered alot.You won't be disappointed with this picture frame, It's Perfect.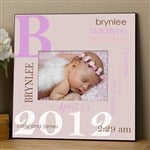 Gift for a friend's family
By
Shopper

(Taunton, MA) - April 30, 2012
I was very happy to hear from my friend that her daughter and and son-in-law loved the frame! They were very touched by the personalization and quality of the frame.

Great Gift Idea
By
Shopper

(Tiffin, OH) - April 30, 2012
This was the perfect gift. I loved it! The parents thought it was great. This product is unique and will not be a duplicate gift for the new parents. The only thing I would change is the photo frame can only be hung on a wall, it would be nice to see it with an easel on the back so you could stand it up as well. Otherwise, this was one of the best gifts I have ever given.

Excellent
By
Robyn W.

(Winter Haven, FL) - April 30, 2012 (
See all reviews by this customer
)
Excellent quality, beautiful frame, exceeded my expectations.

Great gift for new baby
By
Shopper

(San Marcos, TX) - April 28, 2012
This gift was perfect! Personalized, cute, and creating online was a breeze!!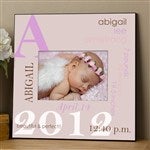 Lovely gift, good quality
By
Shopper

(Estero, FL) - April 27, 2012
What a sweet and lovely keepsake!

Success Again
By
Joyce N.

(Saint Cloud, MN) - April 24, 2012 (
See all reviews by this customer
)
This is about the 4th time I have ordered the personalized baby frame, and as in the past, it was a great success. The last one for a great niece. I have also ordered birthday frames for special birthdays. The frames are always shipped out in a very timely manner and arrive undamaged. These are my secret gifts that always please. I will continue to order from here as I'm never disappointed.

Awesome gift!
By
Shopper

(Klamath Falls, OR) - April 22, 2012
this unique frame with personalized details is the perfect baby gift. It's worth the money, you will not be disappointed.

Perfect
By
Gail N.

(Enid, OK) - April 21, 2012 (
See all reviews by this customer
)
I purchased this frame for a baby gift and was so pleased when it arrived. It was everything I wanted and more. The colors were perfect for the baby's room.

Baby Frame
By
Rachel C.

(North Adams, MA) - April 19, 2012 (
See all reviews by this customer
)
Everyone loves this frame! it came out awesome! and my sister-in law gets complements all the time on this! I wish I had more children; just to do the frame for myself!

Perfect keepsake
By
Lauren S.

(Shakopee, MN) - April 17, 2012 (
See all reviews by this customer
)
Beautiful and perfect keepsake for my daughter's birth. The purple is vibrant with variations in colors for the lettering. I will be getting one for my upcoming new nephew or niece as well. Good size for the wall and really accents her photo well.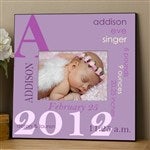 Amazing!
By
Shopper

(Mesa, AZ) - April 16, 2012
I thought for such a good price that the quality would not be so great. I was pleasantly surprised that this frame came out so beautiful, professional and unique. I have recommended it to everyone!

Personalized 5x7 Wall Frame - Girl
By
Shopper

(Alma, AR) - April 15, 2012
I was very pleased with this personalized frame. It shipped out the next day after ordering and I received it within the week. Frame is a wonderful keepsake with all the birth information on it. Great quality. The only thing I recommend is to double check yourself to make sure all the information you have entered is correct. Once you order it, they do not correct any mistakes. I misspelled ounces leaving out the U and it came to me misspelled because I submitted it that way. I had to re order at my expense since I was giving it as a gift. Since it was my fault, I did not let them know.

What a PERFECT welcome baby gift!
By
Cherrie L.

(Hampton, CT) - April 15, 2012 (
See all reviews by this customer
)
Large and beautiful, what a perfect welcome home baby gift! She wasn't home more than 2 days when her very own frame arrived, The parents were thrilled!