All About Baby
By
Marnette B.

(Charlotte, NC) - December 29, 2011 (
See all reviews by this customer
)
They were perfect. I also must say that the customer service is excellent. I will be making future purchases.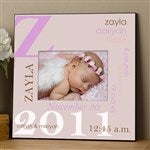 Adorable frame!!
By
Shopper

(Saint Louis, MO) - December 27, 2011
I bought the frame for my new niece. It is adorable! Had a slight problem of some fuzz on the frame when I received it, but customer service fixed it right away. I'm thinking about getting one for my nephew as well.

Great Gift
By
Shopper

(Chippewa Falls, WI) - December 26, 2011
Everyone loved it! High quality and a fun gift for the new family.

GREAT GIFT
By
Laura B.

(Woodbridge, VA) - December 26, 2011 (
See all reviews by this customer
)
Bought this for my Daughter and Son-in-law for Christmas and they absolutely LOVED it! Such a great frame with all the details of my Granddaughter's birth! I placed one of her new born pictures in it before giving it to them......so cute!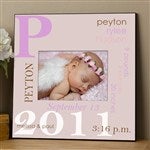 All the important facts about her birth will never be forgotten.
By
Shopper

(Richmond, TX) - December 20, 2011
Our newest granddaughter arrived only months ago and we were looking for a very special Christmas gift. We can't wait for her mommy and daddy to see her picture framed in this beautiful frame. THe quality is very good at a reasonable price. The workmanship is superb.

great!
By
Shopper

(Waltham, ME) - December 19, 2011
This product is amazing. I bought if for a christmas gift for a new mom and love the quality.

Great
By
Shopper

(Canada) - December 9, 2011
With this being a new item I wasn't sure what it would look like but I wasn't worried-- It was simply amazing I would recommend it to anyone-- Love the bright colors.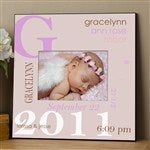 Great Gift
By
Shopper

(Portage, MI) - December 8, 2011
I ordered this frame as a present for my brother and sister in law after their first baby. My brother said it came out "awesome" and was the "perfect gift". Very happy with my order.

Picture Frame
By
Angela S.

(Winter Garden, FL) - December 7, 2011 (
See all reviews by this customer
)
I love the way the picture frame looks. It will look even better when i get my newborn grandaughters picture in it. I am excited to give it to my daughter at Christmas !! She is gonna love it !

Turned out super cute!!!
I was so pleased to see how this turned out. The new parents called me to thank me and were gushing over the frame. It really looked adorable and I am going to buy one for my sister too once her baby arrives. Makes a really great gift!

Asolutely love this frame!
By
KATHLEEN R.

(LANSDOWNE, PA) - December 1, 2011 (
See all reviews by this customer
)
I came across Personalizationmall purely by accident and have to say that I am extremely pleased with this personalized picture frame for my new grand-daughter.It is beautifully done and is such a great keepsake.My son and his wife are in love with this frame as well and asked me where did I get it from.Great price and delivery service was spot on.I tell all of my friends and family when they are looking for that "special gift" for someone you can find it here at Personalizationmall,I am truly thrilled,kudos and again thankyou for such a beautifully done keepsake that my family will treasure throughout the years.....

Perfect!
By
Katharine G.

(Baltimore , MD) - November 30, 2011 (
See all reviews by this customer
)
This gift was absolutely perfect for my best friend's first baby! The frame is adorable and is large enough to display on the wall or as a picture frame. The frame has already been placed above Madison's crib! This was my first purchase with personalization mall but it will definitely not be my last!

picture frame
By
Cara P.

(Canada) - November 26, 2011 (
See all reviews by this customer
)
This picture frame is the perfect baby shower gift. Larger than I imagined but beautifully proportioned.

Adorable Personalized Frame
By
Shopper

(Weymouth, MA) - November 20, 2011
I absolutely LOVE this personalized frame. It is all about my adorable baby girl that includes her name, birthdate and birth stats. It's perfect, and looks amazing hung up!

A lasting keepsake
By
Ingrid H.

(Mount Pocono, PA) - November 18, 2011 (
See all reviews by this customer
)
Can be passed on for generations...just lovely!!!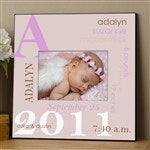 The Perfect Gift
By
Shopper

(Castlewood, SD) - November 7, 2011
I ordered this gave it to my daughter-in-law at a recent baby shower. She Loved it! Many of the people attending the shower asked where I purchased it because it was so unique and said it was the "perfect gift".

A perfect gift!
By
Magdalena S.

(Poolesville, MD) - November 1, 2011 (
See all reviews by this customer
)
I bought this picture frame for my brother and his wife who just had a baby girl. It was a christening present and it was a hit! Everyone loved it. The quality of the frame was just wonderful and the color - purple - beautiful. Thank you!

Personalized Wall Frame
By
Tracy G.

(NYC, NY) - October 29, 2011 (
See all reviews by this customer
)
I ordered the personalized wall frame for my cousins new baby girl and she was so happy with it.She even said that the color matched the baby's room.I have used this site before several times,they are easy to browse,quick to respond and your item show up the way you ordered it.Sincerely,Tracy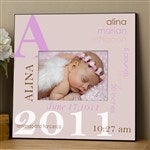 So Cute!
By
Stacey B.

(Selden, NY) - October 23, 2011 (
See all reviews by this customer
)
This was purchased as a gift and they loved it! Super fast shipping and great price!

great quality
By
brigittta G.

(brooklyn, NY) - October 17, 2011 (
See all reviews by this customer
)
this frame is worth the money. It is engraved beautifully.

Beautiful frames
By
Shopper

(Puyallup, WA) - October 13, 2011
Very Happy with purchase, arrived quickly and they turned out so beautifully.

Perfect!
By
Shopper

(Yardley, PA) - October 11, 2011
I've been waiting for a frame that has all of this information on it for my daughter for a keepsake. Love the fact that the picture is 5x7 and the color just pops! Great quality and looks absolutely perfect!

This was a unique gift
By
Shopper

(Lubbock, TX) - October 9, 2011
Very unique and very well constructed. Will definately order again for various occassions.

Liked about it
By
Kathy B.

(Grove City, PA) - September 27, 2011 (
See all reviews by this customer
)
I got two frames made for my newest granddaughters. They are wonderful for all the information is so cutely distributed into the frame. The only thing I wasn't sure I liked was that they were bigger than I thought but that was my fault in that I didn't read the dimensions or see how big they would be in my mind. Overall, I loved them!

Great Frame
By
Shopper

(Crookston, MN) - September 26, 2011
Very pleased with the personalized baby frame. It is a great idea for a baby gift! The new parents loved it.

Perfect
By
Ashley E.

(Canada) - September 23, 2011 (
See all reviews by this customer
)
I love love love this frame. I want to order one for my son and other daughter just so that they have a frame like this despite them being 3 and 9.

Girly and Gorgeous
By
Shopper

(Mitchellville, MD) - September 20, 2011
Loved this frame. A perfect present that really told the baby's story as well as the joy of the parents. I went on their facebook page and printed the picture of their newborn they shared. I cropped it and put it in the frame -- no one ever prints pictures anymore. They can't help but be thrilled -- I know I am!!

Gift for baby's parents
By
Bonnie B.

(Waunakee, WI) - September 18, 2011 (
See all reviews by this customer
)
This is a gift for the baby's parents. They loved it and plan to order gifts for friends who have had baby's.

for my new niece and nephew
i bought this for my new niece and nephew and their parents loved it..
i love buying stuff from here. they are such nice stuff .

Adorable Gift
By
Cynthia R.

(San Dimas, CA) - September 18, 2011 (
See all reviews by this customer
)
I received this frame in a timely manner and it is just adorable! I haven't given it to the new parents yet, but how could they not love it? The quality is great, the colors are true to the pic and I was happy that the birth year actually shows up better in person on the frame. Just love it!

LOVE IT
By
Shopper

(Gardiner, ME) - September 6, 2011
I am so happy with this frame. I love it. So worth the price.

Personalized frame for girls - perfect gift
By
Shopper

(Kansas City, MO) - August 29, 2011
Love this new personalized frame for baby girls! I've gotten all my baby and wedding gifts at personalizationmall.com for years and absolutely LOVE the quality of the products, as well as their uniqueness. This is yet another great gift! Thanks!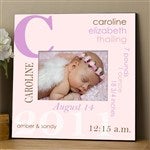 great work
By
S S.

(Massapequa, NY) - August 27, 2011 (
See all reviews by this customer
)
the baby wall frame was beautiful....it was made very well..it definitely exceeded my expectations...and the customer service is awesome...thanks so much...can't wait to need another gift....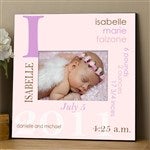 perfect gift for new parents
By
Shopper

(Brentwood, NY) - August 27, 2011
My friend just gave birth to a beautiful little girl. She said she cried when she received the frame in the mail! Everyone loves personalized gifts and they especially love personalized gifts that concern their children. Great gift. I haven't seen the frame but I have never been disappointed by anything on this site and my friend stated that it was great quality.

baby first picture fram
By
Mary B. K.

(Abita Springs, LA) - August 24, 2011 (
See all reviews by this customer
)
The item was more then I excepted, it is awesome...My daughter was so excited and lots of people have commented on how beautiful the frame is...thanks so much!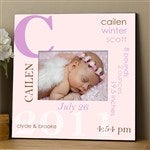 A memorable gift!
By
Shopper

(West Bloomfield, MI) - August 20, 2011
I bought this gift for my close friend. Though I didn't get to see it myself in real life, my friend called me up and said that it was soooo adorable and it was the best gift they got! She said she actually wished she had one for her older two year old daughter as well! I think you can't go wrong with such a sentimental present.

Great gift
By
Shopper

(Trussville, AL) - July 26, 2014
I have now purchased three of these frames for great-grandchildren. The parents have been so pleased. It is so sweet and personal for the baby. The frames are top quality.

beautiful product
By
Shopper

(Maple Glen, PA) - June 1, 2014
This frame came out beautifully! My friend and her daughter, who is the new mom, just loved it! The only thing I was disappointed with is that it doesn't have an easel backing. You either have to hang it, or lean it on a shelf. But otherwise, very nice quality. I would definitely purchase it again!

Nice quality frame
By
Gail P R.

(Longmont, CO) - May 3, 2014 (
See all reviews by this customer
)
I had ordered this frame before for our nice in the light pink color and it was gorgeous. When her little sister came along, I thought I'd order one in a different color. Should have ordered the same color as her big sister, since I didn't really like the dark purple color. All the particulars were engraved exactly as ordered, but I was disappointed in the color. Otherwise, I would have given it five stars since it really is a high quality product.

The baby's dad liked it...
By
Shopper

(Austin, TX) - April 30, 2014
I bought this product for one my colleague, who was blessed with a baby girl. I got it shipped at my work address. I made my friend open it himself. The moment I saw the expressions on his face, I realized, it was worth the price.
I will buy this again for another friend or colleague of mine.