FYI
By
Jackie S.

(Athens, GA) - December 7, 2013 (
See all reviews by this customer
)
I was a little disappointed that this ornament was not 3-dimensional for the price. I understand the cost was good considering the personalization, yet, it would have been better had it not been flat and just painted on one side. Hopefully, it will be enjoyed anyway as I bought it as a gift.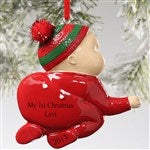 grandma
By
Shopper

(Wappingers Falls, NY) - January 8, 2013
a LITTLE disappointed with the quality - however, the idea and pose is cute!
similar the way my grandson sleeps

cute but writing isn't great
By
Shopper

(Chester, MD) - December 21, 2012
It's nice but neither message is centered on the ornament. Don't really have enough time before Christmas to get it fixed.

2nd grandchild
By
Debby B.

(Mount Horeb, WI) - December 19, 2012 (
See all reviews by this customer
)
It was cute but was hoping it was more dimensional instead of flat on the back. I still liked it.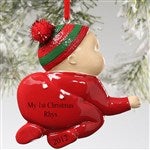 Fix the back color
By
Shopper

(Canada) - January 3, 2012
-The sticker on the ornament back is not easy to peel off. (leave it out, we know is made by you. :)
-The white color on the back of the ornament, makes the ornament looking cheap, it looks made of chalk not of resin.
-Overall I am happy with the purchase.

Cute but flawed
By
Laurie Ann A.

(Cedar Park, TX) - December 19, 2011 (
See all reviews by this customer
)
The item arrived as described and on time, but there was an imperfection in the ornament (a chip) and it was painted over. It's not noticeable hanging on the tree, but very evident upon closer inspection.

ery ute
By
Lu Anne P.

(Pittsburg, KS) - December 8, 2011 (
See all reviews by this customer
)
Nice ornament for my grandson's first Christmas. Thought it would be a little bigger,but very nice!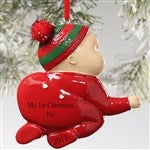 cute, but messy
By
Laura G.

(Wheaton, IL) - November 27, 2011 (
See all reviews by this customer
)
This is a very cute ornament. Unfortunately, adding the lettering dulls the red finish under and around it. Perhaps this is picky, but it just made it look a bit messy.

Likes & Dislikes
By
Shopper

(Burbank, IL) - November 14, 2011
The concept is adorable! The red drip beind the ear of the baby not so cute.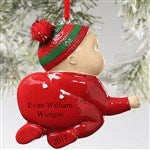 Upset over personalization length for names
By Shopper (Tuscaloosa, AL) - October 20, 2011
My daughter has a double name and almost nothing on this site allows her name to be on them, including this "My First Christmas" ornament that I love! I've been ordering from Personalization Mall for years and I've loved (and raved over) everything I've ever bought and I've recommended MANY people to the site. I'm so disappointed that the limit is 9 characters on most items and 12 on others. I need to enter 13 characters for her name with the space in the middle. PLEASE, PLEASE, PLEASE increase the number of characters allowed for names on your items P. Mall! I want to order many more items and I'm stuck! Thank you for your consideration and understanding. (Double names are quite common nowadays, so I wonder how many others are affected by this same issue...?)

baby ornament
By
Dee N.

(Land O' Lkes, FL) - January 8, 2011 (
See all reviews by this customer
)
not as cute as I thought it would be but still like it

Crawling Baby
By
Jan S.

(Amarillo, TX) - January 2, 2011 (
See all reviews by this customer
)
Cute but looked homemade not as professional as I expected.

Christmas Baby
By
Patricia W.

(Chesapeake, VA) - December 31, 2010 (
See all reviews by this customer
)
This is a very cute ornament, but I wish the writing showed up better.

Problem with Personalization Color
By
Susan O.

(Niles, IL) - December 27, 2010 (
See all reviews by this customer
)
The ornament is very cute, but as you can see in the photo, the personalization is in a dark color against a dark background, so it's very difficult to read. I had to tell the recipient to look closely, because she didn't even notice the personalization. Other than that, it's a typical PersonalizationMall.com high-quality item that I'm happy to have given.

cuter in the picture
By
Sara A.

(Round Rock, TX) - December 22, 2010 (
See all reviews by this customer
)
The "personalization" of this Ornament is great but it's not as cute in person. Also, I guess it is hand painted but looks like the person painting it had a shaking hand around the hat and on the white buttons.

Disappointed
By
Karen G.

(Dighton, MA) - December 17, 2010 (
See all reviews by this customer
)
When ordering, the picture made it look 3-D but when I got it, the baby is only on the front and it is a flat back that wasn't even painted. When I took it out of the pkg. it was all dusty and I had to clean it; it was like when they monogrammed it, they didn't wipe off the dust. Cheap feeling - something you would buy at a 'dollar store'. When you consider what you pay for it and then the shipping - don't buy.

Very cute but unfinished
By
Lillian C.

(Canada) - November 11, 2010 (
See all reviews by this customer
)
I really like it - it is very cute - however it should be painted red on the back as well to complete it. The back is white and when it turns on the stand it takes away from the look you wanted to create.

Disappointed
By
Shopper

(Bradenton, FL) - November 7, 2012
I ordered this for a friend as a gift for thier newborn. I have ordered from here before and been satisfied, but this time is different. The ornament seems cheap, the writing on it is not noticable. They use a dark color for the name and printing, should use a lighter color. I am going to keep it and give it as a gift because I have to , but I would not purchase this again. My advice is to look at other ornaments, skip this one.

Cheap look and feel
By
Shopper

(Colorado Springs, CO) - October 19, 2012
Not as cute as the picture. There are other, better quality options on this site. Skip this

Not as good
By
Shopper

(LANCASTER, MO) - December 20, 2011
I purchased several of these items and this one was not the quality of the others

disappointed
By
Shopper

(Vienna, WV) - December 12, 2011
Was expecting it to be much nicer

it is not as nice as I thought
By
Shopper

(levittown, NY) - August 16, 2011
it looks like an old ornament from 10 years ago. The baby's face looks very strange with no eye. the ball on the hat is falling off. I would waste my money on this if I were you.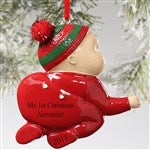 Quality not as expected
By
Rene S.

(Algonquin, IL) - December 28, 2010 (
See all reviews by this customer
)
I don't understand how someone would take the ornament I received and personalize it. The red coloring of the baby's outfit overlapped it's neck. Very cheap looking. Of course, it was a last minute Christmas gift, so I had no time to order another one.

I did like the personalization, though. It looked as I had expected.

Personalization difficult to read
By
Rebecca C.

(Powhatan, VA) - November 29, 2010 (
See all reviews by this customer
)
Cute ornament but the writing is too dark to read the personalization. You should consider using a lighter ink on this dark red ornament. I wish they would do my order over using lighter ink.

Disappointed
By
Lori R.

(South Euclid, OH) - November 28, 2011 (
See all reviews by this customer
)
I ordered this ornament for my grandson for his 1st xmas. The painting on it is terrible. Looks cheesy, not at all like the pic online.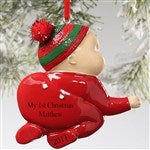 Cheap looking
By
Shopper

(Shelton, CT) - August 1, 2011
This item is cheap looking and it feels like it's made of plastic. Poor quality