Very cute. Worth the money.
By
Shopper

(Cicero, NY) - October 13, 2013
Happy with how this turned out. I used it as a baby's first Christmas ornament.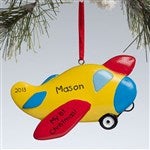 Cute & colorful!
By
Loretta S.

(North Myrtle Beach, SC) - January 8, 2013 (
See all reviews by this customer
)
This ornament was for my great-grandson & I know he'll love it. It's well made, very colorful and he loves planes....what boy doesn't?! Great ornament for the young children!

Wonderful business gift
By
Shopper

(Naperville, IL) - December 31, 2012
My husband works in the Aviation business and these personalized ornaments were a wonderful gift for the members of his staff. The ornament is a perfect size and well made. The colors are eye catching and the personalization easy to read. This order was received within 5 days and was worth the reasonable price. Everything I have ordered from Personalization Mall I have been very happy with...and I am a regular customer. All of our personalized gifts have made many people very happy. Thank you for great products and terrific service!

Quick delivery
By
Judy S.

(Livonia, MI) - December 26, 2012 (
See all reviews by this customer
)
I was very pleased with this ornament I ordered for my Grandson. It is very good quality, looks exactly like it's pictured and came quickly. It was packed very well so it would not be damaged.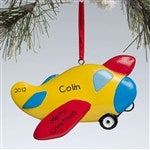 Great Personalized Gifts
By
Jill H.

(Kirkwood, MO) - December 23, 2012 (
See all reviews by this customer
)
Love this ornament! We have gotten my son Personalization Mall ornaments each year for Christmas, and they are unique and great quality.

For Our Airport Friend
By
Shopper

(Kahului, HI) - December 12, 2012
This gift is perfect for him. He just graduated in Air Traffic School and got a job this year. Now he can hang this on his tree each year as a remembrance from when it all started. Good size and the colors are nice and bright. Perfect...I love it!!

Adorable!
By
KASI G.

(ABBEVILLE, GA) - November 6, 2012 (
See all reviews by this customer
)
I bought 2 of these and inscribed - Big Brother and Little Brother with their names. Adorable!! Perfect for our oldest who loves airplanes!

product features i liked
By
Shopper

(Santa Cruz, CA) - November 5, 2012
I placed an order for two different ornaments I found on PersonalizedMall. My new grandson's room has an "airplane" theme. After several sites I finally found what I found the perfect one. It is "childlike" with 3 different bright colors and it could be personalized. This is his 1st Christmas and I'm sure his mom and dad will really like it. I found it to be very well made and I'm sure will be hung on many Christmas trees to come.

High Quality Ornament
By
Shopper

(San Antonio, TX) - January 1, 2012
This was a gift for my new nephew and I love it! I love that you can personalize with basically anything, so I put his first and middle name, My First Christmas, and the year. The ornament is very sturdy, brightly colored; I highly recommend it! One of my favorite purchases from Personalization Mall!

Flying High ...
By
Shopper

(Baldwinsville, NY) - December 17, 2011
Good quality and well made. This ornament is colorful and fun. You don't find many options for airplanes and little girls. My daughter is a pilot and now has a baby girl. It was nice to run across this airplane that could be used for a boy or a girl. It would be a plus if they came out with an airplane in pinks and purples though!! Just a thought! We love the ornament!

Grandson's review
By
Shopper

(Evans, GA) - December 14, 2011
Bought this ornament for my 3 year old grandson and he absolutely loved it. Thank you for a selection of ornaments that are good priced and good quality. Bought several this year and everyone loved them.

Terrific ornament for a little boy !
By
Donna P.

(Twin Lakes, WI) - December 9, 2011 (
See all reviews by this customer
)
I ordered this ornament for my nephew. It has his name, the year & says its his 3rd Christmas. I get him one every year from this site & I couldn`t be more pleased. Its colorful, cute & quality made. I`ll be back next year !

ADORABLE PLANE ORNAMENT
By
Shopper

(Malden, MA) - December 8, 2011
THIS IS A CUTE & ADORABLE ORNAMENT. GREAT PRICE, GOOD QUALITY.

Love!
By
Melissa H.

(Sulphur, OK) - December 8, 2011 (
See all reviews by this customer
)
The airplane is so cute! My son loved it. I also like that you have the ability to change the year. I never found an ornament I liked last year to put my son's name, so when I found this I just changed the year!

Up Up and Away
By
Lucy C.

(Clearwater, FL) - December 6, 2011 (
See all reviews by this customer
)
Perfect Christmas Ornament for my Grandson who lives far away. He can see this personalized airplane and know Gram and Pops are on their plane coming to be with him. A must to set a family tradition for loved ones traveling to be together for the holidays. We love this.

great
By
Shopper

(ISLIP TERRACE, NY) - December 4, 2011
great memory for little boys bought several for all toddlers in my family

Very Cute Ornament
By
Kristi E.

(Polk City, FL) - December 1, 2011 (
See all reviews by this customer
)
I ordered this and was very pleased. The ornament is very cute and well made. I recommend this to anyone.

Adorable....
By
Shopper

(Murrysville, PA) - November 30, 2011
Great Quality for a Great Price.. Will be back again and again!!!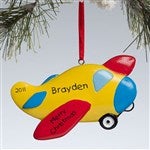 Cute and Colorful
By
Shopper

(Saugerties, NY) - November 29, 2011
This is perfect for that toddler or pre-schooler. The colors are vibrant.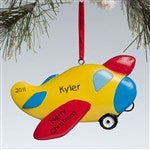 plane
By
Shopper

(Sparta, NJ) - November 12, 2011
Very satisfied with this ornament

An airplane for anyone
By
Shopper

(Dunellen, NJ) - November 8, 2011
This is a great new item. My grandson is into planes, cars etc. and this ornament is everything I expected. It will be a great memory when he gets older for his own tree.

Nice, solid, lasting ornament
By
Wendy C.

(Pearland, TX) - November 4, 2011 (
See all reviews by this customer
)
I appreciate the weight and solid feel of this ornament. It's not so fragile you're worried about packing it away year to year. The colors are vibrant and it's cute for little boys.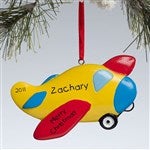 purchased for my grandson...cute and very colorful
By
Shopper

(Fulton, NY) - December 7, 2012
I purchase these type ornaments every year for my grandchildren, and every year I buy them I am not dissappointed

GREAT COMPANY
By
DARLA F.

(SEBASTOPOL, CA) - November 30, 2011 (
See all reviews by this customer
)
GREAT STUFF AND THE QUALITY IS ALWAYS REAL NICE.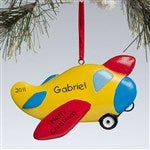 Vacation remembrance
By
Shopper

(Cleveland, OH) - November 13, 2011
Very cute ornament. Is a flat ornament, not 3 dimensional, and I commemorated it to remember a special vacation event for a friend. I'm sure she will be delighted with it. Would be great for a first plane ride also.

Not as Cute in Person
By
Shopper

(Lawton, OK) - December 17, 2013
I recieved my plane in the mail yesterday. It's fine, but not as cute as it looks in the picture. It seems a bit duller in color.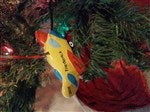 Cute ornament, not-so-cute font
By
Jennifer C.

(Aurora, CO) - December 7, 2013 (
See all reviews by this customer
)
I ordered this for my son's first Christmas and the ornament itself, was very cute. Our whole family loves airplanes, so that helped with our decision. I was really unhappy with the font choice and the fact the website does not give a few options to choose from. Overall, the ornament was cute enough to go ahead and purchase, but I'm just not overly thrilled with how it turned out.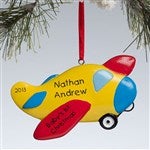 not as expected
By
Lorraine S.

(Longmont, CO) - December 12, 2012 (
See all reviews by this customer
)
I was disappointed because I thought this was a 3 dimensional item. I also felt the colors were not as vibrant as they appear in the picture.

Looks cheap...
By
Shopper

(Apple Valley, CA) - November 26, 2012
could've gotten a model plane from craft store and let my son paint it himself. Idea and colors are cute but paint is not "in the lines" per say. Been happy with everything I've ordered here before but this I would not recommend.