Average
By
Christine N.

(LaGrange, GA) - December 5, 2011 (
See all reviews by this customer
)
This ornament was acceptable, but that is all, It was not glossy and rather dull compared to other ornaments I have ordered.
It was not beautiful, just OK. I only paid $11.95 (got it on sale) and for that price it was worth it. Definitely not worth $14.95. Can find nicer ones for that price.

Cute
By
Shopper

(THE COLONY, TX) - December 3, 2011
Bought a variety of these. This was the best of the ones I ordered. It is compact and looks nice. Ceramic. Not one of the malls best items

Penguin family ornament
By
Shopper

(conroe, TX) - November 30, 2011
cute but looks like somethig smeared on it. Black spots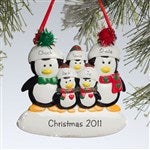 Personalized ornament
By
Shopper

(Cherokee, IA) - November 16, 2011
I ordered two, one was ok but the other one the glitter on the bottom stuck to the bag it came it and so the ornament was stuck to the bag and it pulled the glitter off and it does not look very nice at all.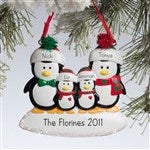 Not real happy with this
By
Judy B.

(Oklahoma City, OK) - July 16, 2013 (
See all reviews by this customer
)
Just don't like the way it looks, it looks cheap with the glitter around the bottom.

Penguin Family
By
Shopper

(Eden Prairie, MN) - January 11, 2013
The noses were scuffed and it seemed a bit cheap.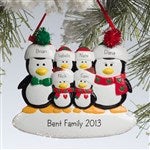 Covered in paint
By
Susan C.

(San Francisco, CA) - December 17, 2012 (
See all reviews by this customer
)
When the ornament arrived, there were small dots of colored paint on the white parts of the penguins. This wasn't exactly how I wanted to present this to my family for Christmas.

Names not centered
By
Sara B.

(Nolensville, TN) - December 19, 2011 (
See all reviews by this customer
)
The ornament itself is cute but the names onthe children's caps were not centered. They looked fine online but when I received it the names were both printed to the right. One name was running out of room and so it isn't even straight. I have ordered many items on this site and never had that occur before. I'm going to call to see if we can get it fixed.

Quality Control Needed
By
Shopper

(Nutley, NJ) - December 12, 2011
Quick and easy order and fast delivery. However, the laser printing in one section is smudged and made the ornament unattractive.

Sloppy art work
By
Shopper

(Pleasanton, CA) - December 9, 2011
The details on the penguins weren't as great as the polar bears. You should've done a better job. Pay attention to details.It looked sloppy. Not much effort to make it look flawless.

Cheap Looking.
By
Shopper

(Portland, OR) - December 9, 2011
I gave it 2 stars, only because I love penguins. The ornament looked dirty and unfinished.... Very disappointing and will never purchase again.

Quality control
By
Shopper

(Fairfield, CT) - December 2, 2011
Cute ornament, but the name on the little pengin was off center and smeared. A little quality check before shipping might have caught this.

Ornament
By
Shopper

(Pearland, TX) - July 19, 2013
Smaller than picture on site. I have ordered these for the past 3 years. They were much larger.

Got a name wrong
By
Deborah B.

(San Antonio, TX) - December 20, 2012 (
See all reviews by this customer
)
I ordered 2 of the same ornament. They look great except that a name was left off and Mom was put in its place, so I really can't use them. I was going to reorder but don't want to pay again with express shipping to get them by Christmas.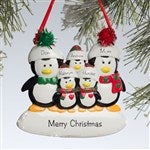 Gray Discoloration
By
Shopper

(Rock Hill, SC) - December 8, 2011
I ordered this for my mother-in-law for Christmas. For the most part, it is absolutely darling. However, there were gray smears on the white portions. The discoloration greatly takes away from the appearance of the ornament. Honestly, I am authentically disappointed in the quality of the ornament that I received.