Cute ornament
By
Shopper

(Colorado Springs, CO) - December 13, 2011
A nice ornament for us to personalize for our family. Names are hard to come by at stores sometimes. My daughters' names are not super unique, but I'd often find one girl's name and not the other. So, this family of penguins, customizable to our entire family was a nice way to get everyone a personal ornament for the tree this year. Turn around time and delivery were very fast with standard ground shipping!

Adorable ...memories for you Christmas tree.
By
Shopper

(Miramar, FL) - December 13, 2011
The quality and colors were good.

Cute ornament
By
Shopper

(Bristow, VA) - December 12, 2011
The ornament turned out really great. The names are clear and it is the perfect addition to our tree.

Penguin Family Ornament
By
Katy R.

(Round Rock, TX) - December 12, 2011 (
See all reviews by this customer
)
Cons: words are a little smudged and on one name it is stretched. if i was buying it for a friend - i would have been disappointed. but since it's for myself - it's ok.

Pros: Let's you pick where you want the names and what you want to write (as long as the name isn't too long.)Arrived very quickly!

nice
By
Shopper

(Vienna, WV) - December 12, 2011
much nicer than the baby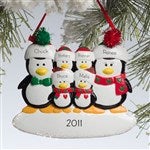 Cute
By
Shopper

(CHANDLER, AZ) - December 10, 2011
Love this! I ordered two of these and one came out flawless and the other came out where the white paint one a couple of the penguins was a different color and texture. Overall, happy with this!

Good Quality
By
Shopper

(Valley Village, CA) - December 10, 2011
Very cute ornament. Good quality and durable. Given as a gift and they loved it.

Super
By
Shopper

(Lees Summit, MO) - December 9, 2011
Gave this as a gift and they loved it! I will buy more of these ornaments next season.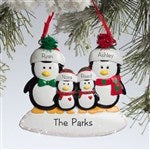 Penguin Family
By
Sonya M.

(Arlington, TX) - December 7, 2011 (
See all reviews by this customer
)
We order an ornament every year with our names and the year on it. I usually order a clear one. One of our daughters spotted this one and said lets do that one. Our daughters and grand daughter loved the ornament. It is cute and more detailed than I expected.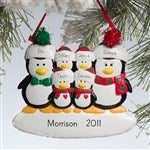 Almost as expected.
By
Shopper

(Altoona, PA) - December 6, 2011
Very cute! A lot like the picture except the message on the bottom looked smudged. It looks like maybe its supposed to be a shadow. But it doesnt look good and it doesnt display that on the preview on the website. And there was a tiny indentation on the far left penguins head. Other than that I was very happy, its very cute and will be a nice gift!

Penguin Family
By
Shopper

(Watsonville, CA) - December 4, 2011
I ordered this item as a gift for my son and his family.
He said the baby loves it and because of that they are also enjoying it and looking forward to hanging it on their tree.

Very cute
By
Shannon P.

(Milwaukee, WI) - December 4, 2011 (
See all reviews by this customer
)
The ornament is just as shown. I appreciated seeing the name placement before I bought it, so I can place them where I wanted them to be. The only reason for 4 stars instead of 5 is that there is a little white paint stroke on the side of one penguins. It is not noticeable on the tree. You would have to look closely or be holding it.

Very cute, but smudge mark on bottom nameplate
By
Shopper

(Greenwood, SC) - November 29, 2011
I like everything about the ornament, except there is a light gray smudge mark under where it says, "Season's Greetings" in the example that covers about a 1/4 of the white. Other than that, looks great!

product
By
Shopper

(KAILUA KONA, HI) - November 25, 2011
my granddaughter loves penquins. she is going to love this

as pictured
By
Shopper

(Randleman, NC) - November 22, 2011
This was easy to order. It was processed quickly, & I received it pretty quickly as well. It looks in person as it does in the picture. I am pleased with it.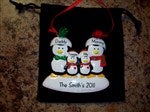 So cute!
By
Shopper

(Erie, CO) - November 19, 2011
I bought this product for my friends for Christmas. The penguins are just so cute! Their little hats are so fun and sparkly! The only complaint I have is that the top penguin's name is running off the hat. But it's nice that the names are engraved and not just printed on, for better quality. I highly recommend this ornament!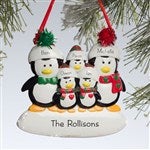 Cute but flawed
By
Debbie L.

(Green Bay, WI) - November 19, 2011 (
See all reviews by this customer
)
This was cute and the names are accurate, but the base where the last name is was not completely glazed - so it has a partially dull appearance.

Very Beautiful!
By
Shopper

(Kendall Park, NJ) - November 18, 2011
First time ordering from this site... loved how soon the package reached us and also how beautiful it was. My kids loved it.... thank u very much!

Really cute and nice size
By
Shopper

(San Antonio, TX) - November 17, 2011
Just received it today and my only complaint was that two of the names were a little off. BUT other than that...they are a really good size and as cute as can be.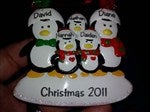 Cute
By
Shopper

(Canada) - November 16, 2011
Very cute and well made - there is a slight imperfection / discoloration in the paint around the snow but other than that it is very cute!

Good
By
Shopper

(Mahomet, IL) - November 12, 2011
The penguins and their shapes and cuteness are great. The painting was a bit off, so I didn't give it 5 stars. All-in-all well worth the price!!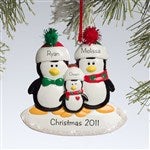 Very Cute
By
Shopper

(Staten Island, NY) - November 9, 2011
I liked the option of having to choose the number of family members for this ornament. It is definitely special to have my family members names engraved on each penguin.

Very cute
By
Candice W.

(selma, TX) - November 7, 2011 (
See all reviews by this customer
)
Cute idea for christmas gifts and a decent price. We'll see how the family likes them in december. I was not as impressed as w/ some of my other purchases, but it is just an ornament w/ names. it is very good quality and I do love the velvet bag they came with.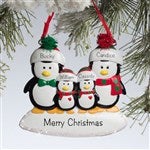 Small hats!
By
Shopper

(Baltimore , MD) - November 7, 2011
I got this ADORABLE ornament as a gift for my sister's growing family. It is so cute, but my nephew's 6 letter name did not fit on the small penguin hat and so extends onto the father penguin's face. Still worth it for the price, but a bit disappointing.

Looks nice.
By
Shopper

(Owasso, OK) - November 7, 2011
Just as i expected it to look. good quality.