Personalized candy bar wrappers
By
Shopper

(Charlotte, NC) - May 17, 2014
I loved the wrappers! It was a great way to say thanks to guests that attended my husband's surprise birthday party! It took a while to get them ready after I received them, but they looked great! The only real con was the cost. Paying $ .95 for each wrapper was EXPENSIVE! Add in the cost of the Hershey Bars and it was almost $2.00 per guest. But as I said, they looked great!

Great Buy!
By
Shopper

(Inkster, MI) - May 15, 2014
I received the wrappers two days after placing my order. They look Great and is exactly what I ordered. They are for my family reunion and this was a great personal addition.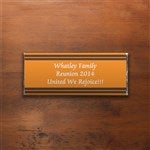 First class quality and service
By
Barbara W.

(Mamaroneck, NY) - September 23, 2013 (
See all reviews by this customer
)
This is my 4 th time getting the Hershey bar labels made for various occasions. Every time they arrive i am so excited with the quality and speediness of your service. It makes such a hit with guests to receive these as favors.
Love your company and website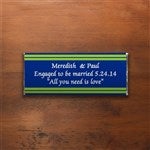 Great Product
By
Lynn K.

(KELSEYVILLE, CA) - August 18, 2013 (
See all reviews by this customer
)
We handed these out as favors at a recent retirement party for my husband. We have used them in the past and they are always a hit. The service is great and very fast. Love this company.

Great Quality
By
Sharon H.

(La Grange Park, IL) - May 26, 2013 (
See all reviews by this customer
)
Quality of the wrapper is great. I've ordered them twice already. I've never been disappointed in products from this website. And shipping time is fantastic!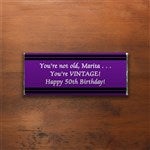 Great Gift
By
Shopper

(Temple Terrace, FL) - May 13, 2013
This is a great gift..especially for a graduating class. Great price and quick shipping.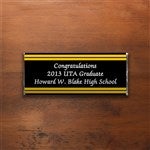 Awesome!
By
Maggie P.

(Cincinnati, OH) - May 6, 2013 (
See all reviews by this customer
)
Awesome item, awesome timing, & awesome quality!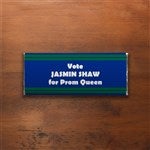 Nice for small party
By
Shopper

(Effort, PA) - April 23, 2012
Looks plain....writing should have been alittle more creative. Nice idea for casual party.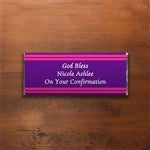 perfect party favor
By
Ann Marie C.

(Troy, NY) - February 12, 2012 (
See all reviews by this customer
)
Evelyn is a wonderful woman and I ordered these candy bar wrappers as a favor for her 90th birthday party,all I had to do was to apply the wrapper around the Hershey candy bar.I know she will just love the whole idea.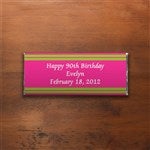 My new favorite website
By
Jennifer C.

(Baton Rouge, LA) - March 6, 2012 (
See all reviews by this customer
)
These candy bar wrappers are wonderful-such a great addition to a celebration.
Everything I have ordered has been perfect!



True to Preview
By
Shopper

(Newport News, VA) - September 4, 2012
Very easy way to personalize candy! The packaging looks very true to the preview. I am very satisfied with how they turned out and would order again.

made a great thank you card!!
By
Diana R.

(Mesa, AZ) - April 27, 2012 (
See all reviews by this customer
)
we used these wrappers as thank you cards for my sons birthday and everyone that got them loved the idea. the wrappers came out great!! we especially liked the silver envelopes that came with them to put the candy bars inside it make it look cleaner.

VERY MISLEADING - BE AWARE THERE IS NO CHOCOLATE
By
Shopper

(Port Washington , NY) - November 20, 2012
The "wrappers" are great. But I thought they included the chocolate bars. I wasn't expecting great chocolate, but I wasn't expecting to pay $1 for a wrapper!

Insanity. Print your own and wrap your own at these prices.

Party Favor
By
Shopper

(Edison , NJ) - March 9, 2012
Nice added touch of personalization as a party favor and very easy to assemble.

great product
By
Shopper

(Nichols Hills, OK) - October 31, 2011
makes a great party favor!

anniversary wrappers
By
Shopper

(cranberry township, PA) - September 8, 2012
these were nicely done. used for anniversary party favors. big hit... received within same week...would order these again. can use any color scheme.

Exceeded my expectations
By
Cynthia D.

(Baltimore, MD) - August 1, 2013 (
See all reviews by this customer
)
The wrappers were beautiful but the silver packages that was sent to put the candy bars in were a bonus....We were very excited with the outcome of the candy and my mother was surprised and very happy....

My 10 Year Old Son loved them!
By
Jeanne W.

(Dunlap, IL) - October 14, 2013 (
See all reviews by this customer
)
I ordered these last minute for my sons's 10th bday to take as his bday treats for school. He loved the. So much. He even helped me put the candy bar in and seal them. They were a hit! I was even more impressed because they came in 3 days!! Will order these again for many different occasions!

Great gift
By
Shopper

(stamford, CT) - June 16, 2013
got them for preschool graduation - all the kids and parents loved them

Wonderful
By
Doree V.

(Fly Creek, NY) - June 4, 2013 (
See all reviews by this customer
)
I ordered these and was more than pleased with the results! Great turn around time!! I will order these again for my next event!!!

This is my 6th order for candy bar wrappers
By
Shopper

(Rockford, IL) - March 30, 2013
The quality is excellent as well as the fast service. This is the 6th time I have ordered these candy bar wrappers for various functions. The last candy bar wrapper is pictured on a co-workers' Facebook with the caption"best candy bar ever." I have tried various color combinations and this last order was black background with white writing and hot pink trim which was outstanding,

Marc's wedding
By
Pam C.

(Murfreesboro, TN) - September 15, 2012 (
See all reviews by this customer
)
The candy wrappers went beyond my expectation.
I love them and so will my son and his bride at their rehearsal dinner
Thank you so much for such a great product.
So far everything that I have purchased from your site has been wonderful.
THANK YOU!

Candu Bar Wrappers
By
Dee S.

(Chicago, IL) - June 20, 2014 (
See all reviews by this customer
)
Excellent Product, prompt service.....as always you guys do a great job!!!

Great choice!!
By
Shopper

(Yulee, FL) - April 12, 2013
The perfect party favor & it commemorated the event!