Grandson's First Birthday Picture Frame
By
Lorrine G.

(Vermilion, OH) - January 2, 2012 (
See all reviews by this customer
)
I ordered this to put my Grandson's first birthday picture in it as a gift for my daughter and her husband for a keepsake for them! The frame is is so cute! I can't wait to see his picture in it!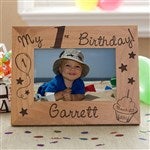 first birthday picture frame
By
Shopper

(Panama City, FL) - October 18, 2011
Excellent quality and fast delivery! I've never been disappointed with anything I've ordered!

Very Nice Frame
By
Shopper

(inman, SC) - October 10, 2011
Love it!
Would absolutely recommend.
Exceeded my expectations.

Beautiful Frame
By
Vanessa B.

(Richmond Hill, NY) - May 11, 2013 (
See all reviews by this customer
)
I bought 4 of the Look How Old I am Frames for 4 new cousins that will be turning 1! The frames are beautifully personalized and I know the parents will love them and cherish them!

Personalized Picture Frame
By
Shopper

(HUNTINGTON BEACH, CA) - September 17, 2013
I received my personalized picture frame and just love it.

It will be a gift for a grandson that is turning one year old.

Frame was so cute and I would recommend it highly.



PROFESSIONNALLY DONE
By
TINA T.

(CORPUS CHRISTI, TX) - October 18, 2011 (
See all reviews by this customer
)
I have always liked my purchases but I must admit this wooden frame was really sharp looking and very professionally done.


so cute
By
Shopper

(Plainview, NY) - October 11, 2013
I love that you can put the date on this frame. It came out beautiful!

Great
By
Annie R. W.

(Chicago, IL) - August 2, 2012 (
See all reviews by this customer
)
He's a big boy and he loved it !!!

Look How Old I Am
By
Rita M.

(Tuscaloosa, AL) - May 4, 2012 (
See all reviews by this customer
)
so cute!

Could be better
By
Shopper

(Berlin, NJ) - May 25, 2013
Love the idea of personalizing it myself and the design is really cute. My only issue is with the quality of the wood, it's a bit light in weight, doesn't seem like it will survive a bump or fall off of a shelf etc.so my concern is it won't last into her teen yrs. or longer.

Birthday Gift
By
Karen N. H.

(Grayslake, IL) - April 14, 2013 (
See all reviews by this customer
)
This was an ideal present for my grandson's first birthday, particularly in a house that is already overloaded with toys. My son and daughter-in-law loved it.

Cute remembrance
By
Shopper

(Orange Beach, AL) - October 25, 2013
This is a great way to frame pictures of your children or grandchildren and know when it was taken. I buy a different one each year. I also buy them when they are born and other special occasions. There are several different ones. This one is very nice for my 5 year old grandson. He will love it.

Perfect gift
By
Shopper

(ALBUQUERQUE , NM) - March 1, 2013
I ordered this for my stepdaughter she is only 4 but I think it will b a cute memory once a pic is inn. I love it!

BEAUTIFUL!! I love it!
By
Shopper

(Williamsburg , VA) - March 18, 2012
I love this item! the wood burning in the frame is wonderful and looks so nice and clean! This was a wonderful gift to my sister in law for my neices first birthday and my sister in law absolutly loved it! I will be purchasing one for each year available so my niece can have a personalized frames for her birthday!

Very Cute
By
Shopper

(Wantagh, NY) - November 20, 2012
Nice Quality

Perfect birthday gift
By
Shopper

(Pittsburgh, PA) - January 23, 2012
I wanted an unique first birthday gift for a special boy and this was perfect!

1st Birthday Frame
By
Shopper

(Lakeport, CA) - February 6, 2012
I was very happy with this picture frame. My daughter will love it. She loved the personalized Christmas ornament I got for her baby. I am so glad I found this site. I will probably get things for my older grandchildren too as time goes on.

Great frame
By
Shopper

(Saint Cloud, MN) - February 5, 2012
I ordered a frame for the neighbors son's first birthday. I didn't catch on that the date should have read the year he turned 1, which was 2012, and I put in his birth date of 2011. Then I ordered one for my grandson and put in the 2012 date. I love these frames, and have ordered so many from here. I just need to pay more attention to the dates!! I also ordered frames for friends who just had babies and all arrived togeather. I love this place and have never been disappointed.

Perfect Gift
By
Shopper

(Pomona, NY) - March 6, 2012
A really nice gift idea. Glad decided to get for a 1st birthday gift. Looks exactly as displayed.

Great Keepsake
By
Shopper

(Fairbanks, AK) - February 26, 2013
I purchased this for my 3 boys and I love it. I am thrilled with the quickness fo Personalizationmall.com. Great quality and Great product, I recommend to everyone!!!!!

LOVE THE FRAME!
By
Vicki S.

(Edgewood, NM) - April 18, 2013 (
See all reviews by this customer
)
THE QUALITY IS VERY NICE, I WAS VERY PLEASED! I'M LOOKING FOR A GIFT FOR MOTHER'S DAY NOW.

Twin great grand daughters
By
Charlotte L.

(Sunnyvale, CA) - November 1, 2011 (
See all reviews by this customer
)
Second birthday.
We got them one last year on their 1st birthday and everyone was so jealous that they had not thought of it.
We're always pleased with the products and have never been disappointed. They arrive quickly and packed very professionally.
We will continue to purchase from Personalization Mall.Com

msmommin in Louisiana
By
Shopper

(Alexandria, LA) - April 16, 2012
Bought this as a gift. Really pleased with quality.

Sure It'll Be A Birthday Hit!
By
Shopper

(Bolingbrook, IL) - January 15, 2013
I love the personalization options! Very nice! Got this for my little guy's birthday to go on his gift table for his birthday party, I'm sure it'll be a birthday party hit! Very satisfied & pleased with this & other products I've ordered from here!

fast delivery
By
Shopper

(Orange Park, FL) - January 22, 2013
I bought this for my daughter's little friend who was turning 3 right after Christmas.
The parents loved it. He did not need any toys, so this was a great keepsake.
I went to their day care and took a class picture, so he would be excited to
see his friends when he opened it. So many compliments.