Satisfaction
By
Shopper

(Ridgeland, MS) - December 26, 2011
Extremely satisfied with purhase, communication about order and shipping. Product arrived on time, shipped when promised and fiance got her christmas gift...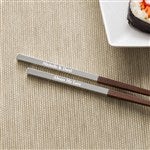 Always pleased!
By
Chris & Christina C.

(Clearwater, FL) - October 15, 2011 (
See all reviews by this customer
)
I have purchased several things from this site now and I am always pleased. The chopsticks came out great and I am very pleased with them!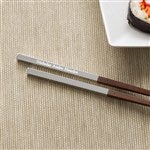 just beautiful :)
By
Shopper

(Elk Grove Village, IL) - October 2, 2011
The came out perfect and exactly as expected! Remember, if you're getting this as a gift for a couple, you should probably get 2!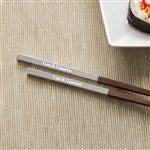 Amazing!
By
Dale C.

(Rego Park, NY) - August 19, 2014 (
See all reviews by this customer
)
I expected this item to be good but let me tell you, IT'S GREAT!!! So well made and the engraving is awesome! Looks like I picked these up at Tiffany!!! LOVE THEM!!!

Great item!
By
Ariana L.

(Mesa, AZ) - February 1, 2014 (
See all reviews by this customer
)
My husband and I love sushi so I thought, for Valentine's day, this would be the perfect gift. I was so pleased with the quality of them, they are fantastic! The chopsticks have a nice weight to them and the engraving was spot on.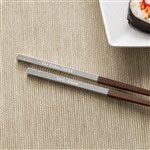 Just Beautiful!
By
Nycca G.

(Sutton, AK) - July 12, 2013 (
See all reviews by this customer
)
I ordered these as a birthday present, I am SO impressed with these personalized chop sticks I'm thinking about getting more! They are just beautiful, the personalization was perfect, the teak wood is beautiful, they are very easy to hold & eat with. My son in law loves them (and he is a hard person to buy for)and for his birthday we went to a Chinese food restaurant to eat dinner and he was showing everyone his gift! I am a very happy customer!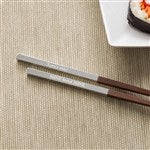 Chopstick Set
By
Kyla M.

(Raleigh, NC) - December 6, 2012 (
See all reviews by this customer
)
These were perfect for my brand new brother-in-law who loves asian cuisine. I love that you can have whatever you want engraved on the chopsticks. I did wish there was room for more characters so we could have them engraved with some oriental proverbs, but when I received them back I realized that they set the characters so you could still read the engraving without getting really close to the chopstick.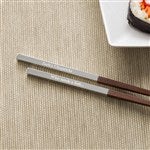 Letters too light
By
Shopper

(Suwanee, GA) - December 4, 2012
Nice chopsticks but the letters weren't engraved deep enough and very light. It may eventually "wear and tear" scratched off..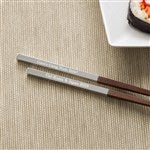 Nice idea in theory
By
Stepheny R.

(Minneapolis, MN) - December 4, 2012 (
See all reviews by this customer
)
I purchased 2 sets of these for my cousin and his wife, who are both sushi lovers and often make their own sushi at home. However, I'm not sure how functional these chopsticks will be. The metal part on top makes them extremely heavy (specifically extremely top heavy). In addition, the chop sticks are square instead of rounded. Pair this with the fact that they are top heavy, and it makes them difficult to hold. Also, the engraving was fairly light in some spots (I had "Good Fortune to You" engraved on one stick and each of their names on the other and the letter "Y" in the word "You" is much lighter on both chopsticks than the other letters).

Overall, I'm still happy to give this gift to them. If nothing else, they look nice and I know they'll appreciate them.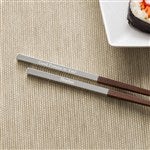 Great Wedding Gift!
By
Esther C.

(San Gabriel, CA) - August 20, 2012 (
See all reviews by this customer
)
Great wedding gift! Quality is good! Fast Delivery!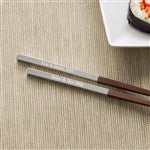 Wedding gift
By
Shopper

(Silver Spring, MD) - March 9, 2012
Gave this gift as a wedding gift. The couple loved it!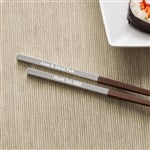 Personalized Chopstick 3-piece Set
By
Shopper

(Marietta, GA) - February 20, 2012
I bought two sets of the personalized chopsticks as a wedding gift. I love the quality of the items and the gift box that they came in. I think the recipients are really going to enjoy using them.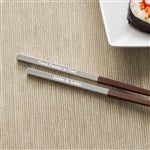 More than satisfied
By
Leondra W.

(Houston , TX) - February 17, 2012 (
See all reviews by this customer
)
I ordered this for my boyfriend who loves Chinese and Japanese cuisines. Whenever we go out he's asking for chopsticks so I knew this would be the perfect gift to show off. He was soo happy smiling from ear to ear and showing them off when he opened the box. His words were "I could just roll over and die but then I wouldn't keep getting nice gifts from you. LOL.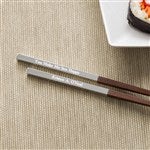 exactly what i expected
By
Shopper

(ELMHURST, NY) - February 4, 2012
I ordered them as a gift. The quality was great. Personalization looked amazing and the gift box was very nice. I just wish they would put their label on the bottom of the box opposed to the top it cheapens the gift.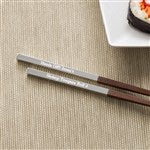 Everything looks good
By
Shopper

(Denville, NJ) - January 12, 2014
Brought for my husband on our wedding anniversary. Everything looks good just having start using it yet. So, can't give prefect 5 stars yet.

chopstix
By
Shopper

(Uxbridge, MA) - December 14, 2012
very nice

Nice
By
T R.

(Lake Elsinore, CA) - January 16, 2012 (
See all reviews by this customer
)
Arrived, nicely boxed. The item met expectations. Would order again.

Very nice!
By
Shopper

(Phoenix, AZ) - January 25, 2012
This item was better than expected. My boyfriend liked it so much and he was very satisfied with it. I loved it.

Excellent quality!
By
Shopper

(Chester, VA) - October 30, 2012
Wow! I am sooo pleased with this product. They are beautiful and so nicely boxed. I love them and know he will too. Can't say enough about them. Makes an excellent gift for anyone. Highly recemmend.

Exquisite!
By
Ebonie M.

(Owings Mills, MD) - December 29, 2012 (
See all reviews by this customer
)
This is a very classy and stylish gift for the ultimate foodie. The comment from the person that received it described them as "exquisite!" Very neatly presented in the fabric lined box. Made for a truly wonderful gift.

Perfect!!!!!
By
Shopper

(BELLEVILLE, MI) - December 19, 2013
Fast and just what I wanted!!!

Very Pleased
By
Shopper

(Little Elm, TX) - May 9, 2013
I ordered this set for my boss as a wedding shower present. She absolutely thought it was the coolest thing ever.
They go out to eat all the time, so it was perfect.